GJEPC Jaipur and HDFC Bank Host Business Conclave on Banking Procedures for G&J Exports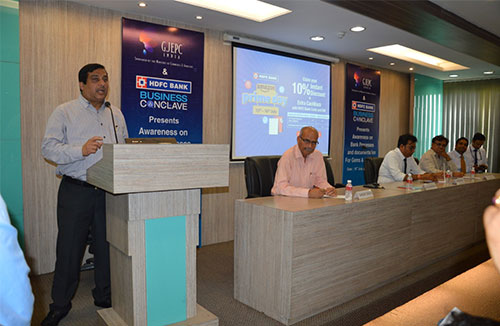 The Gem & Jewellery Export Promotion Council (GJEPC) Jaipur organised a Business Conclave in association with HDFC Bank in Jaipur on July 10, 2019 to discuss banking procedures and export documentation for the gem and jewellery trade.
Over 80 representatives of exporter companies from the sector were present in the packed auditorium. They were addressed by GJEPC's Nirmal Kumar Bardiya, Regional Chairman, Jaipur and Vijay Kedia, Convener, Coloured Gemstones Panel, while Priyank Vijay, Circle Head Rajasthan and a team of experts on different issues spoke on behalf of HDFC Bank.
During the interactive session, the discussions focused on practical difficulties faced by exporters to which the bank team offered specific solutions. The queries raised related to the procedure and documentation for:
Participating in overseas exhibitions, export promotion tours, consignment exports and hand carriage consignments.
Overseas sale made at discount or premium.
Overseas sale against FCY cash/ card.
Self write off/ write off by AD.
Where courier shipping bill is being generated (in lieu of shipping bill)
Handling export bill regularization against cash sale and cash being utilized while overseas
At the end of the conclave, HDFC Bank offered to sign an MoU with GJEPC listing out the charges for various services provided as well as turn around time for each of these. All exporters present welcomed the suggestion.