Pulsating emotions, collective celebrations and sighs, glamorous celebrities and above all, an avant-garde star of the global jewellery world, legendary British designer Stephen Webster, who gave away The Artisan Awards. This was the culmination of the extravaganza organised by the Gem & Jewellery Export Promotion Council (GJEPC) at Four Seasons Hotel, Mumbai, on 12 February 2020.
Teeming with celebrities, international guests and media, and top industry leaders, there couldn't have been a more fitting finish to The Artisan Awards, India's highest honour in jewellery design, which was presented by the Gem & Jewellery Export Promotion Council (GJEPC) and powered by the Gemological Institute of America (GIA). The winners held up their trophies in the spotlight before an august audience, who cheered them on.
This distinction of winning an Artisan Award will go a long way in their journey to fulfil their dreams as designers in this industry. Among the dignitaries who graced the occasion were GJEPC's Chairman, Pramod Agrawal; GJEPC vice chairman, Colin Shah, GIA India & Middle East's MD, Nirupa Bhatt, and GJEPC convener of the Promotion, Marketing and Business Development (PMBD) subcommittee, Milan Chokshi.
Speaking at the event, British jewellery designer Stephen Webster said, "For a piece of jewellery, materials are everything. Materials and craft form the basis, but the element of design pushes things further. Design competitions are important because they challenge you to push yourself creatively, to push your own boundaries. India is steeped in tradition and India has influenced nearly all jewellery designers. I congratulate all the winners of The Artisan Awards presented by GJEPC and can say we have seen some great pieces."
CREATIONS THAT AWED
The Artisan Jewellery Design Awards 2020 invited talented designers from across the country to take up the challenge and create extraordinary pieces of jewellery based on the core theme of 'Architectural Gems'. Architecture and jewellery share similar tenets of function and design; both follow key principles of durability, utility and beauty, and that's what the finalists proved with their ground-breaking creations.
The theme was further subdivided into three periods: Art Deco, Islamic Arabesque and Neo Futurism, to celebrate three key periods from different architectural eras. Participants were asked to submit their sketches choosing from any one of three categories listed: Art Deco, which focuses on streamlined geometric symmetry; Islamic Arabesque, which pertains to rhythmic linear patterns interspersed with swirling foliage motifs; and Neo Futurism, which suspends old notions of function and possibility with dynamic forms and lines.
In his address, Pramod Agrawal said, "India has an extremely talented pool of jewellery designers. The Artisan Awards is a one-of-itskind initiative of the GJEPC to felicitate the best talent in jewellery design. The objective of organising Artisan Awards is to encourage and motivate our students and designers to reach their full potential and make it big in this industry. I congratulate all the designers who crafted such beautiful designs and the manufacturers who brought these designs to life. Looking at these exquisite jewellery pieces, I can say that the future of this industry is in safe hands."
Commenting on the Artisan Awards, Colin Shah noted, "India's craftsmen are amongst the best in the world when it comes to product engineering. At GJEPC, it is our sincere effort to nurture the design talent, provide platforms to showcase their potential to the world. One amongst various initiatives that GJEPC has undertaken is The Artisan Awards. In its third year, we have fairly good representation from India and abroad. Through this platform, we tapped talent that not only has the vision to create designs that push the boundaries of creativity but also imbibe factors that give jewellery a 360-degree touch to be accessible to the end user."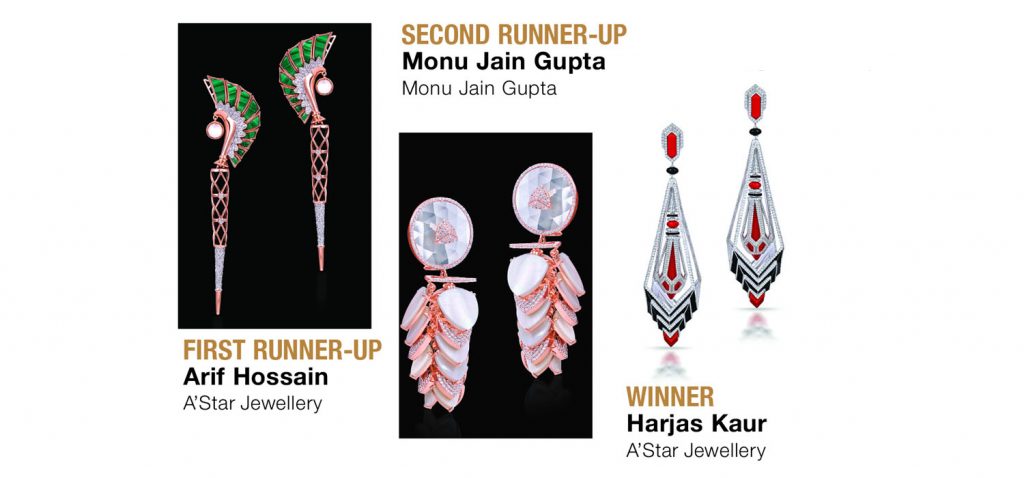 FINALISTS
Ashishkumar Doshi ( Oopal Diamonds )
Budoor Albudoor ( La Marquise Diamonds, Dubai )
Hema Harika Chandana ( Imaginarium, India )
Juhee Bolakhe ( Vummidi Bangaru Jewellers )
Saurabh Jhaveri ( Tiara Silver )
Shruti Sharma ( KP Sanghvi )
Milan Chokshi said, "The kind of designs we saw through this process have been truly amazing. The eminent jury had a real tough task in selecting the finalists and winners. And the support that the manufacturers gave these young designers was heartening to see. This year's theme 'Architectural Gems' has been devised to inspire designers to use a nonlinear approach to create jewellery, inspired by three distinct eras of architecture. I congratulate all 625 participants for their inspiring interpretations of the theme."
The Artisan Awards 2020 had a stringent judging process that encompassed three rounds. The first round involved scrutinising 625 sketches that were evaluated on technical grounds. The first panel of judges included IIGJ senior faculty Sushma Sawant, Meenal Chokshi, creative director at Moksh Jewellery, and Vikram Singh, the creative head of Walking Tree, who narrowed the selection down to around 300 finalists.
Sushma Sawant, Meenal Chokshi, creative director at Moksh Jewellery, and Vikram Singh, the creative head of Walking Tree, who narrowed the selection down to around 300 finalists. The second round of judging was conducted by an eminent jury consisting of architect and interior designer Ashiesh Shah, fashion designer Rimzim Dadu, fashion photographer Jatin Kampani and jewellery expert Richa Goyal Sikri, along with high-end jewellers Pavan Anand of Dagmar Jewellery and Abhishek Haritwal of Symetree, who whittled the number down further to 27 finalists. The designers were then asked to manufacture the pieces, which were vetted by the third panel of judges.
The third and final round of judging took place at Soho House in Mumbai with a distinguished jury drawn from across the arts and crafts world. The winners were adjudged by Aparna Badlani, co-founder at Atosa; Ambika Anand, fashion consultant and TV anchor; Neha Dani, fine jewellery designer; Anna Martin, board president and executive committee member of GIA; Nirupa Bhatt of GIA India and Middle East; and Smriti Bohra, creative director at Jewels Emporium.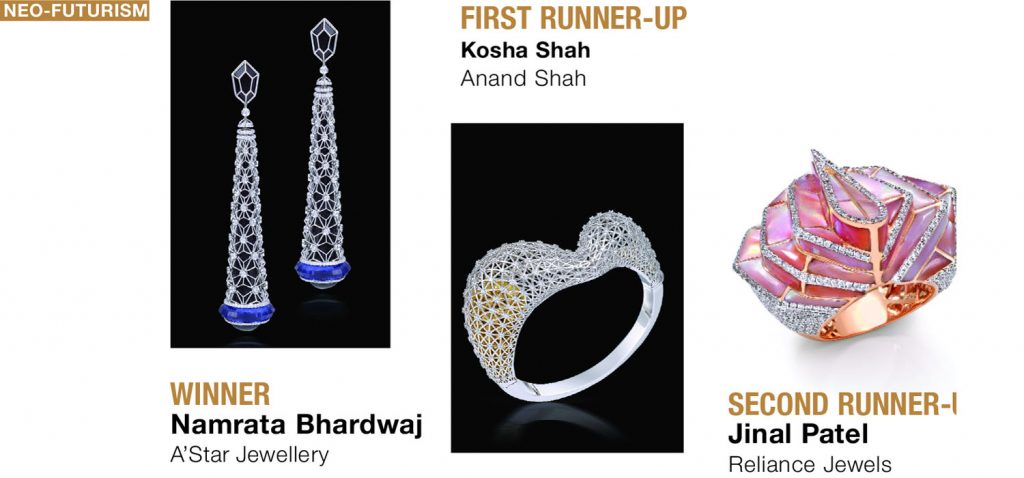 FINALISTS
Archangel Caszo ( Reliance Jewels )
Ashishkumar Doshi ( Oopal Diamonds )
Juhee Bolakhe ( Vummidi Bangaru Jewellers )
Mitali Kikani ( H. Ajoomal Fine Jewellery )
Saayli Dhongade ( Diagold Creation )
Anant Jain ( Mukti Gold )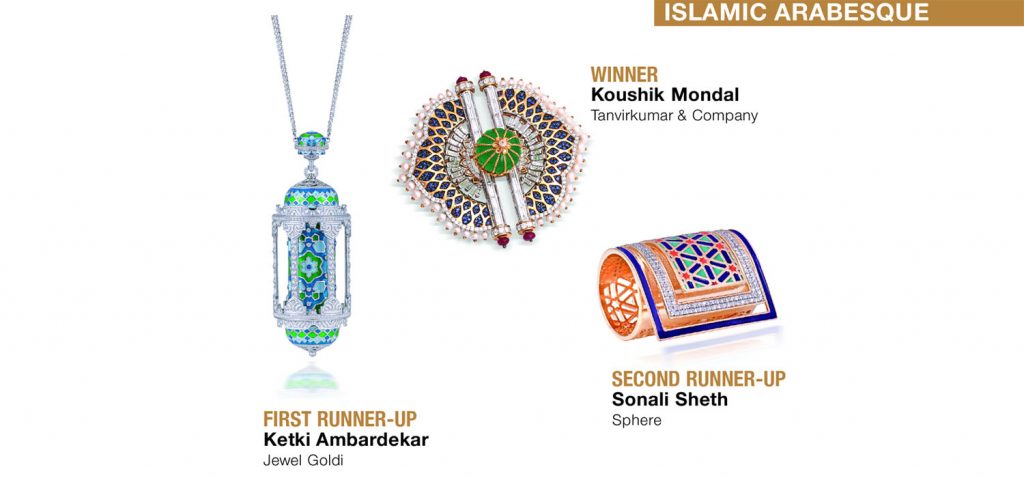 FINALISTS
Bhagyashree Vaidya ( Tanvirkumar & Company )
Jaydeb Dolui ( Tribhuvandas Bhimji Zaveri )
Pratiksha Gandle ( Reliance Jewels )
Rakesh Bakuly ( Kiran Gems )
Saloni Kaushik ( Titan Company Ltd. )
Tanaya Agarwal ( Imaginarium India )
SPECIAL EXHIBITOR CATEGORY
The Artisan Awards included a special award category of Best Product Inventory exclusively for IIJS Signature 2020 exhibitors. Participants were asked to email photographs of their finished products in any two of the following categories: Couture Cuffs, Cocktail Rings, Silver Jewellery, Daily Wear Diamond Jewellery, Coloured Gemstone jewellery, Couture Diamond Jewellery, Gold Jewellery, and Kundan Meena Jewellery.
The finalists were narrowed down by IIGJ faculty member Sushma Sawant and jewellery designer, Hetal Vakil. The winners were then picked by Ishu Datwani of Anmol Jewellers and Apurva.