Why are pearls so popular right now?
In January, US Vice President Kamala Harris wore a pearl necklace specially designed by Wilfredo Rosado to the inauguration. Her signature accessory put pearls back in the global spotlight. "How amazing did she look!" says Harriet Hedges, fine jewellery and watches brands partnerships assistant at Threads Styling. Wilfredo Rosado's new fine jewellery line W. Rosado, brought out the Pearl ID (Patent Pending) collection. Created out of a desire to update and personalise a perennial favourite, the idea, says Wilfredo, was to interpret a timeless classic into a collection that is modern and innovative, but also has the potential to transcend age and style.
Minimalism and unusual forms set apart the new line of pearl jewellery. Inspired by the colours of the sky at sunset, Shimell and Madden's new dusk lunar pendant from their Horizon collection features a rhodolite garnet, peach sapphire white diamond and white pearls. "Echoing the movements and alignments of the celestial bodies, the linear and curved structure is created from hand drawn 18-karat yellow gold in a soft satin finish," says co-founder Emma Madden.
Beautiful baroques are much loved for their irregular shape, and Christina Soubli uses them in uncommon ways. Sometimes half hidden in the back of earlobes or even inside the ear with her designer stick earrings. "I also love single earrings with baroque pearls and I match it with a small round pearl as a pair and not the same earring," says the Greek designer, who loves the irregularity of baroques and their soft glow. "I feel they are living creatures with hidden power."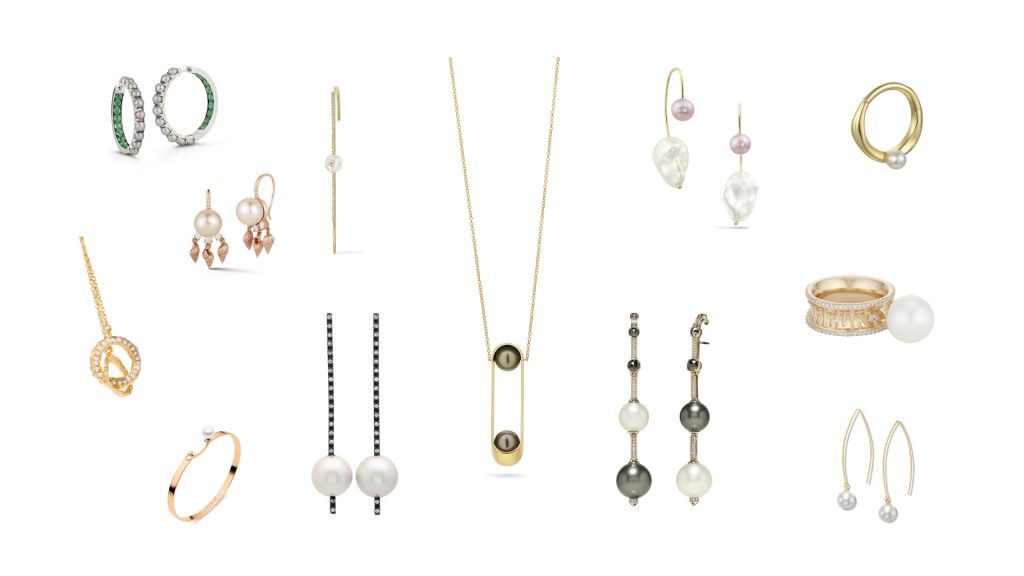 Another designer who frequently uses baroque pearls is Khadijah Fulton of White/Space; diamonds and birthstones glint on the cultured white pearls, Tahitian South Sea pearls and baroques. The gold arcs, lines and curves rely on baroques and lagniappes to transform Khadijah's minimalist design into cool wearables.
Fresh water pearls are extremely popular due to their price point.
Noor Shamma loves the organic nature of fresh water pearls and their lustre. Her pearl jewellery has an effortless organic nature that is also structured. "The design focusses on the beauty of the pearls within that architectural context," says Noor. Her Troika spiral knuckle ring inspired by the idea of repetition and uninterrupted flow is quintessentially stylish.
The classic pearl pieces are being re-invented, confirms Libby Page, Senior Fashion Market Editor at Net-a-Porter, a luxury e-commerce platform. "Trend-led categories such as chokers, anklets and ear cuffs have all been very popular with our customers; there is a new contemporary outlook to pearl pieces," adds Libby. Sophie Bille Brahe, in Libby's opinion, does feminine yet modern takes on pearl designs that complement the female form perfectly. "Her clever designs are fashion forward and re-imagine ways of wearing pearls for the modern woman." Net-a-Porter also sees brands such as Mateo, Yvonne Leon, Marlo Laz, Irene Neuwirth, Spinelli Kilcollin and Maria Tash starting to bring pearls into their collection in exciting ways.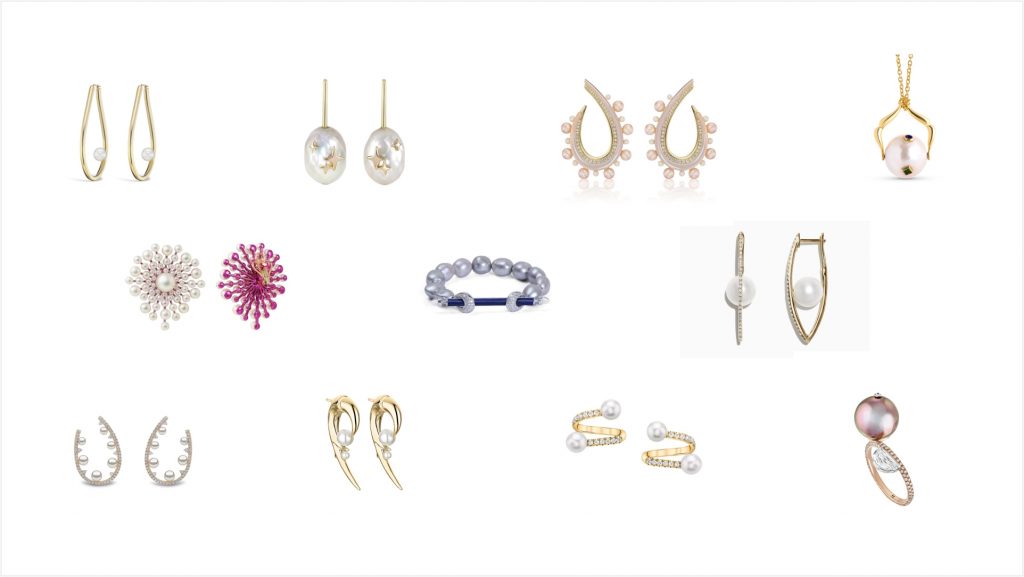 Nancy Newberg likes to add an unexpected mix of metals and finishes when creating her pearl pieces. Her signature aesthetic mirrors a combination of diamonds with ruthenium finish, alongside textures. "Pearls allow me to add another element to my designs. I love the soft smooth round shape of a pearl and combined with black ruthenium and the sparkle of diamonds, my pieces are edgy and fun," adds Nancy.
"I have noticed more brands are designing ways to wear pearls for that younger client, in innovative ways," adds Harriet, who is on a constant quest to spot emerging talents for the digital personal-shopping service. "I think this trend will take a little while to gain momentum for the majority of our Threads clients, who are based in the Middle East.
"Personalisation is extremely popular with the Threads client. Pearls set with diamond initials add a personalised touch, which Wilfredo Rosado does very well," adds Harriet.
Sarah Ho recently launched a new range of stunning earrings in a combination of South Sea and Akoya pearls complemented with diamonds. Vibrant hues of electric blue, fuchsia and turquoise neon plated gold chase away the pandemic blues. "I love the idea of the classic white pearls being set with against a pop of colour. When we're allowed out again, I think Sarah's new Neon Lux pearl earrings would be fabulous for a more dressed up look," Harriet adds.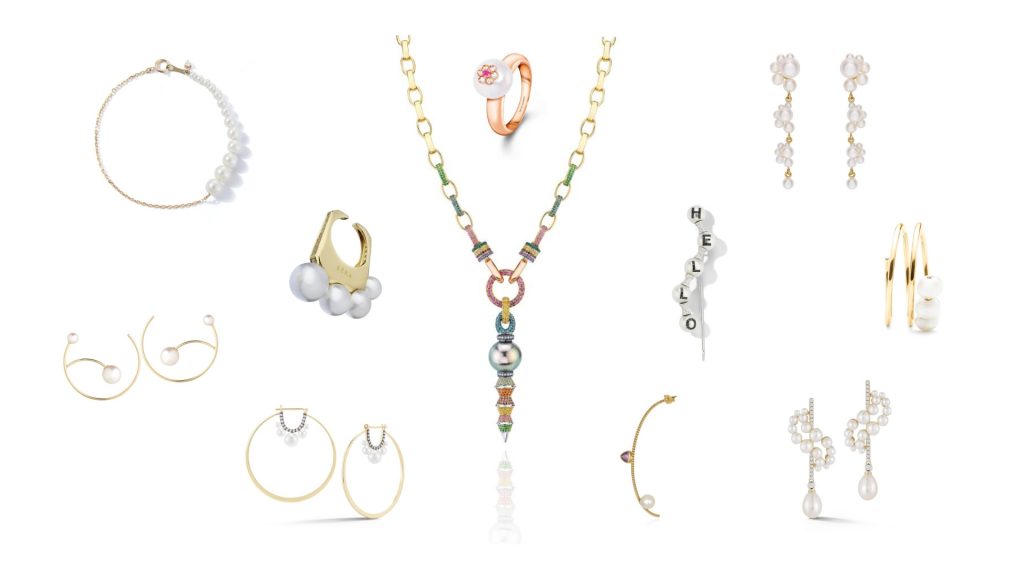 Katherine Jetter has always loved pearls, but Tahitian pearls, for her, possess an almost otherworldly quality. Katherine combines pearls with different materials to create new interpretations of a classic. "Their beauty and rarity, and the fact that they come in such a range of subtle hues is very magical to me. I think the aubergine and green lustres complement the Muzo emerald green perfectly," observes Katherine, who has offset pearls with Muzo emeralds in an array of designs.
Rosa Van Parys fell in love with pearls as a teenager. "I am attracted to their lustre, to their fascinating tones and their shapes." When she started designing, she wanted to give fine pearl jewellery a new edge. "I wanted to take my designs to a new level and create pieces that were totally unexpected and could be worn daily. I also wanted to add lots of colour to the pieces." Her Pearl Dagger line borrows heavily on sharp, pointy and edgy elements that are set alongside perfect lustrous pearls, creating a fantastic juxtaposition. "I am an architect and an interior designer, so my eye always gravitates to symmetry, balance and composition and these are the three main design principles I use when create the Pearl Dagger pendants," she explains.
Any takers for refreshing and modern pearl jewellery?
(All collage creatives by Dev Datta)