Indian gems and jewellery exports have shown signs of recovery, and registered sizeable growth from $36 million in April 2020 to $1,764.06 million in August 2020. The recovery is attributed to growth in demand for diamonds and jewellery in international markets like the US, China, Europe, etc. which have reopened for trade.
However, on a year-on-year basis, India's gross exports in August 2020 declined 42% to $1,764.06 million versus $3,018.32 in August 2019.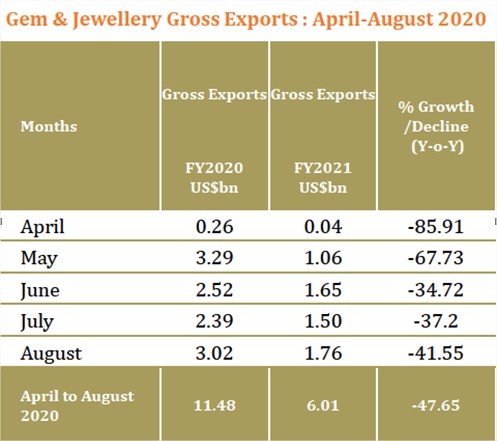 Commenting on the export figures, Colin Shah, Chairman, the Gem and Jewellery Export Promotion Council (GJEPC), said, "We are optimistic of the near and long term, as several countries are now open for trade. We have witnessed initial signs of recovery from markets like the US, China, Europe and the export orders have seen a steady rise month-on-month over the past 4-5 months. From $36 million-worth of exports in April 2020, India recorded exports of $1,764.06 million in August 2020, which is a healthy recovery.
"All the gems and jewellery export units are working in full swing and the trade is getting back to normalcy. We are optimistic that we will be able to have a decent recovery of gems and jewellery exports from the current levels; the overall decline gap will be minimised and with the way markets are opening, the way the trade is recovering, we are hopeful that we will be able to restrict the downside of exports to just over 20-25% at the closure of the fiscal year, compared with the previous year."
For the April to August 2020 period, India's overall gross exports of gems and jewellery declined 48% to $6,008.57 million compared to $1,1478.14 million in the same period a year earlier.
The country's imports of gems and jewellery from April to August declined 66% to $2,342.13 million compared to $6,816.92 million in the comparable year-on-year period, which indicates the decreased manufacturing activities and demand for gem and jewellery products in the country.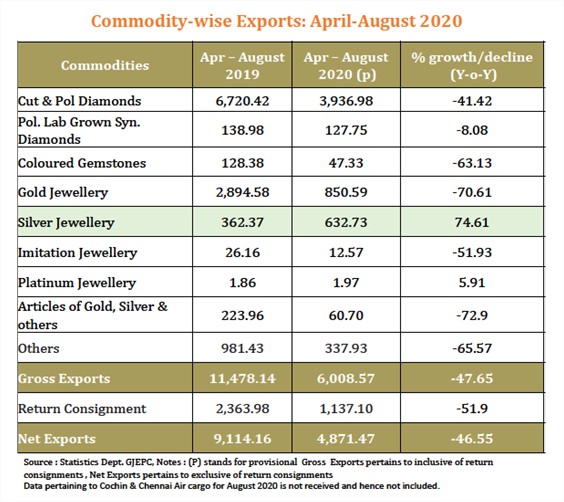 Cut and polished diamond accounted for nearly two-thirds of the country's total gem and jewellery exports during the first five months of FY 2020-21. From April to August, the overall gross exports of cut and polished diamonds fell 41% year-on-year to $3,936.98 million.
Silver jewellery stood out as one of only two commodities (platinum jewellery was the other) to register positive export growth in the five-month period, growing at 75% to $632.73 million.
Gross exports of gold jewellery in the fiscal year-to-date declined 71% to $850.59 million compared with the previous year.
Coloured gemstone exports too weren't spared from the Covid impact, and dropped 63% in the April-August 2020 period to $47.33 million versus $128.38 million in the same period a year ago.
Gross exports of platinum jewellery in April-August 2020, grew 6% to $1.97 million year-on-year.
In April-August 2020, India's top export destinations for gems and jewellery were: Hong Kong ($2,716.29 million), USA ($1,739.49 million), UAE ($398.49 million), Belgium ($258.82 million), Israel ($167.12 million), Turkey ($146.50 million), Thailand ($110.72 million), UK ($72.94 million), Japan ($64.17 million), and Switzerland ($48.90 million).