Amrapali is one of the first Indian brands that earned recognition abroad — it has become synonymous with Indian jewellery among the global audience.
Situated in Jaipur's famous jewellery district, Mirza Ismail (M.I.) Road, Amrapali Jewels has a welcoming ambience. Years ago, during my first visit to the store, I had to buy some silver trinkets for my office colleagues, who were hell-bent on owning an Amrapali piece. Plagued with doubts if I could fulfil their wishes, I hesitantly stepped in. Soon, I was met with smiling faces behind the counter, and I was instantly handed beautiful cane baskets brimming with an assortment of silver jewellery. I dug happily into them like they were candy jars, and picked out fistfulls of gorgeous baubles, each for as little as Rs.300!
Being a jewellery industry journalist, I was also introduced to the affable Tarang Arora, CEO and Creative Head, and the scion of Amrapali, who showed me around and spoke about jewellery and business and pulled out some exquisitely handcrafted bridal necklaces bedecked with polkis and rubies from the cabinet drawers. "Anyone can step in and buy jewellery for as low as a couple of hundreds or worth lakhs," he told me. That was then!
And Amrapali has continued to sell a vast range of jewellery – from fine to fashion – through its brick-and-mortar stores and two online e-brands – Tribe Amrapali and Legend Amrapali, for its consumers across segments.
In an exclusive interview last week, Tarang Arora, spoke to Solitaire International about what elevates the brand a cut above the rest, the online ventures, trends and more.
You have inherited a legacy in the form of the iconic Amrapali brand founded in 1978 by your father, Rajiv Arora, and uncle, Rajesh Ajmera. Tell us about your early experiences in the industry that made you realise that you were cut out for this profession.
So, my father, Rajiv Arora, and uncle, Rajesh Ajmera, who started Amrapali Jewels in 1978, originally began with collecting handicrafts – in fact, anything related to history. But after two years of dabbling in handicrafts, they realised that jewellery was an even more interesting category, and connected to history, too!
Since my younger days, I realised everything was related to jewellery — our travels, our friends, people from the trade who eventually became family friends; I remember visiting some of them abroad for family holidays. The talks mainly gravitated towards jewellery, history or art. Visiting museums, appreciating architecture also played an important role in moulding me towards this profession.
I believe passion leads to creativity and then eventually to business. Architecture, arts – all of it intrigued me. One tends to see a connection everywhere – spills over of motifs, say, from architecture into textiles or into ceramics, furniture and so on. It fuelled my passion and helped me to entrench myself into the jewellery business.
Was your learning on the job or did you take up courses in gemmology and designing? What were the challenges, if any?
I completed my education in Jaipur. Later, when I had an opportunity to go to London for collaboration with Selfridges, I stayed put and did my gemmology and designing courses there. Formal education helps a lot when interacting with a client at the counter while selling a piece of jewellery. That was the induction of sorts for me in London.
There haven't been any major challenges as such. But, yes, those days we used basic software, Rhino, and I remember taking classes for CAD/CAM, which later took off in a big way. Today, the designing process is highly modernised and advanced; but those days it was different.
I insisted on doing bench work and learned jewellery-making from scratch from our karigars, and the challenges they faced when making intricate designs. Learning firsthand from those who have worked with us since many years, I believe, has an added advantage.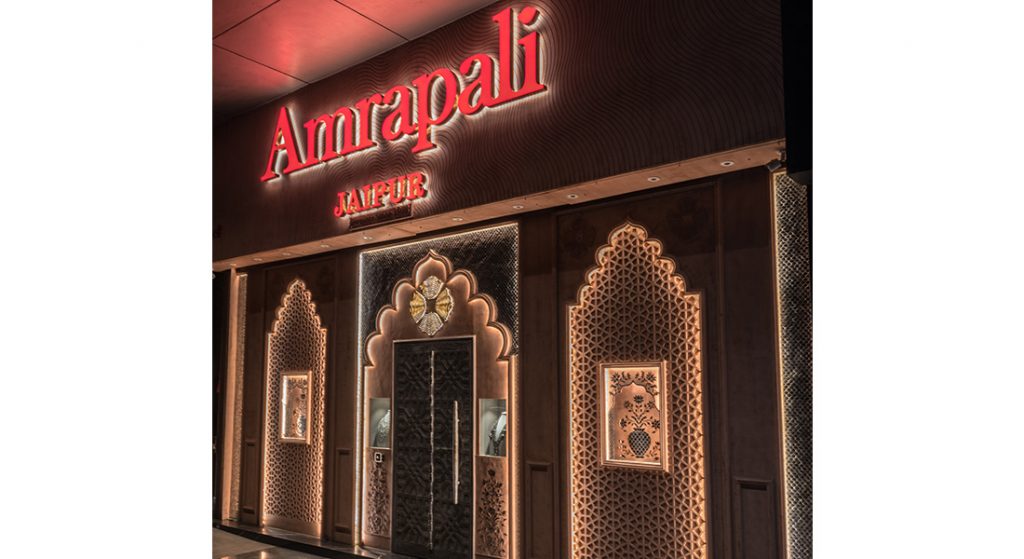 Amrapali is known for its unique aesthetic tethered to Indian roots, yet very contemporary in its approach. How does the brand achieve this balancing act?
It is definitely the Indian DNA that is at the heart of our company. No matter what we do, whether we steer towards more Western or Bohemian, we try and bring in an Indian aesthetic. And that is what we want to show to the world … what Indian jewellery means, the DNA of our brand which is India-inspired; we are proud of our Indian DNA.
As for the contemporary approach, about six years ago, we started cutting diamonds in the shape of the lotus, which also happens to be our company logo. I see that there's an overspill and many brands have been following us. The same happened with the lotus-shaped rubies and emeralds that we custom-cut earlier. I am aware of many renowned jewellers and design houses that are using our lotus cuts in their jewellery because it has become a trend.
Our approach is focussed and we don't make a jewellery piece that is restricted to a certain kind of attire. Our pieces are versatile and can be paired with a lehenga, a salwar suit, jeans and T-shirt or a Western outfit. Even if the piece is versatile we make sure that we always have the Indian story encapsulated in our pieces.
How often do you come up with new concepts/collections? Tell us more about the latest lines that you have unveiled.
We have three brands – the main Amrapali brand, Tribe Amrapali and the recently launched Legend Amrapali.
While Tribe consists of silver and gold-plated lines as well as fashion jewellery, Legend offers affordable 18-karat gold jewellery. In fact, for Tribe we keep adding a new collection every three weeks.
For Amrapali, we work mainly with concepts, and create one-off pieces that could take anywhere from two months to two years to develop. These are our masterpieces. We will soon be launching the Amrapali bracelet line, but more about it later. While we still concentrate on making limited or one-off pieces under the main Amrapali brand, we have been giving a lot more time to Tribe and Legend to make more dedicated collections regularly.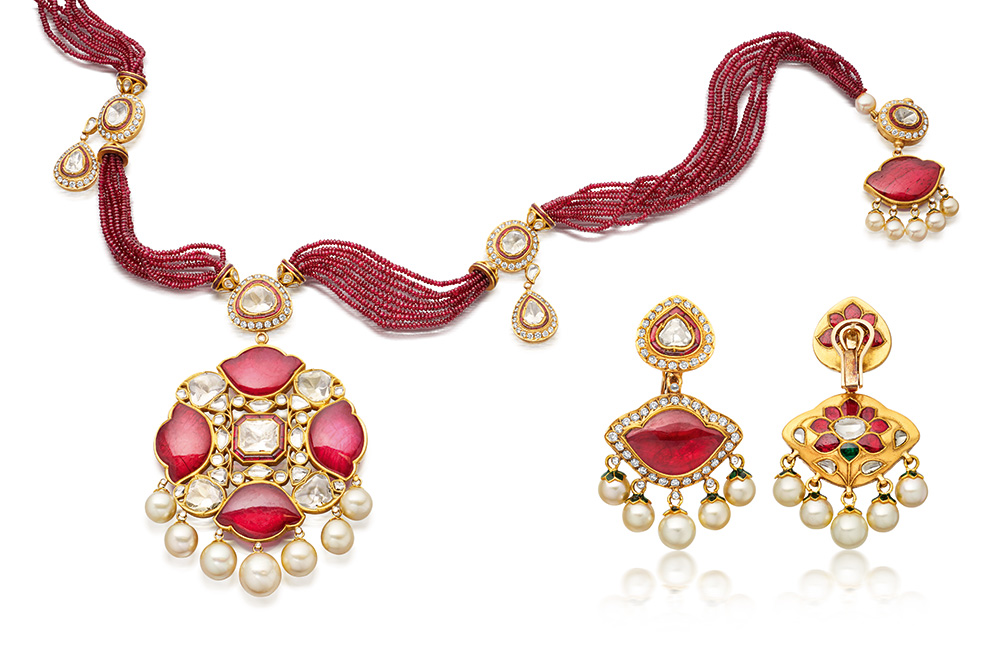 What is the price range of the pieces you sell across categories?
We are probably one of the only brands, I'd say not just in the country but across the world, who sell fashion jewellery, silver jewellery, fine jewellery in gold and platinum. The range varies from maybe just $2 to $2 million.
We are a 100% integrated jewellery company. In terms of jewellery categories, the choice is vast – you can find a pair of jhumkas in silver in Tribe for $15-$20, to the fanciest pair of earrings set with rare gems … What we are proud of, is that we do everything possible in the world of jewellery!
What changes have you made since the pandemic began? Has it changed buying habits?
Jewellery buying has transitioned from personal visits of buyers to video conferences. I often see our staff on video calls talking to buyers and showing them pieces. So that is definitely something which is great.
I feel the launch of Legend Amrapali is a step in the right direction of doing online sales in the fine jewellery segment. Buying habits have changed drastically and clients are even more spoilt for jewellery options … and many want private viewings at their place. Client is king and they are dictating what they want and the market is doing whatever it can to cater to them, especially during the pandemic!
What kind of trend directions are you anticipating in terms of design, gem cuts and colour, metal preferences…?
Going forward, in my opinion, it will be all about multi-functional jewellery. It's about transforming a simple diamond or ruby stud into something fancier. Can it be enhanced with a large jacket for an occasion? Can a jhumka be added to the ear stud or make it look like a karnaphool (ear climber).
We invest a lot of time and effort to study trends and I believe that multi-functionality is going to be the most important trend soon. Brides generally don't want to go OTT these days and prefer to wear jewellery pieces in multiple ways. So we will have to design pieces which can be re-created and transformed, and it is also important to show to the Indian consumer that a bold and beautiful piece can be actually redone into two striking pieces, if required.
Any plans of expansion for your company? Which are your major export markets, if any? Do you see design differentiation in these markets for your products?
We opened another store in London and Burlington arcade in December 2020, and right after that we had a lockdown again in London. But I think it's time to take it easy and check how the market responds – we are witnessing rapid changes so it is better to wait and watch.
Exports have been stable and good. America is a very important market, and so is Europe; both are very important for us. Every market has its own preferences in terms of design and metals. So certain markets are okay with fashion jewellery, some want only silver, others want a mix of silver and fashion and so on.