31st December 2022
Ref: GJC/D/IIJSSIGNATURE/2022-23
Subject : Parking & Other New Facilities for Visitors during IIJS Signature 2023 - 5-9 Jan 2023
Dear Esteemed Registered Visitors
Greetings from GJEPC!!!
Thank you for being part of the overwhelming response that has been received from visitors in India and abroad for visiting the IIJS Signature 2023, scheduled from 5th to 9th January 2023 at the Bombay Exhibition Centre, Mumbai.
IIJS Team is all geared up to make your visit to IIJS Signature 2023 a memorable one.
PRINT YOUR OWN PAPER BADGE for IIJS Signature 2023
Once your registration and payment for registration is completed, you will be able to print your own badge from online to visit the show.
Please click on the VISITOR BADGE GENERATE (gjepc.org)
Put your registered Personal Pan Card no.
Get OTP on your registered mobile no.
Generate your Badge
You will require to Colour print your badge on A4 size paper beforehand to visit the show
Lanyards and badge holders will be made available to you at the show by the Council.
We would like to inform you that the following facilities will be made available during your visit to IIJS Signature 2023:
Complimentary Water Bottle at the venue
Complimentary Wi-Fi at the venue
QR code available on each stall which will help you to save exhibitor information on your phone with one click
Informative and Educational Seminars named as "Innov8 Talks" every day at Launch Pad in Hall no.1 Central Square
A Brand New Lab Grown Diamond Section in Hall no.1
Meet Budding Designers at Design Gallery in Hall no. 5
Exclusive Hall where you can meet Machinery Exhibitions at Hall no. 7
Hall no. 1 to Hall 5 are interconnected
Interactive 3-D floor plan live on GJEPC website and GJEPC app for better navigation/ company search of the show etc.
New Online booking for Parking at Parking Facilities exclusively for IIJS Visitors by using Promo Code IIJS23:
Lodha Fiorenza – Goregaon, Mumbai,
Romell Aether – Goregaon
Oberoi Prizma – JVLR – Jogeshwari East, Mumbai,
Car Parking Booking Process
Alternatively, car parking can be booked directly on weblink as well.
Weblink - https://m.parkplus.io/book-parking?locType=search&lat=19.1524904&lng=72.8528372
After selecting prthe eferred parking venue, complimentary parking can be availed by using Promo Code IIJS23
Visitor needs to make booking for every day, slots will open a day prior after 12 noon.
A visitor must check in to the parking venue within 2 hours of the selected parking time.
Shuttle Services
For the convenience of our Visitors traveling from official hotels and various parts of the City, and especially to avoid the evening rush due to which conveyance becomes difficult to get out of the venue, to and fro shuttle services with large number of buses have been deployed from below locations. The detailed timeline will also be available on GJEPC website and app.
From Goregaon Railway Station.
From, Metro Stn. (Aarey Goregaon & Andheri WEH Stn.)
From 2 Parking Lots in close vicinity (Romel Aether & Prisma Oberoi)
From Bharat Diamond Bourse (BKC) Bandra.
Please find below the map for your quick navigation on the respective venue gate and entry from security checks to the venue. You may also access the interactive 3D floor plan available on gjepc website.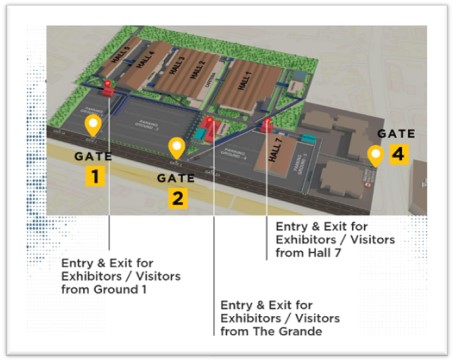 Please feel free to call us on 1800-103-4353 for any further details pertaining to IIJS Signature 2023.
Thanking you and looking forward to seeing you at IIJS Signature 2023!
With warm regards,
Sabyasachi Ray
Executive Director