Hon'ble Minister of Commerce & Industry, Shri Piyush Goyal, and Mr. Olivier Becht, Minister Delegate for Foreign Trade, Economic Attractiveness and French Nationals Abroad, Government of France, who are currently attending the G20 Trade and Investment working group meetings (TIMM) in Jaipur, inaugurated the "Navaratan" exhibition, which is held on the sidelines of the G20 TIMM at the Chandra Mahal, Sawai Man Singh Mahal, Rambagh Palace Hotel, Jaipur.
Part of a series of exhibitions aligned with the G20 Trade and Investment Ministerial Meeting, the "Navaratan" offers an engaging spectacle for distinguished G20 delegates, showcasing the city's expertise in gems and jewellery, textiles and handicraft. The theme revolved around the concept of "NAVARATAN" symbolising the nine precious stones in different colours and their influence on the Jewellery, traditional Crafts, and vibrant textiles of Rajasthan thus contributing to the diverse heritage of the region. This comprehensive exhibition aims to foster collaboration, encourage investments, and promote trade between domestic and international stakeholders in these sectors.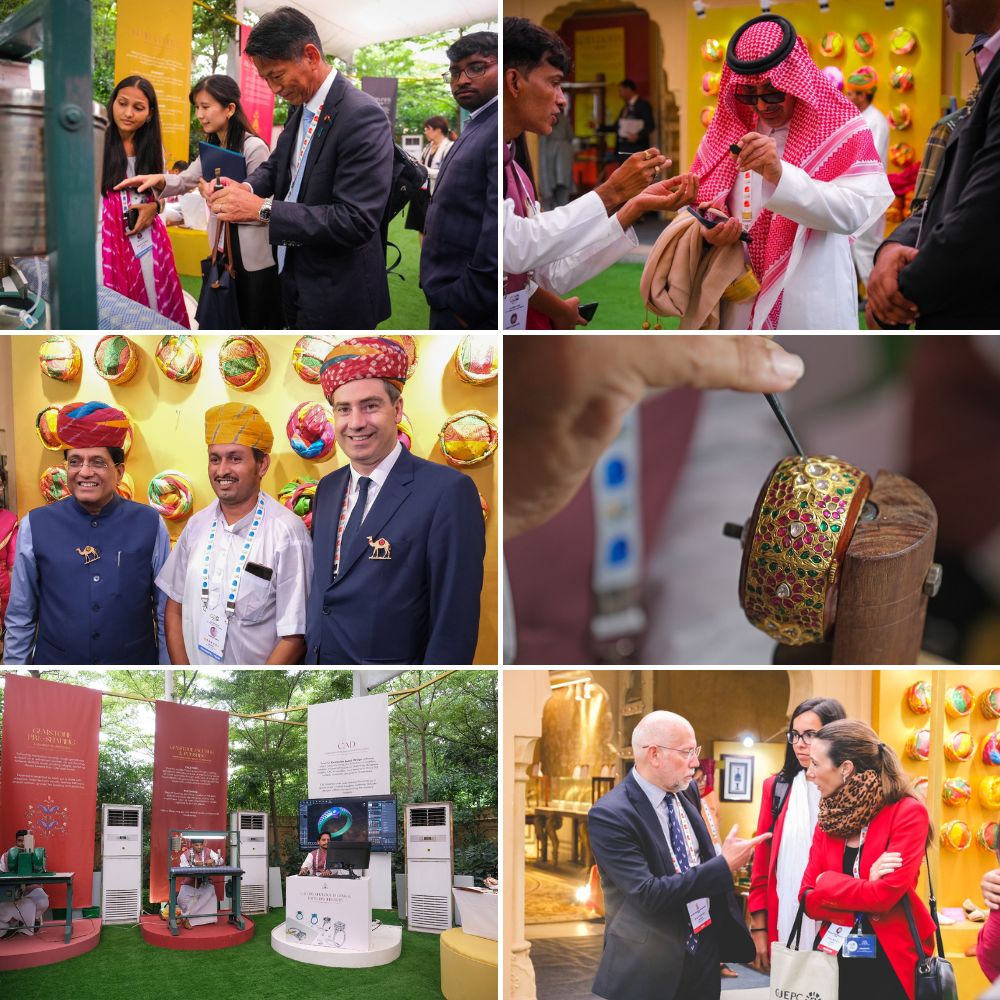 Shri Piyush Goyal, along with Mr. Olivier Becht interacted with artisans at the Experience Zone. They sought to gain insights into the intricate processes of crafting various gems and jewellery items and wide variety of indigenous textiles from Rajasthan like Dabu, Block Print, Bandhani, Gotta Patti, Ralli Patch work & Kota Doria. Also, traditional handicrafts such as ornate & carved boxes, adorned figurines, marble gold leaf work, hand-painted wooden handicrafts, inlay work and Jodhpur Jutties.
The captivating experience zone representing gems and jewellery organised by The Gem & Jewellery Export Promotion Council (GJEPC), showcased Rajasthan as a prominent global jewellery hub. This innovative zone immersed delegates in the intricate art of jewellery making, showcasing the journey of traditional art of Kundan Meena, diamonds and precious gemstones from the mines to market and the meticulous craftsmanship process that goes into each creation. Central to this experience is exclusive stands that proudly displayed the breathtaking spectrum of colored gemstones, spanning from their raw forms to cut specimens, integrated into jewellery pieces expertly.
Mr. Vipul Shah, Chairman, GJEPC, expressed his enthusiasm, stating, "The exhibition exemplifies the seamless fusion of tradition and modernity that characterizes Jaipur's industries." He emphasised how this dynamic blend not only preserves heritage but also propels Jaipur's industries towards a vibrant and innovative future.
Live craft demonstrations of Thikri, Block Printing, Lac Bangles, Blue Pottery and Sanjhi Art gave the delegates a firsthand experience of the rich craft traditions and heritage of Rajasthan.
The event also highlighted Rajasthan's cultural opulence by featuring meticulously carved boxes, ornate sandooks, exquisite jewellery and adorned figurines that reflect the region's rich heritage. The immersive Experience Zone of Gems & Jewellery also unfolded the rich traditions, intricate craftmanship and the meticulous process of Rajasthan's jewellery making art through a captivating movie.
With more than 300 delegates poised to converge from G20 countries, this pivotal TIMM meeting is chaired by the Hon'ble Union Commerce and Industry Minister, Shri Piyush Goyal himself. His visionary leadership sets the tone for discussions that will shape global trade and investment policies under India's G20 Presidency. Jaipur serves as a perfect backdrop where delegates get a brief but immersive experience of India's rich cultural heritage, art & traditions.