Renowned Jewellery Influencer Katerina Perez shines the spotlight on emerging and talented artists through her latest initiative, the FLAIR Project. Here are excerpts from an exclusive e-mail interview to Solitaire International.
Jewellery influencer and aficionado Katerina Perez's interest and passion for high jewellery has always been rooted in "the wider world of art, design, and sculpture."
She comes from an artistic family – her mother restores paintings, and her father does the same for antique furniture. Over the years she has spent immersed in high jewellery, she has always been "pleasantly surprised by the juxtaposition of jewellery art with other disciplines, like painting, photography and textiles."
It is a welcome reminder, notes Katerina, that creativity is abundant, intertwined and mutually enriching. "Some years ago, I began thinking about way to combine my love of creativity with the skills I have learned over the course of my career, specifically community building. I appreciate the power of collaboration and understand that one of the key markets for gem and jewellery-related art is the jewellery industry itself. Being able to shine a spotlight on emerging and talented artists, support the jewellery sector and collaborate with events like GemGenève are the driving forces behind FLAIR," says Katerina, founder of FLAIR Project.
How did the Project come about?
The birth of FLAIR happened organically over many years. I am constantly surrounded by high jewellery and therefore finding artists who interpret jewels in new and interesting ways is part of my work. However, the pandemic certainly did accelerate my desire to return to live events and rediscover the excitement that comes with walking through an exhibition, discovering art, finding new jewels, and meeting brands.
FLAIR is also only possible through the collaboration of many artists, myself, my team and, of course, the organisers of GemGenève, who really embraced the debut FLAIR Project and provided the ideal platform to showcase the works.
What is your vision for FLAIR?
FLAIR is a continuation of my mission to bring more awareness to precious jewellery and gemstones, but this time using the vehicle of a variety of art forms.
My vision is for a calendar of FLAIR Projects to emerge annually, giving the artists in this community more opportunities to showcase their works and inspire potential customers.
My vision also includes an active and diverse global community that's empowered by social media to make connections and develop their unique aesthetics with support from the end consumer and the trade.
How did you go about shortlisting artists from across the world – UK, Russia, and France?
It was incredibly important to me to select each of the artists personally. Some I have known for many years and have either followed their work or featured them on my platform (KaterinaPerez.com). Others, I have been introduced to and met at various international events. Of course, there are some who I have discovered through Instagram, which is such a vital platform for finding new talent across a range of artistic disciplines.
To join the FLAIR community, artists are expected to demonstrate a strong DNA through their work, as well as creative flair, hence the name! I ask each artist to prepare an original work in their preferred medium, such as painting, sculpture, photography, haute couture, or digital art, with the condition being that jewellery and/or gemstones feature as the central character. Each member is chosen based on their skill and originality, rather than their international recognition or fame, with the goal of introducing the world to "hidden gems" in their respective artistic fields.
How does this meld your worlds – the passion of being a gem and jewellery insider and the world of multi-media?
FLAIR is all about expanding our understanding of jewellery, diamonds and gemstones and seeing an industry we know well explored in new ways. Being able to facilitate this and see jewellery in a new light is really inspiring. It's a bridge between various disciplines and that's what is so important about the initiative.
What fascinated you most about the works of some of these artists – Celia Martorchini-Fabbri, Ksenia Usacheva, Aigana Gali, Anna Petrich and Hossein Borojeni?
Celia Martorchini-Fabbri is inspired by history, mythology, art, and culture. Her Magnifica Collages for the Project last year are an ode to life, creativity, and the magnificence of jewels. The size and scale of her collages are what make her works stand out from the crowd – and I especially love the colour palettes she uses.
Ksenia Usacheva is a visual artist, creative director, photographer, and painter. Her surreal paintings are full of details, so it's easy to get lost in them. I especially love her 'Table of Delights' oil on canvas, as it reminds me of sitting at a vanity, daydreaming about what jewellery to wear.
Aigana Gali is a multidisciplinary artist who works across a wide range of media, from canvas and paper to textiles and film. Her 'The Sacred Gem and Tree of Life' cape is made of wool and silk and features hand-applied art, gold leaf and crystal embroidery. It is a beautiful creation that tells such a wonderful story. It certainly captured imaginations at GemGenève.
As a leather artist, Anna Petrich created five unique bags for this Project, all inspired by jewellery. I believe we all strive to look and feel like individuals in our fashion and jewellery choices, which is what makes these pieces so covetable.
Hossein Borojeni is a Franco-Iranian fashion illustrator working for the luxury industry and the press. His ink and watercolour paintings are contemporary in their minimalism but are given an injection of glamour through the artistic addition of jewellery.
How did the initiative fare at the Gem Geneve last year?
The FLAIR Project at GemGenève was a great success and it really captured the attention and imagination of visitors and exhibitors alike. As nothing like this has ever been done before, it was wonderful to receive positive feedback and to see how the artworks on display sparked conversation. This led on to further discussions about how jewellery can be expressed through different artforms.
People gravitated towards the collages presented by Celia Martorchini-Fabbri due to their immense size, but also to the delicate embroidery and meticulous hand-painted fabrics on display. Alongside the exhibition, I hosted a talk at the exhibition about the importance of art and its role in business, specifically how it can be a tool for business growth and not just creativity. This was a huge success, and it highlighted an appetite for such conversation.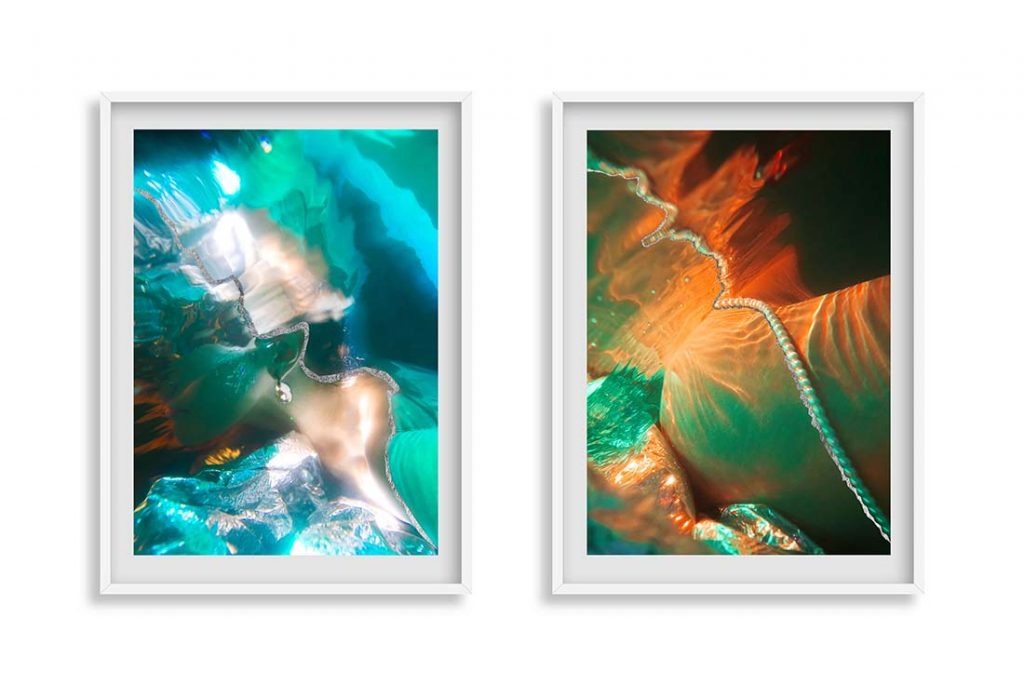 What's new for FLAIR?
FLAIR will return for a second Project at GemGenève in May. I am thrilled that we have been welcomed back to showcase more wonderful works. All artworks are created as one-of-a-kind pieces designed exclusively for the Project, so this is an opportunity to view and purchase something completely unique. Paintings, photos, and haute couture can be bought via the FLAIR Instagram platform @flairproject_official.