Siddarth Rupchand Sawansukha, Managing Director, Sawansukha Jewellers, Kolkata, intends to expand the company's footprint in its major export domains such as the UAE, USA, UK, Singapore, Malaysia, and the Bahamas. The award-winning jeweller also talks about plans to open more retail showrooms in the Eastern region of India, preserve jewellery-making crafts, and reveals upcoming gemstone trends and more.
We'd like to know a little about your family history related to the world of jewellery. Your early experiences in the industry that made you realise that you were cut out for this profession.
My father, Rupchand Sawansukha, the founder of the House of Sawansukha epitomises the courageous spirit of a visionary. It is his leadership qualities and unwavering commitment to excellence that charters the path for the team; he plays the role model for each one of us.
Even though our brand was started by my father, we have a lineage and rich tradition of crafting jewellery for eight generations that is known and appreciated globally. My passion for designs, culture, and textures reinforced the fact that I was born to carry forward the rich heritage of my ancestors.
Tell us what defines your company?
Sawansukha as a brand redefines timeless traditions blended with contemporary trends. Our jewellery pieces are a seamless blend of the past, present and future, making each piece a treasured heirloom. As a brand, we thrive on preserving the inimitable artistry and crafts of India while empowering the artisans, thus beginning a new dialogue in design.
Customisation is a big trend these days – are you also witnessing this trend among your consumers?
Customisation is indeed a big trend now. With the shift in gender roles, more male members come to our showroom these days to buy jewellery for their female partners. They prefer to get their special moments like date of birth, anniversary dates or special places etched on their rings or a piece of jewellery, to personalise them and make them extra special.
How much of your inventory is developed in-house? How often do you come up with new concepts/collections?
As a brand we have a rich history of crafting jewellery that is appreciated globally … carried forward by eight generations. We provide an immersive experience in the world of artistry and designs, and each of our pieces is designed and crafted in-house. I believe in adding innovation to each of our collections.
Our latest collection is 'The Wedding Showcase 2021' collection that aims to explore the multiple aspects of bridal jewellery that retains the old-world charm and craftsmanship with the right blend of a contemporary slant.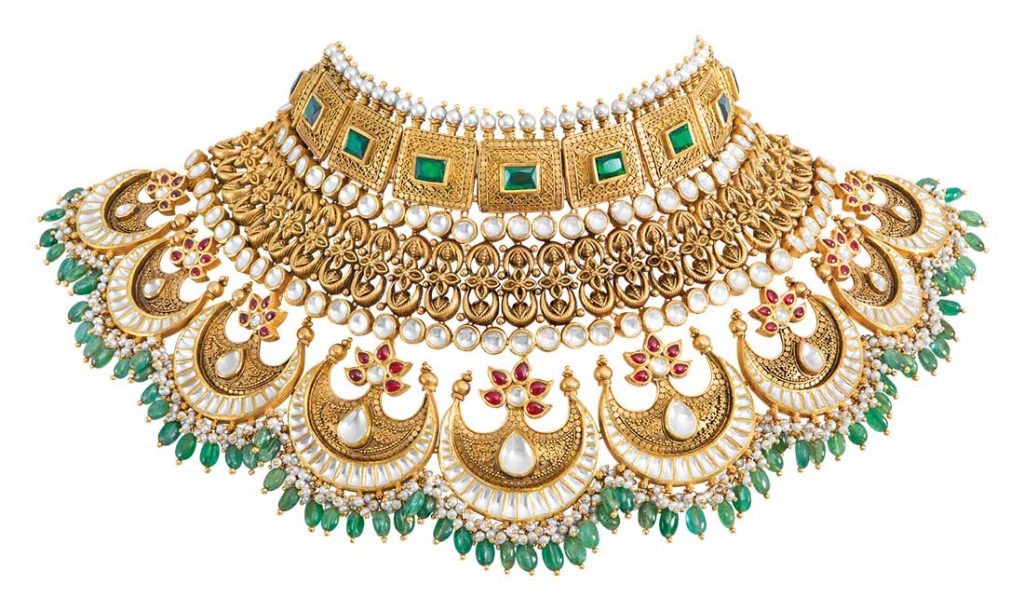 Tell us more about the jewellery designing institute run by you. What are the courses offered? How many students have benefited from the courses so far?
We have trained almost 4,000 students so far at our Sawansukha Institute of Gemology & Jewellery Design, an initiative of Sawansukha Jewellers.
The Institute faculty includes professionals from prestigious organisations in the field with an experience of more than 10 years. We have the most up-to-date modules and training orientation programmes, and our basic and diploma courses are conducted both offline and online.
What changes have you made in your retail format since the pandemic began?
Owing to the pandemic, most brands have shifted to online platforms, and we are not an exception.
We recently concluded a by-appointment only live jewellery online programme where we showcased collections based on the customer's needs. Once they zeroed in on pieces, we sent it to the customer's house so she could touch and feel the jewellery, try it on before making the purchase.
Has the pandemic changed the buying habits of consumers?
The pandemic has made people rely more on online shopping. Clients, who were not comfortable shopping for jewellery online, are now opting for shopping through our virtual platform.
Going forward, what kind of trend directions are you anticipating in terms of design forms, diamond cuts and colour, gemstones, and metal preferences?
Customers want more colours aside from only yellow gold. Rose gold has become popular, and I believe we will be seeing more colours in gold in the future. Designer pret wear is gaining precedence.
Fancy colour diamonds set in high-end designer pieces are being favoured. Consumers are also liking uncut diamonds or polkis in jewellery. Emeralds are still on top of the heap. However, in the near future, I feel blue sapphires and tanzanite will gain popularity too.
Wedding jewellery will always stay in demand, but more and more people are ready to invest in sleek designs that can be later used on occasions or for regular wear.
Do you think demand for diamond-set jewellery will rise or stay plateaued?
Of course, more and more people are opting for diamond-set jewellery and there has been a steady growth in demand over the past few years.
Any plans of expansion for your company? Which are your major export markets? Do you see design differentiation in these markets for your products?
Sawansukha is primarily divided into two segments – B2B and B2C. We have a retail presence in the Eastern region with five outlets, and plans are afoot to expand in Delhi, Mumbai, Raipur, Guwahati, Ranchi, and Bhubaneswar.
We are also increasing our footprint in the UAE, USA and UK, Singapore, Malaysia, and the Bahamas.
Expansion is happening on a regular footing, but our major focus is B2B and we cater to 270 retail outlets pan India.
Designs differ based on different geographies, and we do extensive R&D to understand the requirements before we plan collections.
We believe you work closely with your karigars?
Our aim is to build a legacy that adds value to your brand. I work closely with karigars in the remotest part of the country to understand their needs and requirements to ensure a better brand value. We also do an annual event 'Amar Poribar' (Our Family) where all the karigars who work with us are invited to celebrate the occasion. When you ensure a good brand value, you ensure a better life for your karigars as well, thus ensuring a better ecosystem for all.