India's overall gross exports of gems and jewellery in March 2021 jumped 78% year-on-year to $3.42 billion as retailers around the world replenished inventory to keep pace with rising sales.
After three successive quarterly declines, Q4 experienced a growth of nearly 13%.
For the full fiscal year April 2020-March 2021, the country's overall gross exports of gems and jewellery declined by 28% to $25.31 billion — close to levels last seen more than a decade ago.
India's net exports (gross exports minus return consignments) of gems and jewellery in FY 2020-21 were down 28% to $20.762 billion.
Colin Shah, Chairman, GJEPC, said: "FY 2020-2021 was an exceptional year, yet the industry has shown resilience, adapted to the new normal and strived towards attaining recovery in exports in the second half of the year. Post witnessing a decline in the first three quarters, gem and jewellery exports have witnessed a remarkable growth of 12.73% in Q4. However, as we anticipated the year 2020-21 ended with a 28.46% decline in overall gross exports of gems and jewellery.
"While rough import of diamonds stabilised post opening up, the non-availability of duty-free gold to jewellery manufacturers have sharply impacted the plain gold jewellery exports leading to a decline of around 60%. Improved international market demands in Q3 owing to a robust holiday season, stimulated manufacturing across all gem and jewellery product segments and overall gross exports."
"The impact of Covid could have been severe, but I sincerely acknowledge the proactive support extended by the Central and State Govt. provided through timely relief measures and policy reforms that eased the impact of Covid-19 on the industry. GJEPC's virtual trade shows played a significant role in the recovery of exports in 2020-21. Virtual trade shows and e-commerce will continue to be the business growth drivers in 2021-2022."
India's Gem & Jewellery Gross Vis-a-vis Net Exports
| | | | |
| --- | --- | --- | --- |
| Export | April 2019 to March 2020 | April 2020 to March 2021 | % of growth/ decline |
| | (US$ in Million) | (US$ in Million) | |
| Gross Exports | 35375.89 | 25307.76 | -28.46 |
| Return Consignment | 6,522.70 | 4545.17 | -30.32 |
| Net Exports | 28853.19 | 20762.59 | -28.04 |
Source: GJEPC
In March 2021, cut and polished diamond exports shot up 124% to $2.158 billion versus a year ago buoyed by increased retail demand. Cut and polished diamond exports came back strongly in the final quarter, resulting in a full-year decline of 12% to $16.4 billion compared with $18.66 billion registered during FY 2019-20.
Meanwhile, gold jewellery exports increased 25% to $758.21 million in March 2021, and decreased 59% to $4.82 billion during the whole year.
On the other hand, silver jewellery exports ended the year in positive territory, growing 39% to $2.32 billion, from $1.67 billion in FY 2019-20.
Coloured gemstone exports during the year declined 42% to $186.75 million, compared with $320.41 million recorded a year ago.
India's overall gross import of gems and jewellery for FY 2020-21 declined 32% to $16.49 billion. This included a 16% year-on-year drop in gross imports of rough diamonds to $10.88 billion. Last year, the Indian diamond trade had called for a voluntary suspension of rough diamond imports on three occasions from April to July 2020, to preserve values and destock the pipeline. The overall gross import of cut and polished diamonds in FY 2020-21 increased 27% to $2.17 billion versus $1.71 billion registered in the previous year.
Table -1
Month-wise Gem and Jewellery Exports Trends (US$bn)April 2020 – March 2021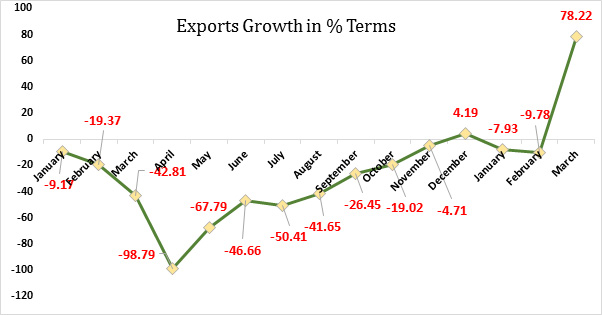 Table-2 Gem and Jewellery Gross vis-a-vis Net Exports
Table – 3 Gem and Jewellery Gross Exports: Commodity-wise