The ongoing heavy capital investment in diamond mines will secure the supply of natural diamonds for at least the next few decades, reports diamond analyst Paul Zimnisky.
Earlier this year, Debswana announced that it has been conducting studies to determine the viability of taking the Jwaneng mine underground. Initial estimates point to a $6 billion project which would extend the life of the world's most valuable diamond mine into the 2050s. It is estimated that "Jwaneng underground" would be world's largest underground mine (for any commodity, not just diamonds) consisting of tunnel network of more than 360km.
Jwaneng, which commenced production in 1982, has produced output worth some $2.4 billion annually in recent years via sourcing of ore from the mine's 8th cut of the open pit. The current cut is estimated to take Jwaneng production through 2023 at which point an already-in-development "cut-9" will further open-pit operations into mid-next decade (at which point the aforementioned underground expansion would likely be needed to continue operations). Debswana, the owner and operator of the mine, which is a joint venture between De Beers and the government of Botswana, spent an estimated $3 billion on the "cut-8" expansion and has committed to spend a similar amount on "cut-9" development.
The talk of taking Jwaneng underground serves as a reminder of just how expensive diamond mine expansion and new development projects can be. It also serves as a reminder of how much capital has recently been committed by diamond miners.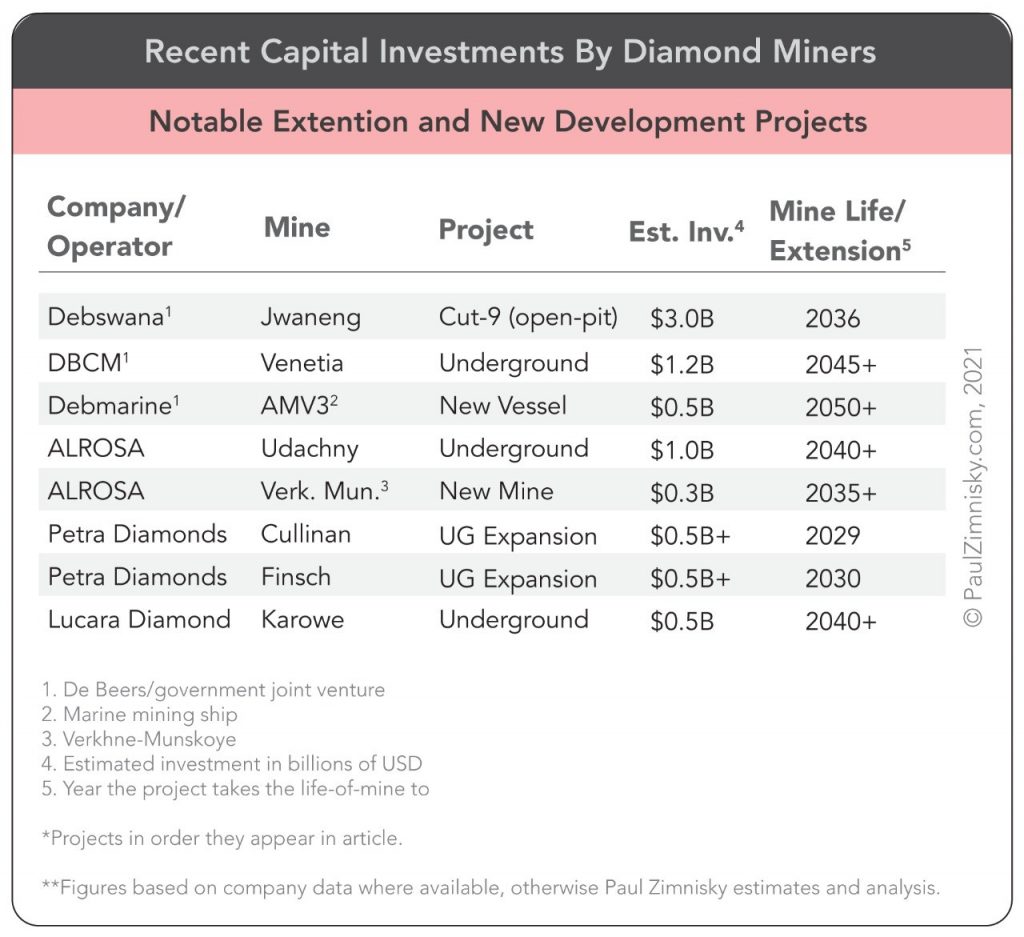 De Beers, along with its South African government partner, is in the final stages of construction to convert the world-class Venetia mine underground. The estimated $2.1 billion project is going to take Venetia's life of mine to at least the mid-2040s and possibly through 2060. In addition, De Beers, via its offshore Namibian joint venture, is spending almost $500 million to build a new mining vessel. The marine-mining-ship is estimated to add an incremental 500,000 carats (gross) of high-quality diamonds to De Beers' output starting in 2022/2023.
Take ALROSA, the world's other major diamond miner – the company recently spent 65 billion rubles, or ~$1 billion, to take its Udachny mine in Russia underground. The company also spent over $300 million to build the Verkhne-Munskoye mine in Siberia, which commenced commercial production in 2018 and ramped output to almost 2 million carats just prior to the pandemic. ALROSA is also currently investing in the development of two other new (modestly-sized) commercial mines in Russia: Zaria and Mayskaya.
Petra Diamonds, which owns and operates a portfolio of ex-De Beers mines in southern Africa, is estimated to have spent in excess of $1 billion to expand production and extend the life of its two key assets Cullinan and Finsch to 2029 and 2030, respectively. Single-asset producer, Lucara Diamond, just this year, amidst the pandemic, committed to spend over $500 million to take its high-value-stone Karowe mine underground – extending the mine life to at least 2040.
Diamond supply in volume is well off the most recent high-water mark hit in 2017 –i.e. ~120 million carats of annual output today versus ~150 million carats in 2017. However, the above major capital investments by the industry will contribute to sustaining a core supply base in the near to medium term.
—
Paul Zimnisky, CFA is an independent diamond industry analyst and consultant based in the New York metro area. For regular in-depth analysis of the diamond industry please consider subscribing to his State of the Diamond Market, a leading monthly industry report; an index of previous issues can be found here. Also, listen to the Paul Zimnisky Diamond Analytics Podcast on iTunes or Spotify. Paul is a graduate of the University of Maryland's Robert H. Smith School of Business with a B.S. in Finance and he is a CFA Charterholder. He can be reached at paul@paulzimnisky.com and followed on Twitter @paulzimnisky.
On 25th November, Paul will be speaking on global diamond industry fundamentals at the Angolan International Diamond Conference in Saurimo, Angola. To stream the event or for more information visit the conference website.
Disclosure: At the time of writing Paul Zimnisky held a long position in Lucara Diamond Corp, Star Diamond Corp and North Arrow Minerals Inc.