Prernaa Makhariaa, a renowned jewellery influencer and personal shopper from India, recently celebrated her wedding in a grand ceremony that showcased her exceptional talent for curating stunning jewellery ensembles. 
As a jewellery influencer, when you're about to get married, all eyes are on you. Prernaa Makhariaa, with her extensive experience in the jewellery industry, made sure to meticulously curate her jewellery as well as her spouse's jewels for each function related to her wedding. 
Not only did she adorn herself with captivating pieces, but she also skillfully styled the jewellery of her spouse, Kunal Shah, a businessman, and her parents, resulting in a wedding filled with awe-inspiring looks. By effortlessly blending Kunal's accessories with her own, she proved that men's jewellery can be just as stylish, versatile, and meaningful as women's jewellery. 
For the wedding ceremony, Kunal donned a striking polki necklace adorned with rubies and a captivating polki ring. He also added a classic Zambian Emerald kantha to complement his ensemble. Prernaa mentioned, "We aimed to introduce the concept of versatile pieces, such as wearing a diamond bracelet as a headband." Additionally, she thoughtfully curated her parents' jewellery to symbolize the significance of family bonds, adding an emotional touch to the overall celebration. 
"We wanted jewellery to be the highlight of our looks. I wanted to demonstrate that men's jewellery can be bold, sophisticated, and fashion-forward," Prernaa explained. By combining multiple pieces with unconventional accessories, she encouraged women to embrace their unique tastes and fearlessly express themselves through their jewellery choices. Moreover, all their ensembles were crafted in a way that provided employment opportunities to artisans in India. 
For the mehendi function, Prernaa opted for 22-karat temple jewellery by Khimji Jewellers featuring motifs of Goddess Laxmi and dancing figurines in a bold choker. She completed the look with a pair of matching jhumkas.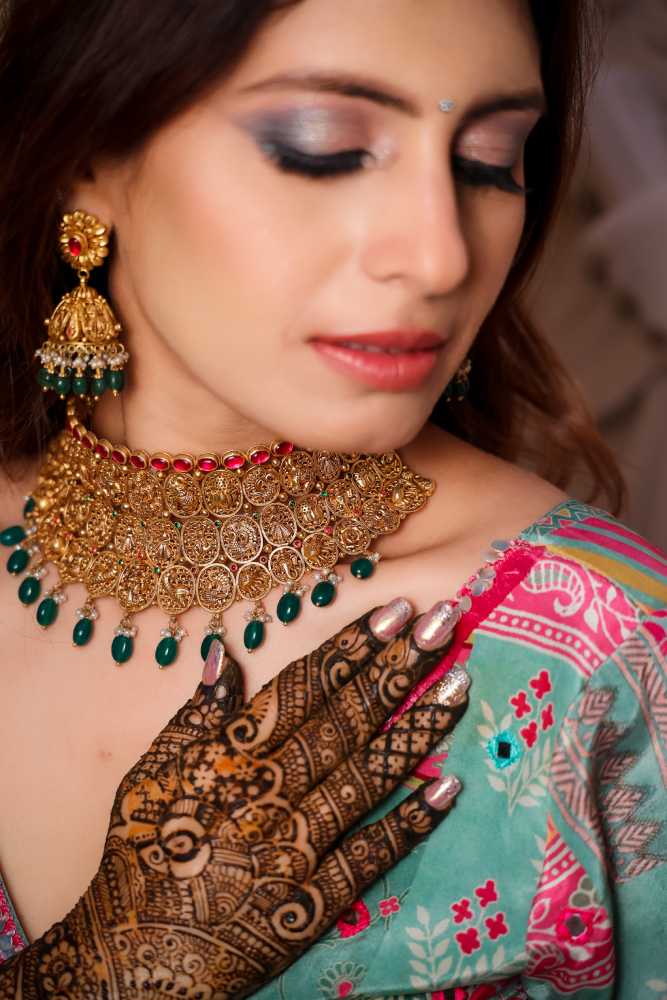 During the wedding ceremony, the couple chose jewellery from Raniwala 1881. Prernaa wore a classic polki and ruby choker set, complemented by a layered necklace. She adorned herself with a traditional Rajasthani Matha patti, a mix of polki kadas and bangles, bold polki rings for added sparkle, as well as silver pajeb (anklet) and bichiya (toe rings) to complete her look. Kunal selected a ruby kantha set with polki, a bold polki ring, and a princess-cut diamond ear stud.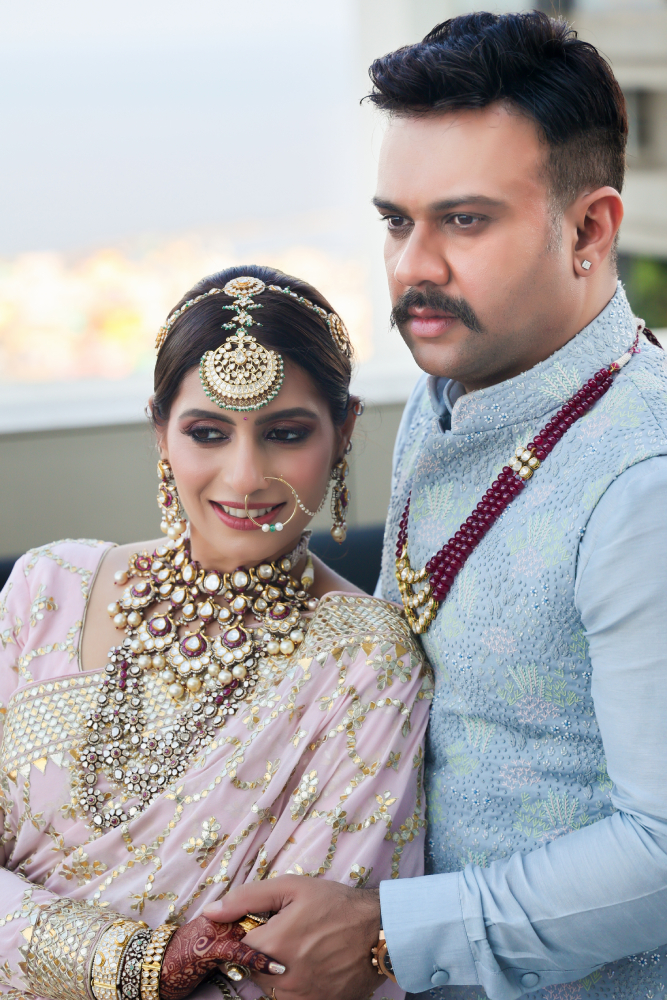 For the wedding dinner ceremony, Prernaa opted for jewellery by Mahesh Notandas & Vandals by MN—a classic diamond and emerald choker set layered with a multiple layer diamond and ruby necklace. She paired it with a diamond and emerald maang tikka and a hair band that could transform into a bracelet and choker. Meanwhile, Kunal Shah stood out in jewellery by Shiv Narayan Jewellers.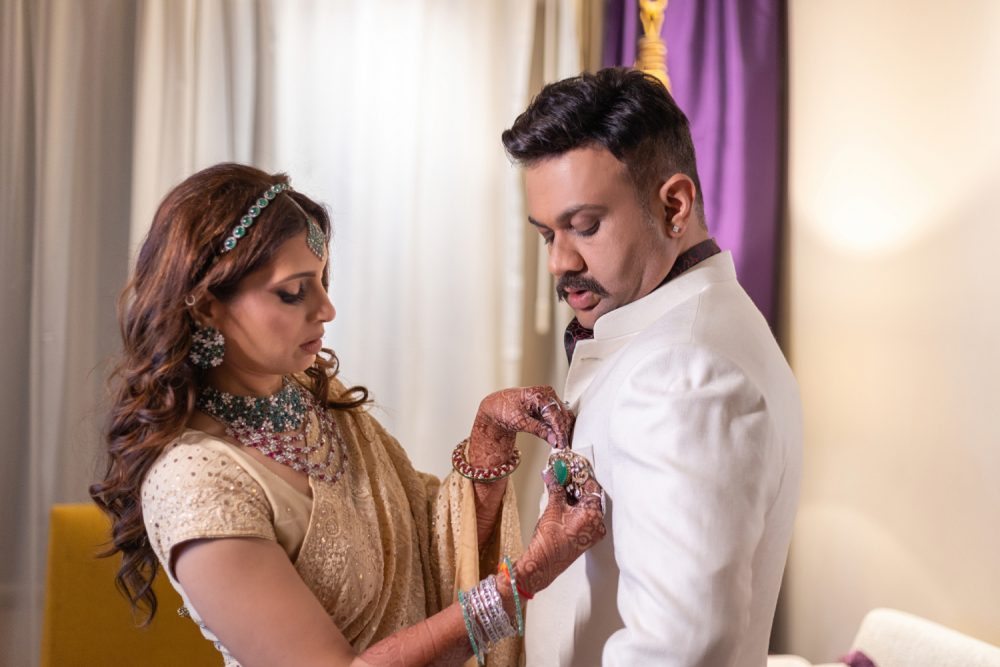 Additionally, Prernaa and Kunal exchanged Promise Rings in Platinum and diamonds, manufactured by BN Jewellers, a manufacturing partner of Platinum Guild India (PGI). These exquisite love bands, featuring beautiful indents, serve as a reminder of their commitment to achieving many milestones together. Crafted from rare and durable platinum, they symbolize the everlasting strength of their love.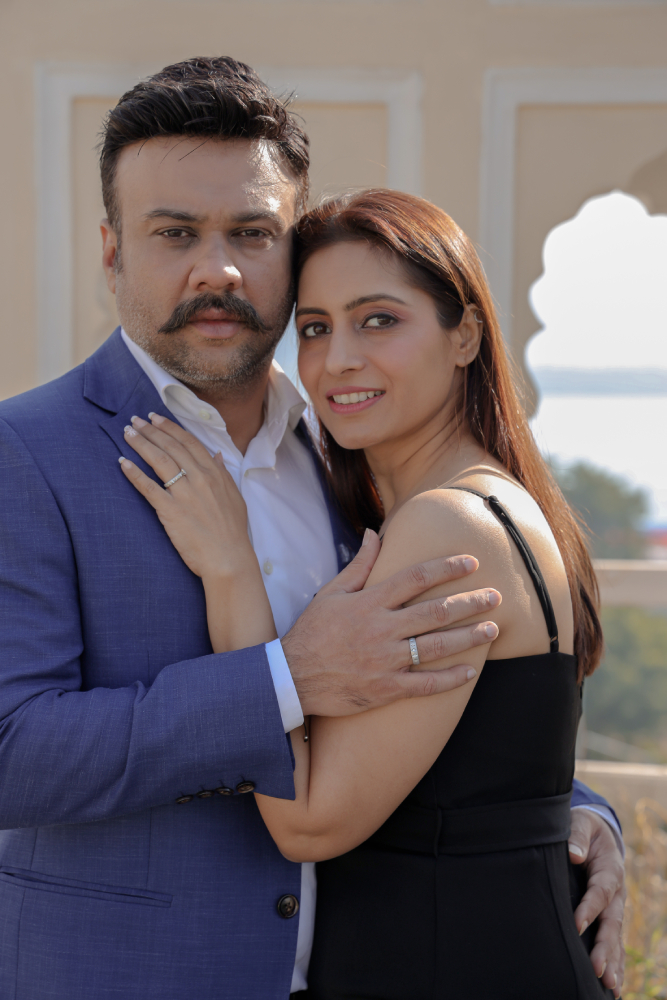 Prernaa showcased the latest trends by wearing modular jewellery, layering necklaces, and stacking bangles. She combined ruby and emerald necklaces to introduce vibrant colors, while emphasizing that men's jewellery can be equally stunning and stylish.