Men's jewellery is a small but fast-growing segment.
World over, more and more men are embracing jewellery as part of their sartorial attire. At top international fashion shows for spring/summer 2022, many of the male models sported rings, necklaces, bracelets, and the like. Perhaps this is just the beginning, but it is likely that the trend will soon trickle down to the masses.
In India, there are a few players who have recognised the growing demand for men's accessories and are catering to the niche category.
Strong Demand
"The market for men's jewellery is booming because urban men want to stand out in the crowd, and they are spending much more time grooming themselves," informs Vaibhav Dhaddha of Jaipur Jewels by Vaibhav Dhaddha. "Women are known to be particular about what they want but we have noticed of late that men, too, have a discerning taste. With the ongoing wedding season, we are seeing increased budgets for men's jewellery as well," adds Dhaddha.
"We have been experiencing high demand firsthand for men's jewellery. In today's time, the fashion sensibilities of men have evolved, and they are more inclined to opt for brooches, cufflinks, bracelets, chunky rings, studs, etc. than ever before as they now view these accessories as a requisite for a suave look. Catering to the changing trends influenced by social media, jewellery brands in India are also incorporating precious gemstones in men's jewellery and offering a plethora of subtle and stylish options for men," informs Manju Kothari, Creative Director, Entice by KGK.
"In the past four to five years, we have noticed a consistent spike in interest for men's jewellery. Earlier, this segment witnessed a significant demand in the gold category from markets in South India. Of late, it has become popular in other parts of the country as well," explains Ramesh Kalyanaraman, Executive Director, Kalyan Jewellers.
Gifting & Investment Options
While the category is still niche, it is fast-growing. "The men's jewellery segment is a robust category. It may not be very big, but you can go deep," shares Milan Chokshi of Moksh – Unseen Fine Jewels. "There are not many players in India who make well-designed, well-executed cufflinks. It makes for a great gift apart from watches. Men who are earning well want to invest in precious, diamond cufflinks," adds the retailer well-known for his micro pearl and diamond creations.
Accessories like brooches, buttons, cufflinks, badges, and lapel pins offer value for money and are wearable. They are gift options especially for weddings.
Beyond The Metros
The demand is not just limited to men from metro cities but also tier-II and tier III cities. Symetree, one of the key players in the men's jewellery segment has clientele from Delhi, Mumbai, Kolkata, Hyderabad as well as smaller cities like Nagpur, Raipur and Indore, informs Abhishek Haritwal, Founder of the brand.
"Men's jewellery doesn't account for more than 15% of our total sales but we have the maximum interface that anybody could create for the segment," shares Haritwal. They not only have a wide variety of categories such as bracelets, cufflinks, brooches, buttons, badges, and chatelaines, but several designs that run into triple digits within each category, informs Haritwal, who has been betting on the segment for several years now.
"If we had invested the same amount in bridal jewellery, it would have done 10 rotations by now but, we invested in the segment at the cost of profiteering," shares Haritwal.
"We introduced chatelaines eight years ago in India after studying vintage pieces at top museums across the world," noted Haritwal. Initially worn by women in the 10th-11th century, it became a unisex piece of ornamentation in the later centuries. The ornament is fastened to a belt or a pocket with chains bearing hooks to hang small articles like watches, keys, etc.
"We have Forbes 100 of the country as well as Bollywood celebrities like Amitabh Bachchan and Ranveer Singh as clients. Since then, many jewellery and fashion brands have piggybacked on the trend," he adds. 
PGI India launched a new category called Men of Platinum in September 2019, to accelerate growth for platinum and capture the incremental opportunity that men represent while celebrating and marking meaningful moments in their life. In two years, the Men of Platinum brand penetration is stands at 55% of the current platinum distribution.

"Men of Platinum is present across India and has delivered strong brand health in a short frame of time given its launch in Q42019. Furthermore, despite the 2020 pandemic disrupting the business and consumer sentiment, platinum brand health and equities did not lose ground, indicating the strength of platinum equity among its core consumers," notes Vaishali Banerjee, Managing Director, Platinum Guild International (PGI) India.

"Total awareness levels currently are as high as 89% amongst men in our segment. It has also been highly successful in expanding its presence and appeal to Tier 1 and 2 towns and is no longer a metro phenomenon. If we look at the distribution dispersion, we can see this come to life: Metros: 46%; tier 2: 38% and tier 3: 16%," elaborates Banerjee. "It remains one of the most successfully growing categories for PGI India."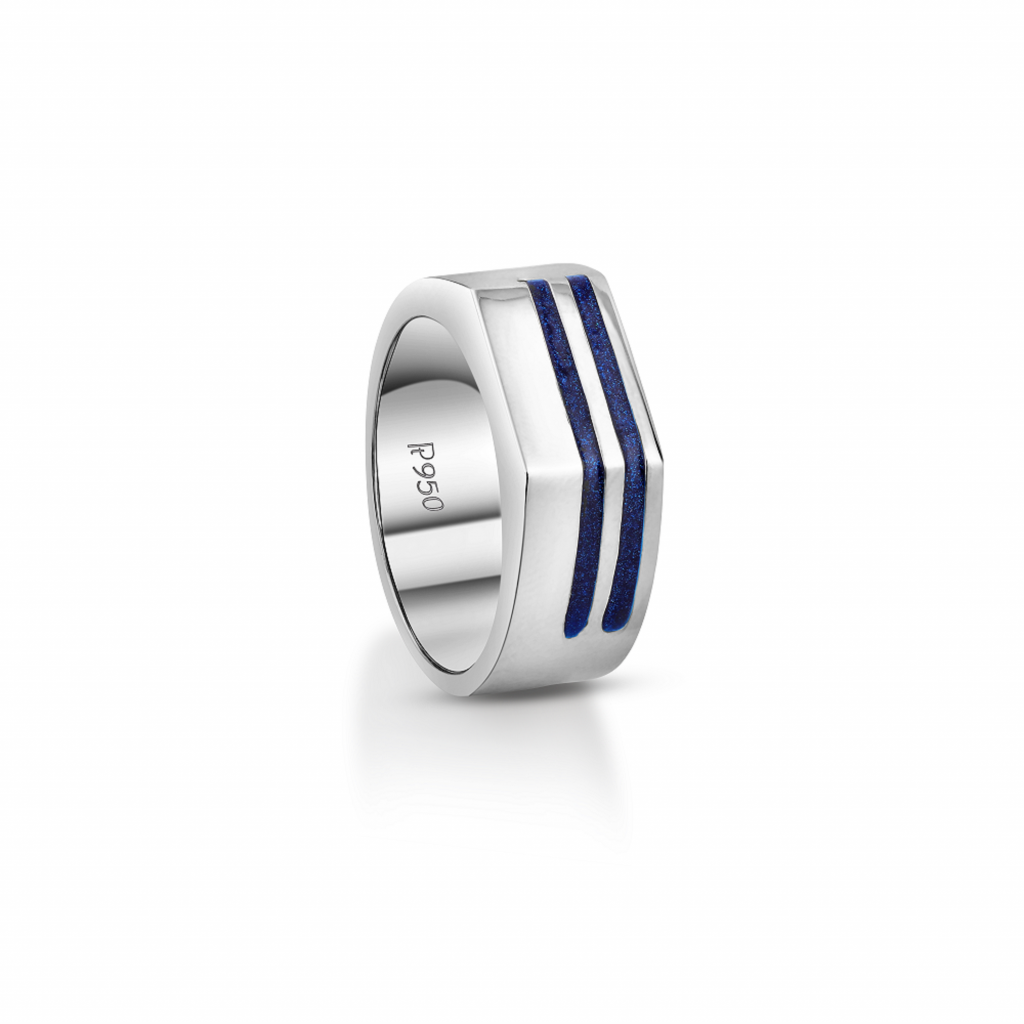 What's In Demand
"Categories such as diamond studs, cuff-links, diamond bracelets and diamond rings are a major hit among men and will continue to be in the coming times. Since men are more experimental with their personal style than ever, chunky dual metal rings featuring precious gemstones and classic chains are a rage in the men's jewellery category," shares Kothari. She adds that there is a growing trend for grooms to go beyond the traditional engagement and wedding rings. 
When it comes to platinum, chains are the mainstay followed by flexible bracelets, statement fashion rings and kadas.  Today, platinum has established itself as the preferred metal of choice for men who want to differentiate themselves from the crowd, and make a strong sartorial statement.
At Kalyan Jewellers, pearl and kundan multi-layer necklaces are in demand for wedding functions. They have expanded their Mahurat wedding jewellery collection to cater to the demand. Kalyanaraman adds that platinum jewellery has become quite popular amongst urban male audiences. Even rose gold and white gold jewellery with matte finish are in demand.
Individual Expression
When it comes to men's accessories, cufflinks rule the roost. "While we sell lapel pins, money clips, buttons and cufflinks, the latter is the most popular category. We sell one set of buttons for every five cufflinks. While our cufflinks start from Rs.4,000 and go up to Rs.200,000, the sweet spot is between Rs.50,000 and Rs.60,000," informs Dhaddha, adding, "Internationally, our cameo cufflinks which offer different kinds of imagery are a popular way for men to express their personality."
Chokshi also shares that the popular price point for Moksh's cufflinks is below Rs.100,000. "We have diamond and precious stone cufflinks set in gold as well as ones set in silver with black diamonds. We have also made cufflinks using our signature micro-pearl technique for occasion wear on request," he elaborates.
Haritwal introduced 5-day week cufflinks offering more formal variants for Monday to Thursday and quirky concepts for Friday's casual dressing which worked well for them. Even their bracelets which are crafted with different evil eye charms of Rajasthan are bestsellers. The unisex piece of jewellery is sold in silver as well as gold. They have also extended the concept to cufflinks.
Dhaddha notes that the pandemic has attracted customers to shop online for accessories, a plus for brands with an online presence.
Most of the purchases are still driven by weddings and retailers agree that it is a task to get men to become ornamental. Vijay Golecha of Golecha's Jewels shares that a large segment of men doesn't wear jewellery although there is an awareness in the market. He suggests that jewellers themselves should wear their designs so that other men can realise what a difference a jewelled accessory can make to the overall look. "I always wear some accessory or the other," adds Golecha noting that one can be innovative within the category using semi- precious and precious stones depending on each one's budget.
Currently, men's jewellery accounts for a minor share of the overall industry. "We believe it is a segment worth tapping into. If we put in more efforts to build this category, this will be extremely beneficial for the industry in the years to come," concludes Kalyanaraman.