Vicenzaoro September, one of the world's largest jewellery trade shows held in Vicenza, Italy, saw a 6% rise in visitors compared with the September 2022 edition, lured by a huge offering of state-of-the-art jewellery designs from around the world.
Vicenzaoro, organised by Italian Exhibition Group (IEG) and staged twice a year in January and September, is a conduit for cutting-edge Italian gold and silver jewellery exports, as well as the latest jewellery designs, loose stones and accessories from leading suppliers such as India, Hong Kong, Thailand and Turkey.  Buyers from 132 countries visited 1200 exhibiting brands at the show.
'Solidity' was the feature of this edition of Vicenzaoro with the economic growth curve for Made in Italy production and sales growing in terms of both turnover (+10.2% in the first six months) and exports (9.3% over the first five months), making the gold jewellery sector the best performing in the Italian fashion system with a more than average growth than Italian manufacturing as a whole, according to the Vicenzaoro press statement.
Prominent jewellery design trends seen at the show included the popularity of the colour blue, with a profusion of sapphire and tanzanite designs; pendants in chunky sizes; and gender fluidity, said Italian journalist Laura Inghirami, who runs the widely followed donna.jewel Instagram feed.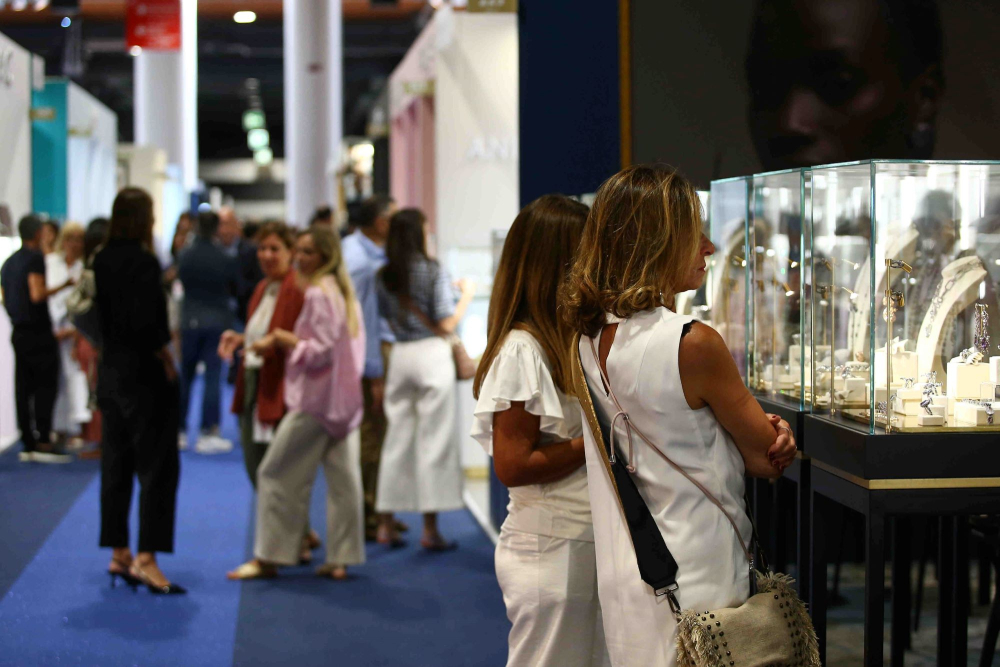 Show director Marco Carniello, in a briefing with journalists, estimated that the total value of Italian gold and silver jewellery exports was some 10 billion euros in 2022 following the pandemic, up from 6-7 billion in 2019.
He said that in his view, there were three reasons for the surge: supply bottlenecks during the lockdowns; a growth in branding, with more manufacturing shifting to Italy and then exported; and the sustained operations of Vicenzaoro during the lockdowns, keeping the show open within the prevailing restrictions.
India Pavilion
The India pavilion at the September 8-12 event, supported by the Gem & Jewellery Export Promotion Council (GJEPC), was spread over four separate halls at the show, interspersed with other Asian exhibitors, notably from Hong Kong.
The most prominent Indian exhibitors included some leading Surat-based diamond crafters and manufacturers, such as Hari Krishna and SRK, which reported moderate enquiries, with several of their key buyers absent as they were set to meet with them at the Hong Kong September show later this month.
A highlight of SRK's stand was a pair of exceptional GIA-certified H colour emerald-cut natural diamonds, each weighing 5.01 carats. One diamond was VS1 clarity and the other was VS2.
"The show has been an opportunity for us to extend our European contacts," said Jaydip Gajera, a business development executive with The Jewellery Co., an affiliate of SRK.
At their stand, Hari Krishna showed off an extraordinary ring that holds the Guinness World Record for featuring the most diamonds – 50,907 diamonds set in one ring.
Brijesh Dholakia of Hari Krishna Exports Pvt. Ltd. said he saw Vicenzaoro as a useful networking opportunity and a means of keeping well-informed on topical industry issues such as the future of sustainability and the outlook for achieving the United Nations' SDGs (Sustainable Development Goals.)
UK-based buyer Jayant Raniga of east London jewellery retailer PureJewels, visiting Indian diamond manufacturers, said he was impressed by the comprehensive layout of the fair.
"Vicenzaoro is an energetic and stylish show with a lot of innovative ideas," Raniga, whose main market comprises British Asian jewellery customers, told Solitaire.  "It is a great place to network and lots of fun – and a true glamorous representation of our industry, as it should be."
Show Highlights
Creative director Paola De Luca, head of Vicenzaoro's independent observatory TRENDVISION, presented the Trend Book 2025+, with a focus on how human creativity will continue to flourish despite the integration of fast-emerging AI into jewellery manufacturing and design.
Another panel looked at how AI will impact the global jewellery industry: One of the panellists, David Block, CEO of Israel-based Sarine Technologies, said diamond grader jobs risked disappearing over the next few years as AI-led technologies advanced.
Sara Yood, deputy general counsel at the New York-based Jewelers Vigilance Committee, said that establishing a legal framework to protect trademarks and copyright from risks of AI-led infringement, would be vital to protect consumers.