Diamond prices declined in August, reflecting caution in the trading centres and weakness in China, according to a Rapaport Group press release. The US is supporting the market with solid demand from retail programs and steady memo calls from independent jewellers, it said.
The RapNet Diamond Index (RAPI™) for 1-carat diamonds fell 3.6% in August. It was up 0.8% from the beginning of the year as of 1st September.
RapNet Diamond Index (RAPI™)
August
Year to date
Jan. 1 to Sep. 1
Year on year
Sep. 1, 2021, to Sep. 1, 2022
RAPI 0.30 ct.
-2.6%
-5.2%
-6.2%
RAPI 0.50 ct.
-3.4%
2.5%
2.4%
RAPI 1 ct.
-3.6%
0.8%
6.3%
RAPI 3 ct.
-2.7%
4.4%
16.0%
© Copyright 2022 by Rapaport USA Inc.
Polished inventory levels increased due to a slowdown in trading during the summer. There were 1.9 million polished diamonds listed on RapNet on 1st September, 16% more than a year earlier. This was despite a drop in rough supply; Russia-sourced polished remained largely off the market due to US sanctions on Alrosa. The Russian miner is reportedly selling rough again at competitive prices, but at lower volumes than before the Ukraine conflict. Polished inventory will likely increase further as more Russian goods enter the market.
The secondary rough market saw premiums decline in August. Primary supply was expensive, fuelling concerns about manufacturing profit margins. De Beers kept prices stable at its August sight, with $630 million in rough sales during the month. The decrease in Russian supply meant De Beers sold large volumes despite sightholder restraint.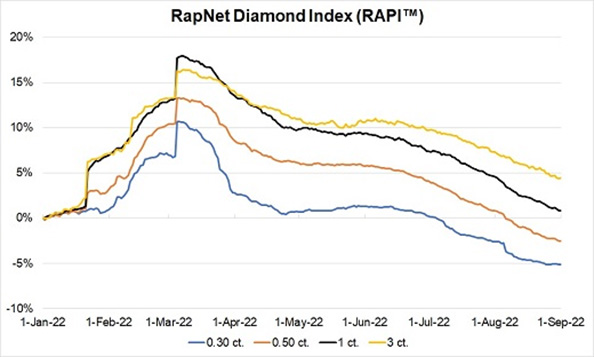 Manufacturers are maintaining lower production due to a slowdown in overall demand, Rapaport noted. US retail programs and European luxury brands are still placing consistent orders. There are also steady memo calls with reasonable sell-through from independent jewellers. China remains weak as Covid-19 lockdowns and travel restrictions continue to have a negative impact on the country's wholesale and retail sectors.
Activity in international trading centres has slowed due to price uncertainty and a drop in demand. Buyers are being selective and cherry-picking the top-quality diamonds they need to fill orders. While there is relative optimism for the US holiday season, dealers are hesitant to buy in a downward-trending market, Rapaport explained.