The Asian Institute of Gemological Sciences (AIGS) launched the Santa Maria colour code and grading reports for aquamarine in June 2022 and set a standard for the trade name.
The AIGS Santa Maria colour code applies to aquamarines with blue colour and medium saturation without brown or yellow tints. Aquamarines with low saturation, low clarity and dark tones do not meet the criteria. The trade name originates from the typical colour aquamarines from the Santa Maria de Itabira mine in Minas Gerais, Brazil. The legendary mine has produced large quantities of fine colour aquamarines, but is now almost depleted. The AIGS code Santa Maria refers to colour only and not geographic origin.
"The launch of the Santa Maria colour code is yet another important initiative after launching our Jedi spinel reports last October. Trade names such as Pigeon Blood and Royal Blue have been used for centuries by gem traders to describe ideal colours implying value and rarity. Yet these trade names are often ambiguous with definitions varying between buyers and sellers alike. By transforming trade names into an industry standard through reports graded by third-party objectivity, AIGS aims to reduce such ambiguity," said Kennedy Ho, Chairman of AIGS.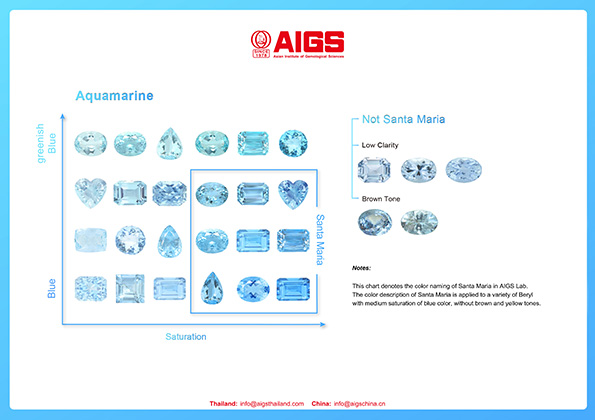 Most aquamarines are "eye clean" making colour one of the most important value factors. The name of aquamarine comes from the Latin word for "sea water". The body colour ranges from greenish-blue to blue-green, usually in light tone. Many aquamarines in the market have been heat-treated to obtain a rich, intense colour, therefore clean, unheated blue aquamarines with good saturation are highly sought after due to their rarity.
Brazil is one of the most important aquamarine sources and the best aquamarines from Brazil have brilliant blue colour, high clarity and good crystal forms. Afghanistan, Pakistan, Mozambique, Nigeria, Zambia, Madagascar, Myanmar and China also produce aquamarines.