ANOOP MEHTA's name is synonymous with Bharat Diamond Bourse (BDB), an iconic landmark of India's diamond industry. As the President of the BDB since 1995, Mehta exemplifies the virtues of perseverance and patience. Thanks to his leadership, BDB is now a thriving centre for diamond trading recognized globally for its transparent administration and high-security systems and efficient administration.
Chairman and Managing Director of Mohit Diamonds Pvt. Ltd., and a partner of Mohanlal Raichand & Sons, Anoop Mehta was honoured with the Lifetime Achievement Award at the 49th annual Indian Gem & Jewellery Awards by GJEPC. In an exclusive interview with Solitaire International, he shares moments of his life's journey and future plans for BDB.

The famous quote by Sir Lawrence of Arabia – "All men dream, but not equally…" – seems to aptly describe Mehta's approach to life. He is a "dreamer of the day" who acts on his dreams fearlessly, but with a stoic and practical approach. He, along with several like-minded industry colleagues, made the dream of building the BDB a reality. 
Convincing diamantaires to relocate from an established diamond market in Opera House, Mumbai, and move to BDB required significant persuasive power. Mehta successfully undertook this challenge, demonstrating his leadership skills. Even today, Mehta remains a driven individual with a constant desire for progress, and his proactive and determined approach is a testament to his character as a man of action. 
A native of Mumbai, Anoop Mehta, the fourth generation diamantaire started his career at a young age of 17 by joining his family business, Mohanlal Raichand & Sons. He received his early education from the Cathedral School and spent two years at HR College before beginning his internship at the company.

"My family business was established in 1916, and we are one of the oldest diamond businesses in India. I chose not to go abroad and neither did I take any formal courses in gems and jewellery. Instead, I opted to learn hands-on. The company was my learning ground, my university," Mehta recalls. His dedication to mastering the diamond industry was evident from the beginning of his career. From learning export/import to interacting with Customs, sorting to transacting, Mehta worked in all the departments. This deep dive into the subject allowed him to become an expert in his field and ensured that he was well-equipped to handle any challenges that came his way.

Incidentally, The Mohit Group has been the oldest sightholder of De Beers since 1947 – an impressive association of 76 long years! And Mehta's family legacy of diamond expertise continues with his son, who is a fifth-generation jeweller.
They say a person who loves walking will walk further than a person who loves the destination. And this adage sums up Mehta's life.  
Mehta has a balanced routine outside of work. He prioritises daily walks, covering a distance of at least 8 to 10 kilometres each day. In addition, he enjoys socialising with his friends at least three times a week. An avid audio book listener, Mehta finds pleasure not only in his work for his company but also in managing the affairs at BDB, which he has been successfully overseeing for many years. 
How does it feel to get a lifetime achievement award? "Old!" he guffaws, adding, "But honestly, I am very thankful to the GJEPC for honouring me with this award." Mehta is most comfortable talking about the industry issues and some new initiatives that will soon be introduced in BDB. 
To make BDB a reality was a tough task as it took several years to realise the dream… your comments. 
Yes, we went through a difficult phase from 1996 to 2002. There were a lot of issues … but we would never have succeeded had it not been for the nearly 100 major industry players who backed the project. There were many others who played a vital role in making sure that the project not only got completed but also decided to move from Opera House to the new facility. Many onboarded the committee for two or three years and contributed by sharing their valuable suggestions.  The project is self-created and financed by the industry.

Frankly, if we had not moved in 2010 from Opera House to BDB, it would have been impossible to witness this kind of growth, which we've achieved in the last decade. I believe that infrastructure does play an important role, especially when an industry grows to a certain size.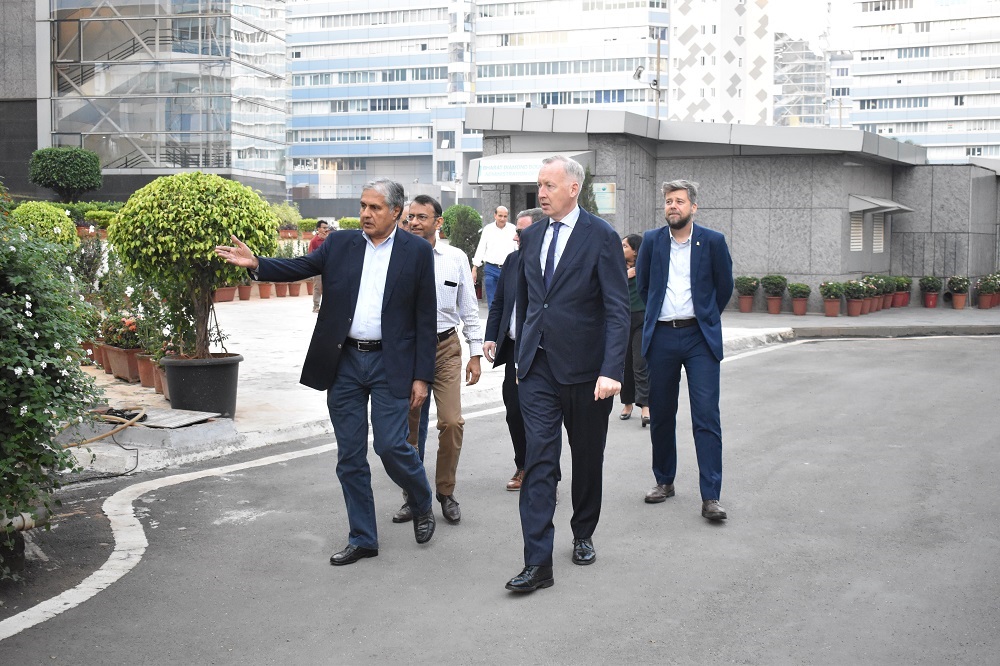 What were the learnings from this project?  
It was all about persistence and keenness to learn and work around the issues. Today, BDB is recognised for its top infrastructure. The complex is spread over an area of 20 acres with two basements of an additional 1 million sq. ft. There are 9 Towers, housing 2,500 offices of various sizes.   
Even today, we keep offering free consultancy to SEEPZ, Mumbai, and other complexes on issues related to security, administration and management, services, etc. Over the years, we learnt from our mistakes and are willing to share our experience as we don't want others to make the same slip-ups that we committed in the past.    
For a major project such as this which concerns the entire industry, the only way one can succeed is to take everybody with you; listen to all viewpoints; and then work on solutions. 
How much time do you devote to the running of BDB today?   
Today, nearly 80% of the operations in BDB run professionally on auto pilot based on the SOPs that we have incorporated.  
We are known to be compliant and have strong admin and security teams. Thanks to our reputation for adhering to rules, we were permitted by the Government during the lockdown (which began on 24th March 2020) to start exporting by the 15th of May and allow batches of only 500 people in the complex at a given time. We secured the official permissions only because we abide by what we say.
What are the future goals for BDB?  
Our mission is to provide good infrastructure facilities for all exporters. Currently, we don't have a proper multipurpose hall to host dignitaries or foreign delegates visiting BDB. So, we have identified a space that will accommodate a couple of hundred people.    
We also want to hold seminars – some pertaining to trade, and some unrelated to trade – for those who want to upgrade their knowledge in any subject. We will also tie up with NGOs and universities to hold seminars and allow them to pitch ideas to those working in the BDB complex.  
We will continue to hold blood donation camps, marathons, and sports activities as well.  
 What according to you is the outlook for the diamond industry?  
We are facing the effects of the slowing down of global economies, the war, the recession, interest rate hikes, etc. Overall, consumers are careful in spending, but we believe that we'll turn around towards the end of the year, although the situation is a bit difficult just now.  
However, the natural diamond market will grow over the years. Almost one-third of the world's population in this decade will be able to afford natural diamonds. So, the future does look good. 
What are your thoughts about lab-grown diamonds (LGDs)? 
LGDs have come in a big way, and they have taken a certain share of the natural diamonds. The former category will lure aspirational buyers, but eventually, I believe, they will upgrade to buying natural diamonds.   
In the long term, LGDs are expected to enhance sales of natural diamonds. We can draw a parallel with the launch of Apple's digital watches, which initially led many to believe that demand for mechanical watches would dwindle. However, today, Apple's sales outstrip those of mechanical watches, and yet, mechanical watches have also got a huge boost. Similarly, I believe that over time, LGDs will complement natural diamonds, enabling the latter category to get the premium.  
I think the next 10 years will belong to LGDs and diamond-studded jewellery. 
Isn't it strange that a commodity that was stigmatised will contribute to the growth of the industry?  
I think LGDs have outgrown that stigma. Earlier, there were no detection machines and the natural diamond industry had to be tough to curb malpractices. A lot has changed over the last few years, and it's no longer a taboo to be dealing in both the categories.  
 Does Mohit Diamonds deal in LGDs?  
We don't trade in LGDs, but we are accommodating clients who want to manufacture rough lab-grown diamonds. We help clients to get it manufactured.  As of today, we don't foresee getting into LGD space.