Diamond analyst Paul Zimnisky examines whether new potential sources would be able to balance the combined loss of supply of about 30 million carats over the last five years.
With concerns of an undersupplied rough market seemingly accelerating into 2022, it's worth exploring whether potential sources of new natural diamond supply can fulfil shortages in the short and medium term.
For context, almost 30 million carats of net annual supply have come out of the market due to mine closures and reduced production due to depletion over the last five years.
The market lost over 10 million carats annually (albeit low-value goods) with the closure of the Argyle mine in Australia in 2020. The market lost 5 million carats annually due to depletion at the International mine in Russia over the last five years. The market lost a million carats annually (of large, high-valued goods) with the closure of the Victor mine in Canada in 2019, which followed a loss of 3 million carats annually (of similarly high-quality goods) with an accident-sustaining closure of the Mir mine in Russia in 2017.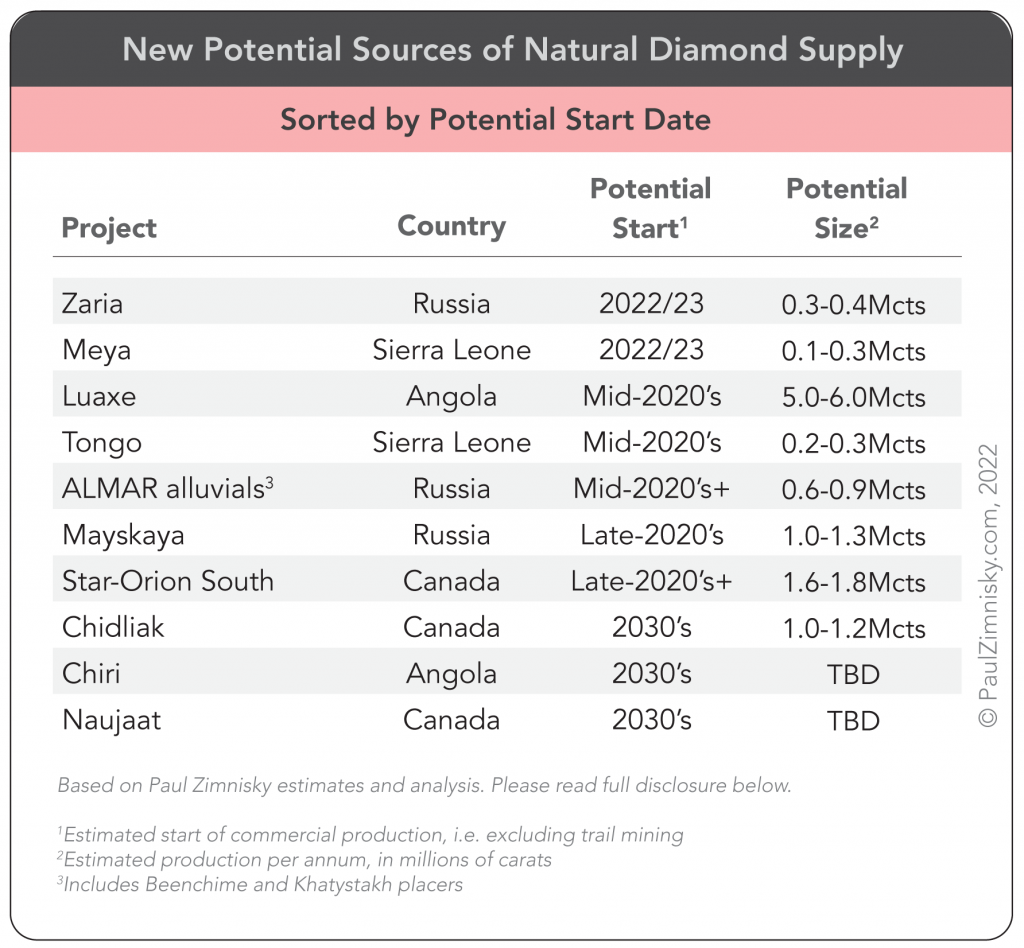 This combined loss of supply has been met with a (perhaps generational) surge in demand for diamonds in 2021 that has continued into 2022, resulting in what many industry participants in all segments of the supply chain have described as a "shortage of goods" on the market.
The Luaxe mine in Angola continues to be the only new major primary source of diamonds expected through the late-2020's. The Angolan Mineral Resources Minister has said that efforts are being made to "accelerate the start of production" which could amount to "5.7 million carats."
However, during an ALROSA analyst call mid-last year, the company (which is a partner in the Luaxe project) noted that "there are still a lot of challenges as far as organizing the project…there is still a lot of work being done with the feasibility study…(and) bringing together the finance mechanisms… (and there are) some technical issues… so there is no chance for the production to ramp-up (to capacity) for the next 2-3 years" – implying that the market will probably not see an incremental ~5-to-6 million carats until mid-decade at the earliest.
ALROSA also has two new projects of its own in the pipeline: Zaria and Mayskaya. The former is expected to see annual output of around 400,000 carats as early as next year; and the latter is more moderate in size with annual output expected to be as high as 1.3 million carats – however, commercial production at Mayskaya is not planned until 2027.
Outside of the above, Newfield Resources is currently building the Tongo mine in Sierra Leone. Production plans, which have been delayed about a year due to the pandemic, are for over a quarter-million carats by 2025 according to an 18-year mine plan based on the current resource – the project does allow for upside via mine expansion options.
Longer term, Rio Tinto and Star Diamond are jointly advancing the Star-Orion South project in Saskatchewan, Canada, which has the potential to be world-class in size. Based on a preliminary economic assessment completed by Star in 2018, the project could result in a 1.7 million carat-per-annum mine, with an output of relatively high-quality diamonds. However, even if a decision is made to build the mine in the next few years, commercial production would not likely been seen until late-decade at the earliest.
Also worthy of note, last year Rio entered into a joint venture with the government of Angola to explore and potentially develop a diamond concession called Chiri. A few weeks later, De Beers said it "applied to conduct exploration activities" also in Angola, adding that the decision was made following "substantive and consistent reforms implemented by the government that enable the country's diamond endowment to underpin transformative socio-economic growth for local communities."
De Beers has not operated in Angola for at least two decades in the aftermath of the country's civil war which ended in 2002.
–
Paul Zimnisky, CFA is an independent diamond industry analyst and consultant based in the New York metro area. For regular in-depth analysis of the diamond industry please consider subscribing to his State of the Diamond Market, a leading monthly industry report; an index of previous editions can be found here. Also, listen to the Paul Zimnisky Diamond Analytics Podcast on iTunes or Spotify –recent guests include industry journalist and author Rob Bates, ALROSA Deputy CEO Evgeny Agureev and ALTR Created Diamonds president Amish Shah. Paul is a graduate of the University of Maryland's Robert H. Smith School of Business with a B.S. in finance and he is a CFA charterholder. He can be reached at paul@paulzimnisky.com and followed on Twitter @paulzimnisky.
Disclosure: At the time of writing Paul Zimnisky held a long position in Lucara Diamond Corp, Star Diamond Corp, North Arrow Minerals Inc, Brilliant Earth Group and Barrick Gold Corp.