Dilip Dassani, Partner, Dassani Brothers, hails the changes made in IIJS Virtual 2.0 and outlines some woes that exporters face today.
We Dassani Brothers specialise in manufacturing uncut diamond and polki jewellery. We have factories in Bikaner and Mumbai and offices in Delhi and Jaipur. We had a good response in the first edition of IIJS Virtual where we met new buyers, and so we're back for the second edition. I'm happy with some of the changes such as better analytics, the new chat system, and the reduction of the meeting time to 30 minutes.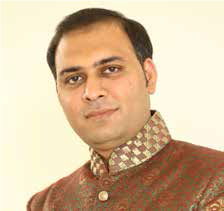 Our domestic industry is still in the midst of a digital transformation. We, too, recently launched our own website, which has already facilitated a few successful sales. We have noticed that retailers in tier 2 towns are still reluctant to embrace the move to digital, perhaps the high cost might be a deterrent for them.
The pandemic has shifted consumer preferences towards lightweight and low range jewellery products. One explanation is that the price of gold was Rs.39,000 before the lockdown and surged to Rs.53,000 by the time we kind of emerged from it. Meanwhile, bridal jewellery sales have been fantabulous in October and November last year and the trend is holding for the summer wedding season too.
It's not an easy time being a jewellery exporter today. Although the Government says it wants to increase exports, the mounting PMLA burden on jewellers is making it very hard to stay in business. If the Government doesn't take action soon, I'm afraid people will leave this industry.
We face lengthy, laborious documentation procedures almost to the point of harassment when it comes to claiming subsidy and duty drawback. For instance, we still haven't received a refund since 2012. To add to this is the issue of the steep gold import duty of 12.5% plus 3% GST.
Overall demand is down in actual terms and people are only buying jewellery if there is a requirement. Incomes have not kept pace with the rising gold price, so I do not see demand increasing for some time.
The limited availability of labour coupled with mounting expenses is another major shortterm challenge. Many karigars who fled with the manufacturers' gold in their possession have not returned, and I doubt they will see that gold again. Factories in a big city like Mumbai cannot function normally, until local trains are opened to the public again. There are huge transportation costs involved in hiring buses, etc. to bring employees to the workplace, which is unfeasible in the long term.