Low inventories and a post-vaccinated economy charged with pent-up wedding demand keeps diamond expectations high for rest of 2021, predicts diamond analyst Paul Zimnisky.
Momentum in the diamond industry which started as a rebound or sorts in the second half of last year has continued and even accelerated into the early months of 2021. Perhaps surprisingly, the fundamentals of the diamond industry appear to be stronger coming out of the pandemic than going in – setting realistic expectations that favourable conditions will continue into H2 2021.
Upstream supply, which was down considerably last year, is forecast to remain at multi-year lows even with the restart of most operations that were directly disrupted by the effects of the pandemic. In calendar Q1 2021, both De Beers and Alrosa had significant implied inventory draws taking inventory levels of the industry's two largest producers to the lowest levels in at least eight years, according to Paul Zimnisky estimates.
For instance, De Beers' current inventory level is estimated at around 12 million carats, which compares to 19 million in 2020, 16 million in 2019 and as much as 21 million in 2015 (See below figure). Further, the company's "excess" inventory, measured as inventory held net of regular operating inventory, is now estimated at less than 2 million carats – approaching flat or even deficit. An analysis of Alrosa's inventory positions show a similar trend. Combined, De Beers and Alrosa are forecasted to account for 55% of global diamond supply by volume and 65% by value this year.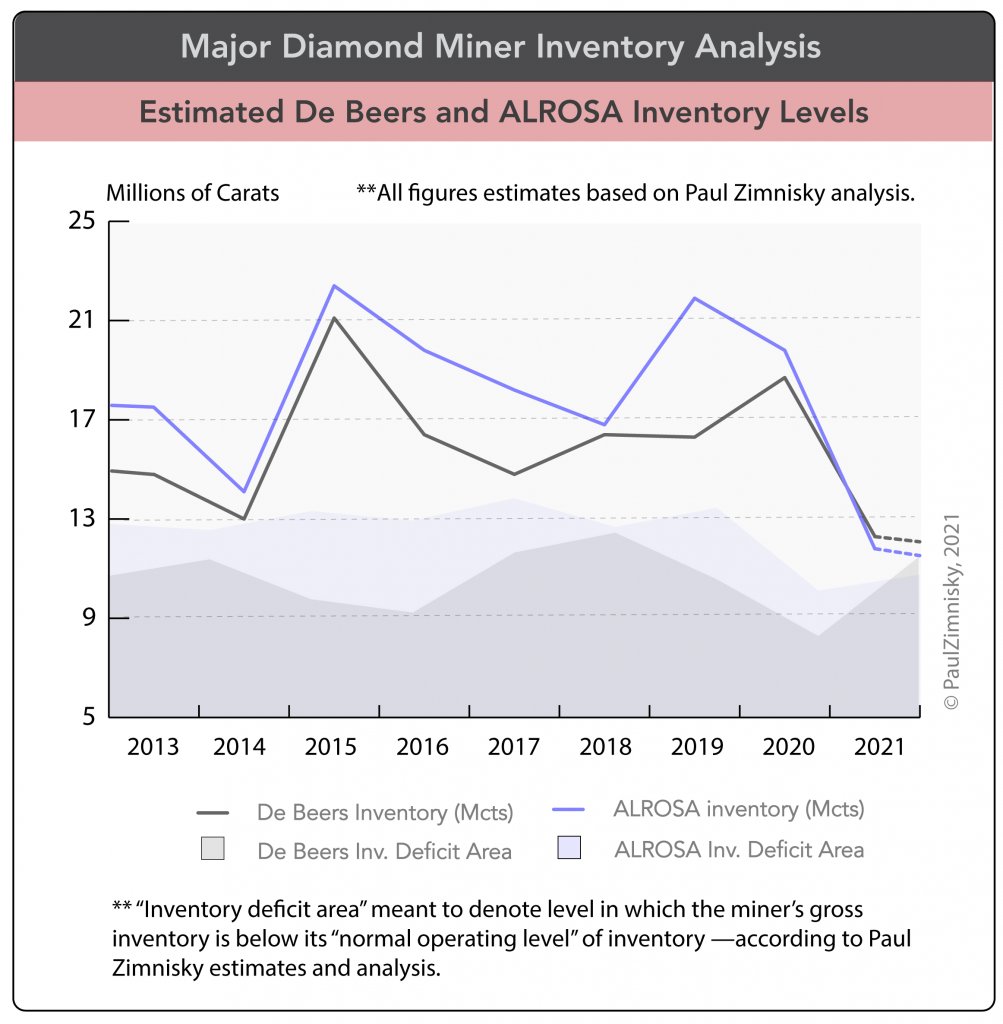 On the demand side, a better than anticipated Christmas late last year and a healthy Lunar New York for Chinese jewellers in the subsequent months laid the foundation for diamond demand that has continued into mid-year 2021. In April, the US's largest jeweller, Signet, raised sales guidance by 2.4% for the fiscal year ending January 2022 on the back of "tailwinds from stimulus, tax refunds and consumer enthusiasm on the heels of vaccine rollouts."
On a recent analyst call, LVMH (Tiffany & Co.'s new parent) said Tiffany sales in early-2021 "probably" rose 8-9% compared to two years ago, the pre-pandemic proxy. In recent weeks, Greater China jeweller, Luk Fook said the company "looks forward to much improved sales performance in the near future…(as) the macro-economy and retail sentiment, especially in the Mainland market, will be further recovered."
In an upside case scenario, demand for diamonds in the second half of 2021 could outpace the first half, driven by a post-vaccinated global economy charged with pent-up wedding demand. The combination could mean a generational consumer boom for diamonds.
Wedding industry service provider, The Knot, said it expects 2021 to be "one of the busiest years for weddings in decades" (which is in part based on surveys and the company's internal wedding registry data). In recent months, the New York Times published an article titled "The Weddings Boom Is Coming."
Weddings, and "bridal" in general, accounts for an estimated 1/3 to 40% of global consumer diamond demand. It is important to note that wedding demand extends beyond the proverbial engagement ring to diamond-studded wedding bands, other diamond jewellery accessories worn by brides as well as diamond jewellery purchased by those attending weddings.
—
Paul Zimnisky, CFA is an independent diamond industry analyst and consultant based in the New York metro area. For regular in-depth analysis of the diamond industry, please consider subscribing to his State of the Diamond Market, a leading monthly industry report; an index of previous issues can be found here. Also, listen to the Paul Zimnisky Diamond Analytics Podcast on iTunes or Spotify for wide-ranging and interesting discussions with prominent guests from around the industry. Paul is a graduate of the University of Maryland's Robert H. Smith School of Business with a B.S. in finance and he is a CFA charterholder. He can be reached at paul@paulzimnisky.com and followed on Twitter @paulzimnisky.