HSBC'S SURVEYS AND RESEARCH SHOW THAT THE INDUSTRY WILL GROW, BUT BUYING WILL CHANGE: MARRIAGES, WHICH FUEL MUCH OF THE JEWELLERY BUYING IN INDIA AND ACROSS THE WORLD, ARE GOING DOWN, AND MILLENNIALS, ESPECIALLY WOMEN, ARE BECOMING THE BIG SPENDERS
THE GEMS and jewellery industry all over the world, particularly the diamond sector, has been grappling with midstream issues and slowing demand. However, HSBC's September 2019 report on the jewellery industry globally, and its Future Consumer series, provide insights into where future demand is likely to come from, and how to reach this future consumer.
Global jewellery demand has been going up…

2008: $117 billion

2018: $176 billion …and so has global diamond demand

2008: $59 billion

2018: $87 billion
THE INDUSTRY IS LIKELY TO GROW
Despite short-term troubles, demand is likely to exceed supply.
Sales of fine jewellery:

87% of total jewellery sales worldwide in 2018

CAGR of fine jewellery sales:

6% between 2018 and 2022

Sales for jewellery category overall: 5% (as per Euromonitor's forecasts in 2018)
Consultancy Bain expects global demand for mined rough diamonds to rise by 2–4 per cent nominally each year till 2030 and exceed supply, particularly as the US economy is set to remain strong and the middle class is likely to continue to expand in mainland China and in India.
CHINA GALLOPING AHEAD…
Market size in 2018 (global diamond demand)

US: 50%

Mainland China: 20% India: 8%
Much of the jewellery industry's growth has long come from mainland China. In 2015, Euromonitor estimated that the market would account for over half of the global jewellery industry growth by 2020. In 2018, LVMH stated that mainland China had been the fastest-growing market for luxury goods over the past five years, and that the growth trend was expected to continue for the next five years, particularly as branded jewellery only represented 2 per cent of the total mainland China jewellery market. The HSBC report says it expects to see a shift in the top market for global diamond demand from the US to mainland China as jewellery preferences shift from gold to diamonds.
In 2015, Euromonitor estimated that the China market would account for over half of the global jewellery industry growth by 2020
…followed by India
Key emerging market (EM) economies, namely mainland China and India, are growing and in some areas, already exceed developed market demand for jewellery. Bain forecasts India's middle class to expand at a CAGR of 8 per cent for 2018–30, and mainland China's already enormous middle class to continue to expand at a CAGR of 5 per cent for that same period. Cap Gemini data shows that the number of high net worth individuals (HNWIs) in the world has steadily risen since 2002, with much of the growth coming from the Asia-Pacific region in recent years.
Millennials in mainland China accounted for 80 per cent of diamond jewellery demand in 2017 against 60 per cent for millennials in the US. Additionally, much of the global demand for gold jewellery comes from EM, particularly India and mainland China. As more consumers move up into the middle class, gold jewellery demand could continue to increase. Emerging market gold jewellery demand tends to be seen as both adornment and investment, particularly among lowerincome households. In 2018, mainland China accounted for 31 per cent of global gold jewellery demand, and India accounted for 27 per cent, with the potential for future growth as incomes continue to rise, more consumers move up into the middle class and jewellery stores expand into more rural areas.
MILLENNIALS ARE THE NEW CONSUMERS…
Millennials and Gen Z accounted for 64 per cent of the world's population in 2017, outnumbering the two previous generations combined. Data from HSBC's recent proprietary surveys showed that jewellery was a hot item with many of the respondents in mainland China and the US, who ranked jewellery among the top three categories on which they would like to spend more in the coming year.
…and they will disrupt the market
But millennials do not behave or buy like previous generations. As mentioned in many surveys, they're marrying later or not at all, and so wedding sales are not as dependable a source of revenue for jewellers as before. The median age of first marriage in the US has reached an all-time high of 29.8 for men and 27.8 for women.
Fewer US adults aged 18–34 were married in 2018 than adults aged 18–34 in 1978
1978: 59%
2018: 29%
The marriage ceremony rate per 1,000 people in mainland China has steadily declined since 2013
2013: 9.9
2018: 7.2
The average marriage rate per 1,000 people across the European Union has declined since 1965
1965: 7.8
2015: 4.3
MILLENNIALS CARE LESS ABOUT NATURAL DIAMONDS
Like marriage, millennials seem to be less particular about choosing natural diamonds over lab-grown diamonds (LGDs). And companies like De Beers are choosing to follow them into this new sector.
Awareness of LGDs is much higher
2010: 9%
July 2019: 60%
Sales of LGDs are still relatively small, accounting for less than 5 per cent of all polished diamond sales, but they are expected to gain share rapidly. A report by the International Grown Diamond Association (IGDA) in 2014 estimated that LGDs accounted for 0.3 per cent of all polished diamond sales. For 2018, IGDA estimated the market size of the LGD jewellery market was $1.9 billion, a significant market. What's more impressive still are the estimates by IGDA that sales for the LGD jewellery industry could grow at a CAGR of 22 per cent through 2023, reaching $14.9 billion by 2035, implying a longterm growth rate of 9 per cent.
The appeal of a bigger, similar quality and cheaper diamond is extending beyond the fashion jewellery category and reaching engagement and bridal jewellery.
Bain has reported that the retail price of LGDs of gem quality has nearly halved since 2016. The wholesale price fell threefold in that time. From 2009 to 2018, the number of consumers who would consider buying an LGD for an engagement ring increased by 22 per cent to nearly 70 per cent of all consumers surveyed in 2018, per an MVI Marketing study. MVI Marketing in 2018 also found that sales of LGDs aren't just growing fast – they're also more profitable.
Annual growth potential of the lab-grown diamond jewellery industry through 2023, according to IGDA: Over 22%
HOW TO CAPTURE THE FUTURE CONSUMER
Target women buyers
Women are entering the workforce in greater numbers around the world and leaving it at a slower rate than men. As women become more financially independent and empowered and, at the same time, get married later than at any other time in history, some distinct jewellery shopping trends are starting to emerge.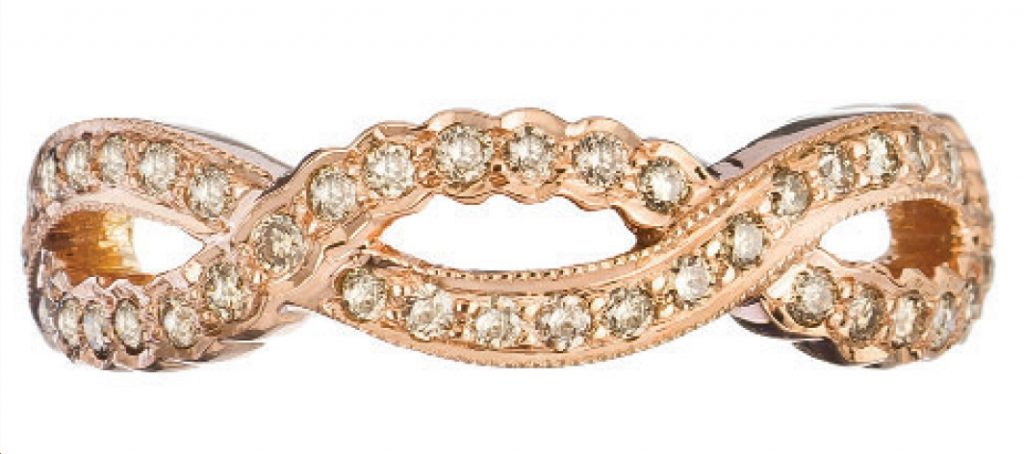 51% of the millennial women surveyed in 2018 in the US said that they purchased jewellery for themselves (source: MVI Marketing)
In 2016, De Beers found that millennials were increasingly buying more non-bridal jewellery for themselves, and this trend was accelerating with millennials faster than among older consumers.
Online fashion search platform Lyst found that women not only accounted for 80 per cent of the company's total jewellery sales, they were likely to purchase jewellery three times as often as men were – albeit spending less per item than men, on average. The trend indicates that jewellery is being perceived as a justifiable indulgence, as with other luxury categories. And brands like Chanel and Cartier are starting to develop product offerings aimed at appealing to women looking to treat themselves.
Appeal to the impulse buyer
Appeal to the impulse buyer As social media and online shopping continue to take root, impulse buying is becoming a significant trend. A series of studies conducted by Finder in 2017 and 2018 found that over half of the consumers surveyed in the US, Canada and the UK had yielded to impulse shopping that year.
57% of millennials in the US alone had spent money they hadn't planned to spend because of something they saw online or on social media
It's a trend that is playing out in the jewellery industry as well, largely driven by millennials and Gen Z. Indeed, De Beers noted the importance of tailoring a marketing scheme to millennials and Gen Z as they tend to buy things when they want them and are expected to overtake older generations in spending power as early as next year.
Strengthen the branding process
Another development that could be supportive for the jewellery industry is the strengthening of the branding process.
Extent of branding in luxury industries
Perfumes: 80%
Watches: 60%
Leather: 50%
Eyewear: 38%
Jewellery: 20%
Among the key luxury categories, jewellery has tended to be significantly underbranded. However, the move towards branding is already underway. In the past, branded jewellery growth came from established names expanding (think Cartier and Tiffany) or from new branded entrants (like Pandora and David Yurman). Going forward, it is likely that strong brands familiar to consumers for other segments, like ready-to-wear or handbags, could enter the fine jewellery category or grow their jewellery segments.
Indeed, within the past two years, both Gucci and Michael Kors have entered the fine jewellery space, and it is likely that other brands will continue to follow. These bigger, more established brands have the scale and the marketing budgets to make their jewellery diversification meaningful.