IN ITS ROLE AS THE KIMBERLEY PROCESS CHAIR, INDIA HOSTED THE KP PLENARY MEET IN NEW DELHI IN NOVEMBER 2019, BRINGING TOGETHER 55 PARTICIPANTS REPRESENTING 82 COUNTRIES, TO ENSURE THAT THE KP CONTINUED TO KEEP THE PIPELINE FREE OF CONFLICT DIAMONDS
THE KIMBERLEY Process Plenary Meet was held in New Delhi from 18 to 22 November, 2019, bringing together 55 participants representing 82 countries, with the European Union represented collectively. The KPCS is an international mechanism mandated by the UN to reduce the flow of conflict diamonds, which were being used to finance wars against legitimate governments. India hosted 2019's Plenary in its role as the current KP Chair.
At the opening of the significant five-day event, BB Swain, KP Chair and Additional Secretary, said, 'India, as Kimberley Process Chair, is honoured and privileged to organize the 2019 Kimberley Process Plenary Meeting in New Delhi. India is one of the founding members of Kimberley Process Certification Scheme (KPCS). This is the second time since 2008 that India has been entrusted with the responsibility and honour of being KP Chair.
I sincerely thank you all for reposing faith and trust in India. Since the launch in 2003, the Kimberley Process has contributed towards peace, security and prosperity. 2019 marks the 16th year of KPCS and we see KP as a unique family which brings together governments, industry and the civil society coalition through its tripartite structure. As KP Chair, we are committed to keeping this family together, and to taking its mandate forward through an inclusive, deliberative and consensus-based decision-making approach.'
Commenting on the Indian gems and jewellery sector, he said, 'India is the largest manufacturing centre for cut and polished diamonds. Being a major importer of rough diamonds, India has a unique position between the producers of rough diamonds on one side and the consumers of cut and polished diamonds on the other.
'The importance of KPCS is immense to India as more than a million people are directly employed by the industry. The diamond industry plays a pivotal role in sustaining the livelihoods of these million people and we hope that in the future, the industry will grow to bring the sparkle of prosperity to many more.
'India sees the industry as a key stakeholder and driver in its quest to emerge as a $5 trillion economy, generating gainful employment for its teeming young population. The industry has immense potential to bring prosperity to communities. India seeks to realize the same through sustainable grass rootsbased initiatives like the successful Common Facility Centres (CFCs) scheme, which was showcased at the Mumbai Intersessional.'
Commenting on laboratory-grown diamonds (LGDs), he said, 'India has always been at the forefront of identifying critical challenges of the industry and addressing the same through appropriate solutions by engaging proactively with the entire spectrum of stakeholders. As you may be aware, India is one of the early adopters of distinct HS codes for both rough and polished synthetic diamonds. Henceforth, all unworked or simply sawn or roughly shaped laboratory-created or laboratory-grown or man-made or cultured or synthetic diamonds will be covered by HS Code 7104.2010.'
About India's role as KP Chair, he said, 'India is aware that we stand at the threshold of the current review cycle and is sensitive to all the critical issues and challenges that confront KP, including the discussions on strengthening of scope, challenges faced by artisanal mining as well as key decisions that are awaited on the issues of Permanent Secretariat, Multi Donor Fund and Peer Review. As KP Chair, India is committed to facilitating the deliberations on all these issues and looks forward to valuable contributions from all the KP participants and observers.'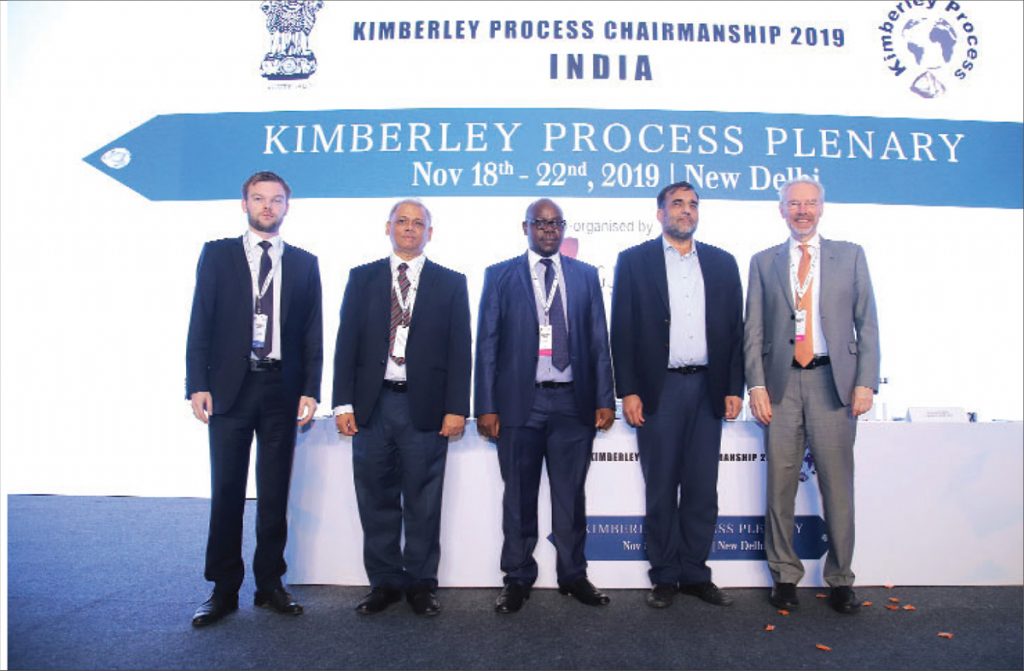 Anup Wadhawan, Commerce Secretary, said, 'India, as a founding member of the Kimberley Process, has been actively involved in the development of KP as an important protocol in the trade of diamonds, which has ensured that 99.8 per cent of the diamonds in the world are conflict-free. We need to keep KP efficient and effective as a process to maintain this conflict diamond-free status. We are committed to making this process stronger in terms of further strengthening administration and implementation, efficient in terms of delivery of what it promises, and more transparent and empathetic towards the living standards of people who are dependent on the production, trade and manufacture of diamonds.'
He further added, 'Currently, India exports approximately $24 billion of cut and polished diamonds. It is our focus to reach an export target of $1 trillion in the coming years. We are sure that the gems and jewellery sector, particularly cut and polished diamonds, will contribute significantly to achieving this target.' On India's role as KP Chair, he added, 'India is sensitive to the issues and challenges of artisanal and smallscale mining and acknowledges the contribution made by the KP members, observers and agencies. We need to continue supporting artisanal and small-scale mining countries with the capacity building, technical assistance and education on valuation, differentiation between natural and lab-grown diamonds, and importance of legal and formal mining practises.'
Stephane Fischler, President, World Diamond Council, said, 'I strongly believe that the future of this remarkable enterprise, the Kimberley Process, will be determined by the decisions taken, and possibly those that will not be taken, by you, member countries, during this week in New Delhi. Lives and livelihoods of individuals who rely on the work that we do together will be impacted by both your actions and inaction.
'There are a number of proposed amendments to the KPCS core document, some more substantial and others more conservative. The WDC has been candid in what we would like to see happen, and it is that the conflict diamonds definition incorporates all of the most severe instances of violence, whether they be carried out by rebel forces, private or state-run security forces, or criminal elements.'
Fischler further emphasized that 'KP's role is not to be a sanctionsimposing body. It is rather the operator of a system that prevents violence, supports conflict resolution and facilitates capacity building in the mining areas, while maintaining and growing consumer confidence in diamonds. We need to do all that we can to avoid a situation by which alternative chains of distribution are created.'
Shamiso Mtisi, Co-ordinator, KP Civil Society Coalition, said, 'KP cannot claim to stop conflict diamonds and issue certificates that guarantee the conflict-free provenance of stones without defining what conflict is. It cannot claim to be a conflict-prevention tool without adequate measures to stop diamonds from funding violence and conflict. Today, it is failing to do this, and thereby is open to abuse by those seeking to lubricate all kinds of illicit, violent and criminal operations. So any participating state that still seeks to obstruct discussions during this make-or-break moment for the KP is not just escaping its responsibilities, it is wilfully seeking to keep in place this self-destructive loophole of the KP. They will be held accountable for that. Our proposals to make the KP work are straightforward. The bottom bar should be stopping major cases of serious violence across rough diamond supply chains, irrespective of the perpetrator or context in which these occur.'