It's the season of collabs! Gübelin Jewellery and Swiss artist Nikolai Winter came together to create two different rendions – the Royal Allure ring by Gübelin inspired the artist to create a series of new art, which was recently displayed at artgenève art fair. US-based technical wizard Chris Ploof and HSR unveiled an all-gender capsule collection in Damascus steel with hints of gold for the new-age consumer. Louis Vuitton presented a new edition of its LV Volt collection sparkling with diamonds.
Gübelin's Arty Affair
In conjunction with the artgenève art fair, Gübelin Jewellery presented the Royal Allure cocktail ring together with their latest art collaboration. Inspired by the inner world of a sapphire, the jewellery designers created the sculptural cocktail ring. Swiss artist Nikolai Winter then went on to interpret and transform this multi-faceted jewellery piece into a series of new art piece.
Raphael Gübelin, President of the House of Gübelin, explains: "In our art collaborations, we emphasise the creative exchange, interpretation and inspiration – very much in keeping with our deeply inspired philosophy. Our jewellery atelier created the sculptural Royal Allure cocktail ring, which Nikolai Winter interpreted, finding inspiration to create his own work of art. Both works of art engage in a discussion of jewellery and add new facets to the topic."
Cocktail ring
The Royal Allure cocktail ring is inspired by the inner world of a Burmese sapphire of 7 carat (94 Gübelin Points), which Gübelin Gem Lab also awarded the designation "Royal Blue". The sculptural cocktail ring with the iconic ruby from Gübelin Jewellery consists of a classical platinum solitaire ring as well as a creative two-finger ring of yellow gold. This allows the jewellery to be worn in three different ways: as a cocktail ring, artfully combining both rings, as a classical sapphire solitaire ring or separately as a modern two-finger ring.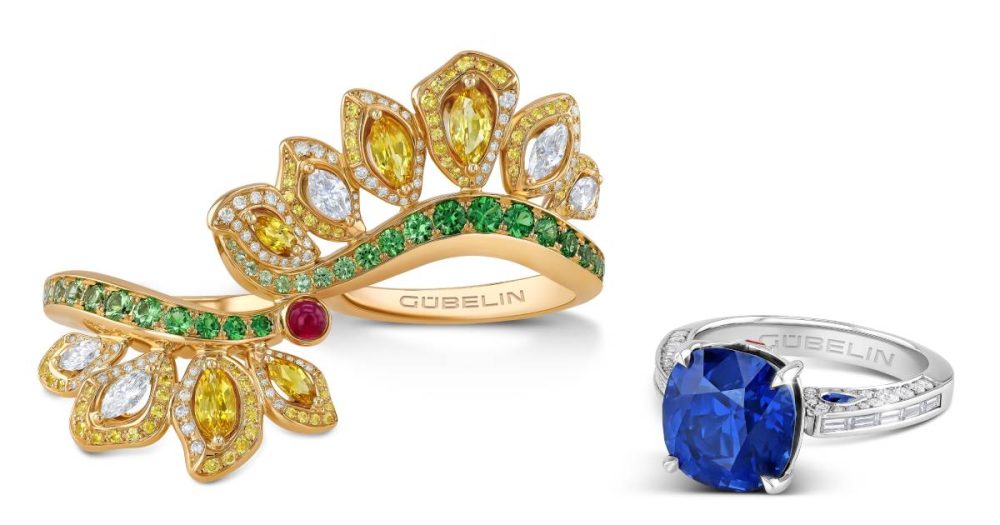 Solitaire ring
An impressive sapphire glistens at the centre of the solitaire ring. With the aid of a microscope, Gübelin Jewellery designers discovered geometric structures that reminded them of inflorescences on a rosewood plant. Rosewood is the national flower of Burma (Myanmar). The stately solitaire ring, artistically set in the tradition of Gübelin Jewellery with baguette-cut diamonds, a slender brilliant-cut diamond pavé as well as pear-shape sapphires, exudes shimmering light refractions, individuality and refinement.
Two-finger ring
Two-finger rings are highly fashionable and enjoy a great deal of popularity, but they are very rarely set with high-grade gemstones. In Gübelin Jewellery's own atelier in Lucerne, creative minds combined the highest artisanship, unique language of design and colourful gemstones to create an overall work of art.
The ring is a homage to the national flower of Burma: rosewood. As a reference to the delicate, radiant yellow blossoms and slender green twigs, the designers chose yellow sapphires and tsavorites in finely gradated shades of green for the two-finger ring. Yellow sapphires and marquise shape diamonds symbolise the rosewood in full bloom. As a tribute to the splendid yellow flowers, the two-finger ring is made of yellow gold. The tsavorites are set in a slender pavé thread along the organically curved ring band, which covers two fingers, along with the characteristic ruby in a cabochon cut.
New LV Volt Edition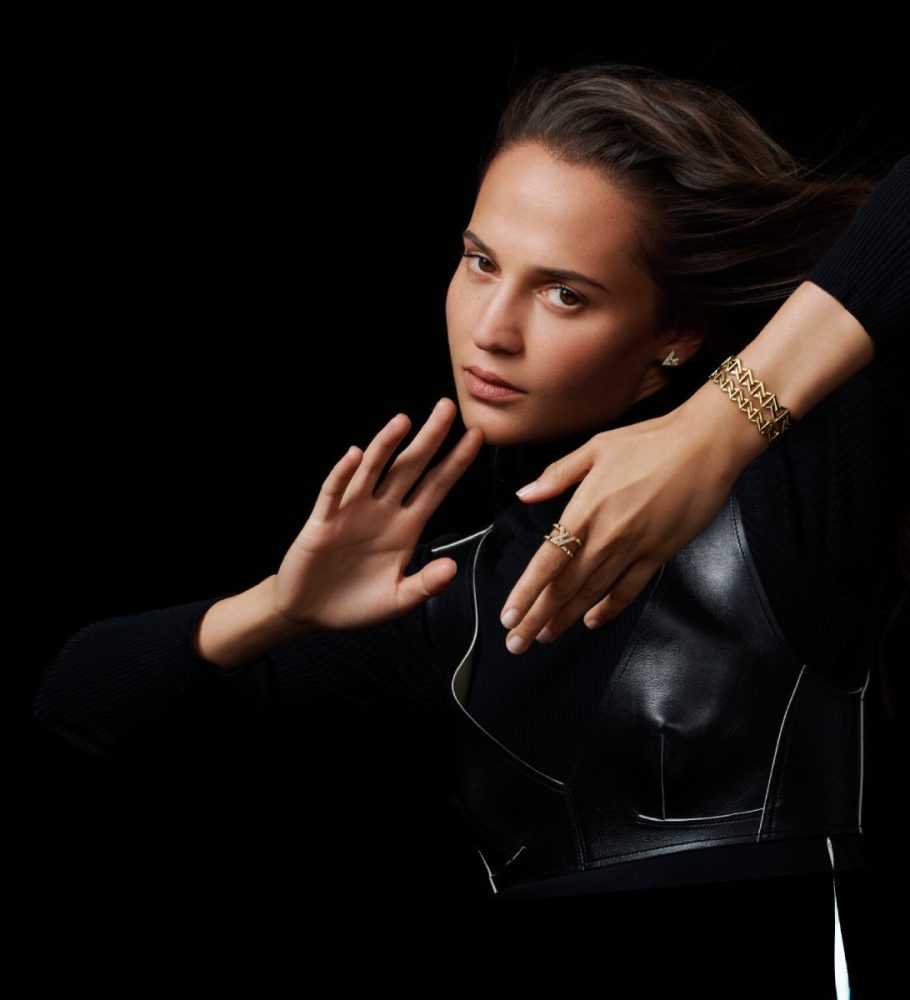 Louis Vuitton presents a fresh edition of its previous LV Volt collection that was unveiled in 2020 and designed by its Francesca Amfitheatrof, Artistic Director for Watches and Jewellery,
Exploring abstract forms, the collection is conceived as a leitmotif, the two initials L and V intertwine to create a powerful graphic and architectural pattern.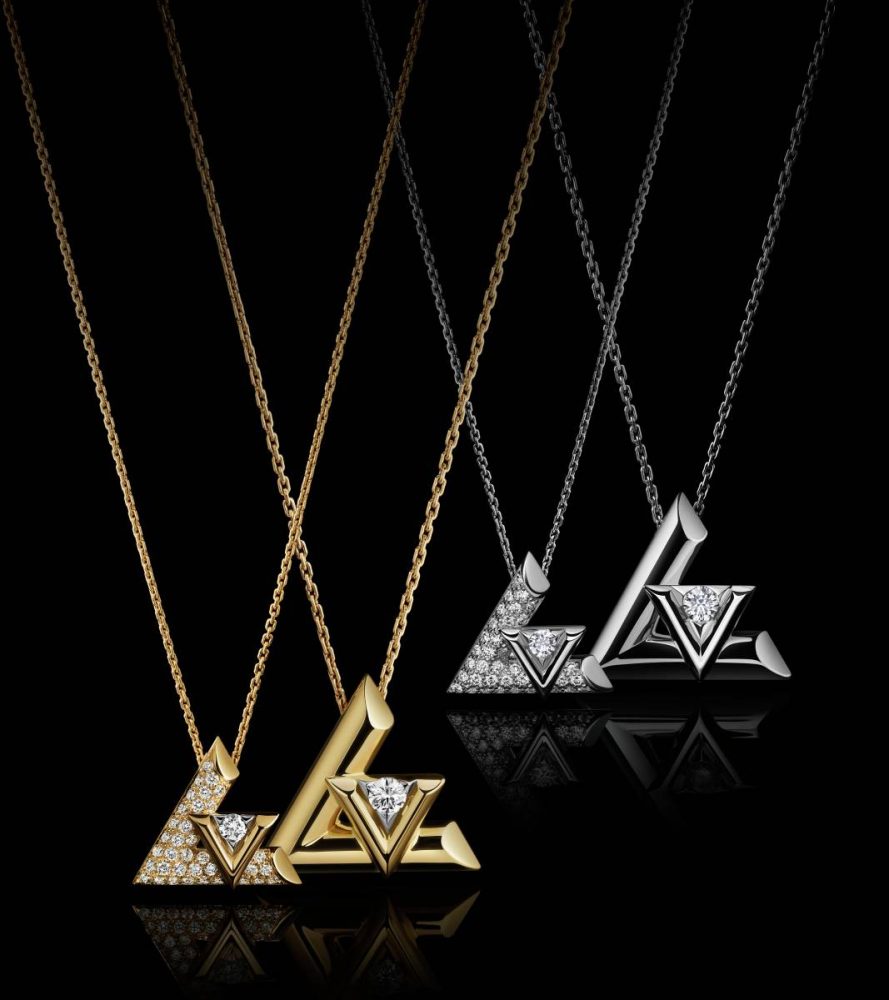 The new edition is enriched with diamonds on the pendants and ear studs in white or yellow gold. The diamonds are set in an innovative setting around three triangular white-gold claws to increase the sparkle.
This vocabulary of shapes is also featured on a ring in yellow gold and diamonds as well as an original and sculptural brooch in 18-carat white gold.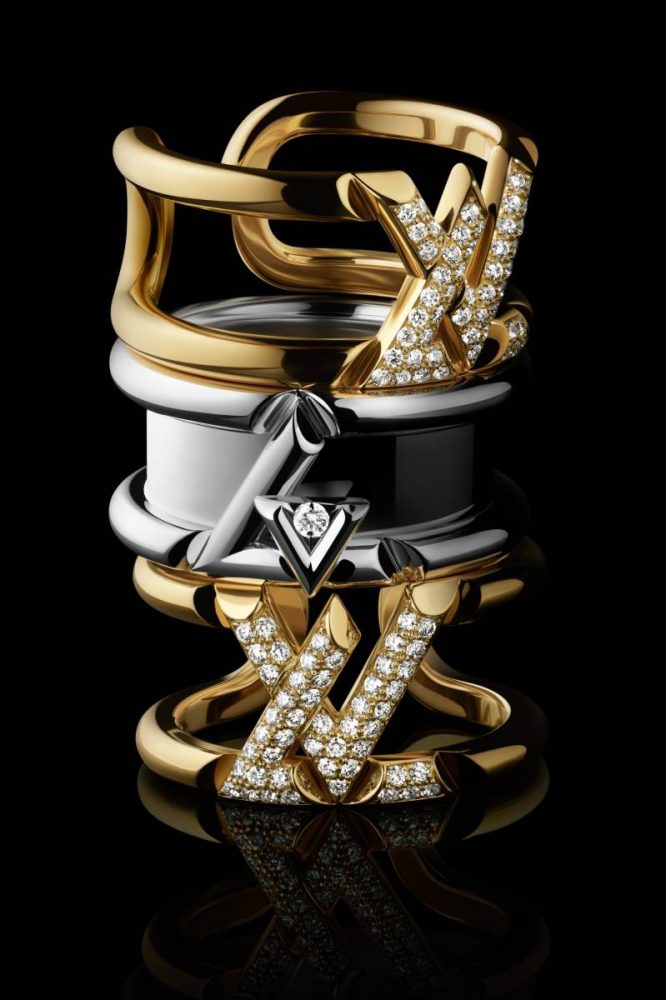 Hand-polished indentations in the precious metal mimic the shape of the two legendary initials. Finally, the lines of the V increase in size on a new pair of architectural studs in yellow gold and diamonds with a brand-new design.
HSR + Chris Ploof Capsule Collection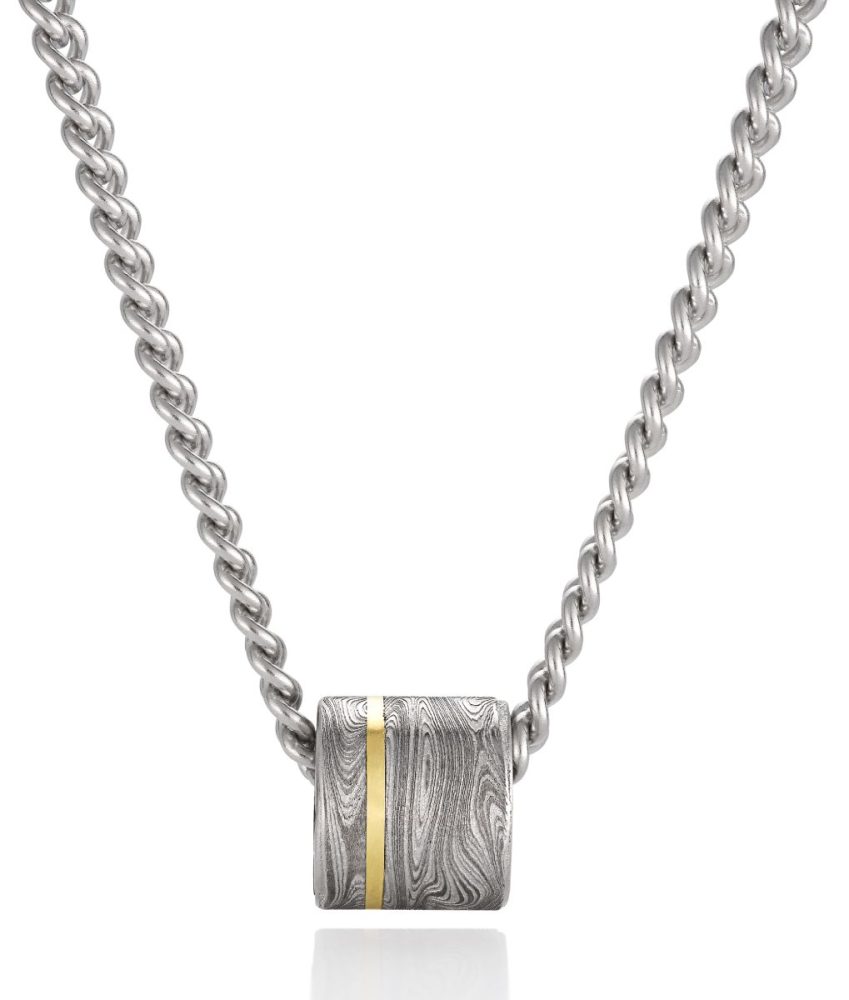 Chris Ploof Designs in collaboration with Heavy Stone announced today the launch of their all-gender "HSR + Chris Ploof" branded capsule collection Damascus steel jewellery. The collection of 18 pieces includes 4 bracelets, 4 rings, 4 cuffs, and 6 pendant necklaces, all hand-crafted in Ploof's solar powered studio in Central Massachusetts and Heavy Stone's new manufacturing facility in Vineyard, Utah.
Each of these durable, one-of-a-kind designs are created for everyday wear, prices from $500 to $2,000. The collection is currently testing across fifteen of Heavy Stone's retail stores.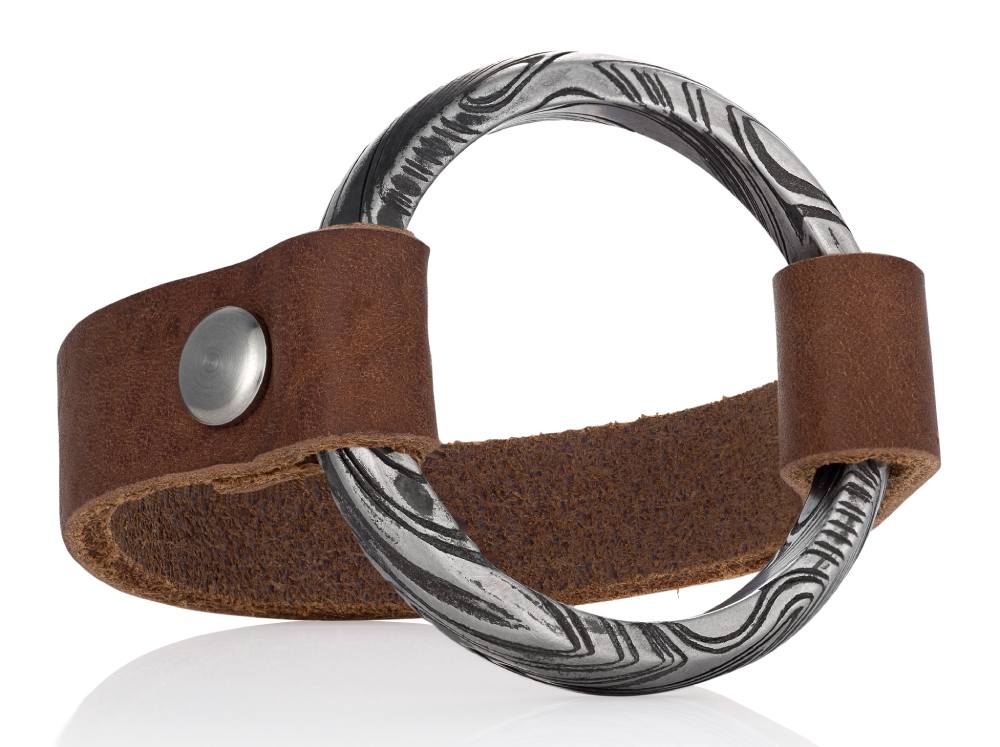 "I am honoured to design with Heavy Stone, as I have long been a fan of the brand," said Chris Ploof, president and founder of Chris Ploof Designs. "Also, the rich tradition and history of Damascus steel dates back approximately 2,000 years when the Vikings first produced some patterned steel swords. For me to now be able to bring that to a wider audience, with my unique twist on it of course, is exciting! I am really pleased with the new pieces, and I know our new joint customers will love them."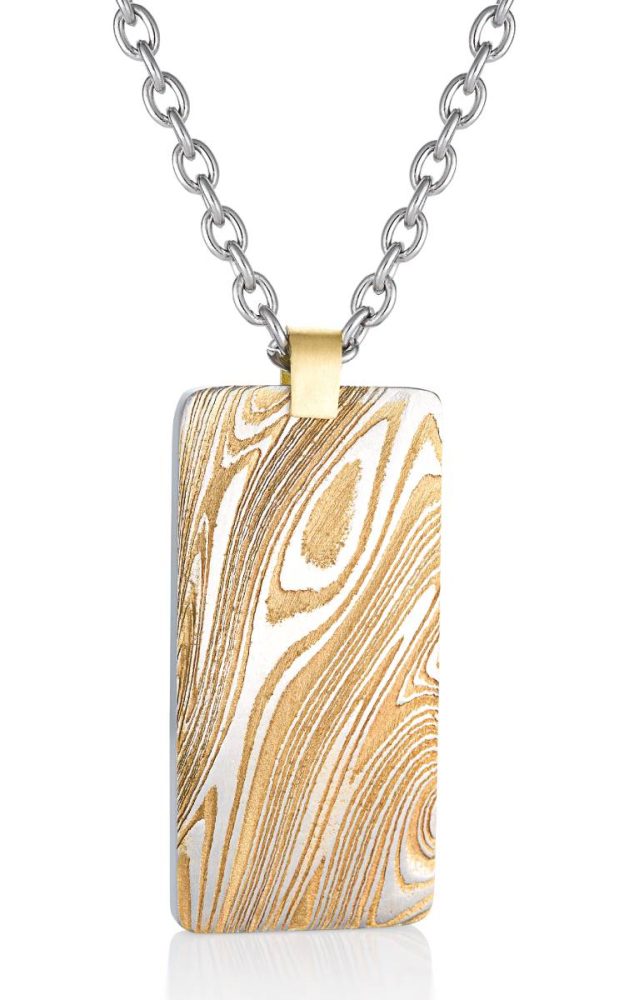 The line-up of jewellery features patterned modern metal pieces for the neck, wrist, and finger, and 18-karat yellow gold details provide a signature mark.
"We are focused on bringing innovative modern metal pieces to the industry, as consumers have shifted from shopping such metals because of a price point preference to shopping them because they're cool. We are initiating collaborations with modern metal leaders to demonstrate just how on-trend and saleable these elevated designs can be. Chris Ploof is the logical place to start, as he is the world's foremost expert in Damascus steel jewellery and shares so many of our corporate cultural values," says Shawn Clark, President of Heavy Stone.