Meet Jay Hartington, the CEO of Marissa Collections, the Florida-based store and boutique business that is celebrating more than four decades as a family-run enterprise in the competitive US marketplace. Their affinity to promote high-end designer labels, including some Indian brands, forms the basis of their success story.
Solitaire International is publishing a series of interviews profiling independent US jewellery retailers. Some of the jewellers featured so far in this series include London Jewelers on Long Island, Mayfair Rocks in The Hamptons, and Sydney Garber, the Chicago-based jeweller that donates all profits to charity and non-profits.
This time we focus on Marissa Collections, the Florida-based boutique. Dedicated to helping clients find their own style, Marissa Collections opened its doors in 1975 when life-and-business partners, Marissa and Burt Hartington, opened shop.
One of a handful of family-run businesses in the US to have stayed the course, perhaps their success lies in family teamwork?
Marissa is the creative half of this luxury operation whilst her husband manages the business side of things.
Their son Jay Hartington serves as CEO. The second generation in the family to continue the business, Jay oversees marketing, jewellery and menswear at this multifaceted boutique.
Today, Marissa Collections is located in a 10,000-square-foot property in the Third Street South shopping district of Old Naples in Florida.
Marissa Collections originally operated out of a store front boutique, selling items hand selected by Marissa, including accessories and shoes.
It has recently expanded to include fine jewellery, as well as menswear. Jewellery brands it carries include Messika, David Webb and Emily P Wheeler whose funky cabochon chunky ring retails for $9,800 at Marissa Collections. Other jewellers selling at the boutique include Irene Neuwirth, Katherine Jetter and Studio Renn. Indian designers Marissa admires and works with include Saboo, Arunashi, and Sutra — these include Arunashi's $28,800 abstract pear earrings, and Sutra's black ceramic fancy diamond bracelet retailing at $155,000.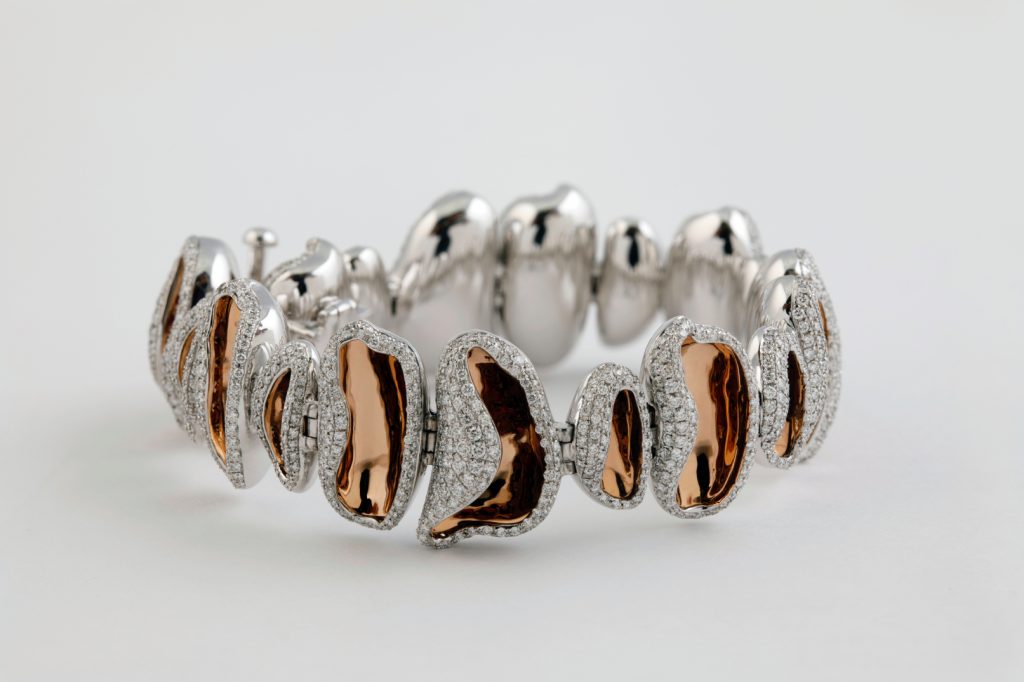 Jay Hartington throws more light on their business.
What defines your company?
Marissa Collections is defined by its curated shopping experience that allows staff and guests to create timeless pieces from a wide variety of designers. What started as my mother, Marissa, hand-picking and personally styling pieces for each individual has grown into so much more, while still holding true to its family-owned, personal shopping relationship. Marissa's original, artistic vision is brought to life using personal stylists and jewelry experts on site, making it a one-of-kind company.
What was your route into jewellery?
It was a natural progression to provide head-to-toe styling to our clients so they wouldn't have the need to go anywhere else.
How is business in the US?
We are fortunate to have experienced tremendous growth. Since the beginning of this business, we have consistently invested in smaller, up-and-coming designers. By doing so, we have grown alongside those designers and developed great relationships. Our stylists incorporate our exquisite jewellery with casual clothing, creating even more options for jewellery wear. Our efforts have paid off as we have been able to expand and add an additional shop in Palm Beach, Florida; the shop is doing very well and was just awarded Best New Business in Palm Beach.
Do you sell more online or in store?
Both online and in-store sales have been doing equally as well. They truly balance each other out and support each other. Our boutiques have consistent loyal fans that love to shop in person, more for the experience and attention to detail from our staff. Although, since the pandemic, our online sales have done exceptionally well. In 2020, e-commerce sales went up 110%.
How have you adapted to the pandemic?
We were growing faster than normal online, so we revamped the website and made sure sales associates were easily accessible to online shoppers. We would also go live on Instagram with designers to showcase their collections. These few small measurements paid off by being able to connect virtually with local clientele and with our international buyers. Also offered to our local clientele was same-day delivery in our well-known Marissa Collections pink van. Our jewellery sales increased, as people were spending less going out and more on valuable jewellery and possessions.
What smaller brands do you carry?
We continuously seek out emerging designers that are new and upcoming. Often, our smaller designers can't be found everywhere else, and it gives us the chance to shine a spotlight on emerging designers.
Who is your clientele?
We are consistently growing and reaching new clientele, especially online and across the globe. Locally, we have generational clients who have been with Marissa Collections since we started decades ago. We hold many in-store events, such as our Piercing Party, that bring in waves of younger clients. They can walk right into the boutique for the same personalised, one-on-one shopping experience that their mother or grandmother has had.
How much do they spend?
We host a wide variety of price points, including fashion, fine, bespoke and high jewellery.
Do you do business with India? How is your experience?
We do plenty of business with India and have a few direct suppliers that we have a great relationship with.