Talismanic jewels have transformed into protective armour during the pandemic, here's why.
In times of pain and uncertainty, many of us look to our jewellery as armour, points out jewellery designer Colette Steckel, who has a flagship boutique in Mexico and a retail store in Los Angeles. She delves into divinity and faith for the Santos y Cielos collection. The aspiration, says Colette, is for the pieces to offer a sense of strength and hope, and serve as a reminder of resilience. "The pendants are individual illustrations of my spirituality, showing different saints or religious motifs that have personal importance."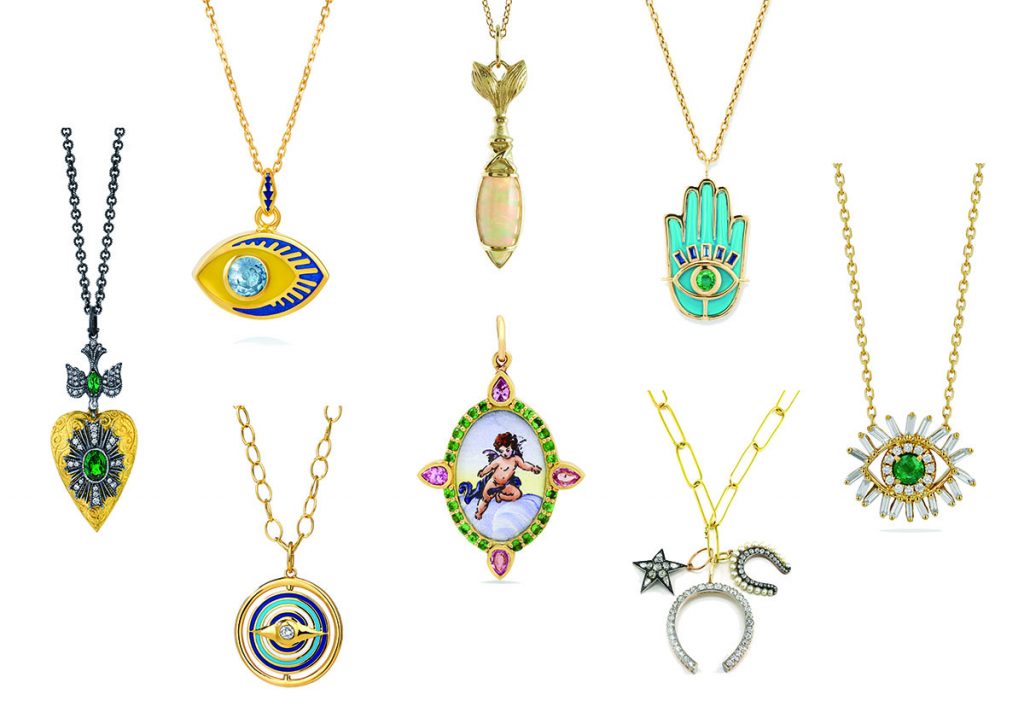 Almasika's Le Cauri Endiamanté is rich with symbolism. The cowrie, synonymous with wealth and fortune, continues to be worn as a talisman to bring good fortune. "Since ancient times, cowrie shells have been used as ornaments. They were even used as currency through to the late 19th century and they are still used today in the Art of Divination," explains Catherine Sarr, founder, Almasika Fine Jewellery, Greater Chicago.
Renowned designer Selim Mouzannar says symbolism is part of his culture. Reflecting on his pieces that reference horse shoe, fish, star, dove and clover leaf, the Lebanese designer adds that "when people feel they are in danger, a talisman gives them some serenity." This summer, his talismanic jewellery features more patterns and is rendered in pastel enamels.

Sisters Nicole and Kim Carosella have forever been intrigued by the mystical and divine. The pandemic has led people to seek out jewellery with meaning, observe the founders of Sorellina. The necklaces from their Tarot collection, inspired by the iconography found in fortune-telling decks, has been very popular during the pandemic. Nicole loves the concept of talismans. "I love both jewellery and tattoos that help me connect with memories or something greater. As a designer, I love creating beautiful pieces that can do that for others. I want our pieces to empower and protect people," she adds.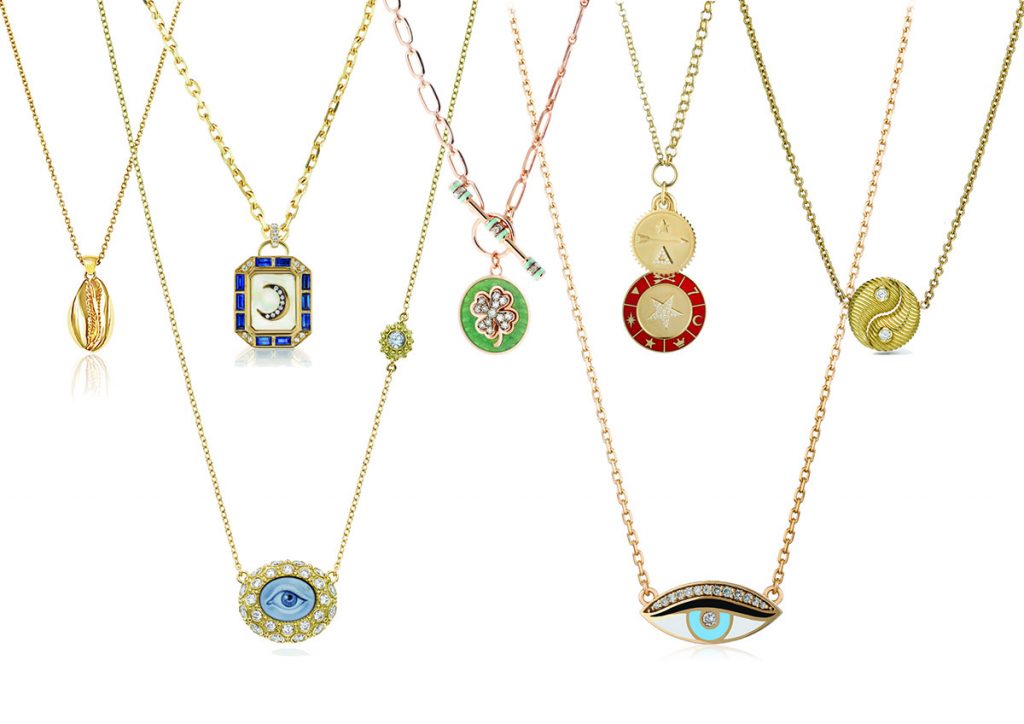 Dubai-based Susana Martins turns to the symbolic eye for design inspiration. "The eye has always been an admired jewellery motif, especially in the Middle East, where it commonly is associated with the culturally rooted protective qualities it is said to hold." Susana's Eye Collection consists of charms, necklaces, bracelets, pinky and double-faced thumb rings. The pieces feature playful make-up such as dramatic black eyeliner or eye shadow, and are defined by enamel inlays and pavé of sparkly diamonds. "I wanted to reimagine the protective amulet and add some fun to my daily wear jewellery," she says.
Inspired by Marie Antoinette's lover's eye, Ana Katarina's Eye See line transforms into a modern-day token of love. The Eye See necklace features a hand-carved cameo set in a pave bezel inspired by the sea urchin. "I wear this piece with a cameo carved to the likeness of my own eye to connect inwards and help me evolve through life's journey," says the designer.
Retrouvaí's Yin Yang collection is inspired by the Chinese philosophy of interconnectedness. Designed by Kirsty Stone, the mini gold Yin Yang pendant, featuring a delicate chain, has a round pendant with a grooved design and a diamond on each half. "It represents two seemingly opposite forces existing in unity."
Signs and Symbols collection, by Brent Neale, is an ode to the ancient motif of Hamsa, denoting "protection, power and strength." The carved stone Hamsa pendants have diamonds or coloured stone details. Baguette coloured gems or diamonds accentuate the eyelashes on carved carnelian, turquoise or pink opals – the Hamsa design is also available in gold with a precious stone eye. These pendants are a lovely way of channelling a positive vibe.