Whether you are looking for daily wearable dainty rings or geometric engagement rings, we have you sorted.
London-based jewellery designer Flora Bhattachary's pieces evoke an 'East meets West' style. Her new Triple Stone creations are a lovely treat; wearability and minimalism are central to the one-of-a-kind rings. "Each design includes three stones to represent the past, present and future – a symbol of a couple's life together," says Flora.
The new designs – inspired by the simplicity of hand blocked textiles – are set with graduating blue sapphires and diamonds to represent the natural indigo dyes often used in block prints. "Each of the Bagru designs features the repeated motif of three stones in tapering size and depth of colour." The designer has used geometric bezel setting on the hexagon and princess-cut rings to make the designs very graphic. "The pear-shaped stones are claw-set to enhance the light into this delicate cut," she adds.
Flora works with small gemstone dealers who try to source their stones from named mines. The stones in the Triple Stone rings include untreated sapphires from Montana in the US and champagne diamonds from the Jwaneng mine in Botswana. "I try and ensure that the stones I use can be traced to their origins as far as possible," explains the jeweller.
Each of the rings from this capsule collection comes with its own uniquely handcrafted antique box; these are in vintage ring boxes upcycled by Woodbury&Co. using retro, sold-out Liberty fabric. Flora wanted a 70s inspired interior for the boxes so that the design aligned with the inspiration for the rings. "When I saw the 'My Little Star' Liberty print, I knew it was the right design – we had to wait a while to start production; I had to source the material from Japan, as it was no longer available in the UK."
How did you find this seaside studio on the border of Devon and Cornwall? "Emily Gore is the maker behind Woodbury&Co., and she was originally trained as a jeweller, so I knew her. From the moment I saw her boxes I just loved them and the two brands fitted together so well. Emily uses traditional hand production and the fact that she could personalise and revive antique jewellery boxes perfectly married with our ethos of slow fashion and our steps towards becoming more sustainable," says Flora.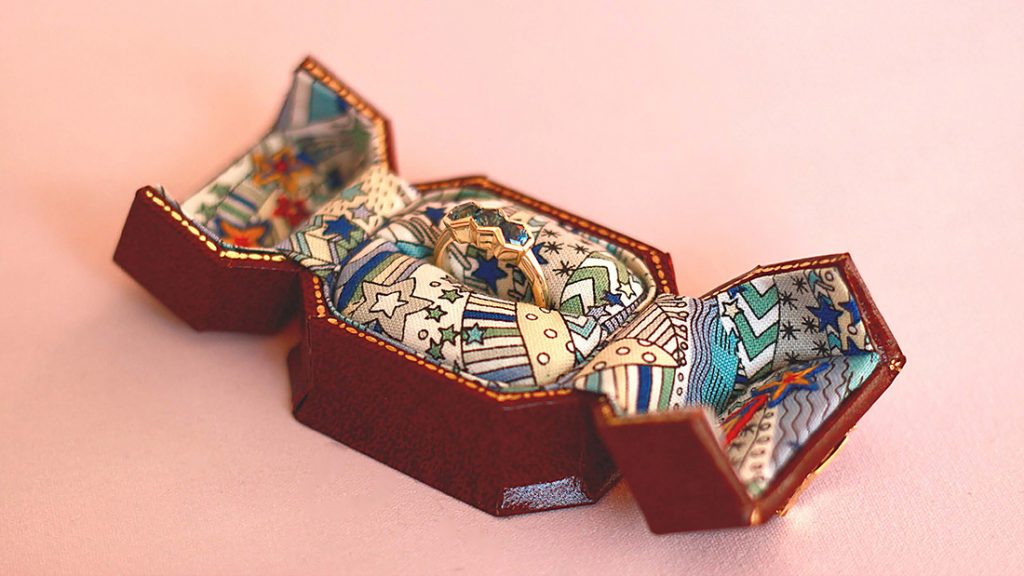 Each antique box is lined with the Liberty 'My Little Star' fabric which has a pattern of overlapping comets and shooting stars, inspired the night sky. "Emily has hand embroidered contrasting shooting star designs inside each box."
Flora's jewellery is made and set in London at The Goldsmiths Centre – where her studio is based. "I still make some of my pieces myself – and I have the support of a team of amazing crafts people."
All About Duality
Artëmer is a fine-jewelry brand based in Tel-Aviv that specialises in alternative engagement rings and novel wedding rings. Founders Tanya and Tomar Mikaeilyn are constantly inspired by "unique stone cuts, unexpected compositions and delicate execution." Despite the pandemic, last year turned out to be a very busy time for the designers. "What kept us busy in 2020 are creative young couples around the world, who were on a search for that unique piece of jewellery to symbolise their commitment."
The duo has been using mixed stone cuts in their designs for about four years now. The most popular cuts at the moment are baguette, half-moon and triangle diamonds. Although the designers don't normally custom-cut their diamonds, they often source interesting shapes from suppliers and manufacturers, who they have been working with for years. "Our supplier showed us two 'sister stones,' and we fell in love immediately. So, the two half-moon diamonds dictated the entire design of our two-carat half-moon engagement ring." The ring is set with salt and pepper square-cut diamonds that light up the space between the half-moon diamonds, and allows us to fall in love with the natural beauty of diamonds with inclusions.
"We do custom-cut sapphires and other precious gemstones," says Tanya. Another addition to their 2021 collection is the cluster engagement ring – the marquise-cut diamonds resembling petals, in an assortment of sizes, are carefully pieced together within a circle of gold. The slender band features a pavé of baguette-cut diamonds. The absence of a central stone doesn't go unnoticed. "Here, we wanted to play with space and limits, while also taking apart the concept of the central stone in an engagement ring," she explains.
Inspired by the elegance and geometry of the Art Deco period, their new step-cut engagement ring features eight square diamonds. "We are a little obsessed with the idea of two central stones right now. There's something very nice about the duality," Tanya adds. Grey diamonds, salt and pepper diamonds, fancy-coloured diamonds all land up in endearing and playful patterns in their creations. We really can't see anyone saying 'No' to the Artëmer engagement rings!