The substantial increase in India's gold imports in March 2021 may be attributed to the thriving domestic jewellery sector, while plain gold exports are declining due to a gold shortage.
A release from the Ministry of Commerce & Industry, notes that India's gold imports jumped 584.21% in March 2021 to $7.17 billion on a year-on-year basis. A number of factors could be behind the phenomenal rise in gold imports: the run-up to the gold-buying festival, Akshaya Tritiya; reduction of gold prices by almost 13% since January 2021; and increased wedding jewellery demand among others.
Meanwhile, GJEPC has made a representation to Shri. Suresh Kumar, Joint Secretary, Department of Commerce, and explained that jewellery exporters are, in fact, facing an acute shortage of duty-free gold, which has resulted in a sharp decline in exports of plain gold jewellery.
The table below based on GJEPC data shows the import of gold during the same time for DTA consumption which has in fact gone up substantially in the October 2020 to February 2021 period in comparison to April 2020 to September 2020 quarter which points out that the supply constraints of gold in India existed only for exports when domestic supply flourished.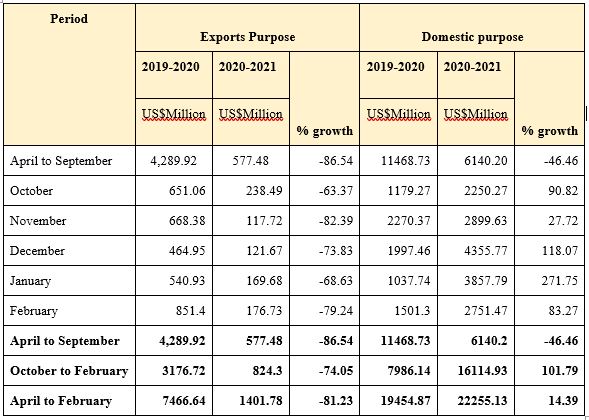 Source: Exports data from the GJEPC & domestic data from The Directorate General of Commercial Intelligence and Statistics (DGCI&S).
The sharp 81.23% decline in imports of duty-free gold for export purpose as against the rise of gold imports by 14.39% shows the disparity in availability of the raw material for the two segments.
Colin Shah, Chairman, GJEPC, said, "We request the Government to look into the issues to ensure the hassle-free supply of duty-free gold to exporters by nominated agencies to stem the sharp decline in exports of gold jewellery from India."
Sabyasachi Ray, Executive Director, GJEPC, explained that of the total 18 Nominated Agencies (NAs) and Banks supplying gold to the domestic sector, just about half (10 nos.) are available for exporters. Lengthy documentation processes, delays in release of margin money, non-acceptance of Mumbai Customs' one-time certificate (OTC) by other states/cities are some of the issues faced by exporters, he noted.