Diamond analyst Paul Zimnisky reports on the benefits of the various diamond traceability initiatives taking hold within the industry.
While the diamond industry may have a reputation for being slow to change and integrate new technology, at the moment, meaningful innovation seems ubiquitous throughout the supply chain. From more sustainable mining methods and technology, to digital and more efficient diamond sales solutions, to automated manufacturing and grading, to e-commerce progression and downstream marketing and sales innovation, there is a lot of advancement happening with diamonds right now – the industry seems to be progressing faster than ever before.
However, one initiative stands out as perhaps the most important: diamond traceability from mine to market.
If the industry can provide end-consumers with the source of a diamond it can alleviate almost all of the challenges that have beleaguered the industry in recent years. By assuring the source of a diamond a consumer now knows it's a real, natural diamond and that it's not a conflict stone. In addition, there is a marketing and merchandising benefit that comes from knowing a diamond's origin at a time when consumers want to express uniqueness and want to have a story to tell about their most special possessions.
For example, perhaps a diamond that was given as a gift was sourced in a country that has a special connection to the recipient – perhaps they are from Canada, Russia, South Africa, Botswana or Australia, or have a related family heritage to one of these countries. Perhaps a couple has travelled to or vacationed in one of these nations before getting married, so it has special meaning.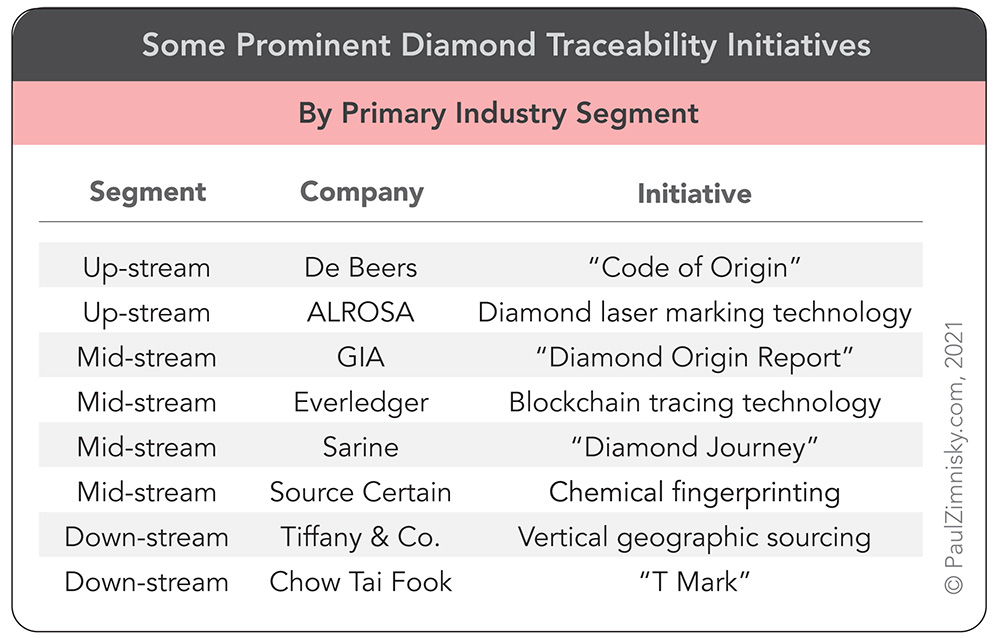 Tiffany & Co. was the first large jeweller to provide "geographical sourcing information" on its diamonds. In 2019, the company began providing consumers with sourcing information on all diamonds 0.18-carat in size and larger – the company now also provides its consumers with details on the manufacturing process. That said, Tiffany's vertically integrated structure, which includes rough diamond buying and manufacturing subsidiaries, makes traceability a much more manageable task than for most industry participants without an internal supply chain.
This is where a coordinated industry supply chain effort comes in – and participation had been wide and fast moving. In recent months, both of the industry's leading miners, ALROSA and De Beers, have announced initiatives to support traceability objectives. In July, ALROSA announced that it had developed a permanent "non-invasive" diamond laser marking technology that "cannot be destroyed or polished off." Management said the technology "allows the precious stone to be identified with 100% accuracy" whether rough or polished. In August, De Beers said it developing a new "trusted source" programme called the "De Beers Code of Origin" which will provide consumers with proof that a diamond was recovered at a De Beers mine – importantly, the initiative covers all De Beers diamonds, not just De Beers' branded stones.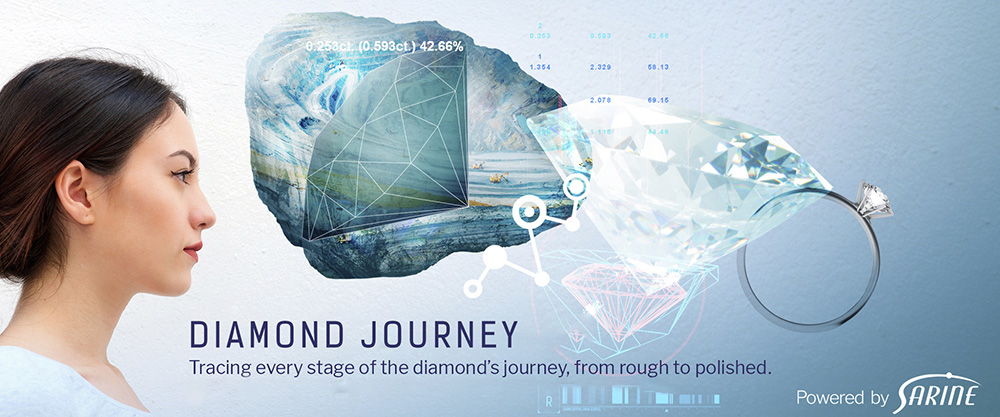 In the mid-stream, diamond service and technology company, Sarine, continues to advance its "Diamond Journey" initiative which uses a proprietary inclusion mapping system as well as other data to ID a diamond and thus track it throughout the supply chain using a "secure cloud-based system." London-based technology company, Everledger, is deploying a Blockchain tracing technology which accumulates images and videos of luxury goods, including high-end wine, fine art, and diamonds, passing through supply chain to verify provenance and authenticity. Retailers can then browse "known-source" inventory on Everledger's platform to supply their stores.
At the current pace, within a few years, most natural diamonds, at least in solitaire sizes, will bear some source identification information (via grading reports or some other means). Such progression in supply chain transparency could mark the much-needed monumental shift in the way that diamonds are perceived not only by consumers but by society at large. Further, the result could be a self-reinforcing for the industry as consumers specifically reward companies (with patronage) that align with their stricter values – hopefully incentivising even more industry players to participate in higher-quality business practices.
—
Paul Zimnisky, CFA is an independent diamond industry analyst and consultant based in the New York metro area. For regular in-depth analysis of the diamond industry, please consider subscribing to his State of the Diamond Market, a leading monthly industry report; an index of previous issues can be found here. Also, listen to the Paul Zimnisky Diamond Analytics Podcast on iTunes or Spotify for wide-ranging and interesting discussions with prominent guests from around the industry. Paul is a graduate of the University of Maryland's Robert H. Smith School of Business with a B.S. in finance and he is a CFA charterholder. He can be reached at paul@paulzimnisky.com and followed on Twitter @paulzimnisky.