Exports of Coloured Gemstones (CGS) from India saw a decline of 42% to $186.75 million from April 2020 to March 2021 as compared to $320.41 mn in the previous year.
India's coloured gemstone exports declined by 42% to $186.75 million from April 2020 to March 2021 as compared to $320.41 mn from April 2019 to March 2020. The decline is largely attributed to lockdowns across the major markets and travel restrictions imposed due to Covid-19.
Coloured Gemstones Exports for FY 2021
Months
Gross Exports FY2021 US$ million
% Growth /Decline
(Y-o-Y)
Q1
16.20
-81.17
Q2
48.81
-47.38
Q3
58.09
-15.23
Q4
63.65
-12.92
April to March
186.75
-41.72
Commenting on the decline of coloured gemstone exports, Vijay Kedia, Convener, Coloured Gemstone Panel, GJEPC, said, "The demand has taken a hit due to the pandemic which will take some time to recover. For selling coloured gemstones, physical shows are important which are not happening presently and hence exporters are neither able to meet buyers from the US and EU market nor can take/place orders. International flights are not operational so buyers of CGS from different countries are unable to visit us."
Coloured Gem Stones: Export Markets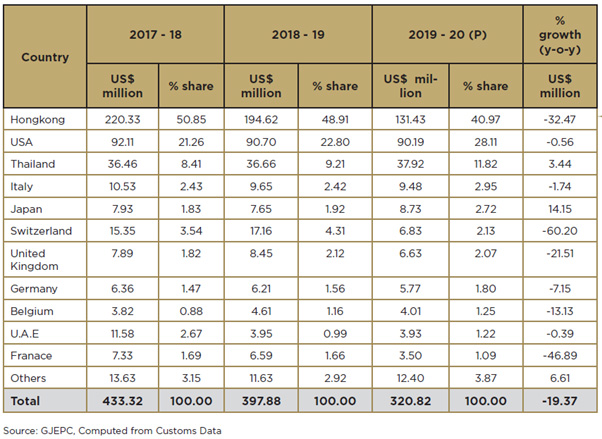 Kedia further added, "It is important that we address our domestic policy issues related to coloured gemstones to make the sector more competitive in the world market. We have urged the Government to withdraw the 0.5% import duty on rough gemstones. The industry would appreciate a reduction of import duty on cut and polished CGS from 7.5% to 2.5%, as we import these to set in jewellery. High import duty is impacting this business in India."
Nirmal Bardiya, Regional Chairman, Rajasthan Region, said, "Since the 2nd wave of Covid-19 is upon us, it will continue to affect trade and business. The year 2021 will be better than last year, but still I am expecting around 20% decline in CGS exports."
Vijay Chordia, Partner, Valentine Jewellery, said, "The main trading centres for coloured gemstones were adversely affected because of Covid-19. Because of low demand and insecurity, traders stopped buying and stocking coloured gemstones. However, the last few months have seen a bounce back, which is a positive sign for us. Despite the second wave of Covid-19 which could affect the business, I'm hopeful that the industry will recover."
The industry has moved on and it is expecting better times ahead. The current situation is far better as few factors/initiatives have played in the favour of the industry. Considering the unavailability of rough gemstones to the sector, GJEPC had organised thefirst-ever rough gemstones sourcing show 'India Rough Gemstones Sourcing Show 2020' in Jaipur from 2nd November to 11th December in order to enable direct sourcing of rough coloured gemstones. Subsequently, there was a steady increase in export orders for coloured gemstones.
The raw materials for rough gemstones are now readily available due to the opening of markets, and the resumption of mining activities in Zambia and Tanzania, which are India's principal suppliers of raw materials for coloured gemstones.
Domestic demand is also picking up due to relaxation of norms, and resumption of production in factories. International demand is reviving in the export markets of Hong Kong, China, Thailand, and the USA.