These colourful treasures of nature are revered for not just adornment but also for leading the auctions!
Since time immemorial, gold and precious gemstones have been a reservoir of wealth. Ancient texts have advocated knowledge of gems as an essential asset, and historical tales abound of their pivotal role in securing kingdoms. Beyond personal adornment, can we consider precious gems as an asset class? Do they genuinely offer a hedge against market volatility? Does an economic downturn provide opportunities for acquisition?
David Bennett, who recently retired as Worldwide Chairman of Sotheby's Jewellery Division, explains, "In times of financial and economic uncertainty, people tend to seek to invest in tangible assets. As some of the oldest and rarest things on earth, exceptional diamonds and gemstones have traditionally been considered a safe haven. Similarly, great jewels have always represented a very portable way of storing wealth – a belief, I might add, which goes back hundreds of years."
While gold offers liquidity, if one desires long-term value appreciation, precious gems are the answer. Recent auction results prove the supremacy of coloured gems. Take the 15-carat Crimson Flame Ruby, which sold for $18.5 million (a record $1.2 million price per carat), or the Rockefeller Emerald purchased by Harry Winston for $5.5 million ($305,500 per carat).
What drives value appreciation? A combination of beauty, durability and rarity! Rubies, emeralds and sapphires occur in small deposits. Once the deposit dries up, the only source left is the secondary market, triggering price escalation. Additionally, regular supply supported by global marketing initiatives are equally important to maintain and grow the value of precious gems. The perfect example of this being colourless diamonds, which seem exceptional in top qualities due to high demand, courtesy a carefully managed, long-established market (the exception being coloured diamonds).
This also explains the growing demand for coloured gemstones. The discovery of new deposits in Africa such as rubies in Mozambique, sapphires in Madagascar, spinels in Tanzania and increased supply of exceptional emeralds from Zambia has fuelled the growing desire for coloured gems. The entry of mining and marketing companies such as TanzaniteOne in early 2000 and Gemfields soon after played a vital role in formalizing the fragmented coloured gemstone sector, educating the consumer and boosting visibility of coloured gems.
According to Sean Gilbertson, CEO, Gemfields and Fabergé, "The swing towards precious coloured gemstones is overwhelming, and the past decade has seen the world record prices for an emerald and a ruby surpass that of a colourless diamond on a per carat basis."
Narrowing the focus, Gilbertson explains that rubies, emeralds and sapphires remain the most popular and valuable, highlighting their reputation as an inflation-defeating store of wealth and a guard against times of turbulence in global financial markets. He also suggests considering certain varieties of spinels, which were historically mistaken for rubies. The Gemval Aggregate index (GVA), representing an overall pricing trend for gemstones, further demonstrates the benefit of acquiring these movable assets.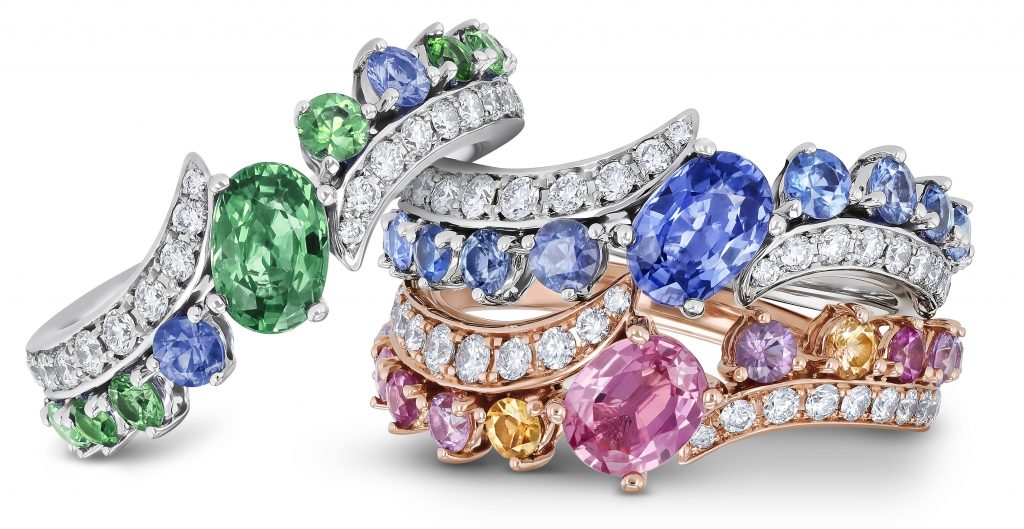 Ronny Totah of Horovitz & Totah and co-founder of GemGenève, shares his experience, "Besides gems, the prices of natural pearls have also multiplied more than ten times, but in the past 20+ years, thinking long-term helps."
To reap mineral rewards, it's imperative to follow the principles of colour, clarity, cut, and carat weight, as only top-grade gems hold value. What constitutes top-grade? Besides social media content, the best education is personally experiencing varying qualities at different prices. Assuming high-quality, value also appreciates with size. Since 90% of gemstones undergo clarity enhancement, untreated stones are expensive, and an influencing factor are gemmological reports, which also safeguard against possible fraud. Each country has reputable labs, but reports from globally well-marketed lab-brands like SSEF, Gübelin, AGL, GIA, and GRS, are meaningful, especially for significant acquisitions.
Besides stand-alone gems, this may also be an excellent time to acquire that gorgeous necklace you were eyeing or those chandelier earrings you've been trying to forget, as jewellers may be more willing to offer deep discounts to gain liquidity. Raphael Gübelin, President of the House of Gübelin, shares his views, "Gems and jewellery can be suitable for portfolio diversification in the medium and long term. Nevertheless, the joy of jewellery and gems should come first, and you should only buy something you are personally enthusiastic about."
Since 1933, Gazdar Jewels have bought and sold many exceptional gems and works of jewelled art. Ravin Gandhi, Gazdar's Managing Director, shares his experience, "When it comes to delivering returns to collectors, the trinity of rubies, emeralds and sapphires in fine qualities is sacrosanct. The vintage segment also provides connoisseurs the opportunity to acquire jewellery that artisans are unable to recreate. The market will always place value on beauty, quality artisanship, and history."
At a visceral level, we are drawn towards natural creations, whether floral or mineral. Realising how colour in gems influenced our mental and physical well-being, our ancient ancestors devoted their time in documenting their role. Historically, gems and jewellery have served society well in storing wealth in portable forms and providing gain in more exceptional qualities. While most with financial means can acquire designer leather goods and clothes, only a few have the refined taste to understand and appreciate the beauty of mineral wealth and the value of jewelled art. It is these collectors and purveyors that uphold value when all else fails.