Vashi, a high-end British fine jewellery brand, lets clients experience the joy of designing their own jewellery at their Covent Garden 'store within a workshop'.
Vashi, a state-of-the-art British fine jewellery brand, which recently opened a store in Covent Garden, central London, offers a unique, sustainable retail experience to customers who tailor their own precious jewellery designs produced in-store, thus reducing the carbon footprint.
The Covent Garden showroom, workshops and labs, which opened in May on The Piazza, just a few metres from the Royal Opera House, a magnet for tourists, are the seventh Vashi outlet across leading retail locations in London, including Piccadilly and Canary Wharf.
Plans are under way to open additional stores in London and internationally over the next couple of years.
The retail concept, created by Indian-Spanish businessman Vashi Dominguez, who has a background as a diamond wholesaler, is in line with a global trend for greater personalisation of jewellery purchases.
Vashi offers a "store within a workshop", providing a wide range of choice to customers looking for accessible custom-made pieces as gifts, to celebrate an anniversary or promotion, or for self-purchase. Since Covid, the brand has seen a huge trend in self-gifting.
"We found inspiration in the studios of great artists – both past and present – which typically take the cues and spirit of the creator that resides within it, but also the environment it is placed within," said Richard Ascott, Chief Brand Officer, Vashi.
"An artist's studio is a space which really allows you to dream, and that's exactly what we want our new store (and future stores!) to accomplish."
A custom made Vashi purchase is likely to be more affordable than a Bond Street bespoke order, and has the added advantage of a reduced carbon-neutral footprint as the entire process, from design and CAD to casting and production, takes place in-store.
"Love Stories installation"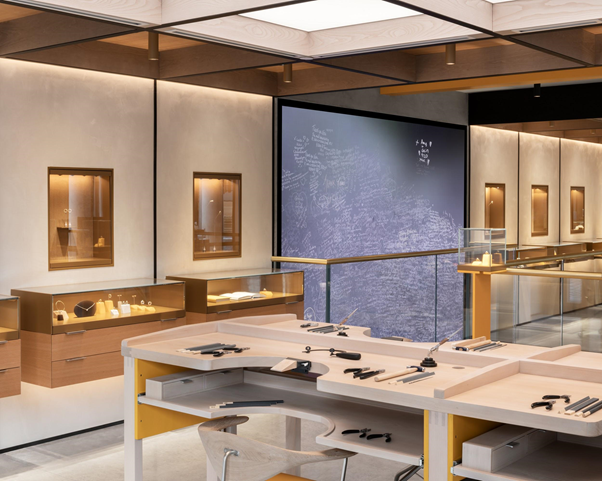 The Covent Garden store has a "Love Stories installation", a digital board on which customers leave their feedback from their experience – say, a love heart note from an engaged couple delighted with their engagement ring which they co-designed with the jeweller.
"A key focus for the store is our Love Stories installation, which spans both floors," Richard Ascott said.
"The installation invites customers to write a message on a tablet and then watch as their handwritten words animate on the screen before their eyes – it's really incredible. They can then send their messages to people they love or share on their social media channels. Beyond this, the technology is so innovative that the lighting changes with the time of day and seasons of the year. It is also interactive picking up on your movement as you walk by it. 
"There's an interesting story behind this installation actually. Our original 'love wall' was started when our Founder [Vashi Dominguez] invited a customer to write a note about their experience on the actual wall of our Piccadilly store, just using a Sharpie.
"From there, the concept grew organically to become something signature to our brand. We loved the concept and wanted to immortalise and evolve it so that these messages 'travel' between all our stores. We came up with a brief which was to create an evolving piece of art that uses the customer's own handwriting, because what better way to embody our mission than to put their messages right at the heart?"
Vashi has a highly qualified team of professionals in design, CAD and casting, using the latest equipment for precision, and efficient turnaround times to suit the requirements of the customer.
The store layout is 'open plan' so customers can see into the CAD and casting labs, and watch the artisans at work at their benches, creating a transparent production process.
Sustainability Vashi closely monitors the supply chain of gemstones and diamonds from mine to finger, and uses only recycled metals, in recognition of increasing consumer demand for a sustainable, responsibly managed supply chain.
The readymade jewellery ranges, shown in uncluttered display cases on the ground level of the store, can be adapted to suit the customer's aspirations, such as adding natural diamonds or gemstones from known and responsibly sourced suppliers. The readymade Vashi jewellery designs, in gold and platinum, tend to be minimalist, discreet, versatile and timeless. This makes it easier to build upon if the consumer wants to tailor a more elaborate design.
Artisans are at work on benches around the edges of the retail store, meticulously crafting orders.
Vashi plans to roll out the customer experience offered at its Covent Garden store to other locations over the next few months.
All images courtesy Vashi