IIJS Virtual 2.0 Introduced the Machinery & Allied Section to showcase the applied technology in the field of jewellery making. Magnic Technologies', Intriguity, and Indigo Prints spoke to Solitaire about the various products that they are presenting at the show and their expectations from the virtual format.
World's First "Ferrous Particle Detector" By Magnic Technologies
Magnic Technologies' flagship product, which is also the world's first Ferrous Particle Detecting Machine, solves one of the biggest problems in the gold jewellery manufacturing industry – that of tumbling polishing pins getting entangled in jewellery pieces.
Karthikeyan Chandran, Founder of Magnic Technologies Pvt. Ltd., said, "The company first developed this product for a leading jewellery manufacturer when it had a serious problem of being unable to identify and remove tumbling polishing pins that were getting stuck in jewels. Its customers were returning the jewellery and the company had to employ a team of 20-25 people to identify and remove those pins.
"We used the Magnetic Field sensing technology, and developed a machine that could identify and detect jewellery having ferrous impurity in them."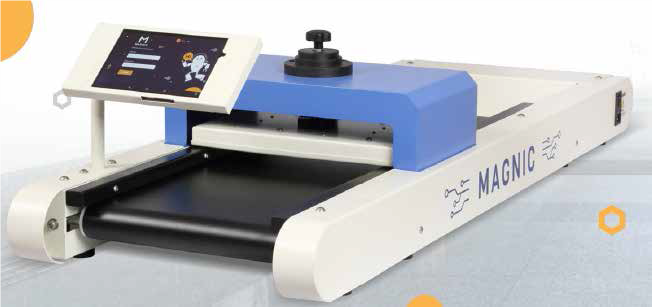 Over the last three years, we have sold around 160 machines across the country. All the
leading retailers in the country have our machines.
Another product that the company is working on which is in prototype stage, is called Photo Studio Machine. As most of the companies are leveraging the e-commerce platform to sell their products during the pandemic, the industry needs a product that will help them to present their products in a better way. Jewellery sales through e-commerce is expected to grow after the pandemic, too. "As the touch and-feel aspect is absent through sales via e-commerce, our new product will help the exhibitors to solve this problem to an extent. The Photo Studio Machine will be useful to take 360-degree photographs and videos. It also has inbuilt software which can edit the photos," concludes Chandran.
He is hopeful of IIJS Virtual 2.0 giving the company an ideal platform to reach out to new, prospective clients.
Easy Solutions To Set up Your Online Presence
Vikrant Rawa, Founder & CEO, Intriguity, talks about two new offerings at IIJS Virtual to bolster online sites.
With e-commerce taking centre stage, especially during the pandemic, the two requirements that are in high demand are jewellery rendering and product photography.
Everybody has realised that it is essential to have an online presence, along with physical stores. There are automated systems for jewellery photography and jewellery rendering solutions that can be useful when you set an online platform for your products.
Vikrant Rawa from Intriguity, talking about the products that his company is showcasing at IIJS Virtual 2.0, said, "Intriguity is a technology company providing solutions to the jewellery industry since 2008. It has more than 350 customers pan India.
Primarily, we started with 3D printing and 3D CAD solutions, but now we have been focusing more on e-commerce solutions as well.
"For jewellery photography, we have a machine from Orbitvu, a Poland-based company that provides a 360-degree photography system. This is basically an automated photography system wherein you do not require any expertise to create studio-quality jewellery photographs. The machine does everything – automated background removal, automated focus setting, and creates 360-degree videos. It also has in-built lighting, turntable, etc. So, it's a complete solution for any jeweller who needs an in-house photography solution."
Talking about the expectation from IIJS Virtual 2.0, Rawa said "We have been participating in IIJS since 2008. IIJS Virtual would be a new experience. If we could get similar kind of enquires that we get at the physical show, then this virtual format would be great. Then every year we would continue with the virtual format of IIJS along with the physical show."
The company also provides software and training for operating the KeyShot program, which is used for the creation of renderings that can be showcased on the website, especially diamond jewellery.
Complete Coin Packaging Solutions
Indigo Prints Pvt Ltd is involved in the business of manufacturing and supplying exquisite range of Coin packing cards, stone packing cards, and diamond packing cards in single or multicolour concepts – on single or both sides. The company exports these packaging cards to more than 32 countries, including the USA, Germany, Australia, Italy, Spain, Dubai, etc.
Mrs. Sapna Kapoor of Indigo Prints, said, "Jewellers, goldsmiths, banks, gold coin mints etc., are some of the buyers of our manufactured coin cards. Our coin cards are an excellent source that helps authenticate corporate identity of our buyers. Our manufactured coin packing cards are the best choice to use as a gift items to be gifted on all auspicious functions like marriages, baby showers, special anniversaries, festivals, etc."
Tridev J Kapoor of Indigo Prints, adds, "We have been participating in IIJS for the last 6 years. It has been a great platform to connect with existing and new buyers. IIJS Virtual is an opportunity, especially during this pandemic, to connect with buyers without travelling, and conducting business from the comfort of our offices or homes. I am hopeful to meet and generate new leads from this platform."
High Performance Chain-Making Machines Launched
Modern Chain Machines is one of the oldest chain-making companies in India run by the fourth generation. The company is a leading manufacturer, supplier, distributor, wholesaler, trader of the finest range of chain- and wire-drawing machines, offering superior performance, longer service life and strength.
Rahul Sharma of Modern Chain Machines, says, "We manufacture gold and silver chain-making machines indigenously with quality and performance similar to machines made in Italy. In fact, our quality is appreciated by a global clientele and we also export our machines to Italy, and Gulf countries.
"We have recently launched two machines, Automatic Figaro and Curb Cuban link chain machine which can make chains out of wires from 1.5 mm to 4 mm. Other features of the machine include automatic PLC system, automatic lubrication pump, and automatic cut off system."
Talking about the IIJS Virtual, Rahul Sharma commented, "I think the virtual format of IIJS would be more successful than the physical show, as visitors can register and be part of the show from anywhere in the world. It is an opportunity to get maximum business as there is no travelling required; time can be used to connect and network with maximum visitors than we can in physical shows. I am happy that GJEPC has included a Machinery section this time."
Gold Purity Analyser Detects Purity in Point & Wide Scanning
Redlands Ashlyn Group of companies has been dealing with gold testing machines, Laser Markers, and Melting machine for more than 15 years. Their prime motto is satisfaction of their customers by providing excellent quality and service at affordable prices. An extensive service network comprising site service engineers stationed in strategic locations has been the cornerstone of the organization's success.
One of the products the company is showcasing at IIJS Virtual 2.0 is Gold purity Analyser EDX 700 Multi which has multi collimator option which helps in detecting the purity in point scanning as well as wide scanning. Sunitha Ashlyn from Redlands Ashlyn Group said, "We have been with IIJS for more than 10 years and our experience from the show is prodigious. The show has always helped us in identifying potential buyers and rebuilding a professional relationship with our clients. We are delighted to be a part of IIJS Virtual 2.0."