Renowned jewellery specialist ARUNDHATI DE-SHETH nurtures an unwavering passion for jewellery, inspired by her illustrious mother, Shobha De, and her special jewellery collections.  Arundhati's appreciation for bejewelled treasures has honed her into an expert connoisseur, acclaimed for her exceptional aesthetic sensibilities. Her overarching mission centers on igniting a passion for jewellery among countless women, encouraging them to embrace and cherish pieces that resonate with their individuality. She advises her clients to refrain from fixating on jewellery trends, instead advocating for the cultivation of a personal style that enhances their unique individuality.
In a candid conversation with Solitaire International, Arundhati talks about the success of the recently concluded 6th edition of The Gilded Age, a high-end jewellery boutique show she organises for discerning customers. The exclusive event showcased a diverse array of jewellery collections by a handful of India's avant-garde jewellery designers and esteemed brands, with each and every piece personally handpicked by Arundhati for the event. Now, let's hear from Arundhati …
Tell us about your early days … and the reason why a career in high-end jewellery was one of your options.
I was always an incredibly curious child with a love for sports, games and the outdoors. As one of the younger members of a large family – I am one of 6 children – I got to observe a lot of things, earlier than my peers.
I was inclined to real jewellery from the time I was little and love to raid my mum's collection of tribal silver and fine jewellery. I was the only child who took an avid interest in what jewellery she had and what I could wear on special occasions. Simultaneously, this obsession got me into plenty of trouble with her as well – when she couldn't find a piece of jewellery or when I broke some of her pieces by mistake.
When I enrolled at ESSEC Business School in Paris in 2007 to pursue my MBA, my intent was to complete my degree with a specialisation and to work with an international European leather goods or fashion brand entering the Indian retail market.  But soon after my coursework started, I took up an internship opportunity with Cartier in Dubai in 2008. I took a natural turn towards it, and there has been no looking back since.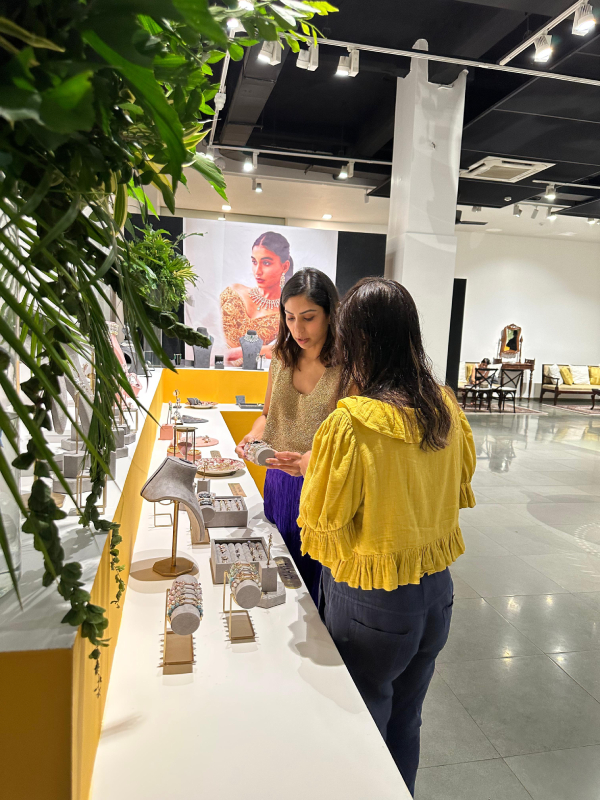 You have interned with prestigious global brands – LVMH, Cartier, A Jaffe, each embodying a distinct design and branding philosophy. We invite you to share some takeaways from the rich experience gathered over the years.
Working professionally from a young age instills certain key qualities and characteristics in a person that they may not acquire if they start their own business or work in a local establishment. With renowned houses like Cartier or Louis Vuitton I learned about legacy, history, precision and pride. These 'maisons' instill a sense of pride in all their workers and interns alike. And it is important to feel passionate about what you're doing, so you can contribute with equal zest.
Further, working with global companies, you learn that quality is never compromised, and a perfectly finished product is of paramount importance. Not to mention the amount of time and attention they spend on "customer delight".
Tell us about the turning point – when did you decide to become a bespoke jewellery consultant?
Honestly, I think the turning point is now! I am feeling all sorts of changes internally and externally on the professional front.
I formally started my bespoke agency in August 2018…I had just got married and had a baby in short succession. My life had changed very quickly! And I began to feel torn with the idea of resuming a proper desk / office job that would keep me away from my new, little family for so long.
At the same time, I never wanted to resent being a mother and having to choose between spending time with my baby and working and keeping myself engaged; it was just this simple reason that was the catalyst behind working for myself.
When I began, I had no idea what exactly I was doing – consulting or personal shopping or simply learning. It was a wonderful blur. I have taken the journey slowly and built a solid foundation. And I'm hopeful to take my aspirations to the next level now.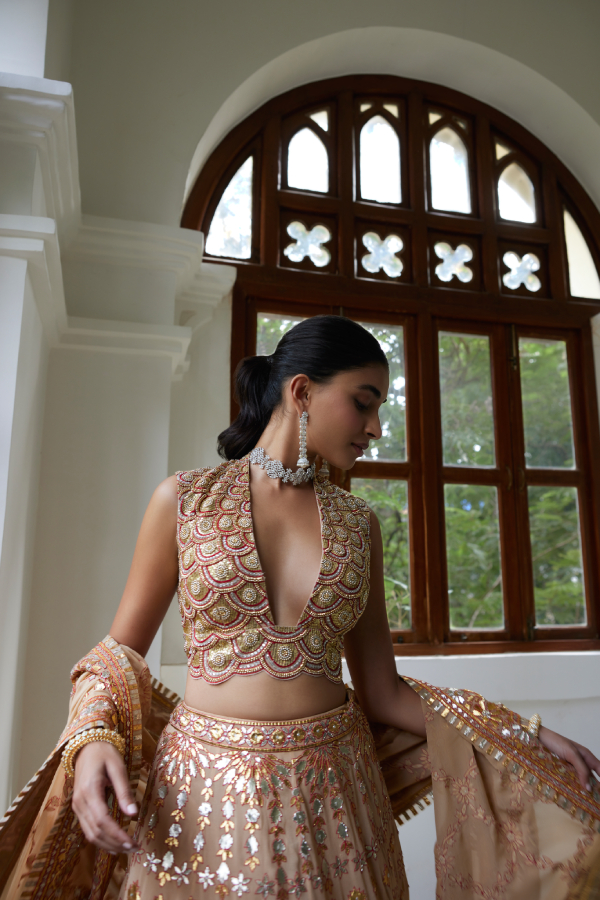 Your mother, celebrated author and columnist Shobha De, is known for her eclectic jewellery collection. Were you influenced by her?
Of course, my mother remains a strong inspiration for me. Thanks to her, I got to see such a variety of Indian jewellery from the time I was little. My sisters and I were always encouraged to wear her jewellery for all the festivals and celebrations. She marked our birthdays with a small piece of jewellery as well.
She didn't inherit any jewellery, so what she has now is completely built from scratch by herself. From her, I learned to buy jewellery instinctively. She bought eclectic pieces from people who she liked and trusted. She wouldn't bargain endlessly, nor would she break down the material cost into itty-bitty details. She'd buy a piece if she loved it and knew that she would wear it often.
And, in turn, that's how I view and buy jewellery myself. And that's how I want others to appreciate and buy jewellery for themselves. Enough with 'the cost break-ups'!
What kind of jewellery are you inspired by? Your personal favourites…
To be honest, I love all kinds of jewellery … particularly jewellery from all our princely states in the pre-Independence era, the incredible depth of jewellery from the Mughal Era … It's wow!
And today, I love jewellery which is wearable (value aside), has great movement in it, jewellery that exhibits great gold smithing and lapidary; and jewellery that has neat clasps and technical details. For the past few years, I have been loving retro yellow gold and gem-set jewellery a lot.
Since how long have you been holding curated jewellery shows? What are your parameters when selecting a piece or a jewellery designer? How did the sixth edition of The Gilded Age fare?
I put together my first show in 2018, and The Gilded Age is my sixth show.
It is not a regular jewellery exhibition – this show is entirely put together by me. From the selection of the exhibitors to every single piece, to working on its pricing, to designing every aspect of digital communication and digital marketing of the show, to designing the gallery space, creating the display and finally inviting the clients and selling the pieces — it's all me!
I don't think of myself as merely a curator – that term is overused. I do like to believe that I'm a fine jewellery specialist presenting a wonderful selection of jewellery for sale at my annual show.
I'm glad I have a small but mighty group of jewellery artists and esteemed houses who put faith in this show each year. I get a lot of new companies reaching out to me to participate, but I am disappointed by the generic nature of the work that largely exists in our market.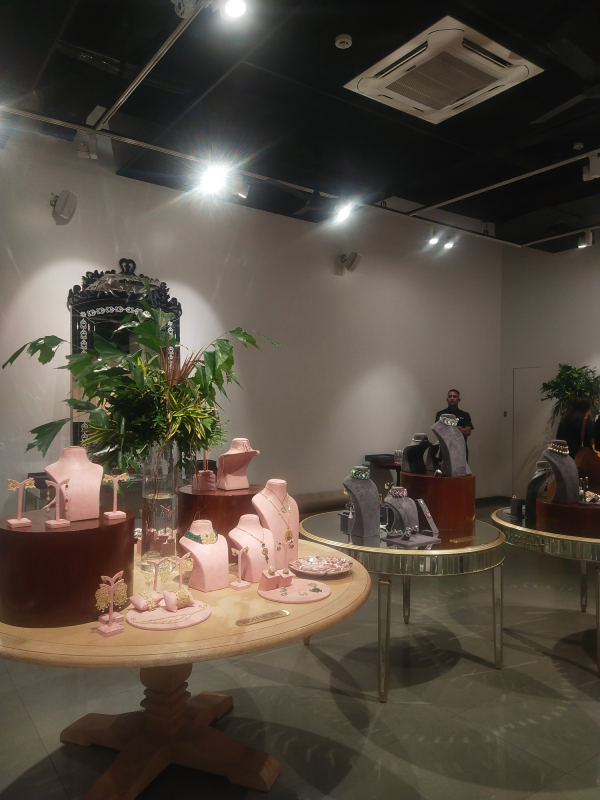 Tell us about the five top contemporary jewellery designers whose styles resonate with your aesthetics?
All the brands I work with align with my aesthetics. I don't put even one piece in the show that is very out of line with what I personally love.
How do you go about matching a customer's need/personality with jewellery? What challenges do you face in putting together a jewellery collection for a client? Define the role of a bespoke jewellery consultant and what it takes to be one of the best, as you do?
The basic challenge of being a jewellery sales consultant in India is that there is very low value for providing consultation or advice.
With jewellery, the buying behaviour is so specific that people want all the ideas but at the lowest cost, without paying for the service element behind it.
For me, I have strived to keep the integrity of every bespoke project (big or small) in the hands of the client who has reached out to me. I don't ever try to push something just to conclude a sale. I am very thoughtful about the brief the client has left me with.
I think being an "outsider" in the gems and jewellery trade has served me well. I am someone with no generational baggage upon me, and I have a fresh attitude to the way a consumer should buy and wear jewellery.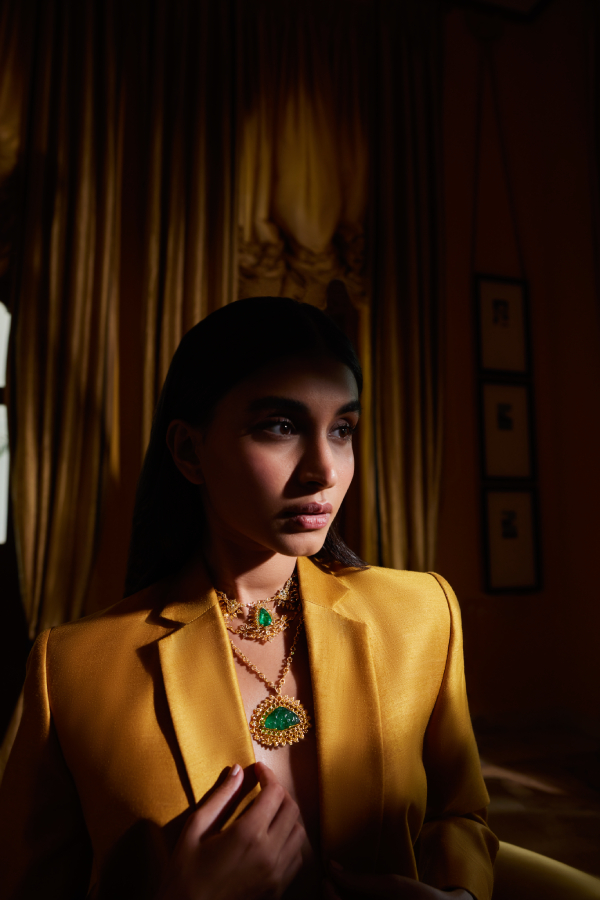 Sustainability and provenance of gems is one of the key factors in determining the sales of avant-garde pieces. Do Indian consumers seek clarity on fair-trade mining and traceability of the origin of gems?
Indian and international customers are curious about the origin of gems. Some of the questions I get asked often are 'Where is this emerald from?', 'What origin rubies are these?', 'Tell us about your view on lab-grown diamonds' … But that's about it!
What is today's customer looking at in terms of design?
Today, customers seek jewellery designs that resonate with their personality. When the jewel is worn, it conveys something about the wearer, in as much as it's a beautiful object.
Do you like diamonds or coloured gems?
I love diamonds! I love coloured stones! Cannot choose either.
Five jewellery must-haves that any woman should possess…
Daily wear ear studs (preferably diamonds)
A lovely long pair of earrings which are light in weight and with great movement, for a fun night of dance and joy
A piece of heritage Indian jewellery that is connected to your cultural origin (depending on which part of the country you are from, the piece may differ)
An interesting ring that you can wear all day
A necklace that you can wear for festivities
Anything else you may wish to add.
I will soon launch e-commerce on www.arundhatidesheth.com
It'll be a wonderful mix of some one-off jewels and some pieces that can be ordered on repeat. I am very excited about it … as much as I love the touch-feel aspect of buying things, consumers are very comfortable buying things online. With clients spanning around the world, it'll be great to take my work beyond borders.
Further, I have rebranded my company from Jewelry Advisor to Jewellery Confluence…the advisory aspect will be just a part of everything I do.