The sixth edition of The Artisan Awards proved to be an event of inspiration and innovation. Hosted by the Gem & Jewellery Export Promotion Council (GJEPC), the event unfolded against the opulence of a glamorous evening on 19th May 2023, at St. Regis, Mumbai.
The awards ceremony drew an illustrious crowd, attracting luminaries from the gem & jewellery industry. The winners were felicitated at the gala evening that was attended by the who's who of the industry. Guest of Honour Mira Kapoor, along with Vipul Shah, Chairman, GJEPC; and Milan Chokshi, Convener of the Promotion, Marketing Sub-committee, GJEPC gave away the awards amidst thunderous applause and cheers.
Each year, The Artisan Awards strives to exceed expectations and inspire participants to unleash their creativity and showcase their unique individualism through this competition.
The theme for this year was indiamoderne, where the world of art inspires jewellery design. The theme was further divided into three distinct categories, each focusing on a different genre, namely, Art of Abstraction, Art of Sculpture, and Art of Print.
The country's premier annual jewellery design competition drew nearly 600 sketch entries from India and overseas, of which 28 finalists were selected in Round One.
For Round Two, the 28 finalist concept sketches were manufactured into fine renditions. The eminent jury comprising Mira Kapoor, Content Creator & Jewellery Connoisseur; Aparajita Jain, Director and Co-owner, Nature Morte Gallery; Priyanka Khanna, Author; Nikhil Mehra, Fashion Designer, Shantnu & Nikhil; Sajil Shah, Jewellery Artist & Founder, Sajjante; Pernia Qureshi, Co-Founder, Saritoria; and Sriram Natarajan, Managing Director, GIA India, selected 9 winning pieces from the three categories.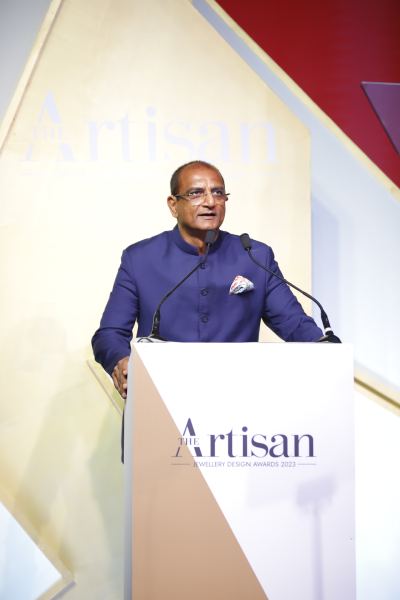 Vipul Shah, Chairman, GJEPC, noted, "While India's global leadership in the gem & jewellery business is an established fact, we need to shape the future where India is revered for its aesthetic artistry, design innovation and commitment to exquisite craftsmanship. To cater to the evolving demands of the global market, we need a fresh wave of young and talented designers who celebrate the preferences of the millennial and Generation Z consumers. Their innovative approaches and creative sensibilities will shape the industry's future trajectory.
"The Artisan Awards instituted by GJEPC recognises and celebrates the extraordinary creativity and skill of designers both in India and abroad. This year's theme produced exciting results as designers explored new and innovative concepts in creating wearable art. My heartfelt congratulations to all the winners and finalists of the 6th edition of The Artisan Awards."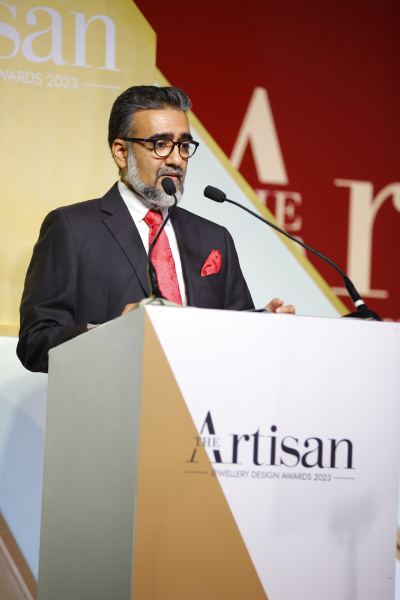 Milan Chokshi, Convener of the Promotion, Marketing & Business Development Subcommittee, GJEPC, expressed, "The Artisan Awards, under the theme of indiamoderne, seeks to celebrate the spirit of creative expression by transcending the boundaries between different artistic disciplines, such as painting, sculpture, print, and jewellery. We believe that this approach, which embraces a plurality of perspectives, will lead to the creation of unique and visually stunning wearable art. And we believe that jewellery, is in fact one of the highest forms of art.
"Through The Artisan Awards, we wish to reinforce this belief and encourage future generations of designers to think beyond traditional boundaries and challenge established norms. We will continue to develop this initiative and ensure that the participants, finalists, and winners get the recognition and credit that is rightfully theirs."
The eminent judges were of the consensus that the competition was tough, and it was a challenge for them to pick out 9 winners from the 28 finalists spread across the three categories.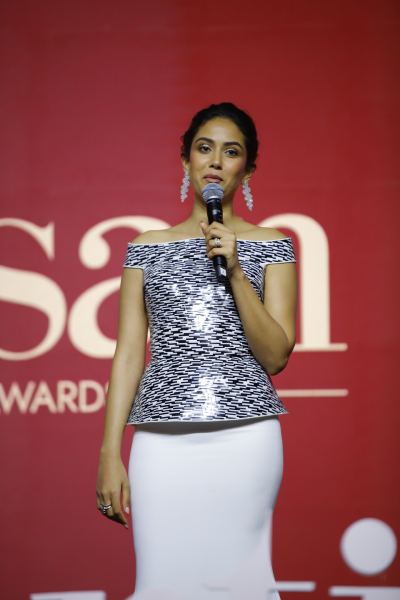 Mira Kapoor commented, "I was so impressed by the entries, especially because I'm very fond of jewellery. What stood out to me was the genuine innovation displayed by the designers. The level of detail in some of the pieces was exquisite, with filigree work that I had never seen before. Other pieces paid homage to the classic Art Deco style, while some designers made use of oxidised metals in interesting ways."
Elaborating on balancing between artistic freedom and commercial considerations, Mira continued, "Jewellery has always been integral to our culture, and we've seen it evolve over time. But if you want it to stay relevant, you require new minds with creative genius and a new vision. The Artisan Awards is actually spearheading this initiative, and lending support to artisans and to jewellery designers to think out of the box, and not be limited by money or by what sells in the market, but just think freely when it comes to creativity. That's when the magic happens! I've seen some truly unique pieces, which I've never seen before and I'm really happy to part of the jury. It's great that GJEPC is giving this kind of platform to upcoming artisans."
Mira further added, "As a jewellery aficionado, I am intrigued to see the kind of jewellery pieces coming out of our country. Artisan Awards is the first step to creating a design sense or a design house or the one star jewellery designer that could be recognized from India, celebrating Indian craftsmanship and the story that we have to tell as India on the canvas of jewellery."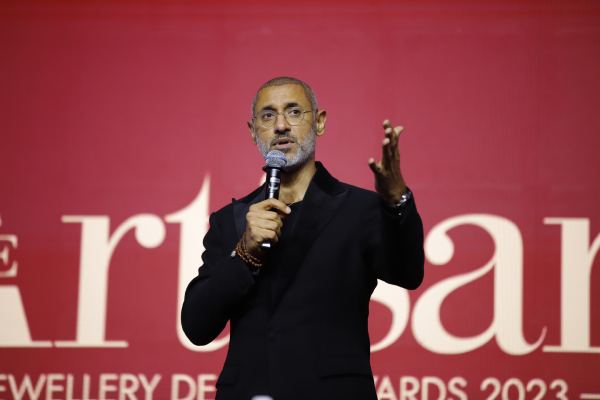 In his comments following the judging of the finished jewellery pieces, Nikhil Mehra said, "I think fashion and jewellery go really well together. In fact, post the making of our collections, there's always a conversation on what kind of jewellery will go with the product. So, there's a lot of synergy between the two streams. A lot of times, we also get inspired by jewellery. We have been hugely inspired by men's jewellery and we started making brooches and buttons in 2015 and militarised them to glorify India through these accessories. We may want to extend the journey in the future, and go into the precious jewellery space with matte gold. There is a huge opportunity in the men's jewellery segment. The Artisan is an important platform of applauding great talent."
Aparajita Jain noticed that "there was a great depth, a lot of originality" in the submissions. "The theme was difficult, but it's been a great effort by participants. I am amazed at the transformation of pieces from the sketch to actual jewellery pieces. I think the finishing was brilliant! The Artisan Award initiative is great, because we must ensure that the next generation and the generation after is nurtured."
Seconding her thoughts, Sajil Shah commented that competitions like The Artisan Awards give a platform for new designers to design and showcase their creations to the world. "What is very, very important is how they're going to bring the vision to life."
Pernia Qureshi was of the view that it was important to encourage young jewellery designers. "The abstractionism segment was very colourful, it was fun. Most of the pieces were well finished and wearable. Artisans play a big role in translating ideas into actual pieces, and they are as important as the designer, if not more, as they bring each design to life."
Sriram Natarajan, Managing Director, GIA India noted, "GIA India is pleased to support Artisan Awards – a platform created by the Gem and Jewellery Export Promotion Council (GJEPC) to unearth hidden talent and to unleash the potential of discovered talent. It's interesting that the participation was in the form of 600 entries from 26 cities across four countries – a marker of the ever-increasing outreach of GJEPC for including the rapidly expanding Indian gem and jewellery industry's members into all its initiatives."
Priyanka Khanna noted that it was interesting to see the different interpretations young designers came up with – how they brought in the idea of indiamoderne and incorporated the themes of abstract, sculpture, print in a way that could be beautiful for the wearer of the jewellery. "It's incredibly exciting – the explosion of creativity we're seeing in India today. Competitions like The Artisan can propel us into a new era of creativity."
Here are the Winners & finalists of The Artisan Awards 2023:
ART OF ABSTRACTION
Winner – Art of Abstraction
Mahima Kothari
Manufactured by KP Sanghvi Jewels Pvt. Ltd.
The white gold midi ring is a modern interpretation of Piet Mondrian's abstract painting. The design features rectangles and squares dotted with rubies, blue and yellow sapphires, all arranged in a pattern that is reminiscent of the artist's signature style. The ring is further embellished with diamonds and enamel to highlight its structure and add a touch of refinement.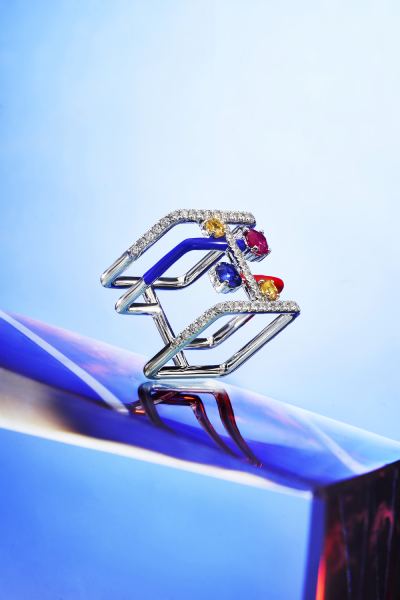 First Runner-up – Art of Abstraction
Tuhin Ghosh
(Student, IIGJ Mumbai)
Manufactured by Laxmi Dia Jewel Pvt. Ltd.
The exquisite earrings are designed with overlapping diamond-studded discs of varying sizes. The discs are adorned with unexpected combinations of vibrant enamelled motifs, to evoke the spirit of Robert Delaunay's famous painting.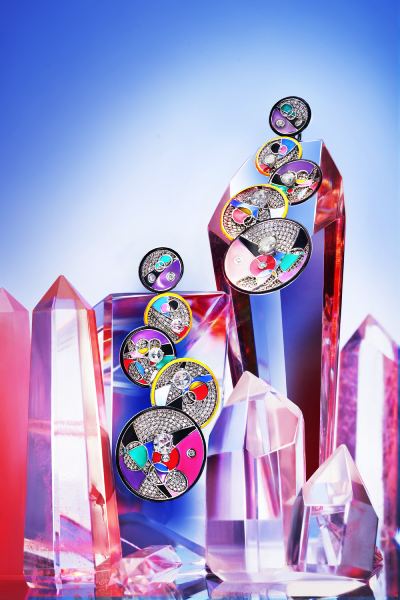 Second Runner-up – Art of Abstraction
Gopal Pramanik
Manufactured by Romil Jewelry
The captivating earrings are designed with wing-shaped silhouettes that feature a delightful cluster of small, conical motifs accented with sparkling diamonds and complemented with vivid enamelling. The contemporary silhouettes draw inspiration from the iconic artwork of Mondrian.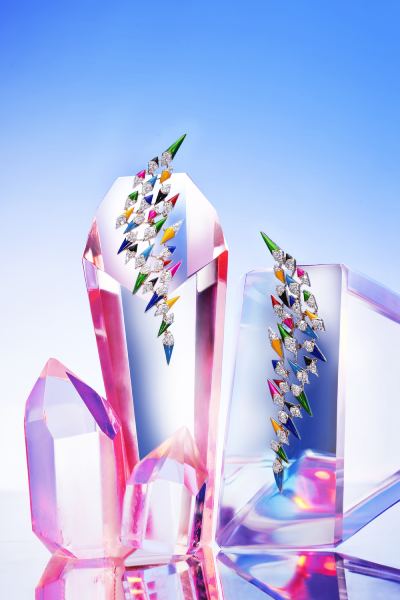 Finalists – Art of Abstraction
| | |
| --- | --- |
| Rajendra Prasad Koley | Manufactured by Emerald Jewel Industry India Ltd. |
| Nidhi G | Manufactured by Laxmi Diamonds, Bengaluru |
| Biswajit Sarkar | Manufactured by Emerald Jewel Industry India Ltd. |
| Soumyajit Maity | Manufactured by C. Krishniah Chetty Group Of Jewellers |
| Bonolata Pramanik | Manufactured by Romil Jewelry |
| Nisha Gauswami | Manufactured by EON Jewellery |
| Ankur Paul | Manufactured by Emerald Jewel Industry India Ltd. |
ART OF SCULPTURE
Winner  – Art of Sculpture
Arunava Chakraborty
Manufactured by Titan Company Limited
The overlapping, textured layers of the gold wreath cuff are topped with a bunch of twisted molten leaves held with a bow.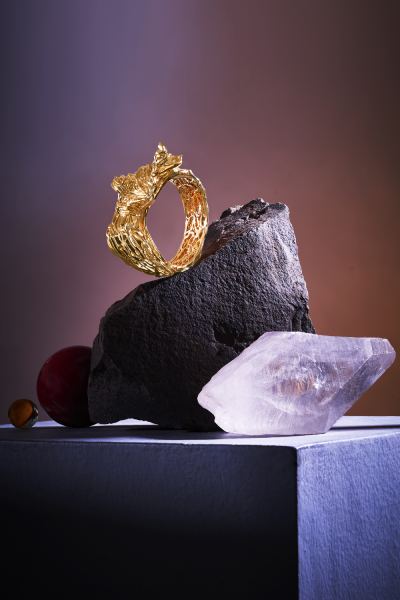 First Runner-up – Art of Sculpture
Priya Das
Manufactured by KP Sanghvi Jewels Pvt. Ltd.
Although the starting point of these textured gold ear cuffs is the sculpture of a Winged Ox (14th-15th century), the ear ornaments titled The Wings of Courage take on a different story arc. Referencing the epic Ramayana, the earrings eulogise the valour of Jatayu, who fought fearlessly to save Goddess Sita from being abducted by Ravana, but died a martyr. The earrings capture the essence of this story, creating a unique and powerful piece of jewellery.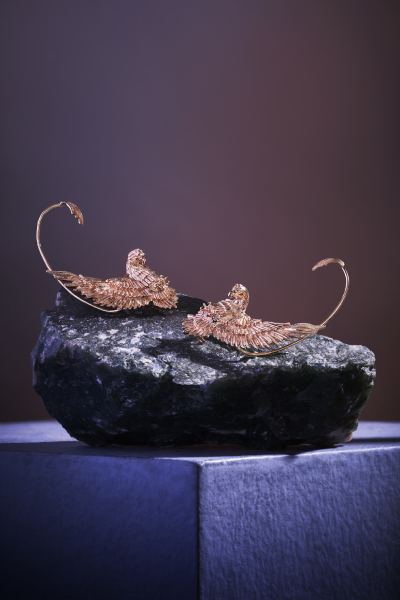 Second Runner-up – Art of Sculpture
Shruti Agrawal
(Student, IIG)
Manufactured by Laxmi Diamonds, Bengaluru
The stylised, openwork earrings crafted in gold bear a resemblance to the myrtle wreath. The beauty of the organic earrings is enhanced by the curvaceous and flared gold leaves.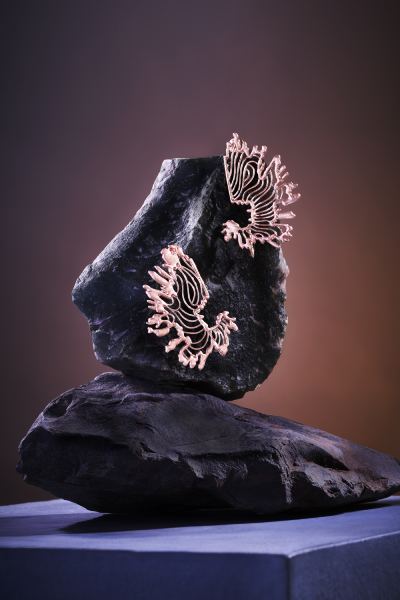 Finalists – Art of Sculpture
| | |
| --- | --- |
| Rintulal Chowdhury | Manufactured by Emerald Jewel Industry India Ltd. |
| Aditya Tamilanasan | (Student, IIGJ Mumbai); Manufactured by Priority Jewels |
| Kadambari Maurya | Manufactured by KGK Creations (India) Pvt. Ltd. |
| Ritika Goyal | Manufactured by S & G Group |
| Divakar Badrinarayan | (Student, IIGJ Mumbai); Manufactured by Malabar Gold & Diamonds Pvt. Ltd. |
| Saikat Pal | Manufactured by Gurukrupa Exports |
ART OF PRINT
Winner – Art of Print
Bhautik Sakadasariya
Manufactured by EON Jewellery
The gold earrings are designed with a backdrop of the abstracted version of the Tiger Lily print by Lindsay Phillip Butterfield. Framed with diamonds, the pendant earrings focus on diamond-studded elephants.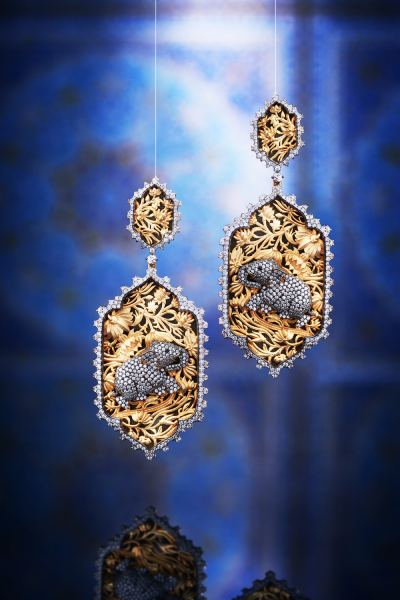 First Runner-up – Art of Print
Jatin Kohli
Manufactured by Laxmi Dia Jewel Pvt. Ltd.
The triangular earrings in gold are beautified with turquoise, black onyx, diamonds, rock crystal and baguettes. The Ikat print is the core of this design and the partial rock crystal borders lined with baguettes make the earrings even more stunning.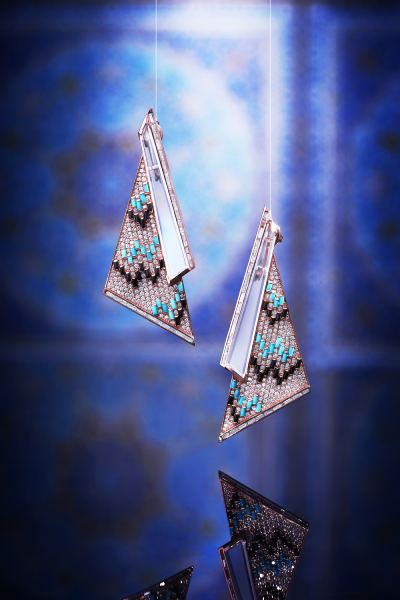 Second Runner-up – Art of Print
Suryadeb Ghosh
Manufactured by Gehna Jewellers Pvt. Ltd.
The sophisticated, three-layered 18-karat rose gold and diamond trellised earrings
bear intricate floral cut-outs inspired by William Morris's artwork Rose. The
shoulder dusters are beautified with diamond-studded roses.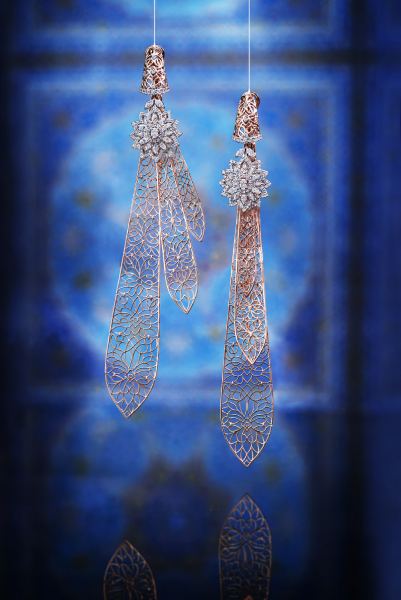 Finalists – Art of Print
| | |
| --- | --- |
| Soni Shireen Amin | Manufactured by Sanghi Jewellers Pvt. Ltd. |
| SK Toushif Hossain | Manufactured by Manak Jewellers Pvt. Ltd. |
| Bhumika Tak | (Student, IIG); Manufactured by Laxmi Diamonds, Bengaluru |
| Sushil Bhalerao | Manufactured by AURA Jewels |
| Sandeep Maji | Manufactured by KGK Creations (India) Pvt. Ltd. |
| Arvind Gupta | Manufactured by KGK Creations (India) Pvt. Ltd. |