Bharathi Raviprakash, the spirited Chennai jewellery designer and owner of Studio Tara, is inspired by enticing hues of gemstones. Colours, she believes, evoke a multitude of emotions, and enhance one's personality. Her latest contemporary lines bring a delightful informality and are awash with attractive gemstones set in textured gold.
Colours serve as the leitmotif of all her creations. Studio Tara, founded by Chennai-based jewellery designer Bharathi Raviprakash, was founded to add vibrancy and energy in her life. A money changer by profession, she switched tracks and there has never been a moment of regret.
Bharathi learnt the ropes early on and as a jewellery professional, who got trained at GIA, London, her command over material is unparalleled.
Are you a first-gen jeweller? What impelled you to join the industry?
I've been in the industry now for about 21 years. Before joining the industry, I was one of the first woman entrepreneurs to be a money changer for foreign exchange and travel purposes. It was a monotonous job. The initial excitement of setting up 6 branches and having 7 outlets wore down in a couple of years.
All my income was spent in buying jewellery. So, my family – my husband and my father – did an intervention and requested me to learn the art of jewellery and pursue that as a business, instead of doing something that made me miserable.
Jewellery became a passion of mine. I'm an avid contemporary modern art and artefact collector as well. So, to kick-start and fund my brand, I had to sell few of my collected artworks which helped provide a base capital to start my business. That was how it all started.
Being a woman, did you face any hurdles in establishing yourself as a brand – especially in Chennai, that is known as the city of gold?
As a woman, not really. But I faced issues because I was an outsider. Locally, I had no contacts or reach to being with. So, I turned to my batch-mates and classmates from GIA to help me source, supply and guide me with karigars (craftsmen). I slowly worked on crafting and establishing my style of jewellery as a brand; as well as complying with the requests from clients locally.
When was Studio Tara founded?
Studio Tara was founded 21 years back, in February 2001. I wanted a short and sweet name for my design studio, so decided on the Hindi word 'tara' meaning a star.
From the very beginning, you have been known for using semi-precious and precious gemstones in your collections. What makes you veer towards them?
I love colour … it indicates ones' mood. Being able to wear and carry off colourful clothes is something we Indians are good at. So, I wanted that to happen in jewellery as well because it livens one up. Coloured stones brighten your face, your mood that eventually helps you stride forward to a brighter day. I wanted women to speak through their jewellery.
Is all your jewellery handcrafted? If yes, what are the crafts that you employ and are most passionate about?
During the first 18 years of my business, everything was 100% handcrafted. Post that, I began using CAD, mostly due to its precision and time management – since customers are often impatient in terms of delivery schedules. Of course, CAD is faster and more accurate, but personally, I'd prefer handcrafting any day.
Regarding techniques and finishes, I love beaten gold – scratching the metal, matte finishing, sandblasting, textured effect, and so on. I also like to combine silver, gold and copper, which I've done for a couple of bangles.
Diversity is what brings fun and happiness to life and accepting the diversity among humans is what humanity is all about.
I have an opal bangle here where in the base of the opal, gold has been used and then the cuff in silver. I like the contrast, along with the fact that its pocket-friendly since gold prices are ridiculously high.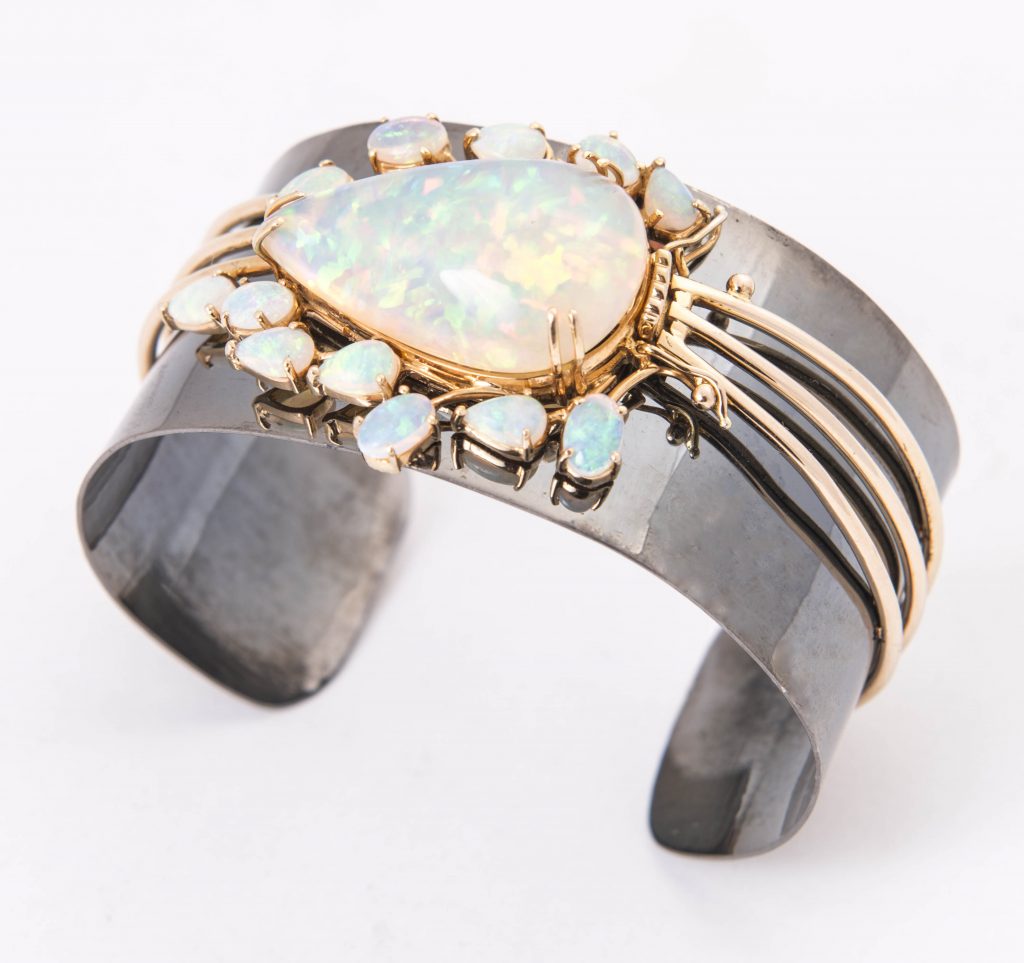 I love experimenting with various techniques; they seem to intrigue my curiosity and help me in creating a product that brings out the beauty of the initial design even more.
Anything that you would like to experiment with in the near future?
I'd like to work with gold lace. I haven't started implementing it yet, but I do have a few samples which I'm currently working on.
I love braiding, knotting, again, textured and matte over-all finishes have this very rustic and chic feel to it.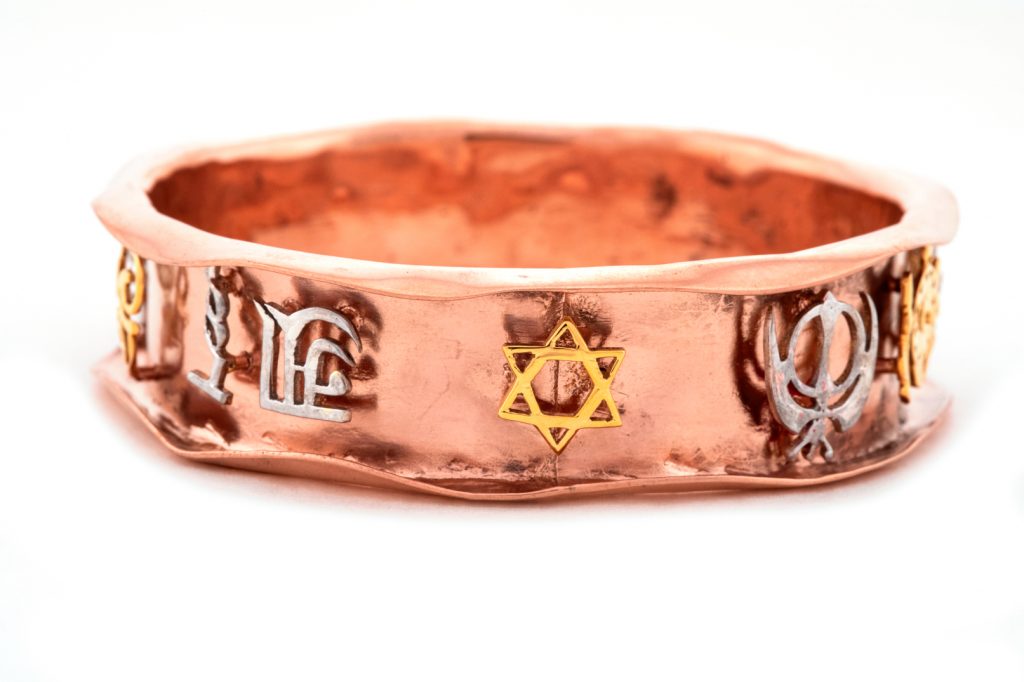 How many artisans work for you? And have you adopted modern methods to manufacture jewellery? If yes, how?
I have about 37 artisans working for me – mostly on job work. I manufacture out of Bangkok, Chennai, Mumbai, Jaipur, and sometimes Italy, if the design requires it. The people who assist me in the production are German, Italian and our Indian karigars.
My production manager has been with me since the day I started the job. We'd studied in GIA Mumbai. The karigars have been with me for the past two decades. I don't change workforce; I like to grow with them and they, grow with me. So do our techniques and so do our standards.
Yes, we use Computer Aided Technology (CAD) and Matrix as the software for designing. We print the design and show the 3D rendering to the client. Once we get a thumbs up from them, we go ahead with casting.
As a creative head, how do you conceive collections?
Nature inspires me the most. My clients, too, inspire me. And I travel a lot, and take a few days off every month to go hiking or to forests. For example, the Pangong brooch is inspired by the breath-taking expanse of the Pangong lake in Ladakh.
Tell us more about the Mulino, Dali and Frutti lines.
I think I've made over 6,500 pieces in all, mostly inspired by gemstones. The three collections are based on travels.
Which gemstones are you inclined to use the most?
Opals, tanzanite, emeralds, sapphires, morganites … to be honest all of them.
How did the pandemic affect your business and how did you manage to reinvent yourself?
The pandemic was devastating for the business. The lockdown stressed me out completely. Thankfully, the government and the banks helped continue to pay the salaries and to help the existing workforce, and sales have picked up pace now.
Do you have online and offline stores? Any plans of expansion? Do you also export your jewellery? If so, to which countries.
Yes, we have an online platform at www. studiotara.com and an offline outlet in Chennai. We do have store-in-store at Tijori in Oberoi across various cities in India. I believe in omni-channel sales. We see the younger generation more comfortable shopping on the web, without having to directly commute to the store; also considering the present scenario. We export to New York, Singapore, and England. But right now, I'm concentrating more on the domestic market.