To mitigate Covid-19's economic effects, GJEPC has taken several proactive steps. These include setting up an `50 crore corpus from its own reserves for welfare measures and liaising with global trade bodies and apex industry organizations to ensure that price stability and supply and demand equilibrium are maintained. Moreover, it is constantly interacting with authorities of central government agencies, to ensure that much-needed relief is extended to the sector, particularly micro, small and medium enterprises
When a report appeared in the South China Morning Post on November 2019 that a patient from Hubei was diagnosed with a novel Coronavirus strain, few paid attention to it. Within a month, this new disease had spread rapidly across China's Hunan district, afflicting close to 266 people. That is when the Chinese authorities announced the emergence of the dreaded Covid-19 virus.
Within weeks, the SARS-like virus became a pandemic, affecting 40,13,728 people across 203 countries and killing 2,78,993 deaths as per World Health Organization's report on May 12, 2020. On the same date, India recorded 67, 152 confirmed cases with 2,026 people succumbing to it. These numbers continue their unfortunate upward climb.
To contain Covid-19's rampant human-tohuman transmission, on March 25, 2020, Prime Minister Narendra Modi announced a 21-day lockdown. In his public address to the nation, he said that this aggressive step was necessary adding, "If this pandemic is not contained, it could set us back by decades." However, as the cases kept rising, the lockdown was extended to May 3, 2020. To lessen hardship to the public, and provide economic support to low-income earners, select additional activities were permitted in non-containment areas during the period."
GEARING UP FOR SLOWDOWN
While the nationwide lockdown was necessitated keeping public welfare in perspective, it is expected to hit the Indian economy, which was already reeling under sluggish growth for the past few quarters, really hard. Barclays estimates that it could bring the country's growth down to 2.5%, from its earlier estimation of 4.5%.
The biggest brunt of this economic blow will be felt by India's large MSME segment. According to Union minister Nitin Gadkari this sector accounts for 48% of exports and employs 11 crore people, which underline its sheer immensity. On taking charge of the MSME portfolio last year, he had said, "One of the most important things is to raise the employment potential and it is my priority, both in rural and urban areas." Now, with the lockdown and widespread global recession looming in the background, the very survival of MSME players is under threat.
Let's take the case of India's gems and jewellery industry. It contributes 7% to country's' total GDP and employs more than 5 million in the work force, with majority of them being in the MSME domain. Mumbai's Zaveri Bazaar, which is acclaimed as the country's largest gold and jewellery market and is home to many MSME jewellers and manufacturing units, is closed until further notice.
When the first lockdown was announced, retail outlets across the country downed shutters to comply with the government regulations and also because no customers are visiting their stores. After almost a month and half of inactivity, brands Tanishq reopened select showroom in green zones in May. To follow social distancing norms, it decided to get shoppers to seek appointments before visiting the outlets and encourage cashless payments. Kalyan Jewellers, too, opened 10 stores in Odisha, Assam, Puducherry and Karnataka after getting clearance from respective state governments, as did Senco Gold & Diamonds which reopened outlets in West Bengal, Assam, Odisha and Karnataka. Moreover, traders have been urged to pay full salaries to their employees to ease the latter's financial woes during the pandemic.
However, MSME entities are now worried about their own financial challenges in the current scenario. Order books are drying up for domestic and export business, production cycles are askew, supply chains are disrupted, and the financial markets have turned volatile. This labour-intensive industry will likely witness people being retrenched as the export-oriented business bears the brunt of this crisis.
A DISMAL SCENARIO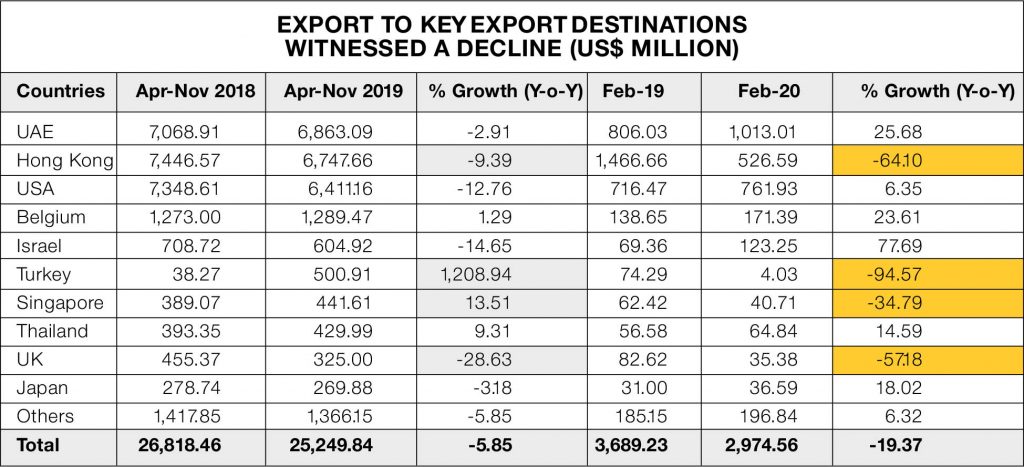 The Gem and Jewellery Export Promotion Council (GJEPC) noted that following the Covid-19 outbreak, declining rate of gem and jewellery exports doubled to -11.32% during December 2019 to February 2020 as compared to -5.53% registered in the previous quarter. It has projected that the gems and jewellery exports could lose up to a whopping $2.57 billion by end of March 2020 due to this crisis.
Gems and jewellery exports have been recording waning trends since the beginning of FY 2019-20. This can be majorly attributed to factors like a rise in import duty on precious stones – namely polished diamonds and coloured gem stones – tightening of lending terms by banks, stringent customs inspection procedures, sluggish import demand and withdrawal of Generalised System of Preferences (GSP) benefit by the US. These resulted in exports in this sector declining by 5.53% during April to November 2019.
Challenges for the sector were aggravated with the Covid-19 outbreak. As the disease spread across continents, manufacturing and trading activities were stalled or suspended, business events were cancelled, confirmed orders were deferred, customer demand lessened and the cycle of receivables became drawn-out.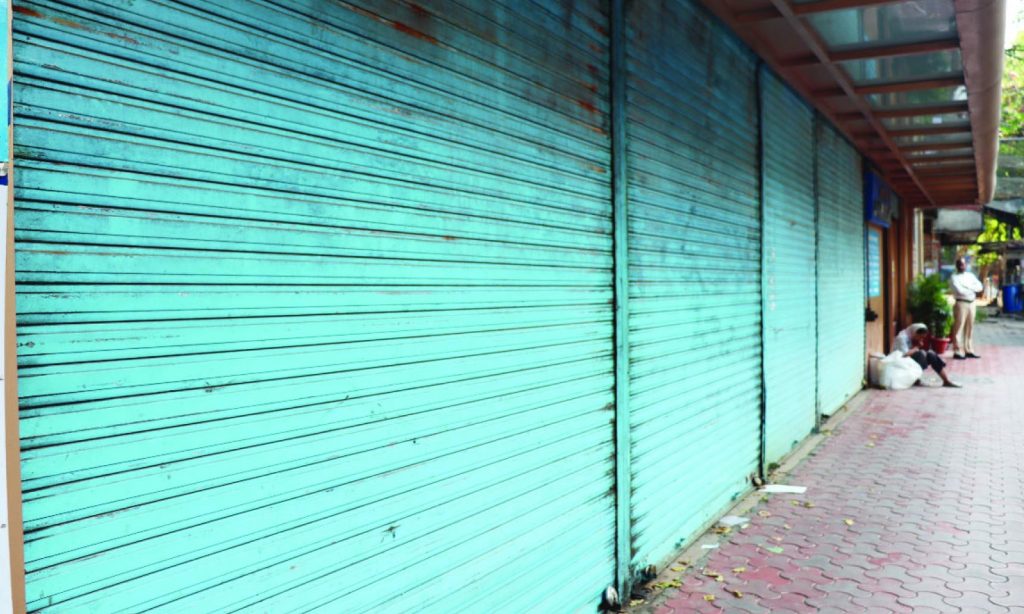 Since this sector is highly export-oriented, the impact of global health emergencies can be estimated through its continuous slump in of exports. This has recorded a steep decline of -19.37% in February 2020 against a decelerating rate of -9.17 % in January 2020 and -1.89% in December 2019.
In February 2020, exports of gems and jewellery recorded the highest fall of -19.37% in the present fiscal year to $2.97 billion as compared to $3.69 billion in the same period in FY 2019.
This reflects the impact of coronavirus. Overall, in value terms, exports fell by $2.56 billion to touch $33.63 billion during April 2019 to February 2020 as compared to $36.19 billion in the same period last FY 2019. Similarly, cut and polished diamonds, coloured gemstones and imitation jewellery have recorded a significant fall of -40.92%, -64.58% and -39.78% respectively in February 2020. It is expected that all other gems and jewellery commodities are likely to witness severe slump as all customs and other operations are currently shut in the country.
Exports of gem and jewellery commodities to Hong Kong, Turkey, Singapore and the UK have been most affected. Exports to these countries before the Covid-19 outbreak in December 2019 were registering either growth or relatively less declining growth. In February 2020, exports witnessed a drop of -64.1% (Hong Kong), -94.57% (Turkey), -34.79% (Singapore) and -57.18% (UK).
STEPPING IN TO SUPPORT
Therefore, GJEPC is addressing regulations, policy and other issues that the respective industry segment is facing. This could provide an impetus to tradespeople to recover their business during the Covid-19 period and in its aftermath.
GJEPC's chairman, Pramod Kumar Agrawal, vice chairman Colin Shah and executive director, Sabyasachi Ray have already initiated several proactive measures to benefit the community. This includes setting up a 50 carore corpus out of GJEPC's own reserves towards welfare measures to be undertaken in the currunt scenario. The Council has also decided to contribute 21 crore to 'PM-CARES Fund' pledging its commitment on behalf of the entire gem and jewellery trade at a time when the nation is facing an unprecedented crisis.
Additionally, it is liaising with different trade bodies and apex industry organisations across the world, such as the World Federation of Diamond Bourses (WFDB) and the World Gold Council (WGC). These discussions are centred on steps that can be taken to ensure that the supply and demand equilibrium as well as price stability are maintained in these troubled times.
To enable trade during the lockdowns, GJEPC initiated talks with respective embassies to organise virtual B2B meets. This initiative can enable buyers of respective countries to connect with Indian sellers of various gems and jewellery products. The Council will facilitate this online connectivity platform to give exports business some momentum. It is also communicating with several High Commissions so that exporters of gems and jewellery from India can start supplying to Switzerland, Japan and Singapore.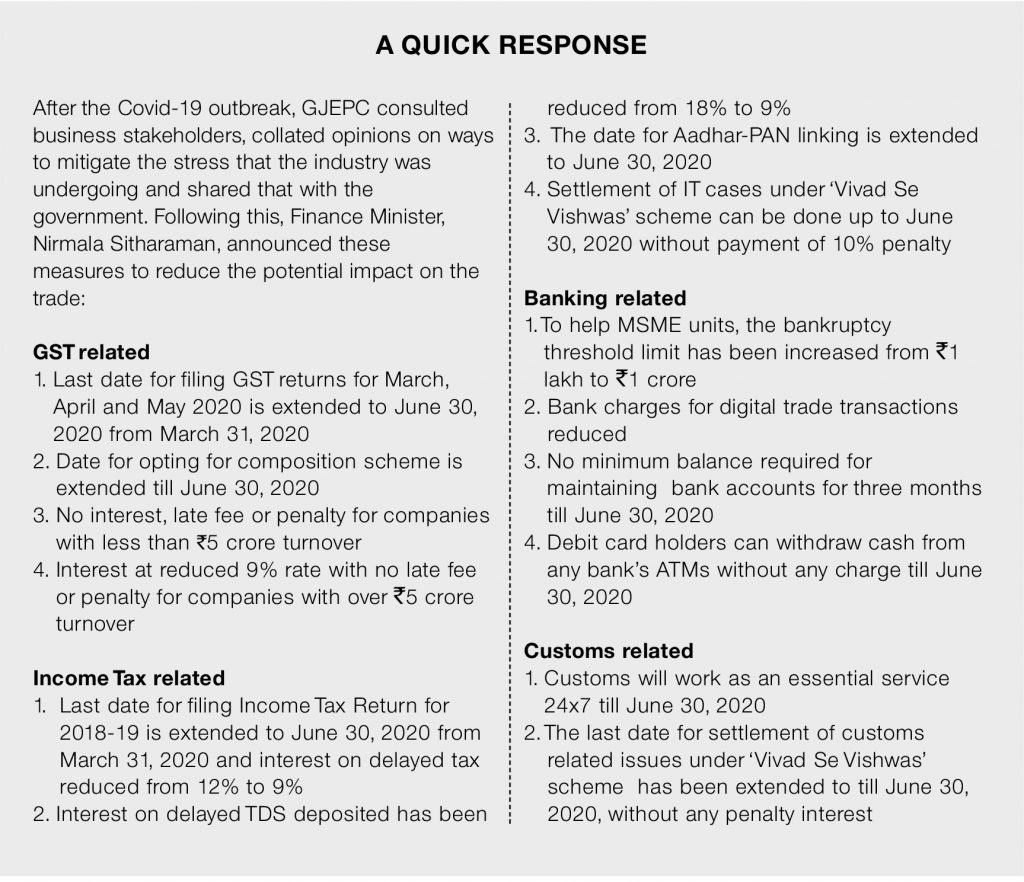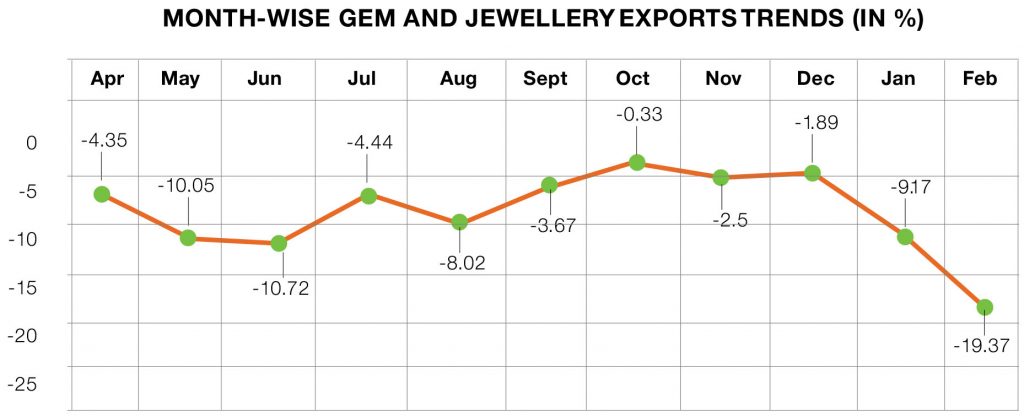 TALKING BUSINESS
GJEPC is interacting with various authorities of the central government to arrange for muchneeded relief measures for the sector, particularly the MSMEs. It is in touch with the Ministry of Commerce & Industry (DGFT), Ministry of Finance (Customs / CBIC / ICEGATE), Ministry of Finance (DFS / RBI), Ministry of Labour and Ministry of Human Resource Development. One of the recommendations it made to these agencies includes revising the definition criteria of MSME from the basis of capital investment to turnover base. In light of challenges in managing funds, it has also suggested relaxing NPA recognition norms from 90 to 180 days.
Moreover, GJEPC has proposed priority lending to the MSME segment with only 25% collateral requirement. This will help them get their businesses on track once the pandemic is medically resolved. They can get a further incentive with an additional 2% interest subvention for a total of 7% interest subsidy. The Council believes that the implementation of these suggestions will jumpstart export trade and protect India's precious forex earnings.
In its representation to the Ministry of Commerce & Industry (DGFT), GJEPC suggested that the export period be extended by another 90 days for exporters of gold, silver and platinum jewellery, who were obtaining precious metals from nominated agencies on outright purchase or loan basis. It also endorsed that exports realisation be extended from nine months to 15 months, which is in line with what was done during the 2008 downturn. Goods sent on consignment basis should be given an extension period of six months.
AN INDUSTRY WITH A HEART
GJEPC has contributed `50 crore from its reserves to fund livelihood of daily wage workers of the industry and support the government's initiatives to fight Covid-19
The Gem & Jewellery Export Promotion Council (GJEPC), the apex body of the gem and jewellery industry in India, has come forward to contribute a fund of `50 crores from its own reserves to help the needy workers of the industry impacted by Covid-19.
Under the leadership of Prime Minister Narendra Modi, the Indian government has initiated every proactive measure to contain the spread of this virus in the country. The Fund allocated by GJEPC will also be utilised to support the Indian government in undertaking several initiatives to fight the current crisis in the country.
Pramod Agrawal, chairman, GJEPC, said, "In our endeavour to combat the situation caused by Covid-19, GJEPC, from its own reserves, has decided to contribute `50 crore towards several welfare initiatives to be undertaken in the current scenario. India's economic situation and that of our industry has taken a severe beating. Our businesses are impacted, but those most affected is our daily wage worker community. This is an industry that contributes 7% to India's total GDP and employs more than 5 million people. It becomes important and mandatory at such distressing times to take adequate care of our employees and support them wholeheartedly. We have braved many turmoils before and this time will be no different. This is the time to show solidarity towards our nation and our industry. It's time for us to reveal our philanthropic side once again."
Colin Shah, vice chairman of GJEPC, added, "We at GJEPC will leave no stone unturned when it comes to protecting and taking care of the industry workers as they are the trade's backbone. We are thankful to the government for announcing certain waiver in compliance and tax filings to mitigate the woes of all industries. We have also made representations to the Finance Minister and Commerce Minister with measures that need to be implemented to revive the Indian gem and jewellery industry from this crisis. Daily wage job workers are rendered jobless due to cancellation of export orders. In order to ensure minimum livelihood to these job workers, we have proposed to the government that the gems and jewellery sector be included in the list of job works covered under the MNREGA scheme. This will help them sustain themselves during this difficult time."
Here are some steps undertaken by GJEPC towards relief measures:
GJEPC has appealed to all its members to take care of their employees during the lockdown period as also stated by the government and demonstrate a united and humane approach at these unprecedented times.
GJEPC has contributed a sum of `50 crore from its own reserves to mitigate the impact of Covid-19 on the industry and nation at large.
The Council has formed a Task Force to decide on modalities of utilisation of `50 crore donated by GJEPC by identifying the industry needs and government initiatives to support in the current scenario.
The fund allocated by GJEPC will be utilised to aid daily wage workers employed in the gems and jewellery industry whose livelihood is directly impacted by Covid-19.
The contributed resources will also be used for funding specific initiatives undertaken by the government to fight Covid-19, such as creation of medical facility, health related needs or any other GJEPC urges all sections of the gems and jewellery industry, including trade bodies and organisations, to come forward and replicate is donation efforts with generosity. Their support in helping the needy workers of the trade and funding initiatives of government will go a long way in tackling the Covid-19 crisis and its aftermath.
Usually for replenishment, the exporter can book with the nominated agency within 120 days after the exhibition or export promotion tour as against the items sold abroad. This period could be doubled from 120 days to 240 days for those exporters whose time limit expired on March 1, 2020.
Additionally, as per para 4.80 of the Hand Book of Procedures (HBoP), unsold items in overseas exhibitions should be reimported within 60 days of the event's closing, while the time for US exhibitions is 90 days. GJEPC has requested that the reimport period be extended by a further 90 days for all countries.
While interacting with officials at the Ministry of Finance (Customs / CBIC / ICEGATE), GJEPC proposed that uploading of permissions and KP certificates on e-SANCHIT be allowed for traders who were not registered on ICEGATE till May 21, 2020. Applicants who have started the detailed registration process could also be permitted to file the copy of the KP certificate for export-import till their application is approved or rejected. This process usually takes three to seven days on e-SANCHIT, during which time a daily demurrage charge of `5000 is levied, if shipments are not cleared.
HELP FOR ALL
GJEPC also made representations to the Ministry of Finance (DFS/RBI) for three major topics. This included interest and incidental charges on export credit. It suggested that this be waived off for a period of 180 days up to June 30, 2020 to accommodate business loss. Similarly, the time limit for packing credit for exports could be extended by 180 to 270 days, while the post shipment credit could be extended from nine to 15 months.
RBI may contemplate taking up these two recommendations, while including continuation of eligible interest subvention for the extended period. It may also advise banks to consider ad hoc 10% to 20% credit facilities. This could be more than 10% for firms having term loan servicing commitments. These facilities could help them meet their fixed overheads like salaries and taxes. RBI is also likely to issue a notification to relax classification norms by minimum 180 days.
Additionally, GJEPC has requested for extension of gold loan repayment by 180 days where in nominated agencies or banks could consider extending fixed value gold loans. It also pointed out that the slowdown could impact cash flow, affecting traders' ability to make timely repayment. Hence, there is a need to offer flexibility in revolving the gold loan.
According to GJEPC, gold metal loans should be allowed to all manufacturers through ADs. This will encourage exports and prevent manpower retrenchment in the gems and jewellery industry.
While making a strong case to the Ministry of Finance (DFS/RBI), the apex body said that the entire sector should be extended a 7% interest subvention benefit for at least another year. By providing a special interest-free term loan to 20% WC limits, the stress on this domain would come down substantially. Additionally, banks can relax credit rating eligibility of jewellery companies to BB level, while capital subsidy of 25% can be offered to new projects or those under implementation with capital investment ceiling up to `10 crore.
GJEPC has also urged the Ministry of Commerce & Industry to reintroduce WTP immediately for the entire sector. To support MSME exporters, Export Credit Guarantee Corporation of India (ECGC) can address issues like cancellation of orders by buyers or revised payment terms negotiated by them.
Similarly, it has urged that SEZ rules pertaining to domestic sales be relaxed in the wake of the Covid-19 slowdown. Permission should be given to SEZ units to sell in the domestic market after paying necessary duties to avoid double taxation. Workers can, thus, retain their jobs if these units are utilised for domestic market production.
As the global and national response to tackle the pandemic continues, from a medical and economic perspective, GJEPC is doing its best to respond to the business challenges Covid-19 has flung at the gems and jewellery industry. It is constantly communicating with key stakeholders – government agencies, global trade bodies, organisations and local traders. All this in a proactive bid to minimise the risk of business disruption.
ANSWERING QUERIES REGARDING PAYMENT OF WAGES DURING THE LOCKDOWN PERIOD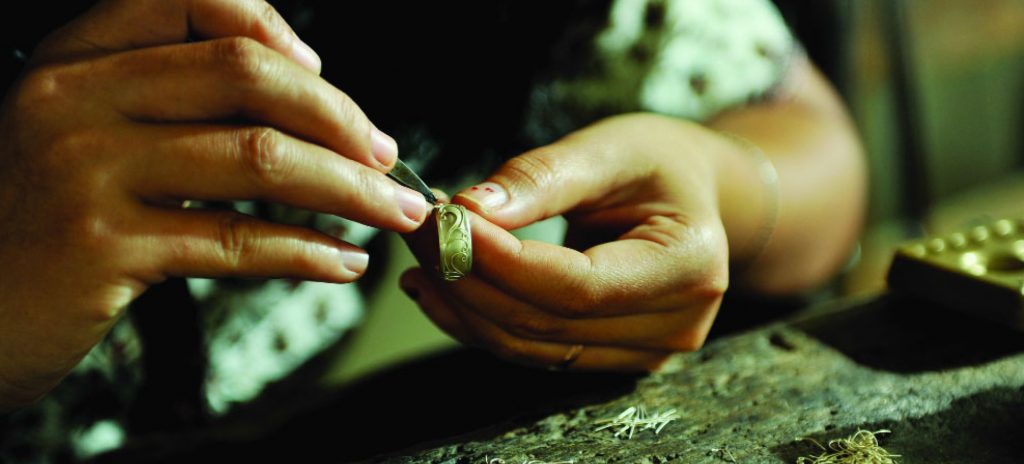 The Ministry of Home Affairs had issued Order No 40-3/2020-DM-I (A) dated March 24, 2020, whereby the National Disaster Management Authority confirmed the threat of Covid-19's spread. The National Authority then invoked Section 10 (2) of the Disaster Management Act 2005 and a lockdown was enforced throughout the nation for 21 days from March 25, 2020.
The above order was followed by addendum Orders dated March 25, 2020 and March 27, 2020, addressing the issue of migration of large number of people mainly workmen. Further directions were issued under Section 10 (2) of the Disaster Management Act.
The relevant extract in the Order inter alia, reads as follows:
"Whereas, to deal with the situation and for effective implementation of lockdown measures and to mitigate the economic hardship of the migrant workers…. to take following additional measures:
All the employers, be it in the industry or in the shops and commercials establishments, shall make payments of wages for their workers, at their workplaces, on the due date, without any deduction, for the period their establishments are under closure during the lockdown;
In the backdrop of the above Order dated March 29, 2020, the Department of Industry, Energy and Labour under the Government of Maharashtra vide Resolution No – Misc 2020/Q.No 54/work-9, took a decision regarding all the workmen/employees who have been affected by the Order issuing lockdown.
The decision taken in the above resolution has been translated and extracted below:
'The Government of India had ordered a complete lockdown owing to the outbreak of Covid-19. The State Executive Committee of the Maharashtra State Disaster Management Authority has decided to invoke Section 24 of the Disaster Management Act 2005 in respect of all the workmen/employees who have been affected by the above order.
All private establishments, factories, companies, shops shall pay the salary and allowances to workmen/employees towards the period where the workmen/employees were asked to stay at home as per the Order of the Government. That for such period the employees would be considered deemed to be on duty.
That a workman/employee includes those employees on contract, outsourced, temporary, daily wages. This Order is applicable to all industrial, commercial and shop establishments in Maharashtra.'
The office bearers of SEEPZ Gems & Jewellery Manufacturers Association, Santacruz, Electronic Export Manufacturers Associations and Export Promotion Council for EOUs and SEZs in SEEPZ-SEZ have raised the following queries, which have been addressed as follows:
Whether the above orders are binding on the SEZ units?
The above orders are applicable to all establishments, factories, shops and units. The Payments of Wages Act, 1936 and other Labour legislations are applicable to SEZ with slight modifications viz with special rules framed thereunder.
Hence, the Employers are liable to pay wages to all the workmen/employee as per the above order for lockdown period.
Whether the lockdown period can be adjusted against paid leave?
That the Order dated March 29, 2020 is clear that the wages/salaries will be paid without any deductions. The above resolution dated March 31, 2020 has invoked Section 24 of the Disaster Management Act, directing the employers to make payment towards wages/salaries and allowance by deeming such lockdown period as workmen/employee on duty. Hence, the wages/salaries for the lockdown period cannot be adjusted against paid leave.
Whether the units can ask the workers to work for extra days equivalent to the lockdown period during season?
The SEZ units being of prime importance to the nation's economy, the units could definitely ask the workmen/employees for extra days due loss of works during the lockdown period so to as to ensure the production/service is not adversely affected. But the workmen/employees should be paid for the extra days they worked for and the same cannot be adjusted.
Whether the units can ask the Employee State Insurance Corporation (ESIC) to bear the wages equivalent to the lockdown period by way of adjustment against payments due to ESIC?
As replied above, all establishments, factories and shops should ensure payment of wages/salaries for the entire lockdown period for 21 days. If any workmen/employee has unfortunately contracted the Covid19 pandemic virus or any other sickness and the said workmen/employees seeks medical benefit under ESIC the same shall be implemented by the ESI authority.
PENALTY PROVISION
Please note that the government has the powers to prosecute the management for violation of any of the provisions referred herein above.