Diwali 2021 was phenomenal and soothed the collective nerves of jewellery retailers across India! It is estimated that nearly 55 tonnes of gold valued at Rs.20,000 crore was purchased during the festive period between Dhanteras and Diwali.
Jewellers had an added reason to celebrate Diwali as they saw record sales on Dhanteras this year. The brisk buying continued during Diwali.
On 2nd November, consumers rushed to jewellery stores to keep up with the tradition of buying gold on the auspicious occasion of Dhanteras.
"Diwali 2021 was exceptional", shares Kumar Jain, Vice President of Mumbai Jewellers Association. "This year 45-55 tonnes of gold were purchased in total across India which translates to about Rs.20,000 crore worth of business — 65% of this constituted jewellery, while 35% of it came from bullion," shared an ebullient Jain. In 2019, a total of 25-30 tonnes of gold sold during Diwali.
"The demand was so high that at the end of Dhanteras, jewellers had run out of silver and gold coins," added Jain. Some had pre-booked jewellery and coins and took delivery on Dhanteras day.
Lower gold prices, pent up demand, and surplus wedding funds due to small scale functions and impending weddings scheduled for 2021/2022 contributed to the record-high sales. Jain explained that many people sold their jewellery in 2020 when gold was at its all-time high of Rs.54,000/10gm (24-karat) in 2020. This year, they bought jewellery at Rs.48,000/10gms (24-karat).
"Domestic and international demand for jewellery has been excellent for the last two months and it was further boosted by the arrival of Diwali. There is a 50% year-on-year increment since last year. Demand has been consistent across gold, diamonds and even in silver," informed Mahender Tayal, Regional Chairman, Southern Region, GJEPC.
Strong footfalls at retail stores
Consumers more than made up for the low key and muted Diwali of 2020 due to the lockdown and restrictions placed on operating non-essential retail stores. This year, stores witnessed high footfalls.
Talwarsons Jewellers in Chandigarh opened their doors at 9.00 am on 2nd November and ended up forcing people to leave their store at 11.45 pm, a first for the brand which generally closes at 8.00 pm.
"We saw a 200% rise in jewellery sales compared to 2020. Punjabis account for the largest NRI population. Last year, they couldn't come to India due to travel restrictions and lockdowns across the world. Since some of the flights have resumed operations, NRIs who have made it to the country bought jewellery like crazy. Even locals from surrounding cities came to Chandigarh, the fashion capital of the North, to purchase jewellery," informed Anil Talwar, Managing Partner, Talwarsons Jewellers.
"Dhanteras gave people a reason to buy jewellery, so they went out and bought what they liked. We saw sales across categories – right from small ticket items to hefty bridal pieces," added Talwar.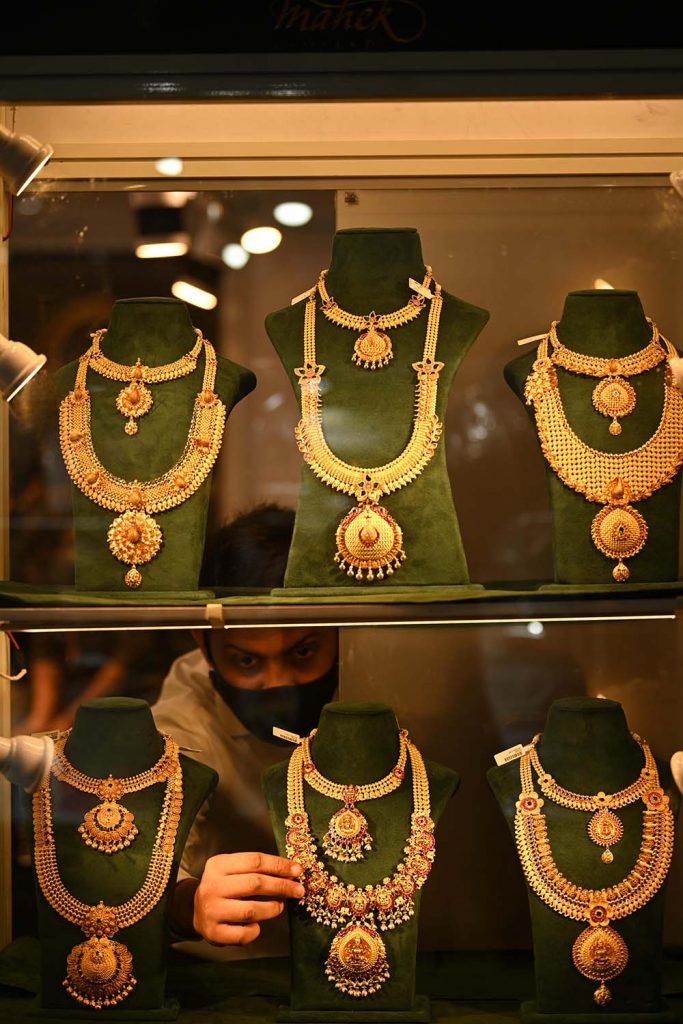 Bigger budgets
With surplus funds and savings in hand, people readily invested in jewellery and coins. The average ticket price was also higher than pre-Covid levels.
"Customers were happy and didn't hesitate to spend a good amount of money if they found good deals and designs," informed Anand Kulthia, Managing Director, Kulthiaa Jewel, Kolkata. "Jewellery sales this Dhanteras were phenomenal, and we had best sales figures in last four years," added Kulthiaa, a diamond and polki jewellery retailer.
Switching from bullion to jewellery
People were looking for more value for money, picking jewellery over bullion this Dhanteras. PNG Jewellers informed that saw a 30-35% increase in sale volumes this Dhanteras compared to 2019. "As per the Hindu calendar, the shubh buying mahurat for Dhanteras fell during the daytime and people made the most of it. We have seen strong footfalls across all our stores throughout the days leading to Diwali and New year," shared Dr. Saurabh Gadgil, Chairman and Managing Director, PNG Jewellers.
"We noticed an interesting shift where 10% of bullion buyers bought jewellery instead, which is a great sign for jewellers. We believe this is due to the pent-up demand and lack of major jewellery purchases by people in the last two years. This time, 80% of our sales were jewellery vis-à-vis 20% bullion sales," noted Gadgil.
Millennials see value in gold
Gadgil added that they saw many first-time buyers, especially millennials investing in gold.
Tanya Rastogi, Director at Lala Jugal Kishore Jewellers, Lucknow, shared that they saw more customers in the 25-35 years age bracket walk into their store this year. "They were looking for more work-wear and lightweight contemporary jewellery. That being said, people bought small ticket items in gold, pure gold bridal jewellery and solitaire jewellery," Rastogi elaborated.
Online retailer CaratLane noticed a strong demand for 14-karat everyday diamond jewellery. This was for self-purchase as well as gifting. "Our sub-Rs.20,000 catalogue attracted a lot of gift purchases this season," shared Avnish Anand, Co-founder and COO, CaratLane.
"Bangles, tube bracelets as well as mangalsutra bracelets were the most sought after in the wrist wear segment. Even adjustable bracelets and rings are a growing trend. To nudge the customers further, we rolled out some really attractive offers, especially incentivising higher ticket sizes," added Anand. 
Bridal shopping
While gold always does well on Dhanteras, it gave impetus to the diamond and studded sector as well. Bridal jewellery accounted for a hefty chunk of Diwali sales.
At Anmol Jewellers, diamond jewellery was the most popular category. "We noticed that people were combining Diwali purchases with wedding shopping. As a result, we sold many big-ticketed diamond-studded necklace sets. Diamond earrings, bracelets and bangles were also popular. In the gold segment, necklaces and bangles fared well," noted Ishu Datwani, Founder, Anmol Jewellers, Mumbai. The Bandra-based jeweller reported a 15% rise in sales compared to the last two years.
"Sales of engagement rings and solitaires stood out at our store," noted Rohan Sharma, managing director, RK Jewellers South Extension-2, New Delhi. They also saw a tremendous demand for gemstone-studded gold and diamond jewellery with an average price point of Rs.1 lakh.
Polki jewellery in demand
Laxmi Jewellery Export Pvt. Ltd. in Ahmedabad saw a 20-30% growth in sales compared to Diwali 2019. "This year, we were very happy with the jewellery sales on Dhanteras. Gold and polki jewellery did extremely well. The average ticket price was Rs.3-4 lakh, while the sky was the limit for some. Earrings and kadas were popular category picks. There has been a rise in diamond jewellery purchases as well," noted Vipul Mehta, Managing Director of the company.
"On Dhanteras, we registered higher footfalls both from existing as well as new customers, resulting in robust revenue growth. While the sales momentum in the plain gold segment continued, we also witnessed a significant increase in the studded jewellery category," stated Ramesh Kalyanaraman, Executive Director, Kalyan Jewellers. Candere, Kalyan Jewellers' online store also delivered a multifold jump in revenue on Dhanteras.
A.S. Motiwala launched their online store for their brand Faith on 23rd October, just a few days before Diwali. "Our e-store for Faith helped us boost sales. It not only created brand recall for our customers but also gave them sort of an e-catalogue to browse through designs before they came to the store on Dhanteras. We saw purchases being made across categories. There was a significant uptick in bridal diamond jewellery sales," stated Ashraf Motiwala, Joint Managing Director of the Mumbai-based brand. For them, sales were 15-20% above pre-Covid levels.
At Aisshpra Gems & Jewels in Uttar Pradesh, antique jewellery across categories did well, informed Vaibhav Saraf, Director of the brand. Bangles, chokers, and long necklaces for bridal wear were fast-sellers.
Silver surprise
"Demand in silver has been the biggest surprise of all," shared Gadgil. There is a lot of gifting related buying happening in silver – from jewellery to murtis, home décor and pooja articles. "The main reason for this is that people have started visiting each other on Diwali again and hence the demand for gifting articles has surged," explained Gadgil. Rastogi, too, mentioned that silver sales fared better than 2019/2020 across all their store locations.
Jewellers were more than happy with the sales garnered during Diwali and hope the momentum will continue into the new year. "We expect the trend to continue for the next six months due to the wedding season as well as international markets opening up for travel," Tayal concluded.