First generation jewellery entrepreneur Ekta Kaushik went against all odds to build a career in retailing and designing. Her two-year-old boutique Ambar Gold and Diamonds, Gurgaon, reflects her determination and commitment to be a successful woman entrepreneur in the world of jewellery.
The entrepreneurial journey of Ambar Gold and Diamonds has all the elements of a Bollywood story.  On completing her education, Ekta Kaushik, a young Pandit girl, joined a jewellery start-up. She meets the enterprising co-founder, a Rajput … cupid strikes, they fall in love, but Ekta's family opposes to their relationship as they belong to different castes. So, they put their marriage plans on hold and decide to focus on their second love – opening a jewellery store in Gurgaon … Over to Ekta: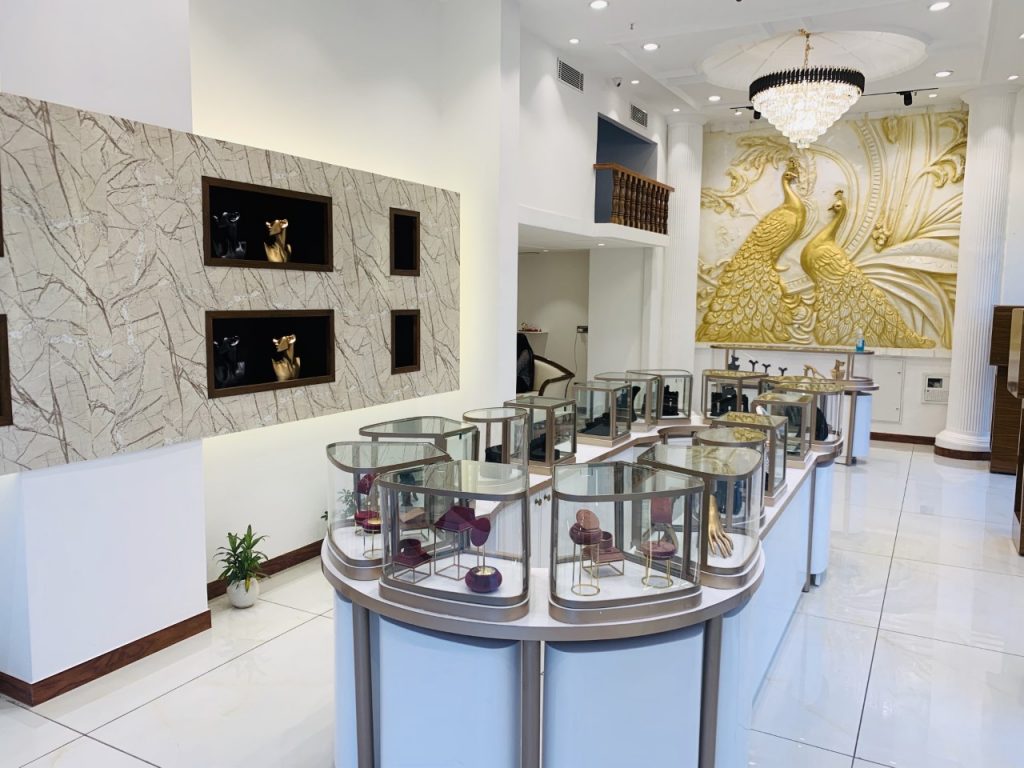 Early Days
I belong to a conservative family. I am a national level table tennis player but did not pursue it as a vocation to respect the sentiments of my family. I was good in studies and after I completed my graduation, my father wanted me to do an MBA and opt for a well-paying, secure job. But I wanted to start an enterprise of my own. The thought of a woman starting her own business did not fit into the value system of our patriarchal family.
So, I spent three months gathering information about professional courses, and it was then that I came across the jewellery design course offered by Indian Institute of Gem & Jewellery (IIGJ), Delhi. The course contents appealed to me and instinctively I decided to enroll for it. My father reluctantly consented.
While studying at IIGJ, I discovered my creative side. My sketches were appreciated by my fellow students and the faculty members. This encouraged me to pursue a course in advance jewellery manufacturing techniques at IIGJ Mumbai. Post the course, I apprenticed with local Delhi jewellers to gain firsthand experience.
Birth of a Boutique
I started my own proprietary firm Ekta Kaushik designs despite the opposition from my family and friends, who felt a person with no background in jewellery business is unlikely to succeed. The more opposition I faced, the stronger my resolve became. I did get a few assignments, but they were not enough to keep me fully occupied.
Then, a freelance assignment with a jewellery startup 9 Carats.com came my way. I met Akash, a partner in the company. During one year of my association with 9 carats, Akash and I realised that we wanted to be together, and felt that while online jewellery retail has its merits, physical retail was more suited our temperament.
We pooled in our savings and rented a property at a good location for nine years. Lack of financial resources impelled me to design the store, including develop visual merchandising.
Our boutique store opened its doors in August 2020. In the beginning, we encouraged clients by-appointment only as all our jewellery was made to order.
Bespoke commissions
The first hurrah moment of my journey was when I designed a diamond pendant and got it manufactured. At Ambar, we have a limited inventory and focus more on bespoke commissions. I have customised more than 100 jewellery pieces in the last two years.
I do the designing myself and get the kundan-polki jewellery fabricated from artisans based in Chandni Chowk, Delhi. Mumbai-based diamond jewellery manufacturers have been very supportive and they help us in manufacturing bespoke pieces. In our short journey, 20 brides have bought jewellery from us. Almost 30 percent of our inventory is sourced from manufacturers based in Mumbai and Surat.
The second Covid-19 wave disrupted our business which had received an encouraging response. As of today, we have kept our overheads low. and manage the entire operation with a total team strength of five people. Akash's father has been very supportive looks after accounting and finance.
Our moment of pride came when we crossed the turnover of Rs. 1 crore. The highest invoice that we have raised so far is Rs. 25 lakhs.
We have adopted a fair, reasonable and transparent pricing. Our margins are modest. This is helping us build trust among the consumers.
Social media & personalised services
With hardly any advertising budgets, we rely on Instagram promotions that have helped us reach out to a wide audience. In the last few months, we have received 20 orders from cities other than Delhi.
Being a small enterprise has its own advantages as we can offer personalised service to our customers. We invite them to celebrate their birthdays and anniversaries at our store. Word of mouth plays a key role in expanding our client network.
For walk-in customers, we have designed a lightweight collection priced between Rs.30,000 and Rs. 60,000, which is best suited for gifting and daily wear purposes. We have received a good response as the knowledge workers and IT professionals in Gurgaon have high disposable income and don't think twice before buying jewellery up to Rs.1 lakh.
My inspiration
I draw inspiration from a wide range of sources including art, travel and sculpture – all of which is reflected in my collections.
In my designs, I choose to exaggerate the forms, gemstones and diamonds through handcrafted techniques, infusing elements of fantasy that help us create narratives.
At Ambar, we curate unique handcrafted pieces and we educate our clients through every step of the process.
My father has been watching my progress and his resistance is turning towards appreciation. I hope to formalise my relationship with Akash soon. At the age of 28, I believe our journey has just begun.
Ambar literally means sky and our ambitions are sky high. With hard work, patience, persistence we hope to meet our goals.