SMITHA SADANANDAN spoke to some IIJS Premiere exhibitors and found that emeralds retain their number one position in the gem world, there are other gemstones that are scaling up on the popularity charts.
Move over rubies, sapphires — emeralds have never been hotter in the domestic market. Ruby has long been a favourite as central and accent stones in traditional jewellery, but change is in the air.
Emeralds are getting maximum attention in a run-up to the wedding and festive season in India, kickstarting mid-August through to March.
Sixth-generation jeweller Vaibhav Dhandia of Dhandia Gems believes so. Sales were robust at the India International Jewellery Show (IIJS) in Mumbai, added Vaibhav, whose family-run company is an authorised auction partner for Gemfields.
Last year, both octagonal and calibrated emeralds in sizes of 4 x 6 and 6 x 8 emerged hot picks for buyers, while heart shaped emeralds are easily the most preferred ones this year. Fancy shaped gems, ranging between two and six carats, are being snapped up at the trade show. On day-one, Vaibhav sold a 56-carat heart-shaped emerald; the significant price tag was no deterrent to the buyer. This is an indicator of expectations for the season prompting gem dealers to remain upbeat and wooing buyers flush with cash.
Rubies from Mozambique and emeralds from Coscuez mine in Colombia continue to perform well, he observed. The demand for vivid green emeralds accounts for 80 percent of the buyer requirement, while 20 percent is constituted by light green emeralds. Pear-shaped emeralds arranged in necklace layout sold out quickly. "Faceted pear shapes are doing well, besides chunky tumbles," he said. Eye-catching offerings at Dhandia Gems included an assortment of 13 tumbles, each weighing an average of 20 carats. "A homogenous collection such as this tends to appeal across the board to retailers, jewellery manufacturers and designers," he added. They can design around these sizeable stones without having to source stones in sizes, shapes and colours to match their design, he pointed out.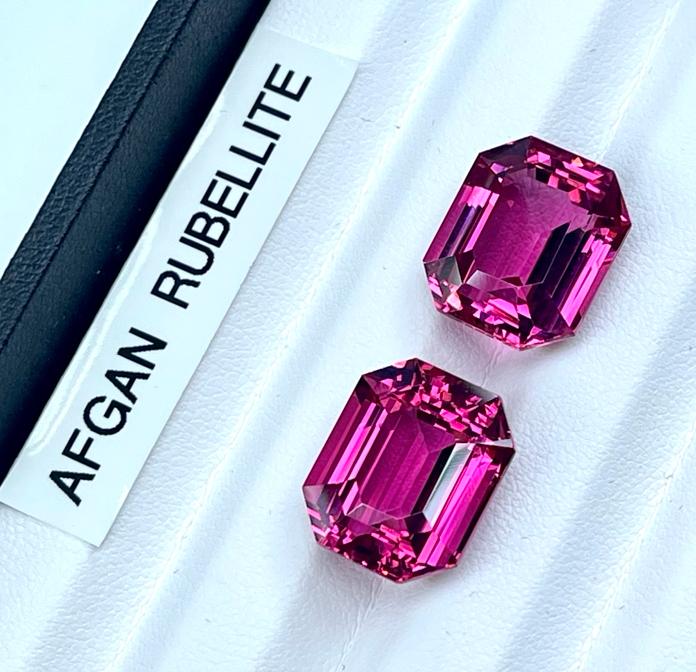 But what sparked the fascination for big emeralds? Vaibhav  pointed out that big, bold necklaces and earrings worn by Bollywood celebrities like Kiara Advani and Athiya Shetty at their weddings offer cues to clients. A retailer's jewellery moodboard is certainly informed by what celebrities wear.
Abhiyant Raniwala, Director of Jaipur-based brand Raniwala, concured about the trend. Noted for jadau and polki jewellery, Abhiyant acknowledged how celebrity weddings, including bridal wardrobes, shape the choice of the bride-to-be. With pastel sartorial designs in vogue, Raniwala swaps the verdant green emeralds in their ornate jewellery with paler Russian versions and replaces rubies with blush pink morganites.
Saajil Shah, creative designer and founder of Sajjante, was out scouring emerald and ruby drop shapes. On a quest to source flat almond or badaam shaped gems, Saajil didn't have much luck. With most gem dealers selling faceted stones as they offer them greater value for the money, not all gem cutters are eager to lend their expertise to unusual cuts and shapes that might have few takers, observed Saajil.
Although Shreenuj Tambi, Director of Cut N Cabs, had a similar outlook, he is keen to tap into the demand for unusual shapes. He sells his precious ware at trade shows in India and in Hong Kong — these include small sugar loafs, fancy shapes like kites and shields, unfaceted briolette as well as octagonal and pear-shaped emeralds. "Cushion cuts and elongated fancy shapes are huge winners, while heart-shaped emeralds are on everyone's radar. The demand for gems ranging between 3 carats and 40 carats is coming in strong," informed Shreenuj, who caters to wholesalers and designers alike. "Zambian emeralds in the domestic market cost anywhere between Rs.20,000-Rs.50,000 per carat. Meanwhile, Russian emeralds priced well below Rs.20,000 a carat are in play," he added.
New Gems On the Radar
Nirmal Bardiya, Regional Chairman – Rajasthan, GJEPC, and Managing Director of RMC Gems, a leading exporter of gems to USA, Europe, Thailand and Hong Kong, forecasts a significant growth in coloured gems over the next five years. He finds that the domestic market has now developed a healthy appetite for turquoises and pink morganites. With coloured gems capturing the joy in a post-pandemic world, consumers are increasingly engaging emotionally with brighter designs; a sentiment that gem dealers have been quick to note — and as they translate this insight into trade friendly propositions, there is an air of optimism among buyers about this year's festive season.
Mamta Punjabi of Lal Gems, who closed more coloured stone sales in the first two days versus the same period in past years, confirmed an increased love for pastel shades of gems. Sapphires in pale pinks, cornflower blues are very popular, she reports. Additionally, dark navy-blue sapphires and 'Barbie pink' sapphires are also key sellers. "Oval and octagonal shapes have been making waves this season. Rubellites are surprisingly selling well. It appears to me that people are bored of rubies that were routinely among jeweller favourites." Rainbow gems, with their ability to lend themselves into cheerful designs, are being extensively sourced by retailers, asserted Mamta.