High-end fine jewellery ateliers, fashion jewellery brands, and demi-fine jewellery makers are all embracing the bright pops of colour that enamelling adds to any piece of jewellery. Bursts of hot pink, purple, yellow and more, apart from the traditional pigments like red, green and blue are making their way into lust-worthy daily wear pieces.
The ancient technique of enamelling is one of the most diversely celebrated and adapted forms of art. The earliest form of vitreous enamelling can be traced to rings found in a Mycenaean tomb in Cyprus from 13th century BC.
Over the years, enamelling techniques such as cloisonné, champlevé, plique-à-jour, ronde bosse and meenakari have burgeoned in jewellery and decorative objects of art. A melange of painting and metallurgy, it requires a high degree of skill and application and is labour-intensive.
Mostly, meenakari in India has been associated with heavy uncut diamond and jadau jewellery fit for weddings or special occasions only. As lighter and daily wear jewellery has become the norm over the last few years, this art form is gradually making its way into contemporary jewels.
Today, designers within the country are experimenting in this space. Agaro Jewels, a homegrown brand by Roshni Singhal is changing the narrative of meenakari and incorporating it in contemporary creations.
"Enamel jewellery, at least vitreous or glass enamelling what we follow, is timeless. It is a niche product and has a niche audience but ones that know the art, love it! I love the process of how the glass melts and fuses with gold to give it the most luxurious look," shares Singhal.
Her monogram pendants, kettlebell earrings and stackable rings rendered with traditional meenakari as well as experimental colours has been grabbing eyeballs in India as well as the global market.
Whether it is the more skilled form of vitreous enamel or cold resin enamel, jewellery designers are harnessing the technique to add colour, meaning, emotion and individuality to their creations.
Mood Boosters
"Colours are emotive and invoke powerful feelings. Today, people are far more in touch with their emotions, their personal likes and dislikes and are comfortable in expressing themselves through their daily treasures," shares Sapna Mehta whose Sorbet collection of enamelled jacket diamond studs received a thumping response this year.
This collection was conceptualised close on the heels of the many lockdowns imposed to tackle the pandemic. As things came under control and travel plans were slowly and safely resuming, Mehta wanted to uplift moods and add to inner hope to her signature travel studs. The collection features brilliant-cut diamonds with a surround of enamelling in shades of hot pink, electric blue, turquoise, emerald green, yellow and purple.
"Enamelled pieces make for playful keepsakes. I believe the trend, whilst always present, picked up tremendously during and post the recent pandemic we endured," adds the designer.
Sapna Mehta's latest collection, Taaveez, is a modern take on the protection amulet coupled with positive manifestation through messages like love, life and heal. The amulets are tinted with lacquer enamel. "Lacquer in the traditional Eastern sense was made from tree sap, but lacquer enamel is a much more modern technique. We use a pigmented resin to achieve a glossy block of colour without the use of high temperatures, the cold enamel is layered onto the metal multiple times till the desired tone, depth and shine is achieved. We chose this particular process for the collection to attain the desired colours," Mehta elaborates.
Emotional Ties
The beauty about the art form is that there are countless ways to present it and every time it looks different. The latest collection of Ode Jewels, a demi-fine label founded in 2021, takes its cue from the Art Nouveau era (1919-1914), a time when plique-à-jour enamel soared to new heights. The Déjà vu collection takes inspiration from important Art Nouveau artists such as Gustav Klimt, Alphonse Mucha Czech, Koloman Moser, Jan Thorn Prikker and Émile Gallé and incorporates their painting style into jewellery.
Art Nouveau influences and forms are coloured with vivid hues of enamelling. A circular disc carrying the fingerprint impression of your loved one is woven into the design, a USP of Ode Jewel's jewellery introduced to bring an emotional connection to the pieces.
"We wanted to replicate the designs and colour of the art works and we found nothing better than enamelling to convey the colour and precision of the inspiration," shares Shilpa Mehra, co-founder of the brand.
"The credit for using enamel goes to the artisans that we work with. The artisans suggested using the technique because they have the skills but there are very few takers and don't want the craft to die out," adds Mehra.
The collection unlike any other in the market has been a success. So much so that the upcoming collection from Ode Jewels also features enamelling.
Individual Expressions
Shivangi Surana is a seventh-generation jeweller with a love for meenakari that runs deep in her veins. She hails from a family with a 275-year-old heritage in crafting meenakari and jadau jewels. While she is the Managing Director at Bhuramal Rajmal Surana (Mfrs.), she also heads Surraya Atelier where she adapts age-old crafting techniques for modern sensibilities. Her demi-fine brand Mina Jaipur has a collection of bangles, rings and earrings bursting with bright shades of enamel. The rings and bangles can be stacked up for a riot of colours or worn individually for a hint of hues. The brand name itself stems from Surana's love for meenakari.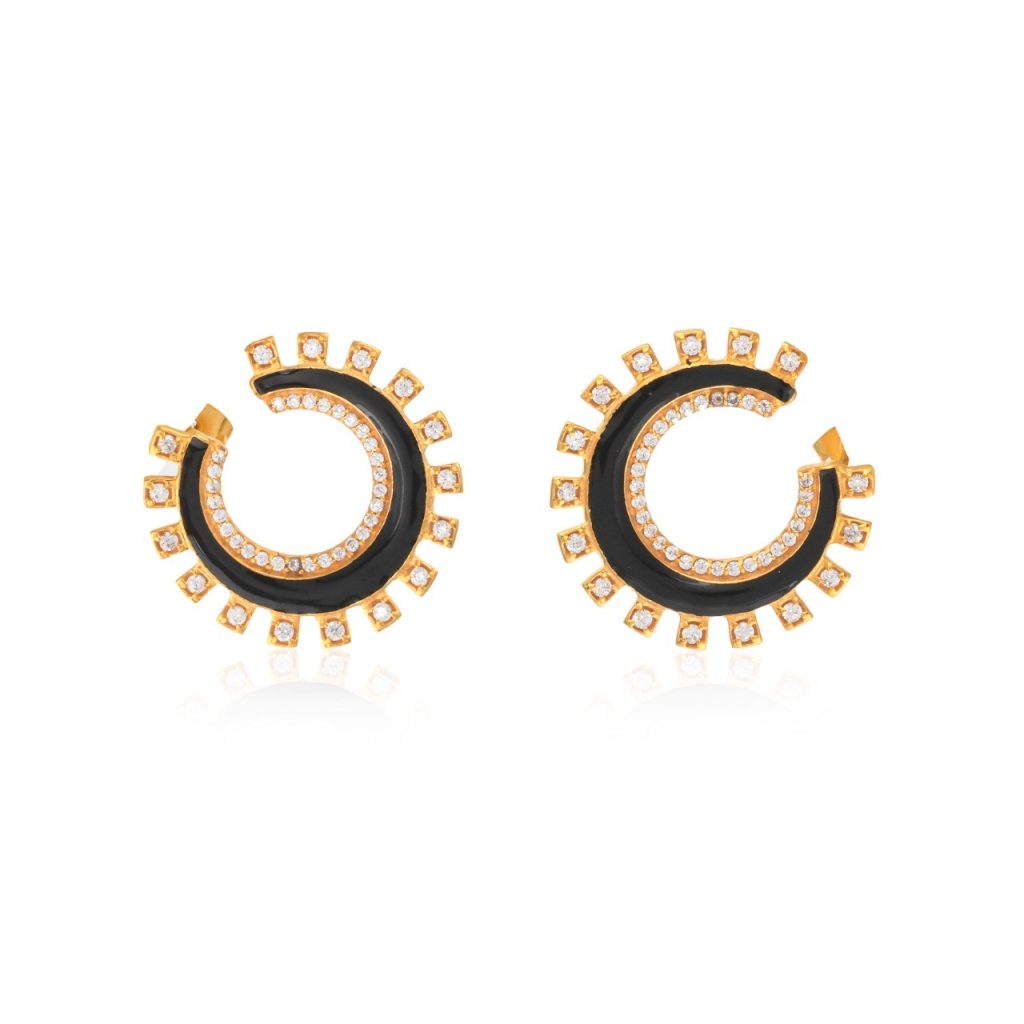 A jeweller, chef, and sports enthusiast Surana wanted jewellery that was functional, lightweight, modern and one that could transcend through the various activities and events planned for the day.
"I decided to make my own gold-plated brass jewellery where enamelling takes the spotlight. For me quality was foremost priority because I didn't want it to look like jewellery you can pick up off the streets. We use Italian hard-baked enamel which won't come off unless you dip it in acid. My pieces are fashion-forward, long-lasting and affordable," adds Surana. They have a collaboration with Amama that is live and another one slated for December.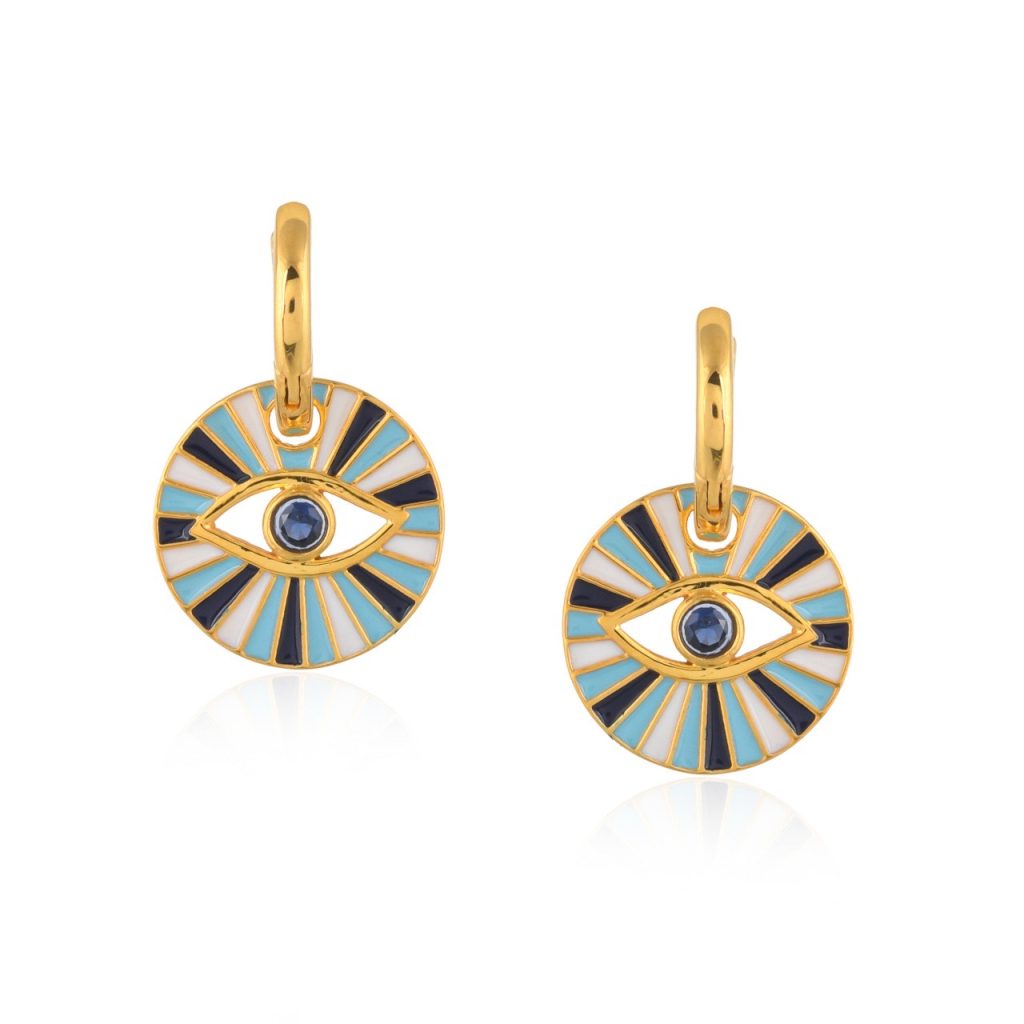 The brand, launched a few months ago, is still young but its growing popularity reiterates the demand for enamel that transcends jewellery categories right now. Perhaps, its consistent demand and wider usage will give some hope to the artisans of the craft that the legacy will be carried forward to future generations.