The Gem & Jewellery Export Promotion Council (GJEPC) organizedits 3rd Member Outreach program in Mumbai on 22nd June. The event was organised in association with World Gold Council and supported by Jewellers Youth Forum. The exclusive program aimed to create awareness among industry members about the Council's many initiatives to facilitate business and trade. More than 175 trade members from Central and South Mumbai attended the program.
Colin Shah, Chairman, GJEPC informed members about industry's strength and GJEPC's several initiatives undertaken for development and growth of gems and jewellery industry.He said, "We received a great response from our members at the 3rd Membership Outreach program. The Council and other stakeholders from the industry have been able to enlighten members about their respective new programs and initiatives by having a close interaction with them. Currently, the value addition by the industry is close to USD 8 billion, and I am sure this will increase in the near future as we work together. The Govt. has been proactive, and the FTA with UAE and Australia would further boost India's competitiveness in gem and jewellery exports."
Mike Oswin, Global Head of Market Structure and Innovation, World Gold Council, offered a panoramic overview of the World Gold Council's Retail Gold Investment Principles (RGIPs), which aim to raise confidence in gold. Oswin said, "The Swarna Adarsh Abhiyaan has been developed based on the Retail Gold Investment Principles set by the World Gold Council. Compliance with these principles will encourage best practices in the gold industry and ensure consumer trust. Following the Code of Conduct guidelines introduced in the Swarna Adarsh Abhiyaan is the ideal way for our industry to operate, thrive and induce trust amongst gold consumers. These principles aim to guide all stakeholders towards a fair yet profitable way of doing business."
Mansukh Kothari, Convener – Events, GJEPC opened the event with a welcome address. "The objective of this program is to increase awareness about the various initiatives that GJEPC undertakes to facilitate business and trade. It's also an opportunity to get invaluable feedback from our members about what the GJEPC could be doing better," Kothari said.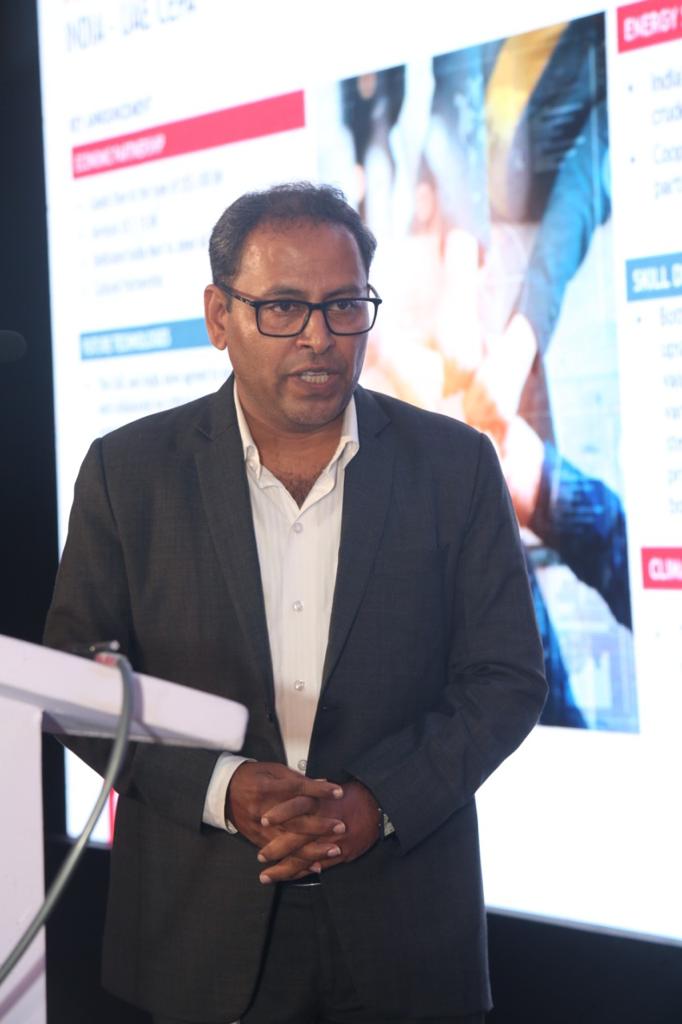 Guest speaker Krishna Barad, Partner, Customs & International Trade Indirect Tax, gave a presentation on How to Avail Benefits of India-UAE CEPA for Increasing Exports.
Explaining about the various aspects of the upcoming IIJS Premiere in August, Shailesh Sangani, Convener, National Exhibitions, GJEPC, said, "I am glad to share that, for the first time we have more than 21000 visitors pre-registered from 11500+ companies in the 1st phase of buyer registration. In terms of number of stalls, it's a new record with 2900+ stalls at the show. This year we are introducing new services like self-printing of visitor badges, facial recognition selfie capture for registration, etc. to ease access to the show. So, you can expect IIJS to happen on a grand scale."
Sheela Kulkarni, Director, Public Policy, World Gold Council provided details about the Precious Metals Assay & Training Institute and the progress made since its launch in 2018. Ashok Gautam, MD & CEO, India International Bullion Exchange IFSC Ltd. (IIBX) offered a granular understanding of the IIBX operations and benefits.