Diamond and mining analyst Paul Zimnisky predicts that mined diamond supply for 2022 will stay the same as last year at ~117 million rough carats. He puts forth his reasons.
Despite coming off of a record 2021 for natural diamond demand, mined diamond supply for 2022 is expected to fall in line with that of last year.
For context, Paul Zimnisky estimates that global natural diamond supply was approximately 117 million rough carats last year, with the same expected this year.
This compares to as much as 140 million carats in 2019, over 150 million carats in 2017 and almost 180 million carats in 2005 – which is estimated to be the all-time-high watermark for production.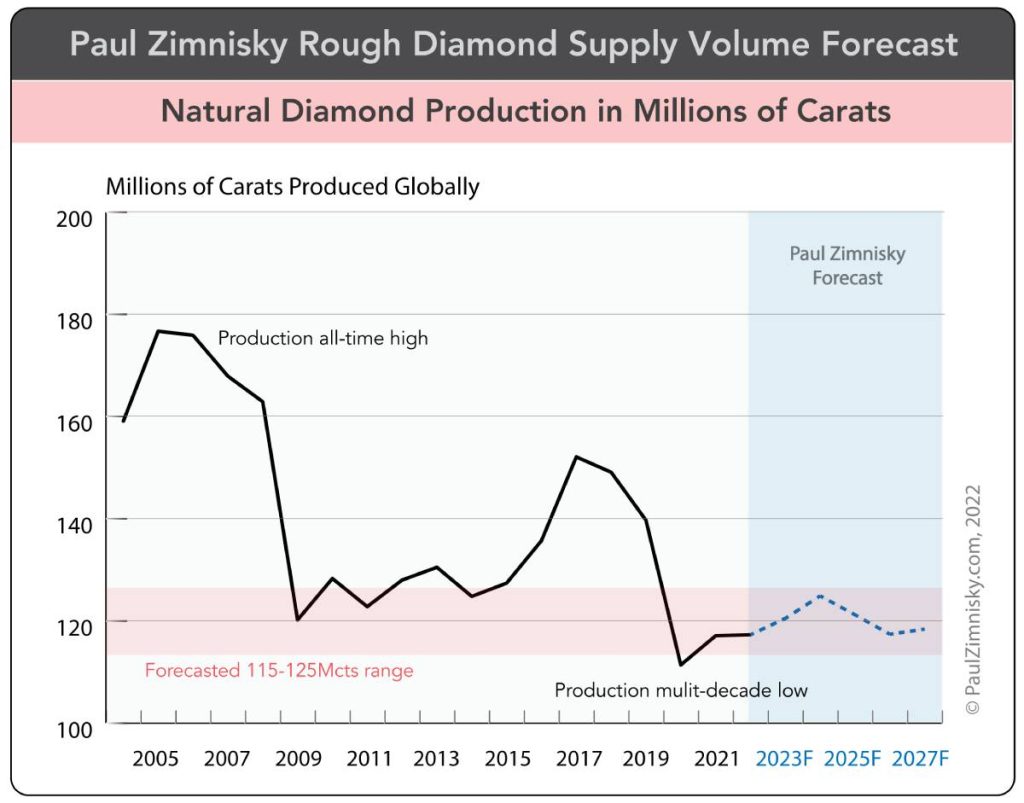 This downtrend in supply can mostly be attributed to apathetic diamond prices last decade that in effect hindered appetite for new project exploration and development. Consequently, supply at legacy mines has fallen off in recent years while very limited new sources of diamonds have not been sufficient to offset the declines.
Over 30 million carats of net annual supply have come out of the market over the last 5 years due to lost supply at mines such as Argyle in Australia, International and Mir in Russia, and Victor in Canada.
Beyond 2022, global supply is expected to remain rangebound at 115 to 125 million carats per annum through the end of the decade, according to Paul Zimnisky forecasts.
Conventional mining at both the Ekati and Diavik mines in Canada's Northwest Territories are expected to reach depletion by mid-decade. (Note: The owner of the Ekati mine, Arctic Canadian Diamond Company, is testing the possibility of extending the mine life with a remote, robotic mining plan; this was discussed on the Paul Zimnisky Diamond Analytics Podcast with CEO Rory Moore in May, listen here – live link.)
In addition, the Almazy-Anabara placer mines in Russia's Siberia are on pace to reach natural depletion by 2025 (according to current resource statements), as is the small but iconic Zarnitsa mine – notably the first commercial diamond mine in Russia.
The Koffiefontein mine in South Africa is also scheduled to reach final production within the next three years – the mine has been in operation since 1870.
The in-development-stage Luaxe mine in Angola, which remains the only major new diamond mine currently being built, is expected to offset some of the production lost in the coming years. However, the start date of Luaxe remains in question as some engineering challenges remain and financing of the project is yet to be formalised.
As far as the potential for new discoveries, greenfield diamond exploration is active in Angola, Canada, Botswana, Russia, Australia, the DRC, Zimbabwe and Brazil although global exploration investment is estimated to be at multi-decade lows despite the need for new supply.
That said, industry stewards, De Beers and Rio Tinto, have both recently acquired mineral exploration licences to explore for diamonds in Angola. In addition, independent producer, Gem Diamonds, just last month said that it has put its "toe in the water in Angola." (Note: Russian major, ALROSA, has a legacy relationship with Angola via its Catoca mine joint venture – ALROSA is also a partner in Luaxe.)
After a generation-long civil war that has hindered foreign investment, in April De Beers noted, "Angola has worked hard in recent years to create a stable and attractive investment environment… (the country) remains highly prospective (for diamonds)."
---
Paul Zimnisky, CFA is an independent diamond industry analyst and consultant based in the New York metro area. For regular in-depth analysis of the diamond industry please consider subscribing to his State of the Diamond Market, a leading monthly industry report; an index of previous editions can be found here. Also, listen to the Paul Zimnisky Diamond Analytics Podcast on iTunes or Spotify. Paul is a graduate of the University of Maryland's Robert H. Smith School of Business with a B.S. in finance and he is a CFA charterholder. He can be reached at paul@paulzimnisky.com and followed on Twitter @paulzimnisky.
Disclosure: At the time of writing Paul Zimnisky held a long equity position in Lucara Diamond Corp, Star Diamond Corp, North Arrow Minerals Inc, Brilliant Earth Group and Barrick Gold Corp. Paul is an independent board member of Lipari Diamond Mines, a privately-held Canadian company with an operating kimberlite mine in Brazil and a development-stage asset in Angola. Please read full disclosure at www.paulzimnisky.com.