Gold has been making news for its northward trajectory for some months now. Yet exhibitors at IIJS Premiere have come prepared with their latest offerings – some with breathtaking bridal gold sets featuring detailed karigari and others have catered to the new generation with lightweight designer gold jewellery which is as light as 2 or 3 grams.
The gold jewellery sections have been thronged by visitors from across India as well as overseas buyers. Solitaire International spoke to some of the exhibitors for their views.
Nikhil Parekh of Hasmukh Parekh Jewellers, informed that the show has been successful them. The company with a 5000-strong karigar workforce engaged in fine craftsmanship, exports mainly to the USA, Dubai, Singapore, Malaysia, Fiji, New Zealand among others. "With the CEPA agreement, we have witnessed an increase of 10% in our turnover," he notes.
One of the prominent gold jewellery manufacturers of India, it presents an array of lines from bridal sets to pret wear. Demand was seen for their ivory-enamelled chokers with detailed gold embellishments, geometric kadas designed with fine fretwork and more.
Sanjay Surana of Aradhana Jewellers, who has been participating in IIJS since the last 27 years, notes that he had begun working on his new collections ranging from Rajwada and antique bridal sets to daily wear gold lines two months prior to the show. "Our bookings have not been impacted by high gold rates," notes Surana. "We are witnessing strong sales at the show from across India. Layering is in and today's women want options to wear in multiple ways. Retailers are buying ranges from Rs.2.5 lakh to Rs. 8 lakh. Participating in IIJS is the main reason for our exponential growth."
Sunny Chordia, Director, Swarnsarita Jewels India Ltd, was pleased with the response at the show. "Our handcrafted antique jewellery weighing between 50 gm to 100 gm has been the most sought after. The show has kept us busy all day long. For our clients from USA, Singapore, and Dubai, we specially make Kolkata jewellery."
Varun PN, Owner, Vara Krupa Jewellers, has had no time for lunch as he has been busy catering to buyers. He says, "The show has been remarkable. We have seen a 50% rise in new buyers this time, who are booking heavy and light antique gold jewellery. Metal weight is not a consideration for our customers, from Dubai, USA, Maharashtra and Chennai."
"First day at the show has been simply fabulous!" says Popat Sanghvi, Chairman, Payal Gold. "As always, customers want something new and this time, we have presented new lines in yellow gold with polki and enamel, Kolkata filigree jewellery and Kuwaiti jewellery that is a mix of handmade and Dubai-style casting. It's a hit. There is a huge demand for Indo-Italian rose gold jewellery for women and collections for kids as well."
Trident's Rishabh Jain informed that with the pandemic now behind us, the wedding season ahead of us is generating tremendous demand for mangalsutras (auspicious necklace worn by married women). "This year has broken all records not just for our company, but for most of our gold jewellery exhibitors here. "There has been no impact of gold prices on buying, and we are receiving huge orders from the Middle East too."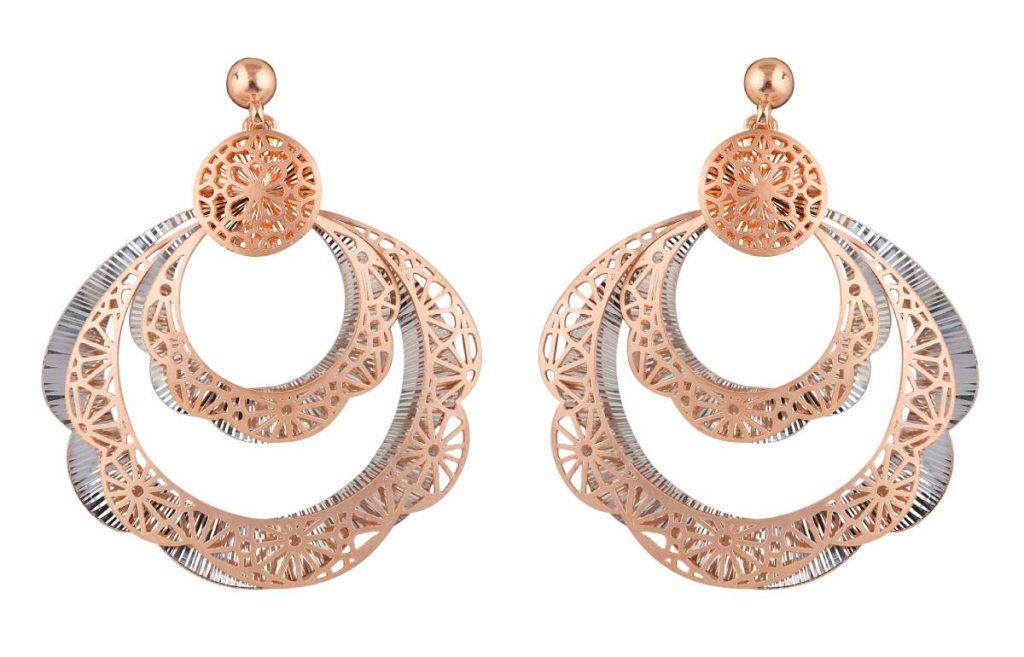 Sushil Solanki, Owner, Sangam Jewels n Gold, exclaimed that the show was phenomenal. "Our ranges from starting as low as 2 gm to 15 gm has been selling like hot cakes. The delicate, pret wear lines are dotted with enamel to add a hint of colour to them. We have had buyers from Dubai, USA, Singapore and Saudi Arabia."
Designer Manish Bhindi, too, has had a spectacular show. "Our antique old necklace sets between 70 gm and 90 gm have been the top-sellers. Not just retailers from India, we got buyers from the UK, the USA, and Dubai."
Bhairavi Shah of Aadish Gold remarks, "IIJS is the place where we get to meet new buyers. It's been an amazing show and we got clients from Maharashtra, Kerala and Tamil Nadu. We also got a fabulous response for our new collection Aamulyaa-The Priceless. Heavy bridal jewellery with focus on design is trending. We have smaller retailers looking for Temple jewellery between 10 gm to 15 gm, and others booking sets between 200 gm to 600 gm."