KIRIT BHANSALI, Chairman, Indian Institute of Gems & Jewellery (IIGJ), shares his vision for the country's premiere institution for gems and jewellery.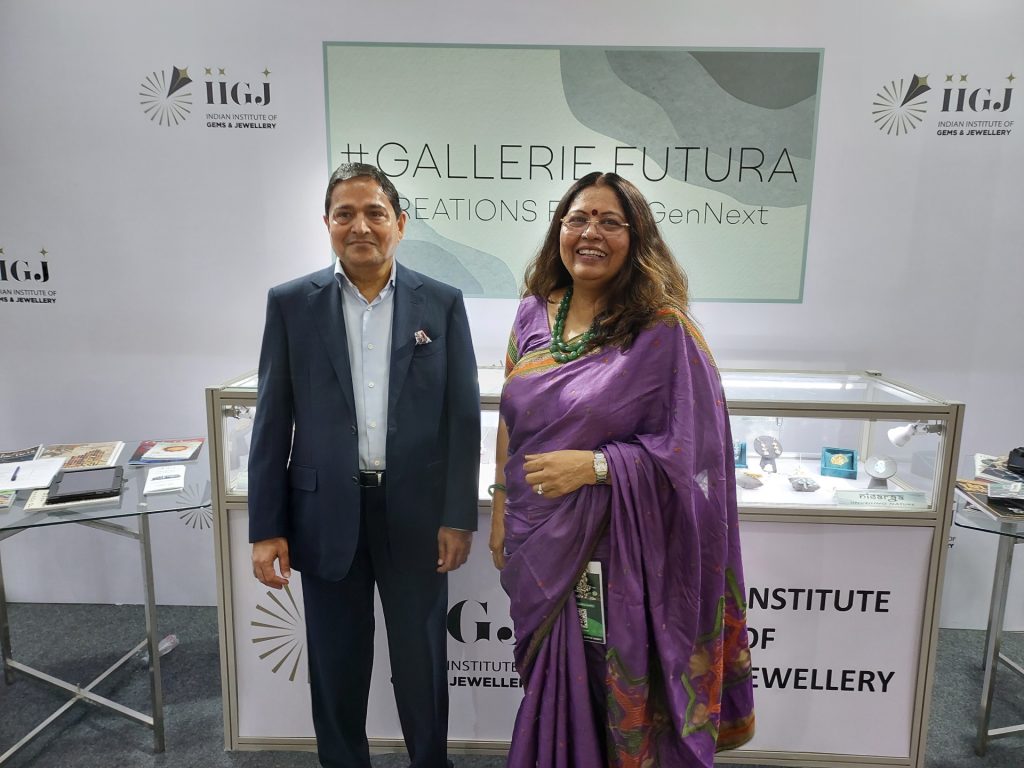 This year, IIGJ has expanded its presence at IIJS Premiere and is displaying nearly 50 designs by students from its various centres. What is the aim behind this initiative? How will the IIJS platform help you in this endeavour? Kindly explain in detail.
The Indian Institute of Gems & Jewellery's (IIGJ's) vision is to fulfil the industry's needs of a skilled workforce across the spectrum – be it Manufacturing, Design, Merchandising, Managerial roles to name a few. The GJEPC has set an ambitious export target and IIGJ is committed to support it in every possible way. The industry has invested in building manufacturing capability, and we believe we can complement their efforts in the crucial Design and Merchandising areas, as these two aspects provide vast opportunity to add value and generate employment. IIGJ introduced a 3-year degree programme – BA in Design and Manufacturing. The students in their final year are divided in teams and given concepts – nature, space, geometrical, etc. Based on these, students research and prepare Vision Boards, Look Books and create collections. These pieces are manufactured by them in the institute under the able guidance of our faculty. Their collection is on display under the banner of "GLIMPZ" at the IIJS.
Jewellery pieces designed and manufactured at IIGJ Jaipur, -Delhi and Varanasi are also on display.
Some of our students have won awards in design competitions, and reached the finalist level in The Artisan Awards organised by the GJEPC. They are doing great work and we want to bring this value-add opportunity to the industry.
We plan to collaborate with manufacturers and retailers to create collections based on the briefs they provide. IIJS is a great platform to meet industry participants and discuss growth opportunities.
IIGJ has been imparting education in jewellery designing, merchandising, manufacturing since many years. Are there any plans to collaborate with top design institutes from abroad?
We believe in collaboration and we will consider options to collaborate in India and overseas. We are in the process of upgrading the infrastructure and creating awareness amongst the industry regarding opportunities to partner. The next step is to collaborate with manufacturers / retailers from overseas. Collaboration with institutes from other countries could help us to support India's exporters.
Is IIGJ looking at campus placements in a big way? Have you planned any Career Fairs?
All of our Graduate and Postgraduate students are supported by providing placement opportunities. We invite jewellery manufacturers and retailers during the GLIMPZ event to see the designs and meet students. We have a long list of recruitment partners and we are thankful to them.
We would like to know the success ratio of the placements – on an average how many students (in terms of percentage) get recruited by retailers or manufacturing houses?
We are being approached by Jewellery Manufacturers to meet their needs to expand. We are also in the process of introducing new courses. We are in discussion with some of the clients to train the candidates they hire. These are customised programmes. And this is well received.
Many of our students come from families which own businesses in the industry. And they look for internships. We are happy to support them in this area. And rest of the students are placed. IIGJ has been able to provide placements for all of its students.