The world's second largest show IIJS Premiere 2023, organised by GJEPC, spread across two venues, Bombay Exhibition Centre, NESCO, Goregaon (4-8 August), and JIO World Convention Centre (3-7 August), witnessed an unprecedented buying spree from a record number of 50000+ visitors, including 2100 international buyers. An estimated business of ₹70,000 crore was generated at the show, further consolidating its status as a foremost gem and jewellery sourcing exhibition.
A vibrant and celebratory atmosphere prevailed at the 39th edon of IIJS Premiere 2023 … The aisles in both the venues BEC and JWCC were bustling with enthusiastic visitors, all actively engaged in serious deal-making. Not a trace of casual window shopping can be found as the event exudes a fervent focus on meaningful business interactions.
The paperless and fully digital IIJS Premiere accommodated 3,250 stalls and welcomed 1,850 exhibitors, spread over an expansive area of 70,000+ sq. mtrs of exhibition area across the two venues.
The event witnessed more than 2,100 visitors from over 65 countries, including the USA, UK, UAE, Australia, Canada, New Zealand, Fiji, Saudi Arabia, Qatar, Iran, Muscat, Italy, Bangladesh, Bahrain, Kuwait, Germany, Turkey, Singapore, Thailand, Vietnam, Cambodia, Sri Lanka, and many more.
The distinguished guest list included hosted delegations from 16 nations, elevating the event to an unparalleled international stature. The event also had an Italian Pavilion in the machinery section and had exhibitors from 7 countries.
The grand show was marked with the distinguished presence of Shri Sunil Barthwal, Commerce Secretary, Department of Commerce; Mr. Mike Hankey, Consul General, Consulate General of USA; Dr. Sanjay Mukherjee, IAS, Metropolitan Commissioner, MMRDA; Mr. Paul Rowley, Executive Vice President, Diamond Trading, De Beers Group; Mr. G.R. Radhakrishnan, Managing Director, GRT Jewellers India Pvt. Ltd.; Mr. C K Venkataraman, Managing Director at Titan Company; Mr. G.R. Ananthapadmanabhan, Managing Director, GRT Jewellers India Pvt. Ltd.;  along with Mr. Vipul Shah, Chairman, GJEPC; Mr. Kirit Bhansali, Vice Chairman, GJEPC; Mr. Nirav Bhansali, Convener, National Exhibitions; Mr. Mitesh Gajera, Co-convener, National Exhibitions, GJEPC and Mr. Sabyasachi Ray, Executive Director amongst others.
Shri Sunil Barthwal, Commerce Secretary, Department of Commerce, engaged with international delegates and GJEPC board members at IIJS Premiere. He said, "IIJS is one of the largest exhibitions of gems and jewellery in the world, and we can take pride in what we are doing. The gem & jewellery sector is a very important one for the Government because it is highly labor-intensive. It generates a huge amount of creativity among our youth and it is linked to not only the people who are cutting and polishing, but also designing jewellery. So, I think this is one of the most versatile industries and it's very important for us. As Government, we're looking at the whole value chain of gems & jewellery, right from mining to the final selling. In particular, we're looking to develop the studded diamond jewellery segment which is at the higher value end."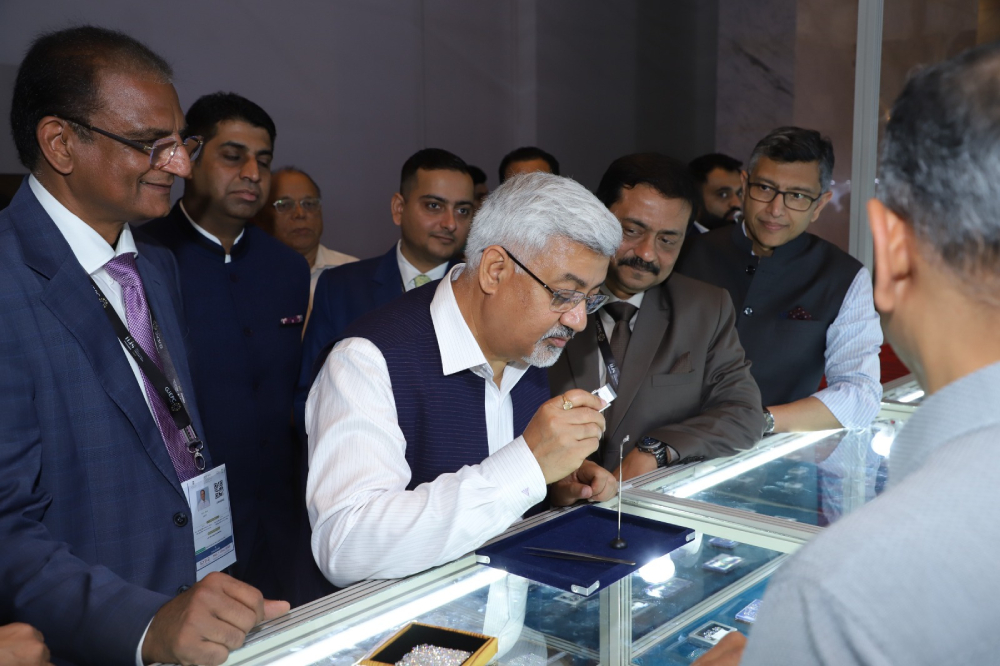 Mr. Vipul Shah, Chairman, GJEPC, said, "IIJS Premiere 2023 has achieved unprecedented success, surpassing all previous records and exceeding our expectations. It has singlehandedly reversed market sentiments and kickstarted the business cycle into high gear, perfectly timed ahead of the festive and wedding seasons. IIJS Premiere 2023 is estimated to have seen business worth ₹70,000 crore being generated, which is far beyond anyone's wildest dreams. As an exhibition, IIJS has truly come into a league of its own."
Mr. Mike Hankey, Consul General, Consulate General of USA, said, "I congratulate those in the gem and jewellery industry for the success of IIJS Premiere 2023. The United States understands the considerable importance of the diamond manufacturing industry to India and its immense contribution to employment that I've seen personally."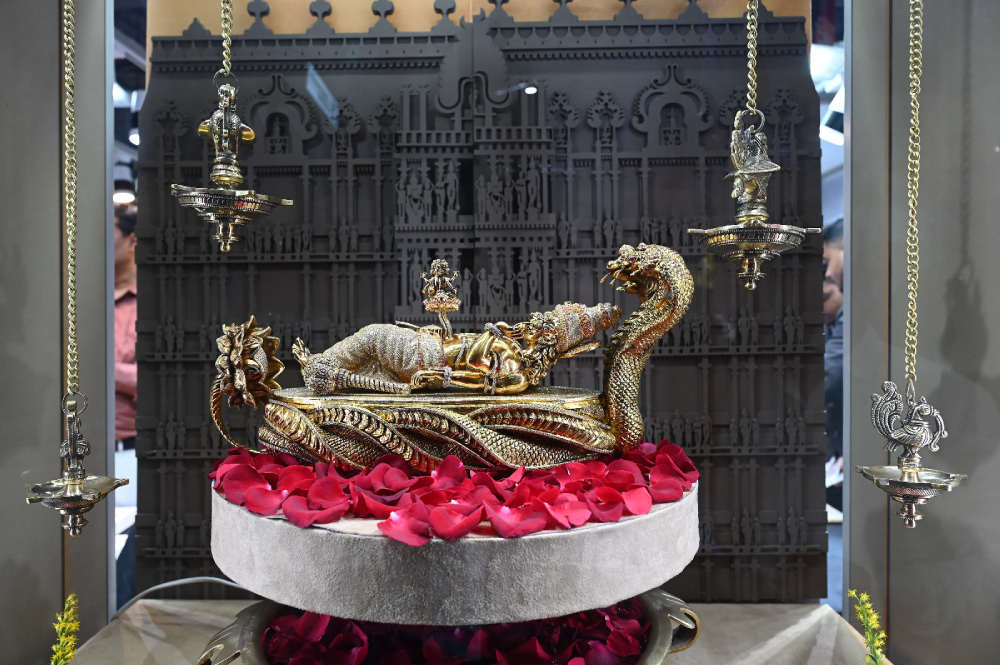 Mr. Paul Rowley, Executive Vice President, Diamond Trading, De Beers Group said, "It's clear from the success of IIJS Premiere 2023 that the landscape in India will be a perfect platform for growth. India was already one of the world's top markets, but it has also been the fastest growing major market this year. We have a detailed and dedicated footprint and roadmap for global issues such as carbon footprint, traceability of diamonds, gem stones for the environment, socio-economic development and diversification, etc. Natural diamonds are the ultimate symbols of love and good work in the jewellery business improves the lives of all stakeholders."
On this momentous occasion, GJEPC launched the logo of India Jewellery Park, Mumbai. Kirit Bhansali, Vice Chairman, GJEPC, who was previously the Chairman of India Jewellery Park, said, "The industry will be witnessing a burgeoning demand for gems and jewellery as things come to normal, not only in India, but also across the world. The new jewellery park, an ambitious project of GJEPC, stands as a testament to our commitment. This is an innovative venture, a first-of-its-kind integrated gem and jewellery industrial park, designed to encompass manufacturing units, commercial spaces, residences for industrial workers, and comprehensive commercial support services. This strategic initiative will undoubtedly provide valuable assistance to jewellery manufacturers and traders seeking to expand their presence in Maharashtra, fostering new businesses and fortifying existing ventures. Moreover, this transformative undertaking is projected to generate an additional 1 lakh jobs in the sector, thereby contributing significantly to the region's economic growth and employment opportunities."
Mr. Nirav Bhansali, Convener of National Exhibitions at GJEPC, expressed, "I wish to convey my appreciation to both exhibitors and visitors for their incredible support. We saw a remarkable turnout of over 50,000 participants hailing from 1100 cities across India, marking this as the most expansive IIJS Premiere to date. The occasion also saw a substantial presence of more than 2,100 visitors from across 65 nations."
Announcing the success of the "One Earth" initiative, Nirav Bhansali said, "Since the beginning of this year, GJEPC has embarked on a transformative journey towards environmental sustainability with the launch of the 'One Earth' initiative. The initiative has surpassed all expectations, achieving the target of planting 1 lakh trees. This remarkable accomplishment is not only making a positive impact on the environment but also generating an astonishing Rs. 100 crore for marginal farmers, fostering robust economic growth in rural communities. Moreover, our collective efforts will lead to a reduction of 40,000 tons of Carbon dioxide, and will produce an impressive 67,000 tons of vital oxygen and create 220 acres of lush green cover, nurturing biodiversity."
Exhibitors Elated
IIJS Premiere 2023 witnessed a significant surge in gold jewellery demand, surprising exhibitors who had concerns about the impact of the economic uncertainty, elevated prices, and curtailed discretionary spending on Indian consumer demand.
The Indian gem and jewellery manufacturers showcased innovative products, including lightweight gold jewellery that retained the appearance of traditional heavy designs but used gold to keep the weight in check.
The show saw purchases after a prolonged period of cautiousness. The positive sentiment generated during the event was remarkable, considering the sluggish demand leading up to the show.
Notably, the event has showcased an intriguing duality in consumer preferences: on one hand, there is an escalating demand for opulent, high-end jewellery pieces that captivate with their intricate designs and impeccable gemstone settings, catering to connoisseurs seeking the epitome of luxury.
The allure of minimalist gold jewellery remains unwavering, as a growing number of individuals embrace understated sophistication and seek adornments that seamlessly integrate into their everyday lives. This unique juxtaposition of preferences underscores the versatility and innovation within the jewellery industry, making IIJS Premiere a prime platform where both the extravagantly ornate and the elegantly simple collections entice buyers seeking variety of products. These collections included hollow, voluminous, and cast plain gold lines that used negative spaces creatively and were embellished with various finishes and gemstones to offset gold content.
Many exhibitors were sold out in the first couple days of the exhibition! It's been an IIJS like never before. They say there is power in preparation. Almost all exhibitors displayed products catering to the needs of their customers.
Inventions in jewellery making have been on the rise of late. Aditi Sangani, Product Development, Priority Jewels Pvt. Ltd., stated that besides their regular designer jewellery, Their ultralight jewels enhanced with malachite,  onyx, mother-of-pearl targeted to the younger generation were being booked at a brisk pace. "We have used lighter tube chains to control the weight of gold, better locking mechanisms, and more." Known for their bangles, Itan Jewels presented fusion styles blending modern and classic elements, a touch of Turkish styles and experiments with enamel. "Currently bangles within Rs. 1 lakh weighing 20-25 grams are hot-sellers," informed Aayush Pahuja. "We are widening our inventory beyond and offering rings and pendants with the same, high-quality finish. In all our products our USP is the finish," added Pahuja. Diamond-cut finish, dual tones pieces and open work elements dominated the bangles.
Bharat Takhtani, Director, Zar Jewels, informed that their company was displaying 2,500 designs in bangles, which is their forte. This year, they also launched diamond rings and the dancing diamond collection. "Our booth was packed with buyers from day one," he said, adding, "The response has been unbelievable."
Dubai-based Nimisha Jewellers LLC debuted at IIJS by unveiling their lightweight jewellery with top class diamonds and gemstones. Dubai is their prime market. They also export to USA and Japan. "The response has been pretty impressive," shared Ethan Fernandes, owner. Their 1-gram diamond jewellery featuring rings, bracelets and dainty chains were keenly sought after by retailers.
Fancy colour diamond jewellery manufacturer Hirani had brought out a battery of spectacular designs for jewellery connoisseurs at IIJS. The pieces ranged from slim necklaces with a smattering of yellow diamonds to more elaborate bracelets carpeted with an amalgamation of yellow and white diamonds that took 6 months just to collect. For those looking for absolute high-end couture pieces, there was a sautoir with a 39-carat yellow diamond centre while another multi-layered necklace had over 100 carats of diamonds in total. Darshit Hirani, Director, was happy with the response at IIJS. "Everyone wants something new. The market for fancy coloured diamonds is growing," commented Hirani.
Jadau jewellery and fine diamond and coloured stone jewellery designer Vijay Golecha, owner of Golecha's Jewels, was happy with the footfalls and business transacted at the show. Golecha's astute sense of colour compositions reflected in all his creations. Apart from heavier bridal jewellery sets, on display were an array of rings, brooches, lapel pins, bracelets and necklaces brimming with colour. Golecha only uses high quality natural gemstones to achieve this look. There were butterflies, dragonflies, floral buds and peacocks immortalised in rubellites, emeralds, sapphires and more. Typical Jaipuri motifs like kalgis were scaled down and rendered in emeralds and diamonds to form an eye-catching brooch. Some of the more wearable, scaled down creations will also feature in his new store in Manhattan, New York which he is launching next month.
(Gold) Rajvi Shah of Johrisons Jewellers shared that they received a superb response for their Paperweight collection, a line of extremely lightweight antique finish jewellery sans any gemstones. Retailers were lapping up bridal chokers and long haars, some of which barely weighed 38 grams. They welcomed new as well as regular clients at their booth.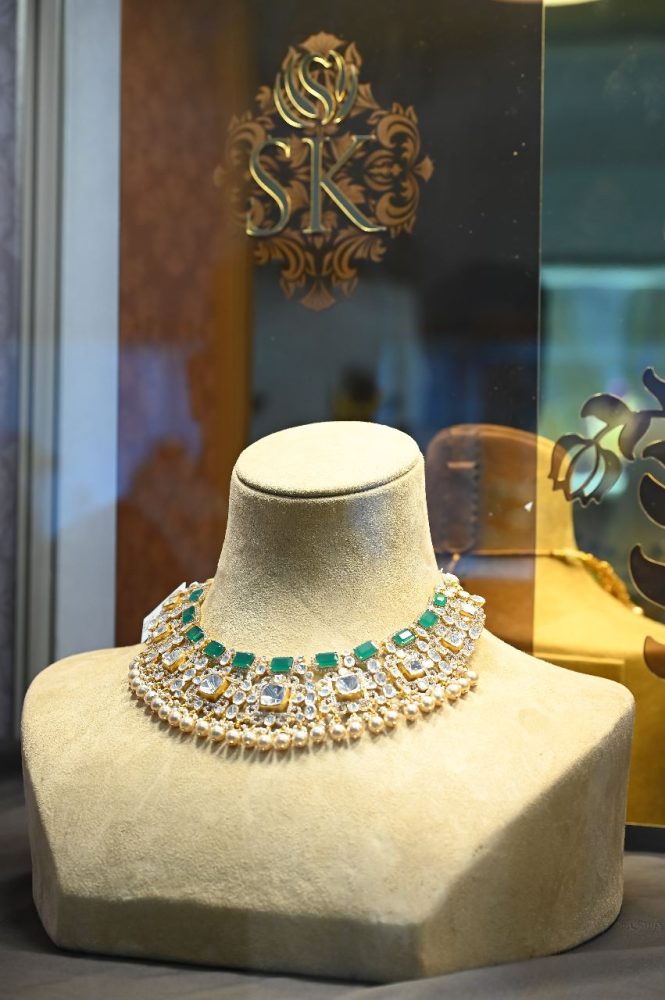 Jewels for brides at the IIJS Premiere
Ankit Malpani of the eponymous brand Ankit Malpani has had a fantastic show. "Buyers are responding very well to our collections. They have a good budget. With younger clientele coming in, the retailers themselves are more open minded and are opting for pieces across our gem-studded collections, polki pieces as well as one-of-a-kind jewellery," exclaimed Malpani. "Rarity comes from the human mind and hand," shared Malpani who prefers hand crafted excellence over AI-created designs. One of his rings was entirely crafted in natural pink opal while another had finely cut mother of pearl pieces forming an elaborate base for blue sapphires and diamonds. It is no wonder then that some of his pieces are picked up by auction houses as well.
Ashish Sand, Partner, Savio Jewellery, informed that their Emeraldo and Tanzano collections met with many potential customers and generated significant interest in their newly launched collections "We were able to secure several new orders and are confident that we will continue to grow our business as a result of this show. Almost 60% of our buyers were new and the rest were regular customers. This is a positive sign, as it indicates that the show is attracting new
buyers. Specifically, we met with a representative from a large jewellery retailer and we also spoke with a group of buyers from the Middle East who were very impressed with our designs. They placed a large order for our products. Additionally, we met potential buyers from the United States and Europe. Buyers were interested in booking both bridal and regular items. This show has helped us to take our business to the next level."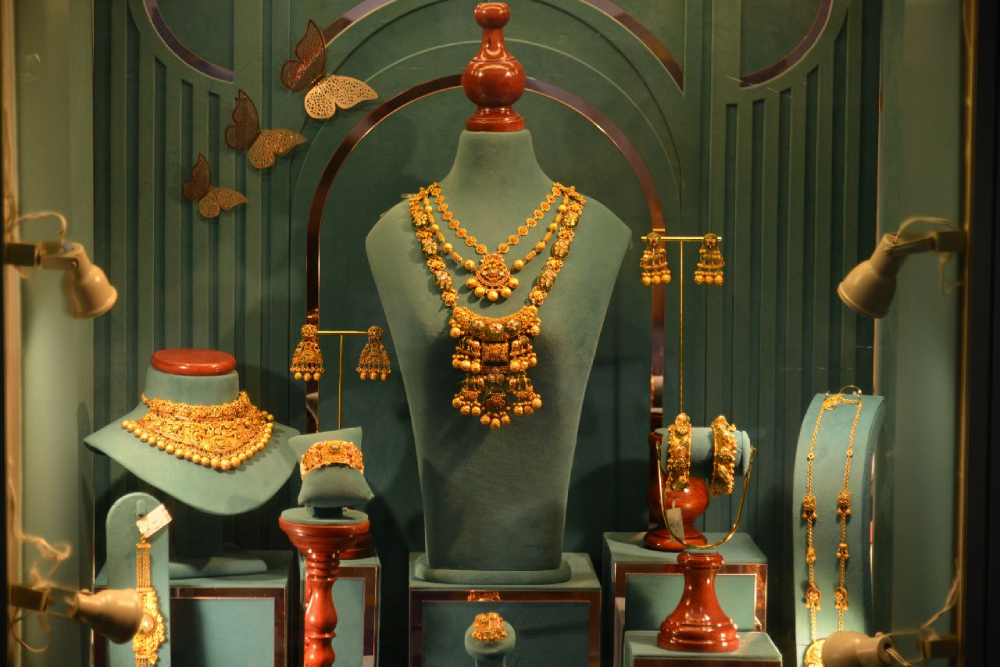 Heavy and lightweight jewellery were equally favoured by buyers at the show.
Saiyam Mehra, Chairman, GJC, and Director, Unique Chains, noted, "The show has been good for most of us and year-on-year, IIJS Premiere has been growing and getting good response from exhibitors as well as retailers. The price of gold has not made much of a dent and consumers, too, are increasingly inclined to invest in products rising in value."
Renowned designer Anand Shah said, "IIJS has opened the floodgates and I had an excellent first couple of days. I think that customers had held back orders these past few months in anticipation of sourcing fresh designs at the show. IIJS dictates the mood of the industry."
Anish Birawat of Chain N Chains witnessed a steady stream of buyers since the show at NESCO began. "Flexible and playful earrings weighing 4 grams, black rhodium-plated chains, and designer bracelets are seeing huge demand. It's been a fantastic show," he exclaimed.
There was further optimism that consumers were now accustomed to the rising gold prices, which, coupled with a good monsoon, could sharply increase the purchasing power of rural buyers who account for the bulk of festival jewellery buying. The upcoming Diwali festival and wedding season have boosted demand for gold jewellery.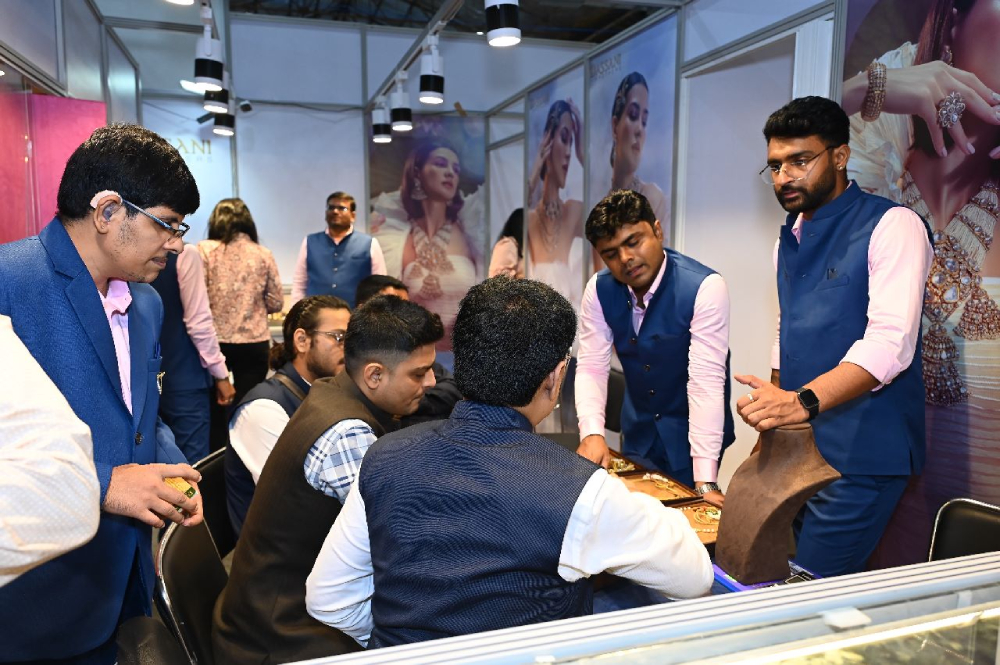 Dhiaan Shakthi Srinivasan, Director Of Business Development Emerald Jewel Industry India Limited, remarked: "The response was fantastic; the visitor numbers were fantastic. We also saw a lot of international delegates this time from Korea, Cambodia, China, Japan. A lot of the customers who I spoke to told us that they have not seen a show like this since 2019. We are glad that business is booming.
"Events like these actually give us an opportunity to showcase new creations to customers from across the world. We have launched close to 22 new collections for this IIJS. And we have close to 8,000 new designs as we have tried to ensure that our products are for all the demographic across  India."
Exhibitor Bhairavi Shah of Aadish Gold LLP informed that they were sold out by Day 2. "The show is beyond our expectations! 80% of our clients are new buyers. This is a delightful challenge as we now face the prospect of limited inventory for our regular customers." Their bestselling pieces were from antique gold collections between 80 and 150 grams.
The show attracted visitors from across India, including smaller towns, with many first-timers attending. Various retailers expressed satisfaction with the wide range of designs available at competitive prices. Buyers displayed smart purchasing behaviour, carefully selecting goods.
Premal Shah of Sphere, a leading high-end designer gold jewellery manufacturer, echoed the positive sentiments shared by fellow gold jewellery exhibitors at IIJS 2023. With an exquisite range of gold jewellery that is 60-70% handcrafted and the rest cast, Shah's creations are adorned with fine natural diamonds, making them highly sought-after among discerning customers in major metropolitan areas.
Pankaj Kodnani of Krown Jewels was extremely happy with the footfalls at IIJS. "The show has been very good so far. There has been a good flow of clientele on the first two days itself. The last quarter was slow but what we have noticed this time is that retailers are in a mood to buy jewellery and are aggressively prepping for the season with new products. Even at the current gold rate, they are more focused on designer collections versus price points. They are looking for collections to brand themselves with. We have seen 25 – 30% new buyers on all days at the show. That's a winning point for us," informed Kodnani. On asked what sets his designs apart Kodnani shares that it is a fusion of technology and hand assembly that makes his creations unique.
Kalash Gold & Ornaments' wide range of CZ, Turkish and Italian jewellery was well appreciated by retailers from across the country. "Our Italian line got more traction from North India while those from South India preferred our Turkish-inspired line which is extremely lightweight. We have also launched new designs in our 18-karat gold jewellery collection for babies. We are lucky to have met international buyers as well," informed Aman Jain, Director of the firm.
Sanjay Surana, Director, Aradhana Jewellers, noted, "The show has surpassed our expectations. India is a growing market and the future is very bright. We at Aradhana Jewellers are renowned for antique kunda-jadau gold jewellery ranging from 4gm to 400gm. Our lightweight jewellery has performed very well."
Keshav Hirawat of Karshev Diamonds Pvt. Ltd. encapsulated the demand seen at IIJS Premiere by stating, "There is no bigger market for gems and jewellery than India!" Known for their exceptionally high-end diamond and gem-studded designer jewellery that is one off, Hirawat also said that the Middle East market has a huge appetite for their products. "The spending potential affiliated to top brands is high and jewellery is also seen as an investment.
There's a huge affinity for top quality, designer jewellery." Bhavik Shah, Owner, R P Ornaments, Rajkot, exclaimed, "We are left with no stock! The show has been much above expectations, not just for us, but for all the exhibitors. Eighty percent of our buyers were first-timers at our booth.  Buyers booked orders without any hesitation. It was so instantaneous." The company is known for its superlight jewellery handcrafted in 22-karat gold. "Our manufacturing units are packed for the next two to three months to fulfil the orders."
Rajat Singhal, Partner, Oriental Gemco Pvt. Ltd., Jaipur, informed that their high-end jewellery studded with gemstones fared much better than last year. "This is our second foray at IIJS, and we had a lot of queries, and buyers for our niche product."
Vishal Jain of Shah Vanaji Kesaji & Co., said that they witnessed robust demand at the fair. "Those manufacturers who did their homework have excelled beyond imagination," he said. "Not just domestic buyers, we met clients from Fiji, UK and Dubai. Our units are booked for the next 3 to 4 months."
Rishi Punamiya, Managing Partner, Raj Diamonds, informed that their company is noted for diamond and gem-studded jewellery in open setting, which is preferred by clients from South India. This time, they unveiled a colourful collection Garden of Gems with tourmalines, tanzanites, and more. "We have been participating in IIJS since the last 7 to 8 years, but this is by far the best edition for us as we got orders for 90% of our inventory from regular and new buyers."
Priti Bhatia, Owner & Creative Head of Awesome Sparklers, noted that this edition of IIJS Premiere was the best ever that she had seen in years. "Normally, we are all prepared that the first two days in the diamond and gem-studded section will be slow. But this time on, we were busy from day one. Thirty percent of our buyers were new this time, and everything got booked in no time – from the smallest of jewellery to the statement pieces!"
Charu Sarawgi, Owner and Creative Head, Darpan, Jaipur, is known for her pret jadau and kundan jewellery. She revealed that this time she got orders from smaller towns and a good number of new buyers. "There's no one single category that did well. I've booked orders across various price points and that's a huge surprise for us."
Overall, IIJS Premiere 2023 once again instilled a spirit of optimism and a positive outlook among industry members. Manufacturers and retailers have adapted their offerings to meet changing consumer preferences and demands. The industry remains hopeful that the positive sentiment observed at the IIJS would carry forward into the festival season and support the growth of the gem and jewellery market.