Two of India's most creative and exciting luxury jewellery designer brands, Jewels by Moksh and Neha Dani, were in the spotlight at PAD London in October, a trade fair for the international glitterati encompassing art, design and exquisite jewels.
PAD London, which ran from 10th to 16th October, is a magnet for ultra-wealthy collectors and aficionados of high art, interior design and jewellery.
The event is staged in the autumn in a huge white marquis erected in Berkeley Square, Mayfair, one of central London's most elegant districts.
The marquis becomes the temporary home for a decorative assortment of luxury art and interior design, paintings, lighting, furniture and jewellery with a cutting-edge contemporary feel.
Jewels by Moksh and Neha Dani joined ranks with well-respected jewellery maisons at PAD, such as David Morris, Boghossian, Jewels by G (Glenn Spiro), Cora Sheibani, and the Elisabetta Cipriani Gallery.
The collectors visiting the show tend to be a young and international social elite, most likely based in London, who come to PAD in search of big-ticket items featuring the most cutting-edge designs to adorn their homes and lifestyles.
The event coincided with a leading London art show, Frieze Masters and Frieze London, taking place in Regents Park in north-central London.
Many of the art, interior design and jewellery collectors moved between Frieze and PAD in unseasonably warm weather throughout the week.
PAD London is usually an opportunity for primarily European creative houses to make their mark, but this year the presence of the two Indian designer brands brought a touch of Asia to the event, extending the diversity, flair and cultural appeal of the designs on offer at the show.
Jewels by Moksh
At PAD, Jewels by Moksh, owned by respected Mumbai jeweller Milan Chokshi, who among his varied responsibilities is also Convenor – Promotion, Marketing and Business Development of the GJEPC, and spearheads the Council's Artisan Awards, unveiled 15 designs from its signature collection, including bracelets and a tassel lariat necklace alongside hoops, ear tops and band rings.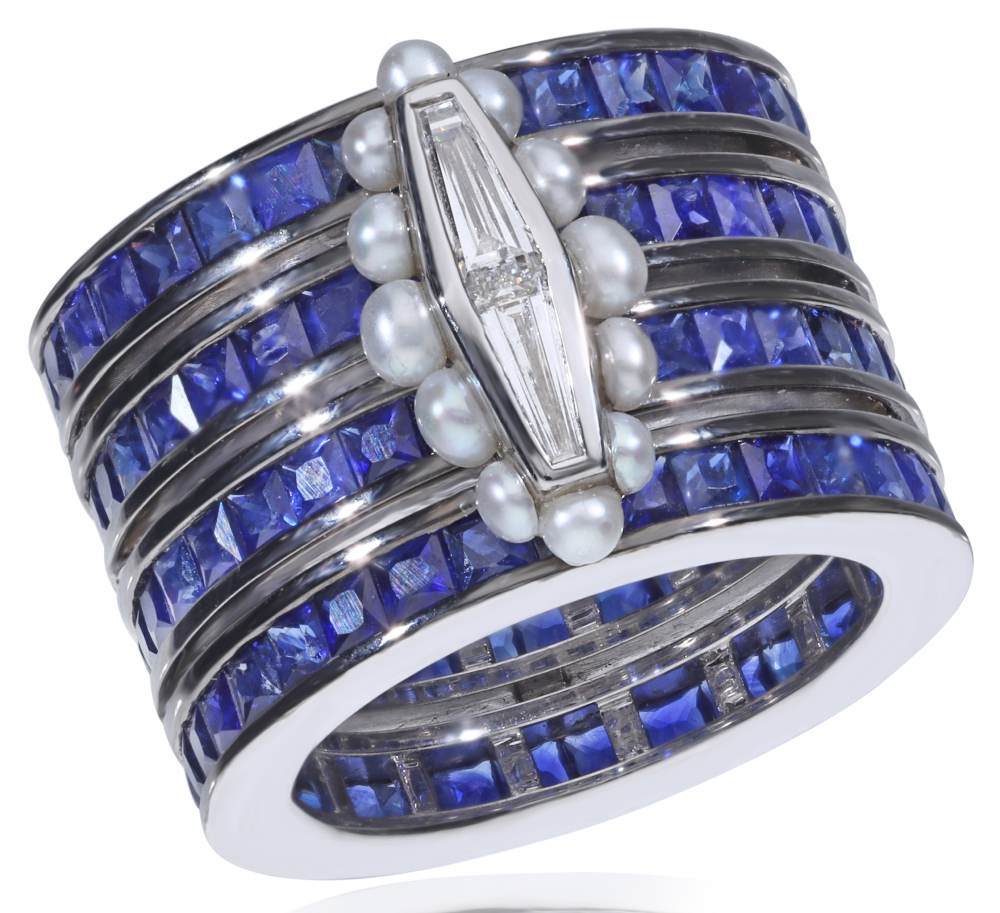 The jewellery, rendered in 18-karat white and yellow gold, incorporated baguette-cut diamonds, rubies, and blue sapphires in a channel setting.
Marquise-cut diamonds, special-cut tapered diamonds and Japanese natural Keshi pearls accented some of the pieces.
"The challenge of setting tapered baguette diamonds and gemstones has always excited us and this selection that we brought to the show is a perfect ensemble of our favourite design language," added Milan.
The Jewels by Moksh showcase was part of a selection of contemporary jewellery designs curated by celebrated London-based gallerist Valerie Demure, founder of Objet d'Emotion, a fine jewellery shopping concept. "I felt Moksh had the potential to touch and appeal to a younger international client fascinated by both wonderful craftsmanship and Indian culture, and a younger, more global Indian client. I think Moksh could challenge the concept of "Indian fine jewellery" with a younger and more contemporary vision," said Valery Demure.
Neha Dani
Neha Dani, a New Delhi-based designer exhibiting at PAD London for the first time, presented her pieces inspired by her life and travels, featuring exquisitely blended combinations of colour.
One of the most popular sets of her jewellery seen at PAD featured moonstones reflective of her recent trip to see the glaciers of Alaska.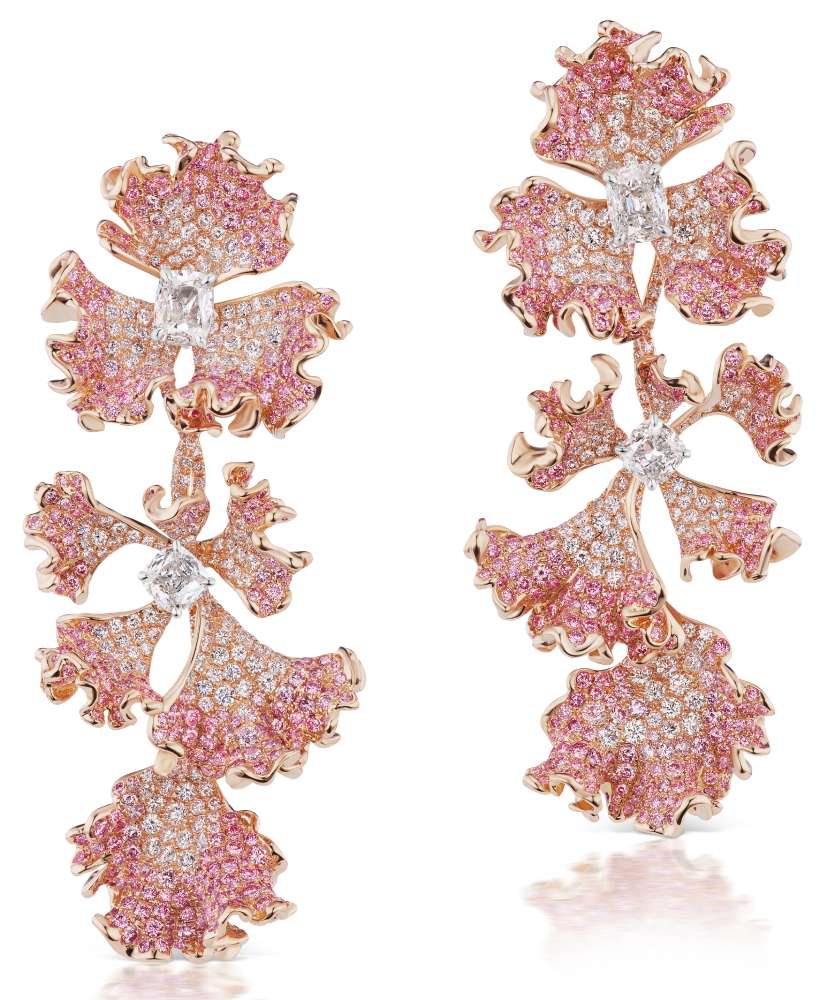 "The moonstones bring out the blue sheen that you see in the icebergs. The crystal formation is like that of frozen water," Neha told Solitaire at the show.
"The jewellery pieces are supposed to create the mesmerising feeling that one has when you are in a natural space like that."
Neha focuses on bringing femininity to her designs and to embolden the woman who wears them.
"I work with a lot of bold concepts. I think a piece should be a conversation piece and really stand out when a lady wears it to an event," she said.
"Yet I work with a lot of details and fluidity, which makes the pieces very feminine despite being bold. It is to adorn the lady — to make her look more captivating and make her feel more special."