The 15th edition of Jaipur Jewellery Show (JJS) brought cheer to many exhibitors – repeaters and debutants – as it attracted nearly 40,000 visitors at the four-day show held from 21st to 24th December at the Jaipur Exhibition & Convention Center (JECC) in Sitapura industrial estate.
It's a commendable feat for a fledgling show that debuted with just 15 booths 16 years ago in Jaipur to transform into a worldclass, all-India trade show that draws trade and consumer visitors from across India.
The 15th edition of JJS was inaugurated by chief guest Ahmed Bin Sulayem, executive chairman of Dubai Multi Commodities Centre (DMCC), and guest of honour Pramod Agrawal, chairman of the Gem & Jewellery Export Promotion Council (GJEPC).
In his address, Bin Sulayem said that there was a need for more active commercial interaction between Jaipur and Dubai, and hoped that in the future there should be more participants from the UAE as well at JJS.
He also spoke about similar challenges that Dubai was facing and said that they are working to resolve the VAT issue which is applicable to gems and jewellery. Reminiscing about the days when DMCC was established in 2001, Sulayem said that today Dubai is the hub of rough diamond market and auctions happen every other week. Today, DMCC represents 16,000 businesses. "Our UAE government understands the tax on rough and we don't want to encourage smuggling. We want businesses to flourish. At DMCC we now have a task to attract 2,000 businesses. This is the time for me to promote DMCC, and I'd like to visit Jaipur more often to understand and discuss what kind of future we can chalk out together."
Sulayem also wished to visit the city again and work towards crystallising fruitful business relations between Jaipur and Dubai. He expressed his desire to work closely with the gems and jewellery fraternity from various parts of India to understand the market, its challenges and the strategies currently adopted by Jaipur's gem fraternity.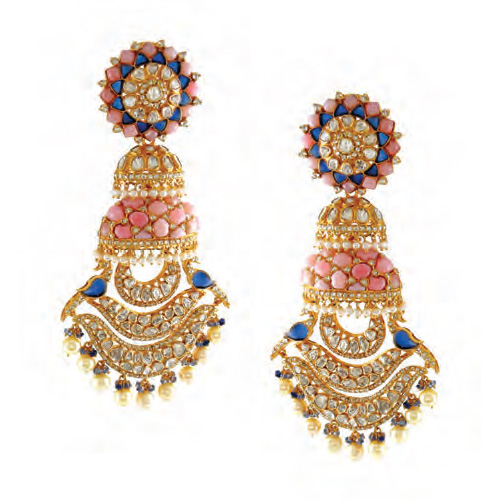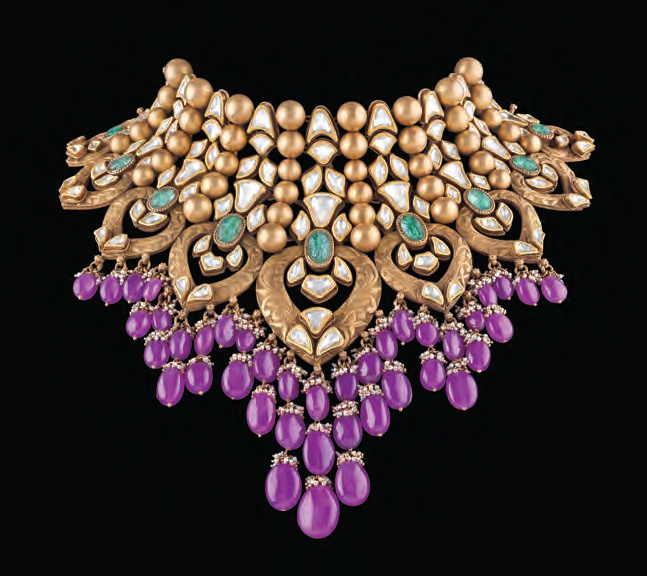 Pramod Agrawal stated that the JJS, the second largest show in India, plays a very important role in promoting coloured gemstones, designer handcrafted jewellery and kundan-meena jewellery. Overall, the $41 billion-industry employs more than 5 million people, aims to touch $71 billion in the coming years creating more than 3 million extra jobs. He announced that the GJEPC has been successful in getting a sanction of R5.5 crore for a gem-testing laboratory in Jaipur. "This will be the largest gems and jewellery laboratory in the country with state-of-the-art facilities," he said.
Vimal Chand Surana, JJS chairman, said that the show has been growing since its inception in 2003. He wished the exhibitors all success in generating good business and added that it was a matter of pride that the show has been getting repeat visitors year after year. "Hope this upward trend continues in the future too."
According to JJS secretary Rajiv Jain, the theme of this year's JJS was 'Reflections of Royalty and Creativity'. He informed that 825 stalls showcasing loose gemstones, fine jewellery, costume jewellery, machinery and all allied segments were spread over 2 lakh square feet of the show floor, which was divided into Hall 1 and Hall 2. Thirty-six booths were dedicated to the Jaipur Jewellery Design Festival (JJDF), situated in Hall 2.
Jain said that this year the show was more business-centric. "The show successfully attracted quality buyers who visited with an intention to do serious business. Since its inception, JJS has emerged as a trendsetter in the gem and jewellery industry."
JJS media in-charge, Ajay Kala, noted, "JJS is an annual go-to destination for high-end jewellery trade and retail consumers. Trade visitors this year showed keen interest in kundan, polki and jadau jewellery. The use of coloured gemstone in pastel and traditional shades has also received an excellent response by one and all."
JJS was no longer a regional or state show, commented Rajiv Dasot, additional director general of police, who was the chief guest at the valedictory ceremony. "JJS is a complete show because here one can get everything under one roof – from rough to finished jewellery products."
An eye on design
Many exhibitors fared well at the show. Among them was debutant Priti Bhatia, head designer and owner of Awesome Sparklers, Surat, who revealed that the response was exceptionally good. "Many exhibitors, too, visited our booth and complimented us for the quality and design of our work. Touch wood! I feel blessed." The diamond-intensive jewellery by Priti was mounted in rose gold. Tiered and multiplemotif jhumkas were hot-sellers for her, so were bracelets and cuffs laced with fancy-cut diamonds set with technical finesse.
Shashwat Shah, director, Umrao Jewels, Jaipur, revealed that their dome-shaped chandeliers and hoops in a medley of uncut and rose-cut diamonds saw good demand.
The head designer of Nine Jewellery, Jaipur, said that cocktail rings with partash gem-setting, baguettes, rose-cuts and fancycut diamonds, long and elaborate earrings with tassels and big ear studs were on top of the charts.
Thin bracelets and filigreed and diamond-set rings were the fastest moving jewellery pieces for Golecha Jewels, Jaipur.
Akhil Dhadda, creative director, Gem Plaza, Jaipur, said that business had picked up after a slight slump before Diwali. Bangles, necklaces and cocktail rings set with aquamarines, Paraibas, rubies, emeralds and multi-colour sapphires in a rainbow of colours were faring well in general.
In general, station chains were in demand all throughout the show. Interjected with baroque gemstones or gem slices, and accents of diamonds, exuded international flavour.
Naman Kala, owner of Kalajee Jewellery, Jaipur, had an assortment of 18-karat gold earrings with asymmetrical tassles and ear studs aesthetically draped in multi colours. Pastel shades dominated the colour palette, with a range of pinks, ivory, turquoise shaded enamels paired with opals, pearls, corals, polkis, and more.
At Savio Jewellery, Jaipur, statement diamond jewels were the attention grabbers. Director Abhishek Sand was one happy exhibitor who was busy catering to clients. "Our diamond jewellery suites were in great demand. Accented with natural, but heated Burmese rubies with no fillings, the main neckpieces could be mixed and matched with optional earrings and rings. For us, footfalls in the business-to-business segment was very high, and we got orders from Mumbai, Bengaluru, Chennai and Delhi among others."
Vipul Mehta, managing director, Laxmi Jewellery Exports Pvt Ltd, Ahmedabad, said that this was the brand's second time at JJS and they were only entertaining trade queries from their regular customers for designer gold and jadau jewellery.
Pranay Nigotiya of Desert Jewellers, Mumbai, informed that they had introduced 14-karat single-line necklaces in pink gold and collections under R3 lakh set with fancy colour yellow diamonds in classic designs. "We have received good feedback for these lines as it is value for money. Yellow diamonds are now easy to source and clients pick items that are high on design yet affordable."
Sudeep Sethi, marketing director, Canary's, Indore, believes that JJS is more of a consumer show for them. "Our customers come from Ludhiana, Delhi, Haryana, and book orders for jewellery under R1 lakh. However, local jewellers from Jaipur, too, visit us for orders."
It was a first outing at JJS for Nidhish Lotia, creative head, Neetti by Nitin Gems & Jewels, Mumbai. His handmade sautoirs outfitted with corals, rubies and emeralds, got a good response from trade visitors from Hyderabad, Ahmedabad, Punjab, Bengaluru and Agra among others. "I was happy with the show and price was not a consideration for buyers. They loved our handmade lines. However, I feel that visitors could have been better filtered."
Ace gold jewellery designer, Anand Shah, Mumbai, felt that Hall 2 was empty as compared to Hall 1. "Though, whoever walked into our booth loved our handcrafted designer gold jewellery, footfalls were fewer, and that was disappointing," said Shah.
Other highlights
The second edition of Jaipur Jewellery Design Festival (JJDF) in Hall 2 featured design and art installations of 13 national and international designer brands. The high point was the installations designed like a chhatri or domeshaped pavilions (cenotaphs) inspired by Rajasthan architecture; each installation was dedicated to a brand. Creative head and visual artist of R. Narayan Jewellers, Tosha Ravi Chokshi, Vadodara, was seen at her brand's pavilion making live illustrations of visitors wearing her jewellery inspired by the famous embroidery works of Gujarat. "We wanted to bring Gujarat to Jaipur," she noted, adding, "The collection Rangattva evokes many embroidery motifs that are relevant to jewellery techniques like rawa (granulation) work, filigree and more."
At the JJDF segment, visitors also enjoyed the mellifluous sitar recital by Rajasthani folk musicians. The festival is an integrated part of JJS and has been powered by GIA.
On the occasion, a coffee-table book A Jeweller's Palette by Preeta Agarwal was also launched. Live workshops and a panel discussion were held on plagiarism.
In a new initiative by the JJS organising committee to encourage karigars for their craftsmanship, Artisan Awards were given away to Mukesh Soni for his extensive work in meenakari and Shahabuddin for his work in carving. Both artisans received a cheque of R50,000 each.
The 16th edition of JJS will be held from 20 December to 23 December 2019.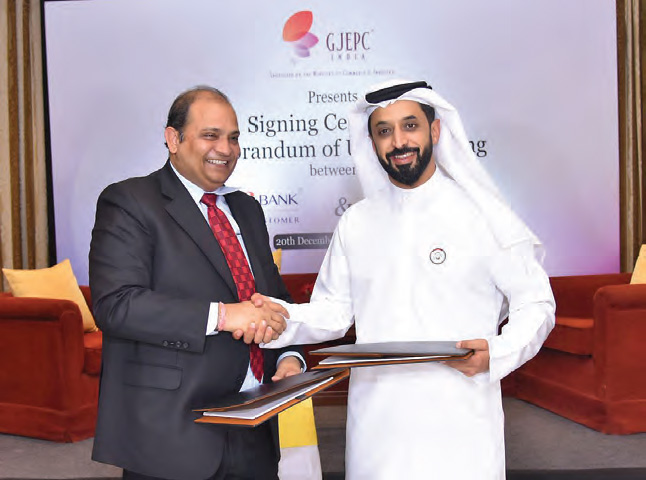 DMCC Joins GJEPC's MyKYC Bank Platform
The Dubai Diamond Exchange (DDE), a subsidiary of Dubai Multi Commodities Centre (DMCC), signed a service agreement to join the MyKYC Bank platform of the Gem & Jewellery Export Promotion Council (GJEPC). Ahmed Bin Sulayem, executive chairman of DMCC and chairman of DDE, and Pramod Agrawal, chairman, GJEPC, were present on the occasion.
The agreement enables DMCC members trading in diamonds, gold and precious stones to join the MyKYC Bank platform. DMCC will be the fourth trade body to join MyKYC Bank, following the GJEPC, Bharat Diamond Bourse, and the Antwerp World Diamond Council (AWDC).
The MyKYC Bank platform provides a centralised global platform for companies in the gems and jewellery industry, including gold, diamonds, precious stones and jewellery, to complete, manage and share their Know Your Customer (KYC) information so as to enable them to meet their obligations under the anti-money laundering (AML) laws of their respective countries.
Commenting on the MoU, Bin Sulayem said, "As a leading global diamond hub, the Dubai Diamond Exchange and DMCC are proud to be part of the MyKYC Bank and enable our members to join the leading platform and serve business requirements."
Agrawal said, "The UAE is an important trading partner for India across gold, diamonds, jewellery and precious stones. The inclusion of DDE-registered companies on the platform will go a long way in addressing the concerns of our industry bankers, and support the trade between the countries. MyKYC Bank has become a recognised KYC platform across the world."
Members can easily share their own KYC data among trade connections as well as banks and other financial intermediaries. Under the FATF guidelines, companies in the gem and jewellery industry are expected to undertake a due diligence on their counterparties. India is an FATF member, while UAE is part of MENAFATF.
Over 2,200 companies have joined the MyKYC Bank platform and have completed its KYC compliance process. Only members of gem and jewellery industry bodies who have joined the platform are permitted to register. The platform also helps members significantly reduce their compliance cost, while simultaneously improving transparency in the trade, especially for financial institutions and governments. MyKYC Bank will start on-boarding DMCC-registered companies on its platform from January 2019.