Kiara Advani and Sidharth Malhotra's recent nuptials in Jaisalmer and their reception in Mumbai have been making headlines for the last two weeks. And the hot topic is the magnificent neck piece laden with Zambian emeralds designed by ace fashion designer Manish Malhotra. The lustrous and deep green gemstone has always been an eternal favourite and adored by royalty and the common man alike. Here's the reason why…
Film stars Kiara Advani and Sidharth Malhotra are trending not only for their fairy tale wedding but also for the jewels that they wore for the occasion.
Instead of the typical jadau and kundan bridal jewellery, Advani opted for a multi-layered emerald and diamond necklace with earrings and bangles to match designed by ace fashion designer Manish Malhotra to compliment her pink lehenga on the wedding day. Even at her reception, she teamed her contemporary gown with another necklace that was dripping with emeralds and diamonds.
Recently emeralds have been gaining even more traction with consumers wanting to infuse their jewellery with even more colour post the pandemic.
Emeralds have always been one of the favoured gemstones and are one of the big three in the gem world. The stone with its mystical mesmerising green hue has been admired by royalty, celebrities and jewellery connoisseurs through the ages.
Mahendra Agarwal, Convener, Coloured Gemstone Panel, GJEPC, notes that emeralds are the first choice of brides today. "Demand for emeralds is increasing, especially Zambian emeralds. Unusual shapes are also trending well," Agarwal notes while adding that exports of emeralds, too, have risen.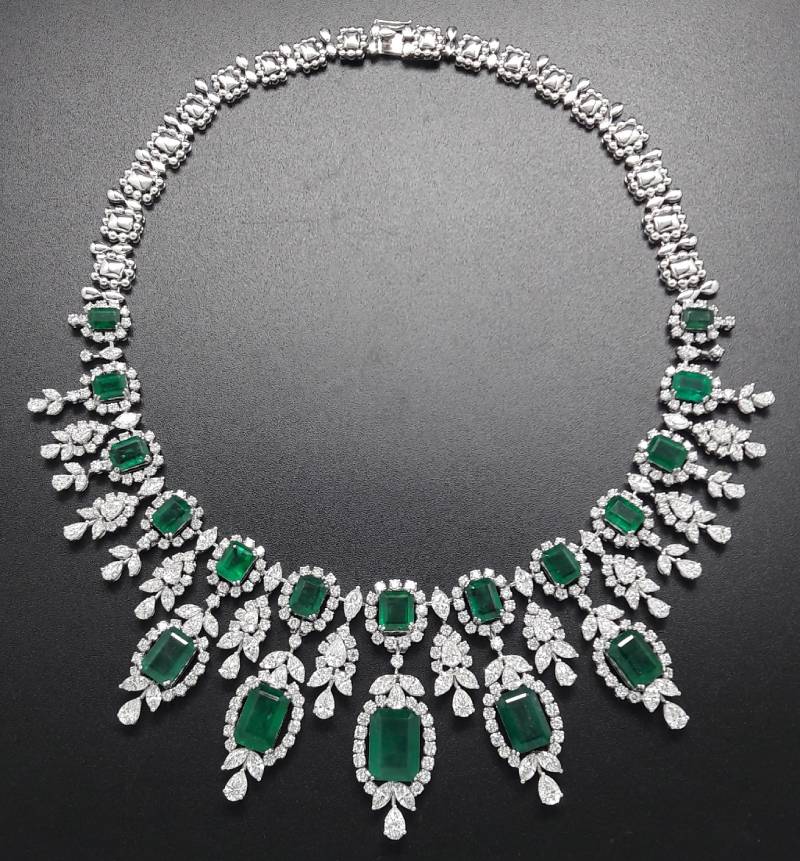 Diamantina Fine Jewels has upped their inventory of emerald jewellery since the last 2-3 years to meet the growing consumer demand for the stone.
"Indians are going all out to buy emeralds. Earlier brides bought emeralds for the sangeet or reception, if at all. More recently, they are looking at emerald jewellery for the pheras as well. My partner's daughter picked emerald jewellery for her wedding in December 2021," shares Yogesh Bulchandani, CEO and Partner at Diamantina Fine Jewels.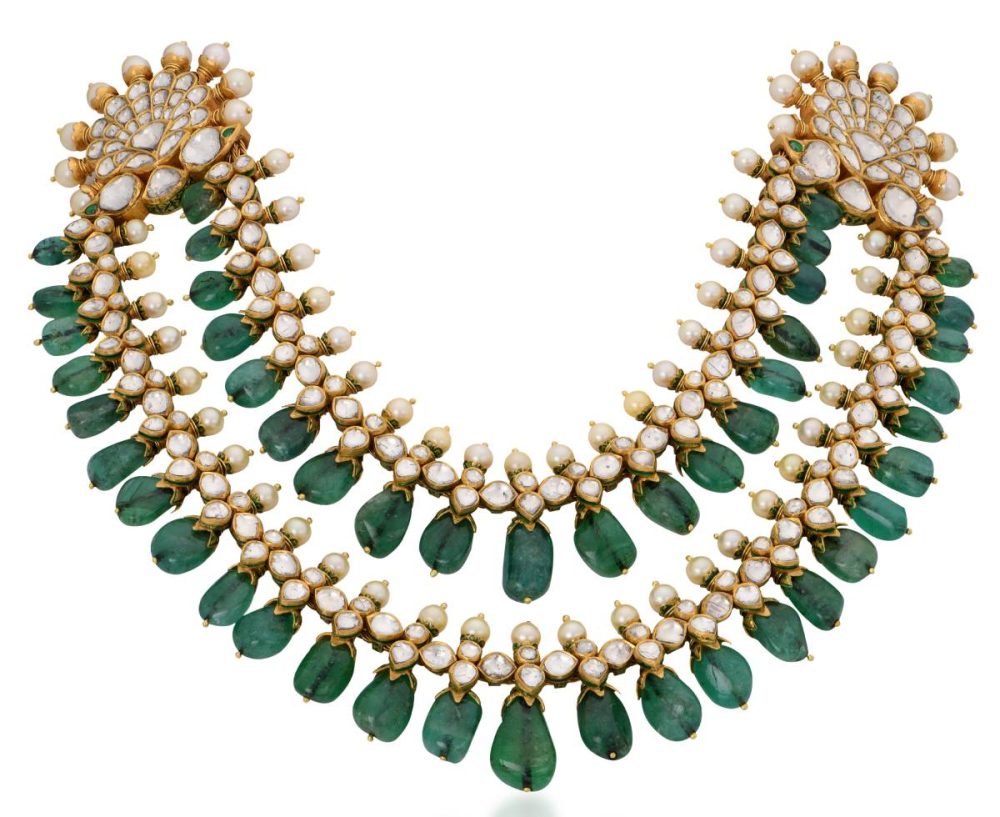 "Consumers are also looking at emerald-only jewellery or jewellery where emeralds occupy a prime place as opposed to the earlier trend of opting for a hint of emeralds. We have hoops outfitted with nothing but emeralds that are flying off the shelves," adds Bulchandani.
There is a wide range of emerald jewellery that is working well. Emerald bands from Rs. 1 lakh are in demand so are high-end necklaces studded with emeralds that cost Rs. 60 – Rs.75 lakh.
"We have seen a sudden acceptance of precious gemstones in jewellery. Even those who earlier bought only synthetic stones are considering jewellery with precious and semi-precious gemstones. My mother who has never owned emeralds up till now bought bangles with a lot of emeralds," articulates Anand Ranawat, a jewellery designer and manufacturer whose family has been in the gold jewellery business for the last 120 years.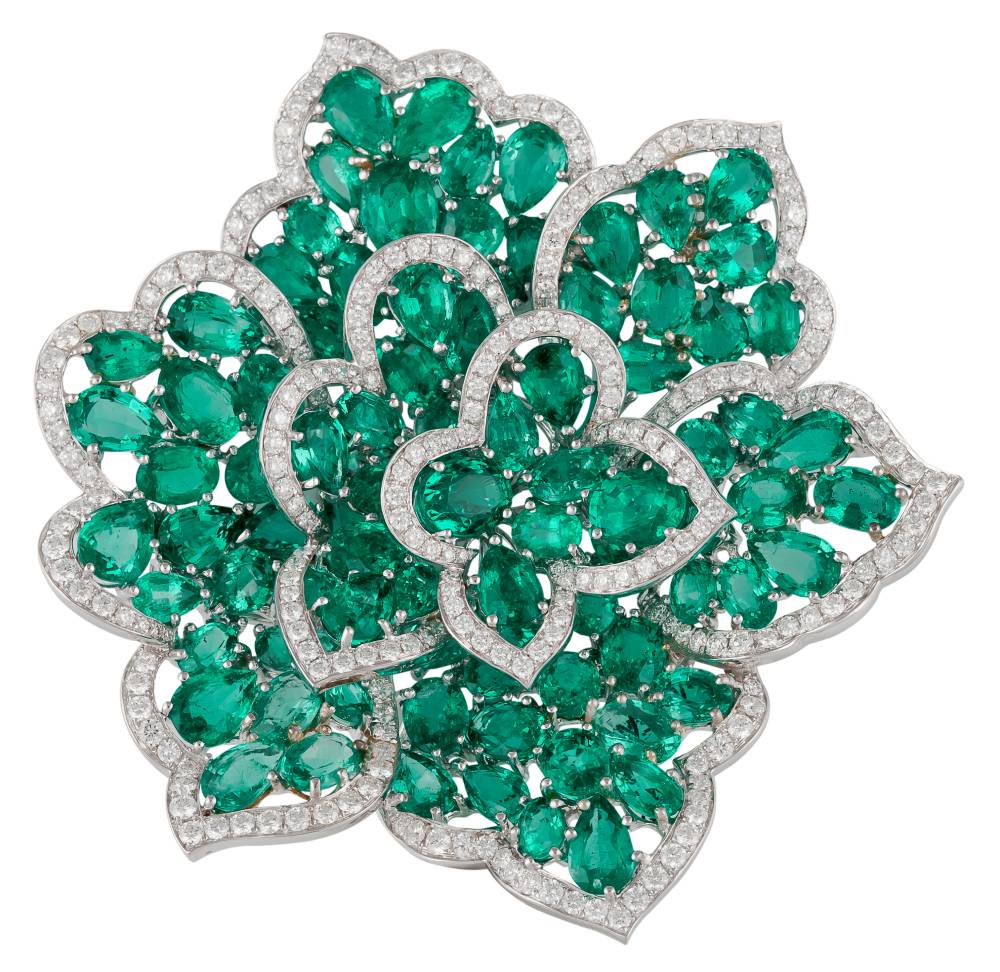 "Emeralds bring a lot of life to the jewellery. The green colour is so beautiful that it enhances any piece of jewellery and breaks the monotony of diamonds," adds the designer who manufactures artistic pieces studded with diamonds and coloured gemstones under his eponymous label Anand Ranawat.
"It is important to buy emeralds, whether Colombian, Zambian or Russian, that have deep hues. If the colour is weak, it won't have the same impact in a piece of jewellery," warns Ranawat.
The green gem from the beryl family is versatile and enhance any piece of jewellery, whether contemporary or Indian.
Abhishek Ghatiwala, CEO and Creative Director of Ghatiwala Jewellers loves emeralds and unabashedly favours the gemstone in his polki and jadau creations. "Colours are the essence of life. I have always loved emeralds for their intense colour. It goes with any bridal outfit. We use Zambian, Colombian and Panjshir emeralds in our pieces. There is a vast variety of emeralds. The good quality ones can be more expensive than diamonds and then there are others that are cheaper than diamonds," informs Ghatiwala.
Circling back to Advani's choice of jewellery that composed of nearly 60 percent of emeralds and the latter of diamonds, jewellery influencer Prernaa Makharia notes, "I like how Kiara Advani broke away from the stereotypical option of adorning polki jewellery with her bridal lehenga. Women don't have to stick to any one style of jewellery and can explore diamond and gem-studded jewellery, too, for their wedding look," quips Makharia.
"Emeralds are a safe bet. Those who are looking at it from an investment point of view, should be conscious of the quality and colour of the stones that they buy," adds Makharia.
Ranawat, adds, that emeralds should be looked at as a luxurious purchase. They should be bought and enjoyed for their beauty and not just as an investment.
Will this be the start of a new trend with emeralds shadowing diamonds and polkis in bridal jewellery? Only time will tell.