The arc lights will soon focus on the world of men's jewellery. Yes, you heard it right! In a groundbreaking move, Sotheby's is set to showcase men's jewellery in a unique selling exhibition, which will delve into the evolution of men's jewellery, spanning from the mid-19th century to the present day. 
In parallel with the recent fluidity seen in fashion runway trends, the traditional boundaries that once defined gender-specific jewellery have been gradually fading away. While men's appreciation for jewellery is not a novel concept, there has undeniably been a revolution in style. Prepare to catch a glimpse of the dazzling treasures that await to be discovered at this extraordinary exhibition.
Sotheby's will open its groundbreaking 'For the Boys: A Jewelry Exhibition' to the public at its New York galleries from 23rd September – 5th October. On display will be about 100 pieces for private sale, with prices ranging from $3,000 to $300,000.
The collection will include antique and vintage designs from the distinguished houses of Van Cleef & Arpels, Cartier, Tiffany & Co, Verdura, David Webb and more, as well as contemporary pieces from Chrome Hearts, NN by NGHI, Johnny Nelson, David Yurman and Shaun Leane. The meticulously curated exhibition will highlight the various styles, trends, and muses of men's jewellery throughout the decades.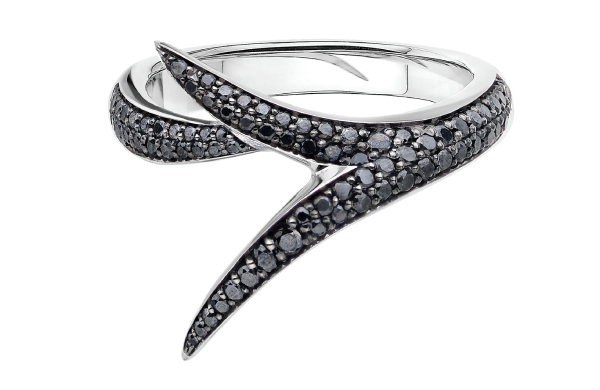 The exhibition is the brainchild of Frank Everett, Sotheby's Vice Chairman of Jewelry, who successfully led the movement to #bringbackthebrooch.
Frank has a rich background in the retail sector, enriched by his tenure at top brands such as Bulgari, Tiffany, Harry Winston and David Yurman prior to joining Sotheby's in 2013. He continues to remain a trusted authority in the field, overseeing landmark auctions such as The Collection of Mrs. Paul "Bunny" Mellon, as well as The Personal Collection of Shaun Leane created through a 20-year partnership with Alexander McQueen, most of which had been exhibited in the record-breaking museum show "Savage Beauty" at The MET and the V&A.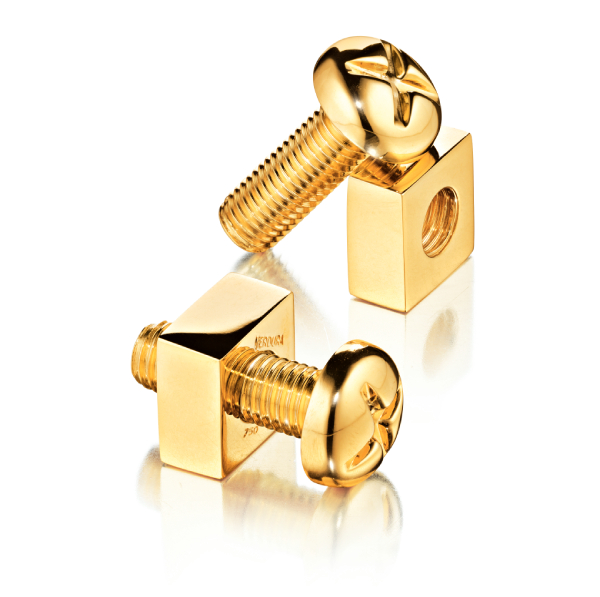 Frank partnered with Carol Woolton, jewellery editor at British Vogue, in 2019 to create the beautiful selling exhibition of floral jewels "In Bloom". Recently, he recently co-curated the selling exhibition "Brilliant & Black," the first-ever showcase dedicated to black jewellery designers.
Frank engages a global audience through his often-viral Instagram account, amassing over 152K followers, and incredibly popular video series, Frank's Files.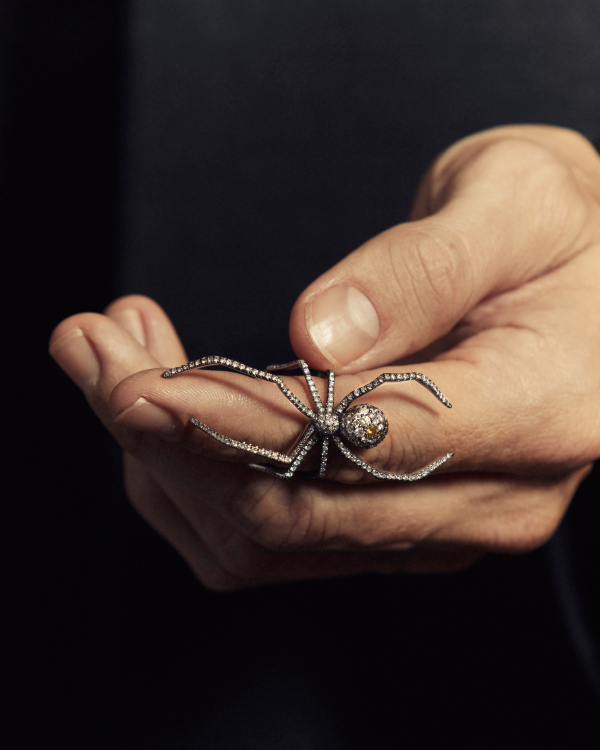 Speaking on the curation of the men's jewellery show, Frank Everett remarks: "Since the dawn of time, men have always donned jewellery. However, this renaissance has gained traction as of late thanks to the pursuits of celebrities such as Harry Styles, Lewis Hamilton, Pharrell and others, who helped push the modernization of men's jewellery and the embracing of styles and materials that have oftentimes been thought of as for women only – those with precious and semi-precious gemstones and generally evoke more personality."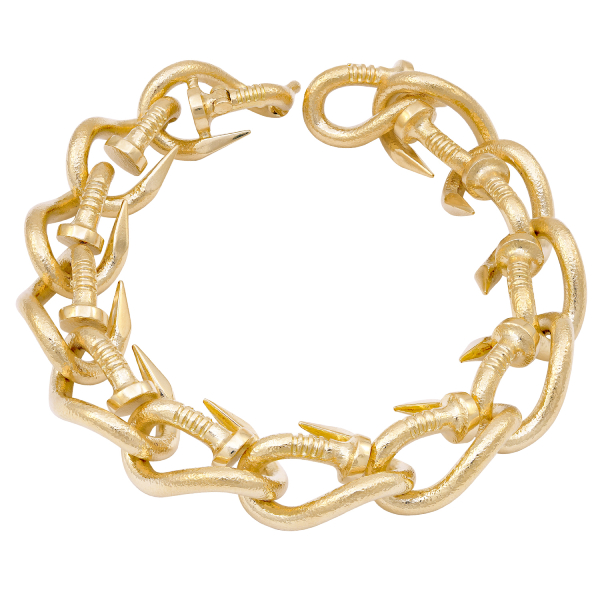 Frank added: "The purpose of this show is not to genderize jewellery – since I'm a true believer that jewellery should be and can be worn by everyone – but is rather a celebration of self-expression and the ever-changing men's style evolution from past to present. With this exhibition we hope to not only educate and introduce jewellery to a new male audience, but to dismantle the pre-existing boundaries, and also cater to an audience that knowingly wants to freely express their individuality through the power of jewellery."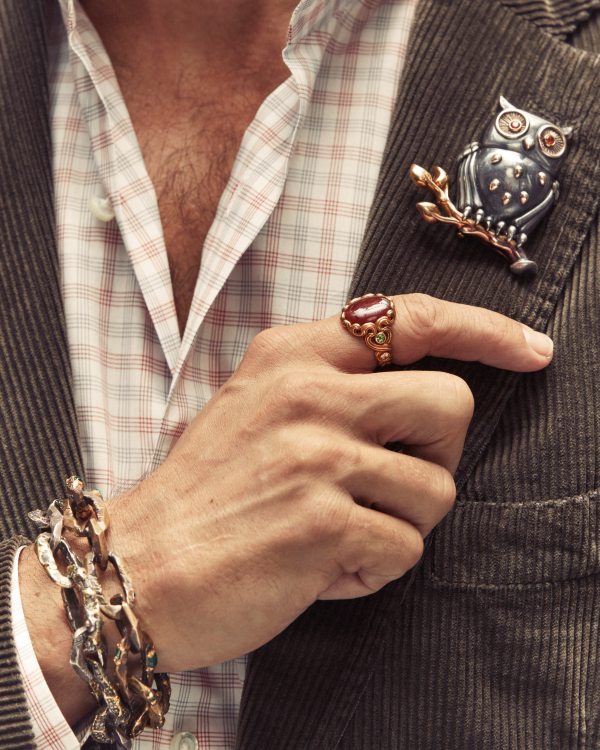 Shaun Leane
London-based designer Shaun Leane's audacious creations have always honoured the techniques of the past. Some of his creations hold a place of honour in the permanent collections of New York's Metropolitan Museum of Art and London's Victoria and Albert Museum.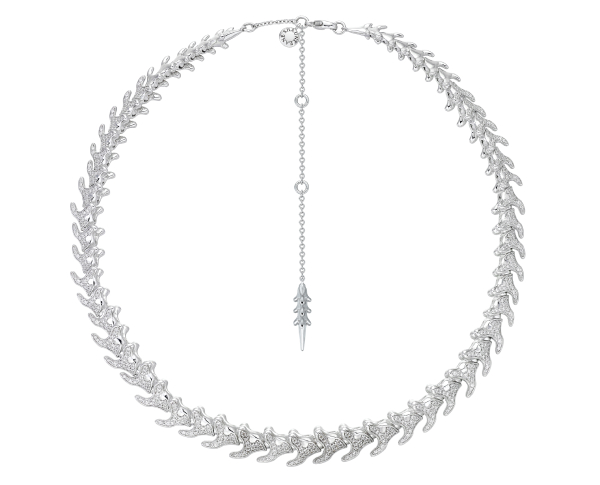 'For the Boys' exhibition, 15 creations from Leane's most iconic and celebrated collections, including Serpent's Trace, Hook, Sabre and Talon will be on. Noteworthy and daring among his creations is the Serpent Trace Couture Necklace ($56,500). In echoes of his galvanized Spine Corset for fashion designer Alexander McQueen, Serpent's Trace is Leane. The diamond pavé-set choker (see above) of 18-karat white gold, with a glistening gem-encrusted surface, replicates both the skin and endoskeleton of the serpent. One thousand diamonds (or "scales") of the rarest clarity are inlaid into white gold "bone", personifying light in movement.
David Yurman
Since launching its men's jewellery division nearly
20 years ago, David Yurman has established itself as the world's leading purveyor of men's jewellery.
The brand is renowned for masterfully incorporating unique and unusual materials in its men's designs, as well as providing male clientele with the most diverse offerings on the market.
Evan Yurman, President & Chief Creative Officer of David Yurman, has been the driving force behind the success and innovation of the men's category, constantly pushing the boundaries of traditional men's jewellery design.
Frank Everett even credits David Yurman for inspiring and encouraging him to wear men's jewellery during his time working with the brand from 2009 to 2012.
'For the Boys' will offer 22 designs from David Yurman men's collections such as Meterorite, Spiritual Beads, Starburst, Petrvs®, and Chevron.
Especially remarkable within the collection is the Intaglio 'Imperial Roman' Signet Ring ($75,500). This design was created specially created for the EY Signature Collection. The ring showcases an ancient intaglio of the sun god Apollo, a revered deity in the Graeco-Roman belief system. The rare and important Republican or Early Imperial Roman Egyptian intaglio dates from the late 1st Century BCE to the early 1st Century CE.