From De Beers, Gemfields to the World Gold Council, major players in the precious stones and metals industries are readily implementing blockchain technology in essential functions such as supply chain management and for ascertaining transparency. Shilpa Dhamija gives a lowdown on the recent developments.
De Beers has set a goal to provide the origin and impact of every diamond that it discovers and sells by 2030. The company has developed a technology, called Tracr, that uses blockchain along with other technologies such as AI (artificial intelligence) to help it reach that goal. Tracr is a distributed blockchain for diamonds that can record the journey of the gem from the mine that it is sourced from. A unique digital ID is created for each diamond on the blockchain. Its journey thereon is also recorded along the way – such as which sightholder it is sold to, its grading, cutting and polishing processes. Tracr, traces all of this digitally and immutably, thus creating an unchangeable digital 'handshake' for every step of its journey.
The digital ID of the diamond is created by capturing a range of physical and other necessary data points. Tracr also uses an advanced algorithm to match a physical diamond with its digital counterpart, thereby creating an immutable chain of data that can be shared with the end retailer to provide proof of De Beers origin. Currently, Tracr caters only to the B2B segment but will soon develop a consumer interface.
According to De Beers, the Tracr platform is already registering around half of its total production at its rough diamond sales events – known as Sights.
Authenticating the world's largest rough Emerald with Blockchain
When Gemfields discovered the Chipembele emerald weighing 7,525 carats in a Zambian mine, the mining company chose to give it an immutable digital identity using blockchain. The emerald is tagged with a unique DNA 'nano-tag' identity, developed by Provenance Proof blockchain. This nano tag can help ensure that the cut and polished gems that Chipembele yields can be identified and certified as having originated from this extraordinary gemstone through its digital and immutable information, available on the blockchain.
Created by Swiss jeweller – House of Gübelin, the Provenance Proof Blockchain (PPB) is made for recording data of precious stones and gems, not limited to diamonds. PPB is a digital logbook that cannot be subsequently modified thus keeping it safe from data tampering. However, it can record relevant gem and jewellery data along the supply chain, as the items move from one stakeholder to the next. In an attempt to safely store this data, only the current owner of the gem is given visibility into the upstream supply chain data of a particular gem. "For instance, jewellers can track each step of the manufacturing process, document the materials used, and store data such as text, photo, and video recordings, along with stories, design inspirations, and visions behind the creation, all on the blockchain. This creates a complete history of the jewellery, ensuring that customers can trust the authenticity of their purchase," explains Klemens Link, director, Provenance Proof.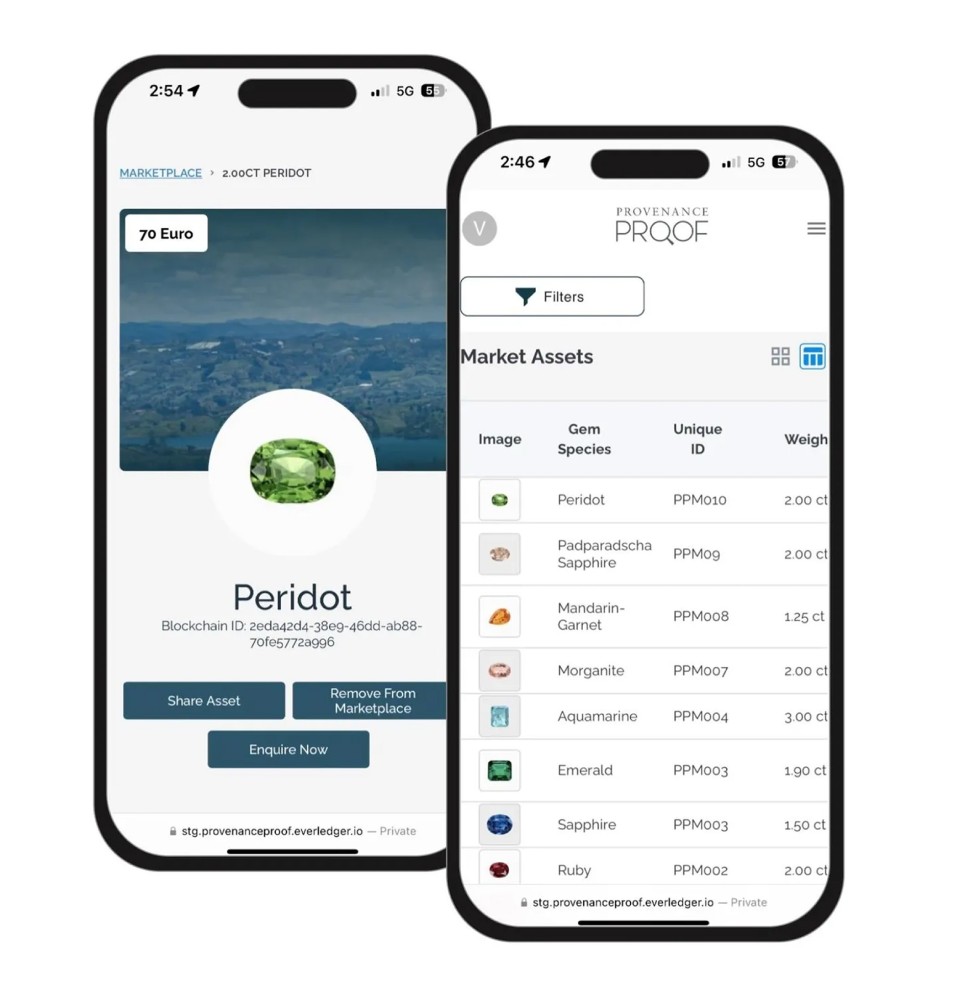 The PPB also has its own online marketplace, created with tech company – Everledger. It is made for traders, globally, to offer and buy transparently traded gems. For example, a jeweller, anywhere in the world can search for transparently traded gemstones or pearls on this online marketplace and directly contact its seller.
According to PPB, around four million gems and jewellery items have been uploaded. Over 500 professional users have joined, including more than 120 jewellers and manufacturers that count about 20 from India.
Gold Bar Integrity Programme by World Gold Council
The World Gold Council is building a Gold Bar Integrity programme (GBI) to digitally monitor the movement of gold through the global supply chain. GBI can also provide provenance data and transparency over the chain of custody. The WGC launched this initiative jointly with London Bullion Market Association (LBMA) in March 2022.
The GBI is designed in 2 parts – the Security Feature and GBI Database, The Security Feature is a physical feature that will establish the identity and verify the authenticity of a gold bar, akin to a bar passport. This data will be linked to the GBI Database, a digital ledger of gold bars.
A pilot for the GBI was carried out in late 2022, in which about 30 participants took part from across 13 locations including the UK, Europe, USA, Canada, Australia, and South Africa. In this pilot, a select few mines, refiners, carriers, vaults/banks were given the opportunity to help define the scope of the database, identify priorities, and gain a better understanding of how interoperability may work. Interoperability is a characteristic of a system to work with other products or systems, seamlessly. For GBI to be truly successful, its integration and usability in the gold-bar value chain will have to be harmonious.
Although GBI may be a good initiative to digitise and authenticate the global gold-bar and bullion movement process, its concrete application still has a long way to go. In its inference of the GBI pilot, the LBMA has stated that "a further governance and industry consultation is required for developing an industry standard taxonomy, dispute resolution process, and developing best practice for the reintroduction of material from outside the country of origin."